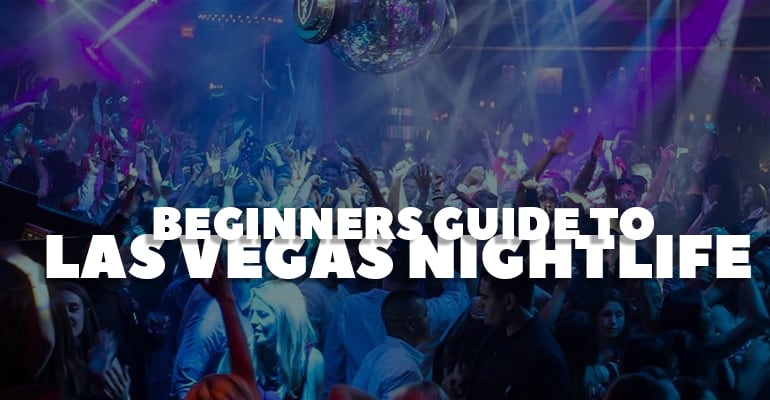 Las Vegas has a world famous nightlife scene, but for a newbie, it can be tough to navigate – at least that was the case for me. Picking a place to party is a real challenge when there are over a dozen nightclubs, and hundreds of bars, lining the strip.
So, to ensure you don't have the same problem, I put together this guide outlining all of the nightlife options Las Vegas has to offer. Whether you prefer rooftop lounges, pool parties, EDM music or celebrity DJs – I'll make sure you know exactly where to go. I'll also cover the costs associated with each type of venue.
Below are the pillars of Las Vegas nightlife. By the end of this post you'll have a clear understanding of each one (or click on a link to skip to your preferred section).
Nightclubs
Las Vegas has over a dozen top nightclubs, holding between 500-4,000 guests a night. These venues are huge and often have celebrity DJs headlining. Here is a list of all of the major Las Vegas nightclubs and where they're located:
Marquee Nightclub at the Cosmopolitan
Tao Nightclub at the Venetian
XS Nightclub at the Encore
EBC at Night at the Encore
Light Nightclub at Mandalay Bay
On The Record at the Park MGM
Drai's Nightclub at the Cromwell
Hakkasan Nightclub at the MGM Grand
Omnia Nightclub at Caesars Palace
Jewel Nightclub at the Aria
Chateau Nightclub at Paris
Every one of these nightclubs is open on Friday and Saturday, but during the week only select clubs are open. Nightclubs in Las Vegas open around 10:30 pm and stay open until 4:00 am.
Every club is a little bit different. Some play EDM music, some play Hip Hop, some play Top 40 and others play a combination of the 3. Also, some nightclubs have large outdoor areas with pools, while others are strictly indoor venues. (If you want a brief description of each club and what type of music they play, I wrote more in depth post here.)
Nightclub Costs
There are several ways to get into Las Vegas nightclubs. The most common ways include buying a ticket, signing up for the guest list and purchasing bottle service (I'll cover this later).
| | | |
| --- | --- | --- |
| Method of Entry | Cost (women) | Cost (men) |
| Guest List | Free | Free (may require even ratio) |
| Pre-sale Ticket (or Cover Charge) | $15-$40 | $20-$60 |
| Holiday or Special Event | $50-$150 | $75-$250 |
Purchasing a pre-sale ticket in advance is the same as paying a cover charge at the door of the nightclub. The only difference is that you may save a few bucks if the price goes up.
Also, take notice that tickets for men cost more than tickets for women. It's just an unfortunate reality of nightclubs. The only way to avoid paying cover charges is to use the guest list.
When you sign up for the guest list you get free entry into the club. All Las Vegas nightclubs offer a guest list. It's free to use and you can sign up online. Just be aware that the rules for every club are different.
Women typically get free entry at every venue. Men are required to have an even ratio of women in their group (or a greater number of women than men) in order to get free entry. However, some clubs allow men free entry without even ratio.
The idea of a guest list may sound too good to be true, but it's legitimate. The clubs aren't afraid to cannibalize their ticket sales, since they make most of their money off of alcohol. Nightclubs use the guest list to ensure that the club is filled up every night. In addition, it acts as an incentive for people to show up early (there's usually a guest list cutoff time around 12:30 am).
The only time guest lists aren't available are during holidays and special events like: New Years, Halloween, the Fourth of July, Memorial Day Weekend and Labor Day Weekend. For these events you'll be required to purchase a ticket.
Pool Parties
It's important to differentiate between hotel pools and pool parties. Pool parties in Las Vegas (also known as dayclubs) are often described as nightclubs during the day. They have DJs and bottle service tables, while hotel pools do not. Here is a list of the major pool parties in Vegas:
Encore Beach Club at the Encore
Wet Republic at the MGM Grand
Drai's Beachclub at the Cromwell
Daylight Beach Club at Mandalay Bay
Marquee Dayclub at the Cosmopolitan
Tao Beach at the Venetian
All of these dayclubs are open Friday, Saturday and Sunday. A few of them are also open during the week. You can see which clubs are open on specific days here. Most pool parties open around 11:00 am and remain open until 6:00 pm.
Encore Beach Club and Wet Republic are the biggest pool parties, while Tao Beach is the smallest of the group. All of them get EXTREMELY busy.
Las Vegas pool parties are only open March-September. The only dayclub open during the winter is Lavo Party Brunch, which doesn't have a pool. Lavo is quite literally a nightclub that's open during the day. The party brunch is only open October-March on Saturdays.
Pool Party Costs
Similar to nightclubs, pool parties sell tickets, offer guest lists and have bottle service tables available for reservation.
| | | |
| --- | --- | --- |
| Method of Entry | Cost (women) | Cost (men) |
| Guest List | Free | Free (may require even ratio) |
| Pre-sale Ticket (or Cover Charge) | $15-$50 | $20-$75 |
| Holiday or Special Event | $50-$150 | $75-$250 |
Pool party guest lists work the same way as nightclub guest lists. Women get free entry at every club, while men are required to have an even ratio of women in their group (or more women than men) to use the guest list. Wet Republic and Daylight are the only dayclubs that allow men to use the guest list without even ratio.
There is a cutoff time for the guest list, usually around 12:30 pm. You'll want to ensure that you get to the club before the cutoff, or else you'll have to pay full cover.
Make sure you show up at the club in your pool attire, since jeans aren't allowed into the club. Women are also required to wear a cover-up while in line. Small bags are typically allowed into pool parties, plus lockers are available for rent. Towels are provided by the club.
Bars And Lounges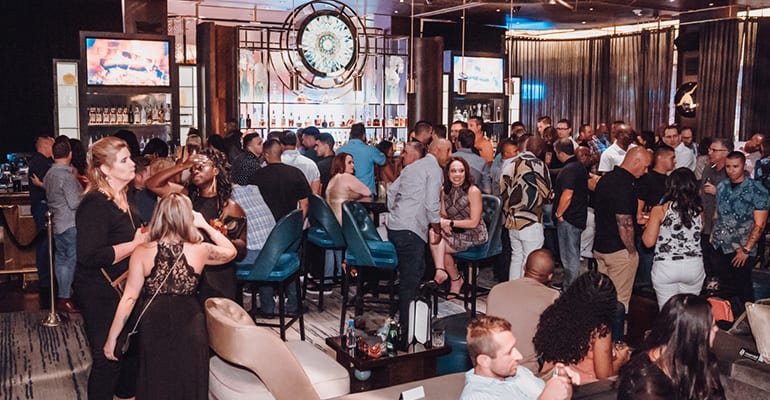 Las Vegas has an assortment of bars and lounges both on and off the strip. Bars typically don't have cover charges. They range from high-end cocktail bars, to dive bars and karaoke bars.
Lounges on the other hand, are more of a cross between a nightclub and a traditional bar. Most lounges offer free entry guest lists, that you can sign up for online.
Bars
Every hotel in Las Vegas has several casino bars, many of them with their own theme. If you walked through the casinos on the strip you would find hundreds of these types of bars. You could spend all night jumping from one to the next. There's no entrance fee to drink at casino bars. Here are a few of my favorites:
The Chandelier Lounge at the Cosmopolitan
Lobby Bar at the Encore
The Dorsey at the Venetian
Alto Bar at Caesars Palace
SkyBar at the Waldorf Astoria
ALIBI Ultra Lounge at the Aria.
Level Up at the MGM Grand
You can also head to Fremont Street in downtown Las Vegas to find traditional style pubs that leave behind the glitz and glam of the strip. Here are a few of the options on Fremont:
Gold Spike
Commonwealth
Cat's Meow Karaoke
Oddfellows
Town Square, which is located just south of the strip, has a few good bars too. Blue Martini and Stony's Rockin' Country are popular spots for locals here.
Lounges
The word "lounge" is thrown around very freely, but when I say "lounge" I'm referring to a nightclub/bar mix. There are a few of these in Las Vegas, often located on the rooftop of a major hotel.
Lounges are great because they offer cheap bottle service, in a nightclub-type environment. You don't have to break the bank to enjoy the luxuries of VIP bottle service. Here are a few top Vegas lounges:
Apex Social Club at the Palms
Foundation Room at Mandalay Bay
These are my two favorite lounges in Las Vegas. They both have breathtaking views, since they're located over 50 floors above the strip. Men and women can get into Foundation Room for free on the guest list. Apex Social Club requires men to have an even ratio of women in their group.
You'll want to utilize the guest list for lounges, but don't worry if you forget. Cover charges for these club is low, usually only in the $20-$30 range.
After Hours Clubs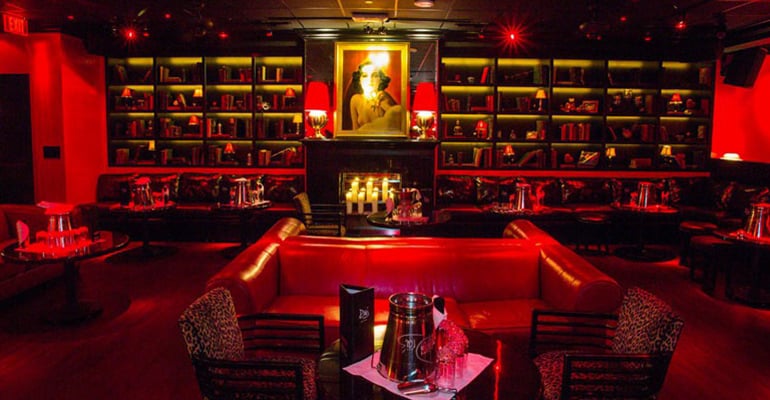 After hours clubs are clubs that open right when the traditional nightclubs are shutting down. Since traditional nightclubs are open so late (4:00 am), after hours clubs aren't really that popular in Las Vegas. Most people are pretty much done partying, especially since pool parties open at 11:00 am.
However, there are a few hardcore party animals that have a desire to party all night. And being the party capital of the world, Las Vegas has after hours clubs that remain open long after the sun comes up. Here are the two main after hours clubs in Sin City:
Drai's After Hours at the Cromwell
Terrace After Hours at Larry Flynt's Hustler Club
Not to be confused with Drai's Nightclub, Drai's After Hours is the original after hours spot in Las Vegas. It's open from 1:00 am to 8:00 am Thursday-Sunday. The club is an indoors venue, that plays a combination of Hip Hop and EDM.
Terrace After Hours is located on the rooftop of Larry Flynt's Hustler Club. Since it's on the rooftop, the club has an amazing view of the sunrise around 5:00-6:00 am. However, Terrace is only open on Saturday nights (Sunday mornings) from 2:30 am – 8:00 am.
Both after hours club have guest lists. Terrace allows both men and women free entry before 3:00 am. Drai's only offers free entry to women. Men with an even ratio of women in their group can get a reduced cover charge at Drai's.
Bottle Service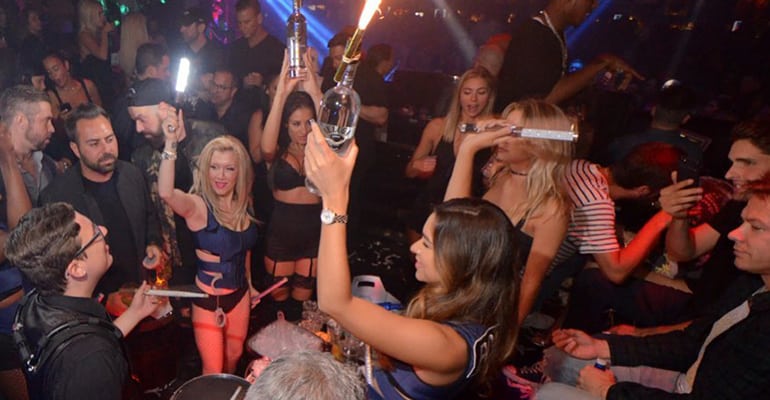 All nightclubs, pool parties and lounges in Las Vegas offer bottle service. Bottle service is where you purchase a bottle of alcohol, instead of buying individual drinks at the bar. Getting a bottle is extremely popular in Las Vegas, especially when you take into account all of the benefits:
You get your own private area within the club
Get a place to sit (there is no seating in general admission)
Cocktail waitress and busser to pour your drinks
Security to keep people out
Expedited entry
No cover charge
Avoid long lines at the bar
Symbol of status in the club
There is no doubt that bottle service is the best way to party in Las Vegas. The only issue with bottle service is the price. Most people consider bottle service too far out of their price range. But contrary to popular belief, sometimes bottle service is cheaper than buying drinks at the bar.
This is especially true for larger groups. Think of bottle service as buying your alcohol in bulk. You'll get a better price if you get a full bottle, instead of getting 20 drinks at the bar.
It's true that some clubs have really expensive bottle service tables. But there are plenty of clubs that offer great deals (I wrote another post about all the nightclubs that offer bottle service under for $500). Here are the average prices for bottle service at Vegas nightclubs and pool parties:
$350-$1,500 for a group of 6-8 people
$1,500-$3,000 for a group of 9-12 people
$3,000-$8,000 for a group of 13-15 people
The best bottle service deals can be found at lounges. In many cases, bottles at these venues are up to 50% cheaper than they are at nightclubs. Here is some sample pricing for lounge bottle service:
$350-$800 for a group of 5-8 people
$800-$1,000 for a group of 9-12 people
$1,000-$1,500 for a group of 13-15 people
You can get even better deals on bottle service by purchasing a table during the week. Prices are much lower across the board since the city is less busy.
To reserve bottle service, you're going to need to contact a VIP host that works for the club. VIP hosts handle all bottle service inquires and reservations. If you're looking to reserve a bottle service table, you can contact us here and we'll connect you with a VIP host that works at the club of your choice.
Club Crawls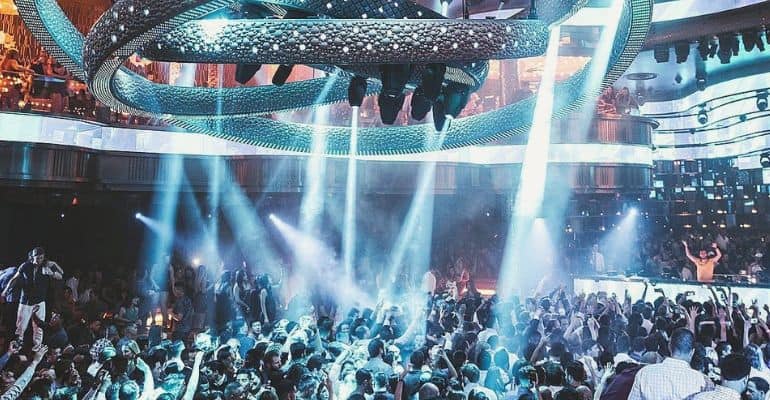 A club crawl is a tour that visits several nightclubs and bars over the course of a night. A host takes you to 2 or 3 venues, where you're able to get drink specials and a number of other benefits including:
Cutting lines at clubs
Ride on a party bus (only dayclub crawls)
Avoid cover charges
Play drinking games
One of the best parts of a club crawl is the fact that it's really easy to meet people. The crawl hosts do a great job at getting everyone to mingle. The hosts also have a set club schedule, so you don't have to decide where to go. They already know what the hottest nightclub is going to be on any given night.
All of these things make club crawls a desirable option for anyone visiting Las Vegas for the first time. You can choose from club crawls, pool crawls and bar crawls (I explain each one more in depth here). Tickets only cost around $35, which is cheaper than the cover charge for most nightclubs.
Overview Of Las Vegas Nightlife
Out of all the nightlife options to choose from, I recommend that you attend at least one nightclub, and one pool party. Las Vegas is the only city in the world where you can get into top nightclubs for free. Take advantage of that by using the guest list. And if you have the budget for it, try bottle service. Bottle service is the ultimate VIP experience, and will take your Vegas trip to the next level.