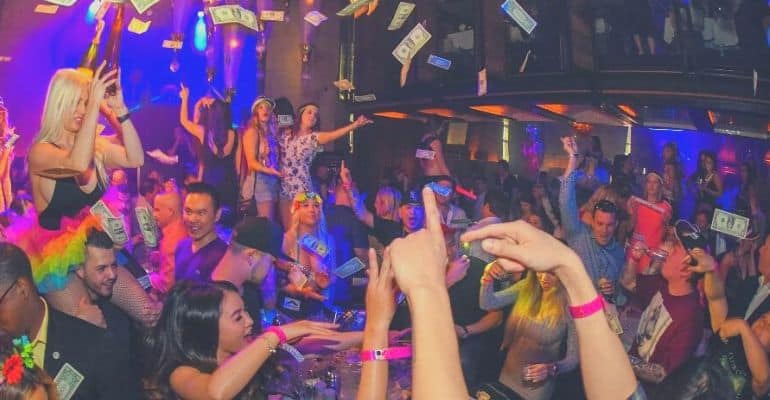 Get On The Lavo Brunch Guest List
OPEN
Saturday
LOCATION
The Palazzo Hotel & Casino
Guest List Sign Up Ends At 8:00 am
The Lavo Brunch Guest List is Currently Unavailable
About Lavo Party Brunch
Lavo Party Brunch is the only dayclubs open during the winter in Las Vegas. Every Saturday between 11:00 am and 6:00 pm Lavo Restaurant turns into a full out dayclub. The parties here are wild! You often see people dancing on tables with glow sticks and sunglasses. Between 11:30 am and 2:00 pm the club serves drinks at the bar and offers a full service brunch. But at 2:00 pm the lights go down, the music is turned up and Lavo turns into one of Vegas' most wild dayclubs.
Lavo Party Brunch is seasonal, it's only open October – March. But as mentioned, it's the only dayclub open during those months so the club gets packed. The DJs at Lavo play a combination of EDM, Top 40 and Hip Hop music.
How The Lavo Brunch Guest List Works
When you sign up for the Lavo Brunch guest list (which you can do for free above) women will get free entry into the club. Unlike other Vegas clubs, Lavo does not offer free entry to men with an even ratio of women in their group. However, men will get a reduced cover when they sign up for the guest list.
After signing up for the guest list, we will connect you with a promoter that works at the venue. You will receive a text message confirmation from that promoter shortly after signing up. When you arrive at the club there will be a couple different lines, all with signage. The guest list line is where you want to go.
Once in line there will be someone walking around with either a clipboard or an iPad. They will come to you while you are in line. The only thing you have to do is give them your name and they will check you in. From there, women will enter the club for free and men will proceed to the cashier to pay the reduced cover.
Lavo Brunch Ticket Prices
When using the guest list at Lavo Brunch women will never have to purchase a ticket. Our guest list services at NiteThrive are completely free. If you want more information about how the guest list works and why it is free you can learn more here.
There are some instances where you may want to purchase a ticket like during a holiday or special event. So to give you some context this table shows how much tickets cost at Lavo Brunch.
| | | |
| --- | --- | --- |
| Method of Entry | Women | Men |
| Guest List | Free | Reduced Cover |
| General Admission (Tickets) | $20 | $30 |
| Holiday or Special Event (Tickets) | $50 – $150 | $75 – $200 |
Also keep in mind ticket prices go up as the event gets closer.
How do I Get To Lavo Party Brunch?
Lavo Party Brunch is located in the Palazzo. When you walk in the main entrance to the hotel (where the valet is) it is located directly to you left.
As far as finding the guest list line, there is plenty of signage around to direct you to the correct line. Keep in mind that if you can't find the guest list line, the easiest thing to do is ask the staff. Don't worry you won't look like a newbie, they get that question all the time.
Lavo Brunch Wait Time
The lines at Lavo Brunch are among the longest in Las Vegas. It's important you get here by 11:30 am if you are on the guest list. You DO NOT want to be at the end of that line, especially if you are on the guest list. There is a cut-off time around 1:00 pm so if you're not in by then you will no longer get free entry and will have to pay full cover.
Dress Code For Lavo Brunch
Lavo Party Brunch has no official dress code. Men should feel free to wear sneakers and jeans with a t-shirt. Women can wear whatever they want. Most guests do dress up, so don't hesitate to wear something upscale. If you're unsure of what to wear check out the full dress code guides for men and women here.