Drai's Beach Club
Location: Cromwell Hotel & Casino
Open: Friday, Saturday, Sunday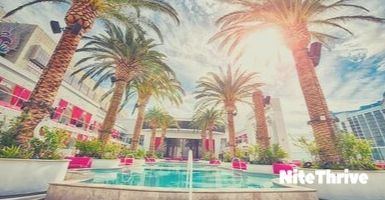 Tao Beach
Location: The Venetian Resort & Casino
Open: Friday, Saturday, Sunday
Encore Beach Club
Location: Encore Hotel & Casino
Open: Friday, Saturday, Sunday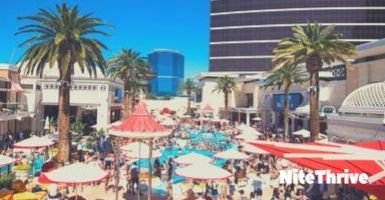 Marquee Dayclub
Location: The Cosmopolitan
Open: Friday, Saturday, Sunday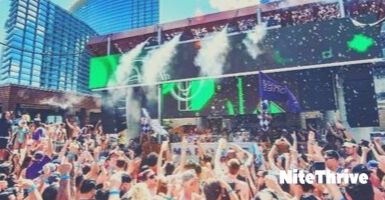 Wet Republic
Location: MGM Grand Hotel & Casino
Open: Friday, Saturday, Sunday, Monday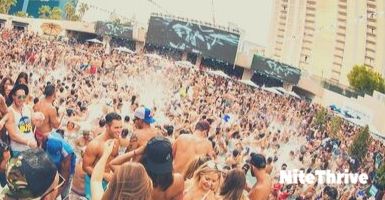 Daylight
Location: Mandalay Bay Resort & Casino
Open: Thursday, Friday, Saturday, Sunday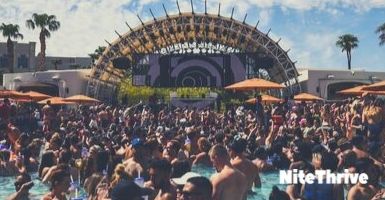 Lavo Party Brunch
Location: Palazzo Hotel & Casino
Open: Saturday
How Do Pool Party Guest Lists Work In Las Vegas?
Signing up for the guest list has truly never been easier. All you have to do is pick out the pool party that you want to go to, select the date you plan on going and fill out the form. Just include your name and the number of people in your group.
Once you sign up you will be connected with a promoter that works at the club. That promoter will send you a text message confirmation adding you to the guest list. When you show up at the pool party, all you have to do is check in with the staff in the guest list line.
It's important to note that pool parties are seasonal in Las Vegas. They are open from March through September. Lavo Party Brunch is the only dayclub open in the winter.
Also, the guest list is not available on major holidays like the 4th of July, New Years and Memorial Day Weekend. But other than a few select dates, free guest lists are available almost every night for most dayclubs. If you're not sure what club to pick, I reviewed all of the best Las Vegas pool parties in this article here.
Are Pool Party Guest Lists Free?
Our guest list is 100% FREE to join! Check out our FAQs page if you have any questions relating to the guest list and how it works. We explain exactly how the guest list works, and how to get the most out of it.
Can Men Join The Guest List Or Just Women?
Both men and women can get their names on the pool party guest list for free. Women will get free entry into the clubs when they put their name on the guest list. Men on the other hand only get free entry at some clubs if they have an even ratio of women in their group. Not every club requires men to have ratio but some do. Check out the individual pool party pages to get more information on the rules of each venue.  
What Pool Parties Are Near Me?
While there aren't as many pool parties open in Las Vegas as nightclubs, there are still plenty to choose from. There are half a dozen pool parties open on the strip during the summer, so chances are there is one at your hotel or at a hotel near yours. All the major pool party locations are listed above, in addition to the days that they are open.
What Time Should I Get To The Pool?
Pool parties in Las Vegas generally open around 11:00 am. It's always best to arrive by 10:45 am as the lines get very long, especially during the summer. The guest list closes around 1:00 pm, so if you aren't in the club by then, you will have to pay full price for admission. 
Is There An Official Dayclub Dress Code?
Everyone who attends a Vegas Pool Party must be in proper pool party attire, which means swimwear. Shorts and jeans are not allowed into the pool area. You must show up in your swimwear. Women must also wear a cover-up while outside of the club. The hotel staff will not let you walk through the hotel in your bikini. Check out our full dress code guides for men and women for a full list of rules and style recommendations on what to wear.
Las Vegas Dayclubs & Pool Parties
Las Vegas is widely known for its nightclubs, but the pool parties are just as crazy, if not more. All the major hotels on the Vegas strip have their very own dayclub hosted by the best DJs in the world. So while you're in Vegas, it's a must to hit up the best pool parties during the day. You want to keep the party rolling before you attend a world-class nightclub.
Anyone can sign up for the guest list. All of the biggest DJs have residencies in the Vegas clubs and they save their best performances for the pool parties. These DJs bring their best to these dayclubs and as you can imagine it gets pretty wild. Check out the individual club pages to see all of the DJs that are playing. You will find that these lineups are stacked with musical talent, maybe even more than the nightclubs.
Every Las Vegas pool party has a guest list available on a daily basis, which you can sign up for free. Once you pick the pool party you want to attend, just fill out the form, and BOOM, you're on the list. Our guest list services are completely free, the only thing you have to do is show up at the pool and party. 
After joining the guest list we will walk you through the entire process to ensure you have the most fun possible. We let you know the best time to arrive, what to wear and give you tips and advice in our club guides section. We let you in on well-kept Vegas nightlife secrets and hacks that will help you maximize your time here. Here at NiteThrive, we try to make your Vegas trip as easy and as fun as possible, all while saving you money. All of our pages are kept up to date, so you can get the best advice possible.
Bachelor and Bachelorette Parties definitely want to take full advantage of Las Vegas dayclubs. We will help you save money and skip long lines at all of the best summer pool parties. You are going to want to jam-pack your party with nonstop fun by attending the craziest pool parties and dayclubs in the world.