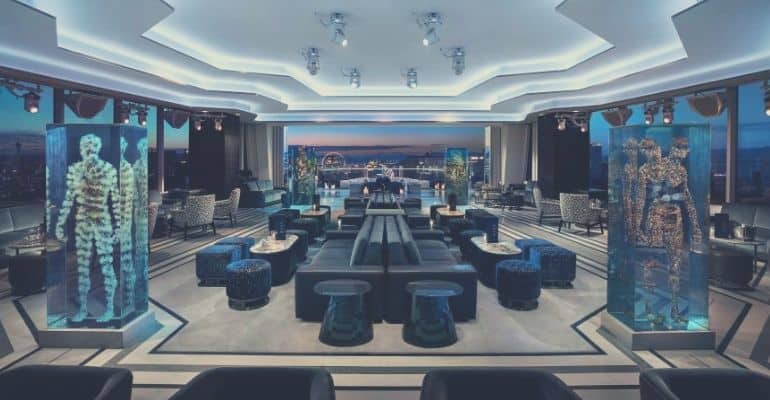 Get On The Apex Guest List
OPEN
Thursday, Friday, Saturday, Sunday
LOCATION
Palms Hotel & Casino
Guest List Sign Up Ends At 7:15 pm
The Apex Guest List is Currently Unavailable
About Apex Social Club
Apex Social Club is more of a lounge than a traditional nightclub. I believe this to be a huge positive, as this spot is meant to be more of a mixer to get people to interact with one another. It's really tough to do that in a loud nightclub, making Apex a nice change of pace. The more relaxed vibe also lets you enjoy the breathtaking view, as Apex sits on the 55th floor of the Palms Casino Resort.
Apex gives off a upscale chic feel, as it is filled with tons of priceless sculptures. The music of choice here is Hip Hop and Top 40. The DJs play a lot of popular songs making it easy to sing along. There is a list of upcoming events toward the bottom of this page. The lines at this venue aren't typically that bad. Arriving at 10:15 pm will give you plenty of time to explore this spot.
How The Apex Guest List Works
When you sign up for the Apex guest list (which you can do for free above), simply provide your group size, the date you're attending and your contact info. Signing up for the guest list allows you to enjoy several benefits:
Women get free entry into the club.
Men get free entry with an even ratio of women in their group (or a greater number of women than men).
After signing up for the guest list, we will connect you with a promoter that works at the venue. You will receive a text message confirmation from that promoter shortly after signing up.
So now, when you arrive at the club head directly to the guest list line to check in. Once in line, a staff member will come to you with either a clipboard or an iPad. The only thing you have to do is give them your name and they will check you in. That's it, now you can go party!
Apex Ticket Prices
When using the guest list at Apex Social Club all women (and men with even ratio) will never have to purchase a ticket. Our guest list services at NiteThrive are completely free. If you want more information about how the guest list works and why it is free you can learn more here.
There are some instances where you may want to purchase a ticket like during a holiday or special event. So to give you some context this table shows how much tickets cost at Apex.
| | | |
| --- | --- | --- |
| Method of Entry | Women | Men |
| Guest List | Free | Free (with even ratio) or Reduced Cover |
| General Admission (Tickets) | $20 – $30 | $20 -$30 |
| Holiday or Special Event (Tickets) | $50 – $100 | $75 – $150 |
Also keep in mind ticket prices go up as the event gets closer. I've seen prices skyrocket to over $100 at the door on really busy nights.
How do I Get To Apex?
Apex nightclub is located in the Palms Casino Resort. The club entrance is located in the Palms tower that is closest to the strip. When at the front desk of the hotel, head left. You will find Apex near the Scotch 80 Prime restaurant.
There is signage all around Apex to direct you to the correct line. Keep in mind that if you can't find the guest list line, the easiest thing to do is ask the staff. Don't worry you won't look like a newbie, they get that question all the time.
Dress Code For Apex
There is a dress code for clubs in Las Vegas. I made a full dress code guide for both men and women so if you are unsure what to wear check those out. But to give you the condensed version, men should wear collared shirts and nice shoes. For pants any pair of well fitted (no baggy) jeans will work, preferably in darker shades. Sneakers, hats, shorts or any athletic attire will not be allowed. Women can get away with a lot more, but a dress that fits your body well is recommended. Heels are also the norm but flats are acceptable and common, just no sandals or flip flops.