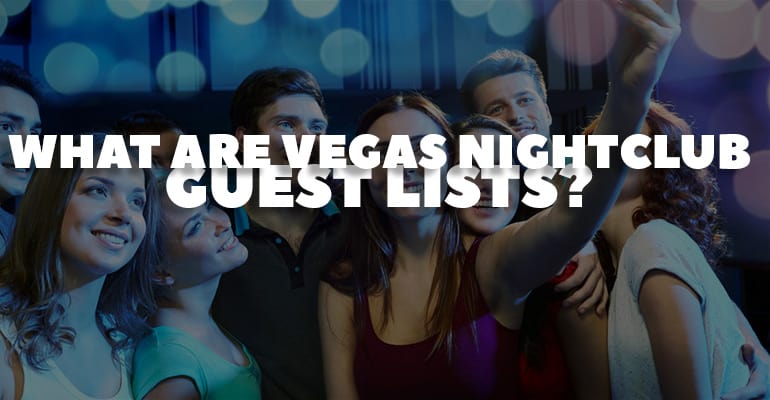 Going out to Vegas nightclubs can get expensive, with tickets often costing upwards of $100. But there are ways to avoid those hefty price tags, like using the guest list. So, I did some research and talked to a couple Vegas nightclub promoters, to find out more about the guest list.
The guest list gets you into Vegas nightclubs and dayclubs for free or at a reduced price. All women get free entry to most nightclubs on the guest list. Certain clubs also allow men free admission, while others require groups of men to have an even ratio of women in their group (or more women than men) in order to take advantage of the free entry. You can sign up for the guest list for free online or through a club promoter.
There are additional benefits when you sign up for the guest list, like free drink tickets or open bars. Each club has different rules regarding their guest lists like ratio requirements and cutoff times. Also, while guest lists are available at every club, they aren't open every night. I'll answer some frequently asked questions and explain the guest list in more detail in this post.
How Do I Sign Up For The Guest List?
You can sign up for the guest list either through a promoter that works for the club or online. You can sign up online here by following these steps:
Enter your name
Select the date you want to go
Enter the size of your group
Include your contact info to receive confirmations
Show up and party!
It takes less than 2 minutes to sign up for the guest list. After you sign up you'll receive a text message confirmation. That's it!
How Much Does The Guest List Cost?
Whether you sign up through a promoter or online, the guest list is 100% FREE. If a promoter is asking for a "tip" to put you on the guest list, they are trying to take advantage of you. All nightclub promoters get paid a commission when you check in at the club on their guest list. So, you are actually doing them a favor by using their list.
What Time Do I Need To Get To The Club?
Most Vegas nightclubs have a cutoff time for their guest list around 12:30 am. However, this cutoff can happen earlier if the club is extremely busy. I recommend arriving at the venue by 10:15 pm at the latest on weekends. You can get away with 10:30 pm at certain clubs during the week, but you risk waiting in line for hours.
The dayclub cutoff is around 12:30 pm, so it's best to be in line 10:15 am. If you aren't checked in by the cutoff time you'll be required to pay cover. Also the cutoff time for men is sometimes earlier than women, so it's important for men to get in line as early as possible. Cutoff times for men can start as early as 11:30 pm on busy nights at the top nightclubs.
Why Do Clubs Offer A Guest List?
Vegas nightclubs are a very competitive business. The clubs offer guest lists to ensure that the venue is filled up every night. Guest lists also act as an incentive to get people in the door early.
It may seem like the clubs are cannibalizing their ticket sales by letting people in for free on the guest list but that's not entirely true. Nightclubs make most of their money selling drinks at the bar and bottle service tables that cost anywhere from $500 – $10,000+. No one is going to buy a table at an empty nightclub, so getting people in the door is a priority.
Is The Guest List Only For Women?
While women always will get free entry on the guest list, men have restrictions. As a good rule of thumb, men can get free entry at any nightclub, as long as they have an even ratio of women in their party. On extremely busy nights men may get a reduced cover instead of free entry, but 95% of the time if you have an even ratio, everyone will get in for free.
There are some clubs however, that will allow men free admission without having an even number of women. This chart shows which clubs require even ratio.
| | | |
| --- | --- | --- |
| Club | Women (Guest List) | Men (Guest List) |
| Nightclubs | | |
| XS | Free | Free (With Even Ratio) |
| EBC at Night | Free | Free (With Even Ratio) |
| Hakkasan | Free | Free |
| Omnia | Free | Free |
| Jewel | Free | Free |
| Marquee | Free | Free (With Even Ratio) |
| Tao | Free | Free (With Even Ratio) |
| Apex Social Club | Free | Free (With Even Ratio) |
| Light | Free | Free |
| On The Record | Free | Free |
| Drai's | Free | Free (With Even Ratio) |
| Chateau | Free | Free (With Even Ratio) |
| Dayclubs | | |
| Wet Republic | Free | Free |
| Marquee Dayclub | Free | Free (With Even Ratio) |
| Tao Beach | Free | Free (With Even Ratio) |
| Drai's Beachclub | Free | Free (With Even Ratio) |
| Encore Beach Club | Free | Free (With Even Ratio) |
| Daylight | Free | Free |
| Lavo Brunch | Free | Reduced Cover |
Does Guest List Mean Free Entry?
For women, the guest list always guarantees free entry. Men can get free entry but it depends on the club and the specific guest list rules for that night.
Men will almost always get free entry at clubs like Hakkasan, Omnia, Jewel, Light, On The Record, Wet Republic and Daylight as long as you get in before the cutoff. The other clubs require an even ratio to get free entry.
Do I Need To Buy A Ticket?
When you sign up for the guest list there is no need to purchase a ticket. Once you sign up, your name will be added directly to the guest list at the venue. When you check in the at the club your name will already be on their list.
What Do I Do When I Arrive At The Club?
Most Vegas nightclubs have 3 separate lines: the general admission line, the table line and the guest list line. You're going to want to go directly to the guest list line. All the lines have signs but if you can't find it, just ask the staff where it is.
After you get in the guest list line the staff will first check your ID to make sure you're over 21 and then give you a stamp on your wrist. Then there will be someone else carrying either an iPad or clipboard to check you in. They will ask for your name and then find you on the list. After they confirm your name, they will then give you a second stamp and let you into the club.
Who Can Join The Guest List?
Anyone above the age of 21 can join the guest list. You don't have to be a super model to use the guest list. There isn't a bouncer judging your looks at the door but there is a dress code at all Vegas nightclubs. If you violate the dress code you won't be allowed into the club.
What Is The Dress Code?
Every club has a slightly different dress code. You can check out full dress code guides for both men and women here. But the condensed version is men should wear dark jeans with a dress shirt and nice shoes. Women can wear almost anything but most wear a tight dress paired with heels or flats.
Are There Guest Lists Available On Weekends?
All nightclubs have guest lists available on weekends. The ratio requirements for every club remains the same as they were during the week. The only difference is that the lines will be longer and the club will hit capacity much faster. It is important that you get in line earlier since there is a greater chance of missing the cutoff time. It isn't uncommon to get in line at 11:30 pm and never make it into the club on the weekend because you missed the cutoff. I can't stress the importance of arriving early enough!
Are There Guest Lists Available For Holidays And Special Events?
There is no guest list available for major holidays like the 4th of July, Memorial Day, Halloween and New Years. You must purchase tickets or bottle service to go to those events. There are also some specific DJs that don't have guest lists. When Calvin Harris, 2 Chainz or Migos are performing, those nightclubs typically don't have guest lists. They may have a limited female only guest list on those nights, but it's still unlikely that you'll get in. You can see what dates guest lists are available on the individual nightclub and dayclub pages.
Is There A Limit To How Many People Can Join A Guest List?
You typically don't want more than 8 people to enter the club on a single guest list reservation. If your group is larger than that, just split into two groups and sign up for the guest list separately. You can still stand together in line, just make sure you tell the staff member that checks you in that you're a separate group.
Do I Get Free Drink Tickets Or Open Bar?
Some nightclubs give you free drink tickets when you enter on the guest list. This is typically only for women but there are some clubs (like Light on Wednesdays), that give drink tickets to guys too. Clubs don't always hand out drink tickets every night. You're more likely to get them during weekdays and at the less busy clubs.
A few clubs also advertise an open bar for members of the guest list. This only happens during weekdays. The two clubs that have open bars most often are Marquee and Tao. It's typically only for women and isn't available every week.
Related Questions
How do I reserve bottle service in Las Vegas? To reserve bottle service you must speak with a VIP host that works for the club. VIP hosts take care of all table reservations at the club. If you're looking to purchase a table you can learn more about Vegas bottle service here.