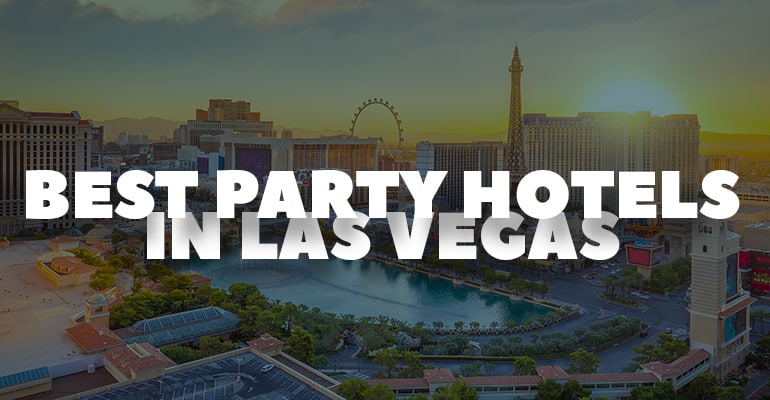 You came to Vegas to party, not wait in long cab and Uber lines. Staying at a hotel that has a nightclub can make your life much easier. Plus many hotels offer benefits to guests, like reduced ticket prices and even free entry into their in-house nightclubs. After spending several years partying in Las Vegas, I have found these to be the best party hotels with nightclubs.
1. Encore At The Wynn
The Encore is home to both Vegas' best nightclub and best dayclub. XS Nightclub is widely considered the top nightclub in Las Vegas, featuring performances from DJs like The Chainsmokers, Kygo and Diplo. You'll get a heavy does of EDM music, at this half indoor half outdoor nightclub. XS is also one of the largest venues in Las Vegas, bringing in 3,000 guests a night.
Encore Beach Club is the infamous pool party thrown at this hotel, Friday through Sunday during the spring and summer. Encore Beach Club, known affectionately as "EBC," sets the industry standard for pool parties.
From the 3 large pools, to the full kitchen, to the VIP cabanas, all the way to in-club gaming pavilion, you'll never run out of this to do here. EBC also turns into a popular nightclub once the sun goes down, to ensure the debauchery never ends.
The hotel offers discounted tickets to hotel guests, but you can get into both clubs for free by signing up for their respective guest lists. All women get free entry on the guest list. Groups of men that have an even ratio of women in their group (or a greater number of women than men), can also get into each club for free. You can sign up for the XS and Encore Beach Club guest lists for free online.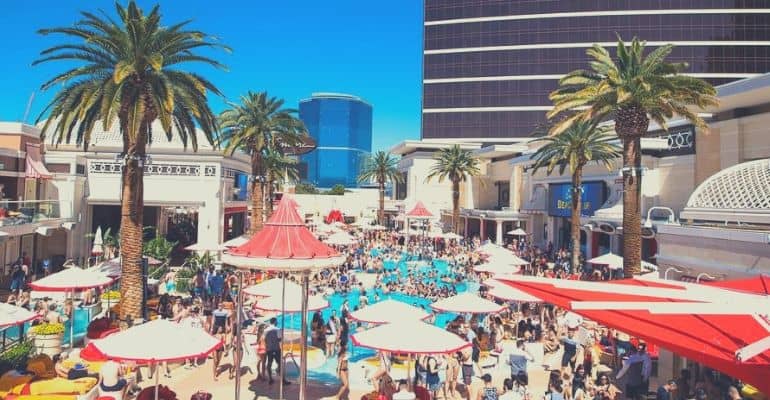 2. MGM Grand Hotel And Casino
The MGM is another popular Vegas resort with both a top nightclub and dayclub. Hakkasan is a 5 level mega-club (although levels 1 and 2 are dedicated to the club's restaurant), that is home to DJs like Calvin Harris, Steve Aoki, Zedd and Martin Garrix. The club focuses mostly on EDM music but the Ling Ling Club on the 3rd floor plays a combination of Hip Hop and Top 40 music.
Pool parties at the MGM Grand are hosted at Wet Republic, which competes with Encore Beach Club for best dayclub in town. The MGM also has one of the largest hotel pool complexes in Las Vegas, that includes a lazy river for tubing.
You can get free entry to both Hakkasan and Wet Republic using the guest list. There are no ratio requirements at either of these clubs, so both groups of all women and groups of all men can get in for free.
3. Caesars Palace
Caesars Palace is home to Omnia, which is another top 5 nightclub on the strip. The massive club has 3 separate rooms holding over 4,000 guests. The main room has 2 levels and plays EDM music. Omnia shares DJs with Hakkasan so expect to see Calvin Harris, Zedd and Lil Jon when you party here.
The second room is the rooftop Terrace, which offers a panoramic view of the heart of the strip. The Terrace plays house music, which is a nice contrast from the loud EDM in the main room.
Finally, you have the Heart of Omnia, which plays exclusively Hip Hop. Although, not considered the main attraction, this high energy room is my favorite spot to listen to Hip Hop music in all of Vegas. The DJs in this room only seem to play hits, making it difficult not to sing (or rap) along.
Caesars Palace doesn't have an official pool party, but does have some solid options for hotel guests. The Garden of The Gods Pool Oasis features several different pools ranging from a high energy party scene, all the way down to a relaxing poolside spa.
If your looking to party at Caesars, you can sign up for the Omnia guest list here. Both men and women get free entry on the guest list, regardless of ratio. Just make sure to get in line by 10:00 pm, since Omnia has some of the longest lines in Las Vegas.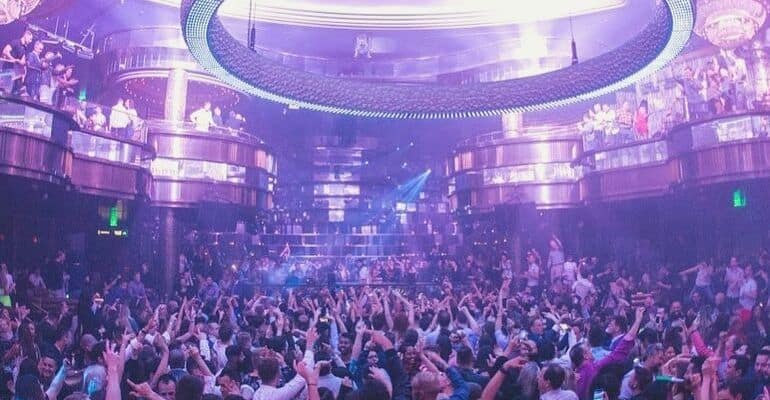 4. The Cromwell Hotel And Casino
The Cromwell is home to the infamous Drai's nightclub. Located on the rooftop of the hotel, this club is a favorite of Hip Hop fans because it features live performance from top Hip Hop artist. Migos, 2 Chainz, Big Sean and French Montana are among the artists that perform here often.
After the nightclub closes Drai's has an after hours club where you can party into the late morning. There is also a beachclub open during the summer that plays a combination Hip Hop and EDM. Drai's Beachclub is unique since it's the only rooftop pool party in all of Las Vegas.
Women get free entry to both Drai's Nightclub and Drai's Beachclub when they sign up for the guest list. Men with an even ratio of women in their group get either free entry or a reduced cover charge.
5. The Cosmopolitan Hotel And Casino
The Cosmopolitan is one of the most widely recognized hotels in Sin City. It's only fitting that they also have one of the best nightclubs. Marquee is an electric nightclub that plays a perfect mix of EDM, Hip Hop and Top 40. Performances from artists like DJ Mustard and Travis Scott are common here.
In addition to a number of luxury hotel pools overlooking the strip, Marquee nightclub transforms into a wild dayclub during the weekend. If your looking to party in style, check out the exclusive 3 story bungalow suite at Marquee. This private suite overlooks the club and comes standard with a butler to bring out your drinks.
The Cosmopolitan allows hotel guests to enter both clubs free of charge. If you're not staying at the hotel, Marquee Nightclub and Marquee Dayclub offer women on the guest list free admission. Men must have at least an even ratio of women in their group to take advantage of that perk.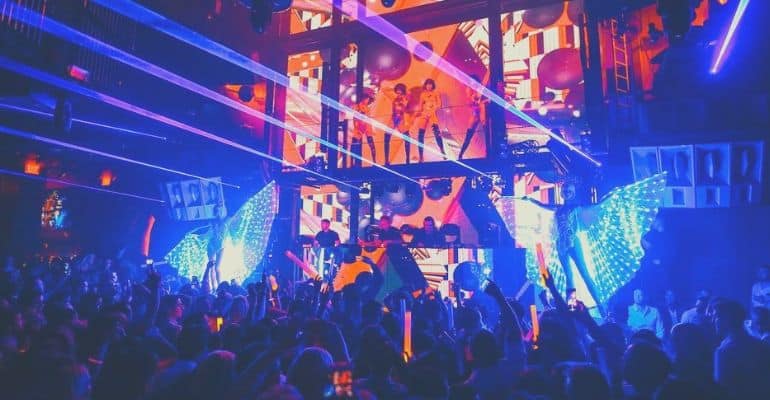 6. The Venetian Resort And Casino
The Venetian is known for it's luxury shops and gondola rides, but the hotel also houses both Tao Nightclub and Tao Beach. The nightclub is connected to the Tao restaurant, which serves delicious Asian cuisines from around the Pacific Rim. If you eat at the restaurant, you can usually get into the nightclub free of charge.
Tao Nightclub has a couple different rooms that play both Hip Hop and EDM music. Unlike many of the other mega-clubs, Tao's smaller size makes it a very intimate venue. It has been a staple of Vegas nightlife for years. Similar, to the nightclub Tao Beach is a smaller venue but it stills gets pretty wild.
Groups of women are able to get free entry into both Tao and Tao Beach using the guest list. Man are required to have an even ratio of women in order to use the guest list.
7. ARIA Resort And Casino
The ARIA is known for it's clean, modern design along with it's affiliation to the luxury Shops at Crystals next door. But, this hotel also has one of the newer clubs on the strip, Jewel. Jewel is a EDM and Hip Hop focused nightclub with plenty of VIP seating. The club has numerous themed private suites that overlook the dance floor. Plus there are multiple bars, making it super easy to grab a drink.
If you enjoy shopping at retailers like Gucci, Louis Vuitton and Hermes, then staying at the ARIA will give you easy access to all of those shops. And you won't have to break the bank trying to get into a nightclub, since both men and women get free entry into Jewel on the club's guest list.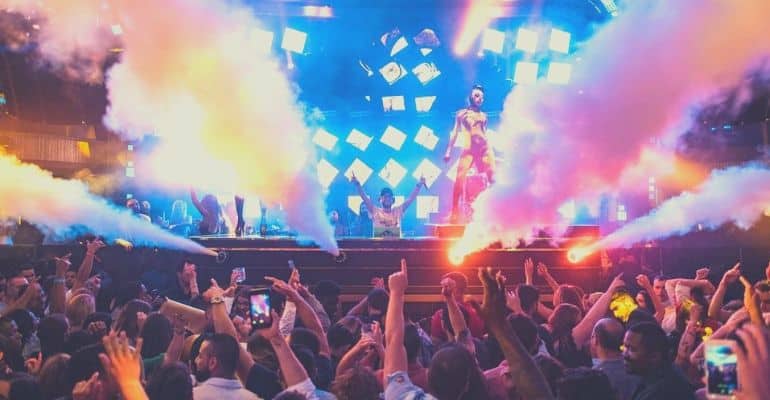 8. Mandalay Bay Resort And Casino
Mandalay Bay is another resort with both a dayclub and nightclub. Light nightclub is one of the longest standing clubs on the Vegas strip. It plays both Hip Hop and EDM, featuring top musical talent including Rick Ross.
Then you have Daylight, which is Mandalay's pool party. This dayclub is a ton of fun, especially during the Hip Hop focused Lit Sundays. Adjacent to Daylight you'll find Vegas' largest pool complex. The Mandalay pool complex sprawls 11 acres and features a wave pool and a lazy river. It's free for hotel guests.
Both men and women can get free entry to Light and Daylight using the club's guest list. As a bonus, guests who use the guest list to enter Light on Wednesday are often given free drink tickets.
One other party venue located at Mandalay Bay is Foundation Room. This rooftop lounge is 63 floors up, offering a unique view of the south end of the Vegas strip. Anyone who stays at Mandalay or the surrounding hotels should definitely check out Foundation Room.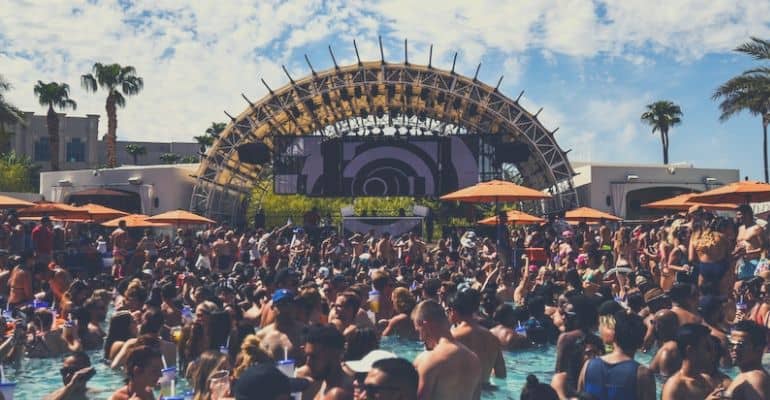 9. Paris Hotel And Casino
Directly under the Eiffel Tower at the Paris Hotel, you'll find Chateau nightclub. Chateau overlooks the Bellagio fountains, which is one of the best views in Las Vegas. But Chateau isn't just a great view, the DJs here are some of the best at creating a party environment.
Chateau has one of the best dance floors in Vegas. It's large enough where you can actually move around and the club typically doesn't get too packed. This club plays predominately Hip Hop music, but also incorporates Top 40 into the mix. Women are able to get free entry to Chateau by using the guest list. Men must have at least an even ratio of women to get free entry.
10. Park MGM
The Park MGM (formerly known as the Monte Carlo) is one of the newest Vegas hotels. As part of the renovation, the Park MGM opened up a new club concept called On The Record. This club is designed like a speak-easy bar and has a ton of new features like private karaoke rooms and hidden lounges. The club gives off a vintage feel, with all the cassette tapes and vinyl records lining the walls.
On The Record plays music from a number of genres. You'll hear 80's, 2000's, Hip Hop and Top 40 all mixed in. It's one of the few clubs you can enjoy regardless of your taste in music. Both men and women get into the club for free when using the On The Record guest list.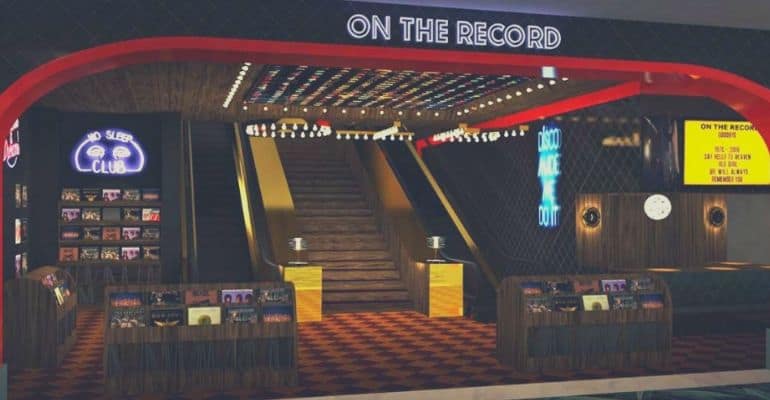 11. Palms Casino Resort
The Palms is a luxury resort found a few minutes off of the Vegas strip. On the 55th floor of the hotel you'll find Apex Social Club. Apex is a trendy club that plays Hip Hop as well as Top 40. The upbeat vibe of this club makes it easy to relax and socialize with everyone around. Not to mention the terrific view!
Women can get free entry to Apex Social Club by signing up for the guest list. Men are required to have an even ratio of women in their group (or more women than men) to use the guest list.
12. The Palazzo
The Palazzo doesn't have a nightclub, but it does have one of the most successful dayclubs in all of Las Vegas. Lavo Party Brunch is the only Las Vegas dayclub open in the winter, and it doesn't disappoint. Every Saturday from 11:00 am to 6:00 pm Lavo is transformed from a restaurant into a full fledged club.
One of the reasons why Lavo is so popular is the fact that you're able to order brunch. Who doesn't enjoy a nice early afternoon brunch and some mimosas to go with it. Women can get free entry to Lavo Party Brunch by signing up for the guest list. Ladies also get access to an open bar from 1:00 pm to 2:00 pm. Men however, only get a reduced cover when using the guest list.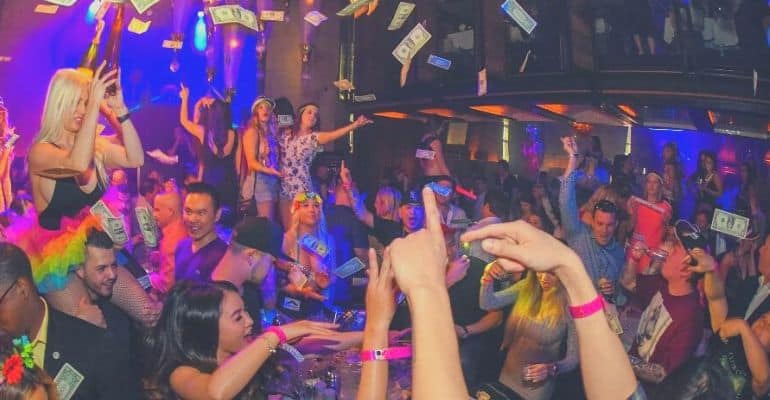 13. Rio All-Suite Hotel And Casino
The Rio is located a few blocks off of the main Vegas strip, near the Palms. And like the Palms, the Rio has a rooftop nightclub called Voodoo. Voodoo can be found on the 51st floor of the hotel along with Voodoo steakhouse. Naturally the view here is awesome, and well worth the long elevator ride up if you're staying at the Rio.
What Vegas Party Hotels Offer The Best Prices?
The price of Vegas hotels fluctuate depending on the time of year and what events and conventions are going on. I have found a couple hotels that are consistently cheaper than others. Yet, the more expensive hotels sometimes offer great deals.
Of the hotels on this list the MGM Grand, Mirage, Paris, Park MGM, Caesars Palace and the Rio tend to offer the lowest prices. But, don't feel like you have to stay at one of these hotels if you're favorite DJ is performing somewhere else.
By staying in the hotel where you'll spend most of your time, you'll save a ton of money on taxis/ Ubers. You also won't feel rushed since the club will only be a 5 minute walk from your hotel room. The extra couple of dollars you spend on a room is worth it, especially if you're getting into clubs for free on the guest list.