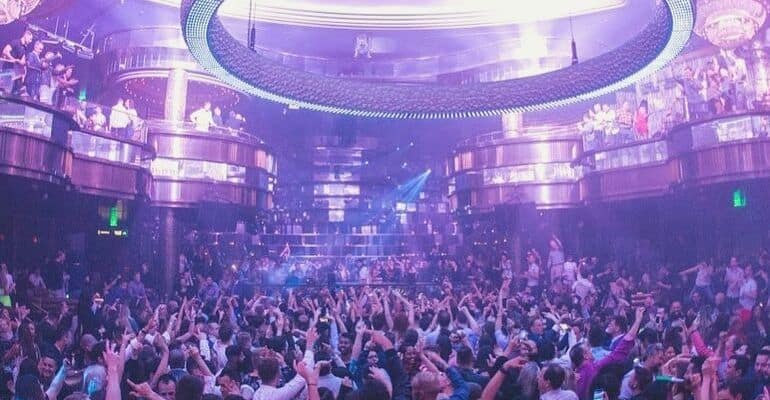 Get On The Omnia Guest List
OPEN
Tuesday, Friday, Saturday, Sunday
LOCATION
Caesars Palace Hotel & Casino
Guest List Sign Up Ends At 7:15 pm
The Omnia Guest List is Currently Unavailable
About Omnia Nightclub Las Vegas
Omnia is a unique nightclub, it has 3 levels each playing a different type of music. Because of this, it brings in an extremely diverse crowd. This club will never disappoint as it is always one of the busiest clubs in Las Vegas.
Omnia has the same DJs as Hakkasan including Calvin Harris and Steve Aoki. Zedd and Martin Garrix are also common headliners here, so expect a good amount of EDM music.
The Heart of Omnia is one of the many room's at Omnia that plays its own music. The Heart Room plays Hip Hop music exclusively. This is probably my favorite place to listen to Hip Hop in all of Vegas. There is an entirely separate DJ for the heart room, so if you don't like EDM, the walls are sound proof and you won't have to listen to it. The DJs are notoriously good and deserve way more credit than they get.
The rooftop Terrace is the on the 3rd floor and offers an amazing view of the strip. The Terrace is surprisingly large and really popular. The DJ up here typically plays a mix of house music, which offers a nice contrast from the EDM and Hip Hop in the other 2 rooms. The Terrace is also much quieter than the main room which is nice if you want to chill or have a conversation with someone.
The main room at Omnia is probably the loudest nightclub I have ever been in. Their sound system is amazing, you can literally feel the bass vibrating in your chest when on the dance floor. If you are looking to dance this is one of the best clubs to do it.
How The Omnia Guest List Works
When you sign up for the Omnia guest list (which you can do for free above), simply provide your group size, the date you're attending and your contact info. Signing up for the guest list allows you to enjoy several benefits:
Women get free entry into the club.
Men get free entry into the club.
Both men and women get free entry into the club, as there are no ratio requirements here. After signing up for the guest list, we will connect you with a promoter that works at the venue. You will receive a text message confirmation from that promoter shortly after signing up.
So now, when you arrive at the club head directly to the guest list line to check in. Once in line, a staff member will come to you with either a clipboard or an iPad. Simply give them your name and they will check you in. That's it, now you can go party!
Omnia Ticket Prices
When using the guest list at Omnia you will never have to purchase a ticket. Our guest list services at NiteThrive are completely free. If you want more information about how the guest list works and why it is free you can learn more here.
There are some instances where you may want to purchase a ticket like during a holiday or special event. So to give you some context this table shows how much tickets cost at Omnia.
| | | |
| --- | --- | --- |
| Method of Entry | Women | Men |
| Guest List | Free | Free |
| General Admission (Tickets) | $20 – $50 | $30 – $75 |
| Holiday or Special Event (Tickets) | $75 – $200 | $125 – $250 |
Also keep in mind ticket prices go up as the event gets closer. I've seen prices skyrocket to over $100 at the door on really busy nights.
How do I Get To Omnia?
Omnia nightclub is located in the Ceasars Palace casino. When entering through the main entrance to the casino take a right. You will find the club right next to the Sports Book. There is a large amount of real estate dedicated to the club so it will be hard to miss.
The guest list line starts near the door that leaves the casino. It is not uncommon for the line to go out the door. There is also plenty of signage all around the club to direct you to the correct line. Keep in mind that if you can't find the guest list line, the easiest thing to do is ask the staff. Don't worry you won't look like a newbie, they get that question all the time.
Omnia Wait Time
This nightclub is really large and really busy, particularly on weekends, so plan to arrive by 10:00 pm at the latest. Like Hakkasan, the lines literally go out the casino door on most nights. You DO NOT want to be at the end of that line, especially if you are on the guest list. There is a cut-off time around 12:00 – 12:30 so if you're not in by then you will no longer get free entry and will have to pay cover.
Dress Code For Omnia
There is a dress code for clubs in Las Vegas. I made a full dress code guide for both men and women so if you are unsure what to wear check those out. But to give you the condensed version, men should wear collared shirts and nice shoes. For pants any pair of well fitted (no baggy) jeans will work, preferably in darker shades. Sneakers, hats, shorts or any athletic attire will not be allowed. Women can get away with a lot more, but a dress that fits your body well is recommended. Heels are also the norm but flats are acceptable and common, just no sandals or flip flops.