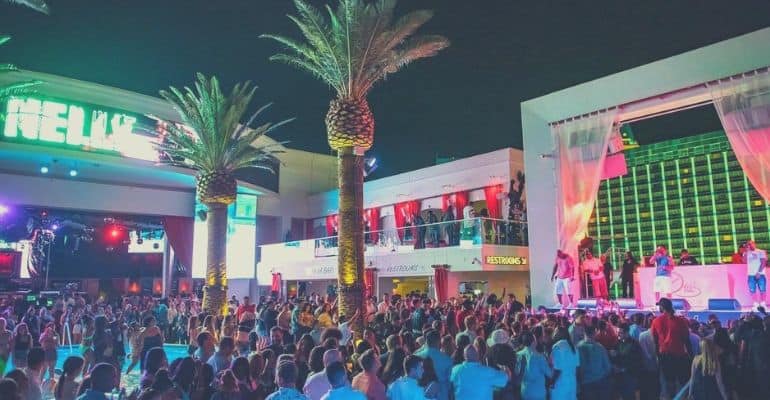 Get On The Drai's Guest List
OPEN
Thursday, Friday, Saturday, Sunday
LOCATION
Cromwell Hotel & Casino
Guest List Sign Up Ends At 7:15 pm
The Drai's Guest List is Currently Unavailable
About Drai's Nightclub
Drai's nightclub is in a category of its own. Both the indoor and outdoor sections to the club, were designed with luxury in mind. The club's open layout makes it easy to walk through, even while packed. The VIP cabanas at Drai's all have their own private bathrooms. You will be blown away from the very second you walk into this venue.
The musical talent of Drai's is also incomparable. Frequent performers at Drai's include 2 Chainz, Migos, 50 Cent, Yo Gotti, Jeremih, Gucci Mane, Pauly D, Big Sean, Trey Songz and Snoop Dogg. These headliners speak for themselves, so if you are into Hip Hop this is definitely a club that you need to visit. Drai's also hosts one of the most popular after hours spots once the main clubs close.
How The Drai's Guest List Works
When you sign up for the Drai's guest list (which you can do for free above), simply provide your group size, the date you're attending and your contact info. Signing up for the guest list allows you to enjoy several benefits:
Women get free entry into the club.
Men get free entry with an even ratio of women in their group (or more women than men).
After signing up for the guest list, we will connect you with a promoter that works at the venue. You will receive a text message confirmation from that promoter shortly after signing up.
So now, when you arrive at the club you'll want to go strait to the guest list line to check in. Once in line, a staff member will come to you with either a clipboard or an iPad. Simply give them your name and they will check you in. That's it, now you can go party!
Drai's Ticket Prices
When using the guest list at Drai's all women (and men with even ratio) will never have to purchase a ticket. Our guest list services at NiteThrive are completely free. If you want more information about how the guest list works and why it is free you can learn more here.
There are some instances where you may want to purchase a ticket like during a holiday or special event. So to give you some context this table shows how much tickets cost at Drai's.
| | | |
| --- | --- | --- |
| Method of Entry | Women | Men |
| Guest List | Free | Free (with even ratio) or Reduced Cover |
| General Admission (Tickets) | $30 – $50 | $50 – $100 |
| Holiday or Special Event (Tickets) | $50 – $150 | $100 – $250 |
Also keep in mind ticket prices go up as the event gets closer. I've seen prices skyrocket to over $100 at the door on really busy nights.
How do I Get To Drai's?
Drai's nightclub is located in the Cromwell Hotel. When entering through the valet entrance the club will be on your right once you step into the casino floor. If you enter through the entrance to the hotel closest to the Strip, then the club will be on your left.
It is important to note the after hours entrance and the nightclub entrance are in separate locations. Also the traffic outside Drai's is some of the worst on the Strip so plan to leave at least 30 minutes early to account for travel, as the guest list here will close quickly.
When finding the guest list line there is plenty of signage all around the nightclub to direct you to the correct line. Keep in mind that if you can't find the guest list line, the easiest thing to do is ask the staff. Don't worry you won't look like a newbie, they get that question all the time.
Drai's Wait Time
The line at Drai's can get pretty long, particularly on weekends or when big name artists are playing, so plan to arrive by 10:00 pm at the latest. You DO NOT want to be at the end of that line, especially if you are on the guest list. There is a cut-off time around 12:00 – 12:30 am so if you're not in by then you will no longer get free entry and will have to pay cover. Also the traffic outside this club is horrible, so plan for about 30 minutes of delays.
Dress Code For Drai's
There is a dress code for clubs in Las Vegas. I made a full dress code guide for both men and women so if you are unsure what to wear check those out. But to give you the condensed version, men should wear collared shirts and nice shoes. For pants any pair of well fitted (no baggy) jeans will work, preferably in darker shades. Sneakers, hats, shorts or any athletic attire will not be allowed. Women can get away with a lot more, but a dress that fits your body well is recommended. Heels are also the norm but flats are acceptable and common, just no sandals or flip flops.
The one exception to the dress code is during Thursday's when the pool is open. On Thursday's wearing a swimsuit and flip flops is perfectly acceptable as the pool is open. Women are required to wear a cover-up. If you try to walk around the hotel in your bikini the staff will tell you to leave.