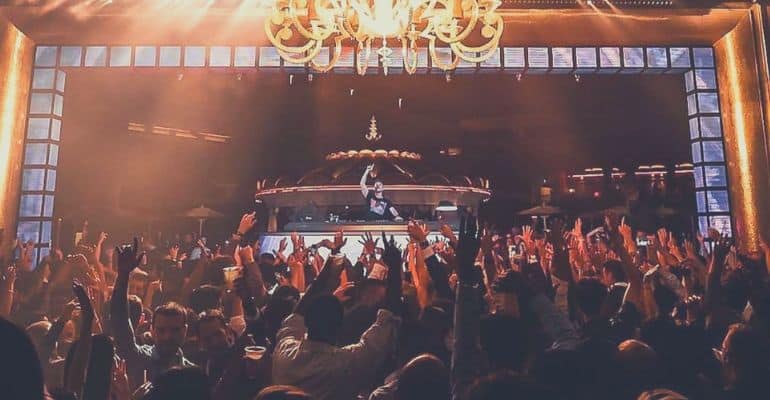 Get On The XS Guest List
OPEN
Friday, Saturday, Sunday
LOCATION
Encore Hotel & Casino
Guest List Sign Up Ends At 7:15 pm
The XS Guest List is Currently Unavailable
About XS Nightclub Las Vegas
XS has been voted as the top nightcub in the world for several years in a row now, and deservingly so. This half indoor, half outdoor club is one of the largest in the world, which includes a huge pool in the middle that is open during XS Night Swim, every Sunday.
XS Nightclub is home to some of the biggest DJs in Vegas including The Chainsmokers, Kygo, DJ Snake, Major Lazer, Drake, and Diplo just to name a few. With that kind of line up expect primarily EDM music. The venue itself makes the performances all that much better. There is fire shot into the sky, cold air shot into the crowd and multiple confetti drops both inside and outside.
The layout of this club is ideal. The inside is designed as a traditional nightclub with a dance floor, 2 bars and tons of bottle service tables. The dance floor tables are a ton of fun and offer some of the best seating in all of Vegas. The service from the staff is also top notch. The outside is more spacious, again with 2 more bars and plenty of VIP daybeds and Cabanas for bottle service. There is even a casino area and a bar in the center of the pool.
Partying at XS is something you must experience at least once in your lifetime, especially the Night Swims on Sundays. This is my favorite club and I highly recommend visiting this club while in Vegas. You can sign up for the guest list above.
How The XS Guest List Works
When you sign up for the XS guest list (which you can do for free above), simply provide your group size, the date you're attending and your contact info. Signing up for the guest list allows you to enjoy several benefits:
Women get free entry into the club.
Men get free entry with an even ratio of women in their group (or a greater number of women than men).
Men without even ratio can purchase a reduced price ticket on the guest list.
After signing up for the guest list, we will connect you with a promoter that works at the venue. You will receive a text message confirmation from that promoter shortly after signing up.
So now, when you arrive at the club head directly to the guest list line to check in. Once in line, there a staff member will come to you with either a clipboard or an iPad. The only thing you have to do is give them your name and they will check you in. If you're a guy and don't have ratio this is where you will be able to purchase a ticket at the reduced price. That's it, now you can go party!
XS Las Vegas Ticket Prices
When using the guest list at XS all women (and men with even ratio) will never have to purchase a ticket. Our guest list services at NiteThrive are completely free. If you want more information about how the guest list works and why it is free you can learn more here.
There are some instances where you may want to purchase a ticket like during a holiday or special event. So to give you some context this table shows how much tickets cost at XS.
| | | |
| --- | --- | --- |
| Method of Entry | Women | Men |
| Guest List | Free | Free (with even ratio) or Reduced Cover |
| General Admission (Tickets) | $25 – $50 | $50 – $100 |
| Holiday or Special Event (Tickets) | $75 – $200 | $125 – $250 |
Also keep in mind ticket prices go up as the event gets closer. I've seen prices skyrocket to over $400 at the door on really busy nights.
How do I Get To XS?
XS nightclub is located in the Encore Resort and Casino. The main entrance to the club is in the center of the hallway connecting the Wynn and the Encore hotels. It is easiest to just follow the signs to the opposite hotel, you will run into XS. There is also free parking at both the Wynn and Encore self-park garages, so feel free to use them.
The guest list line is located to the left of the Encore main entrance. So when you walk through the main entrance to the hotel take a left and walk down the hallway, you will see a bunch of security in purple jackets, that is the guest list line. There is also plenty of signage all around the nightclub to direct you to the correct line. Keep in mind that if you can't find the guest list line, the easiest thing to do is ask the staff. Don't worry you won't look like a newbie, they get that question all the time.
XS Wait Time
The lines at XS are surprising well managed considering how many people come thought the doors every night. They generally only get really long when the Chainsmokers or Drake are playing. For those nights be in line by 10:00 pm at the very latest. Most other nights you can get away with hopping in line at 10:30 pm.
Dress Code For XS
There is a dress code for clubs in Las Vegas. I made a full dress code guide for both men and women so if you are unsure what to wear check those out. But to give you the condensed version, men should wear collared shirts and nice shoes. For pants any pair of well fitted (no baggy) jeans will work, preferably in darker shades. Sneakers, hats, shorts or any athletic attire will not be allowed. Women can get away with a lot more, but a dress that fits your body well is recommended. Heels are also the norm but flats are acceptable and common, just no sandals or flip flops.
The one exception to the dress code is during Night Swim on Sundays. On Sunday's wearing a swimsuit and flip flops is perfectly acceptable. Women are required to wear a cover-up. If you try to walk around the hotel in your bikini the staff will tell you to leave.