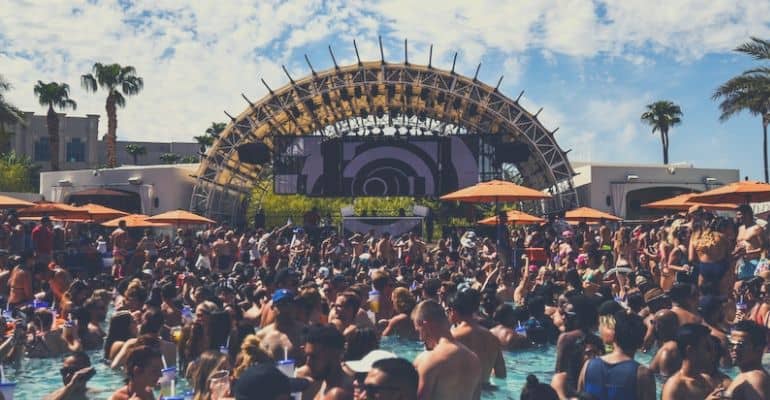 Get On The Daylight Beach Club Guest List
OPEN
Thursday, Friday, Saturday, Sunday
LOCATION
Mandalay Bay Hotel & Casino
The Daylight Beach Club Guest List is Currently Unavailable
About Daylight Beach Club
Daylight is home to one of the largest pool parties in Las Vegas. The club features a prominent stage and one very large pool with cabanas and daybeds outlining the sides of it. The layout of this dayclub truly puts the stage front and center. It doesn't matter if you have a VIP cabana or if you're swimming in the pool, all the action will directly in front of you.
Daylight Beachclub is heaven for any fan of EDM music, since the focus of the club is to pump out great beats. One of the big name DJs that performs here is Rick Ross, who does play more Hip Hop. But other than that, this club is almost exclusively EDM.
How The Daylight Guest List Works
When you sign up for the Daylight guest list (which you can do for free above), simply provide your group size, the date you're attending and your contact info. Signing up for the guest list allows you to enjoy several benefits:
Women get free entry into the club.
Men get free entry into the club.
Both men and women will always have free entry into the club, as there are no ratio requirements here. After signing up for the guest list, we will connect you with a promoter that works at the venue. You will receive a text message confirmation from that promoter shortly after signing up.
So now, when you arrive at the club head directly to the guest list line to check in. Once in line, a staff member walking around with either a clipboard or an iPad will come to you. The only thing you have to do is give them your name and they will check you in. That's it, now you can go party!
Daylight Club Ticket Prices
When using the guest list at Daylight you will never have to purchase a ticket. Our guest list services at NiteThrive are completely free. If you want more information about how the guest list works and why it is free you can learn more here.
There are some instances where you may want to purchase a ticket like during a holiday or special event. So to give you some context this table shows how much tickets cost at Daylight.
| | | |
| --- | --- | --- |
| Method of Entry | Women | Men |
| Guest List | Free | Free |
| General Admission (Tickets) | $20 – $40 | $30 – $75 |
| Holiday or Special Event (Tickets) | $150 – $150 | $100 – $200 |
Also keep in mind ticket prices go up as the event gets closer. I've seen prices skyrocket to over $100 at the door on really busy days.
How do I Get To Daylight?
Daylight is located in the Mandalay Bay Resort and Casino. The club has its own valet and self park area. Do not get dropped off at the hotel or you will have to walk a good distance to get to the the club.
As far as finding the guest list line, there is plenty of signage all around the club to direct you to the correct line. Keep in mind that if you can't find the guest list line, the easiest thing to do is ask the staff. Don't worry you won't look like a newbie, they get that question all the time.
Daylight Wait Time
The line at Daylight can get pretty long, particularly on weekends, so plan to arrive by 10:45 am at the latest. You DO NOT want to be at the end of that line, especially if you are on the guest list. There is a cut-off time around 12:30 pm so if you're not in by then you will no longer get free entry and will have to pay cover.
Dress Code For Daylight
Swimwear is required at all Vegas pool parties and dayclubs. Athletic shorts, cargo shorts and jeans are not allowed into the club. Women are required to wear a cover-up. If you try to walk around the hotel in your bikini the staff will tell you to leave. I made a full dress code guide for both men and women so if you are unsure what to wear check those out. T-shirts, tank tops and hats are also allowed here.