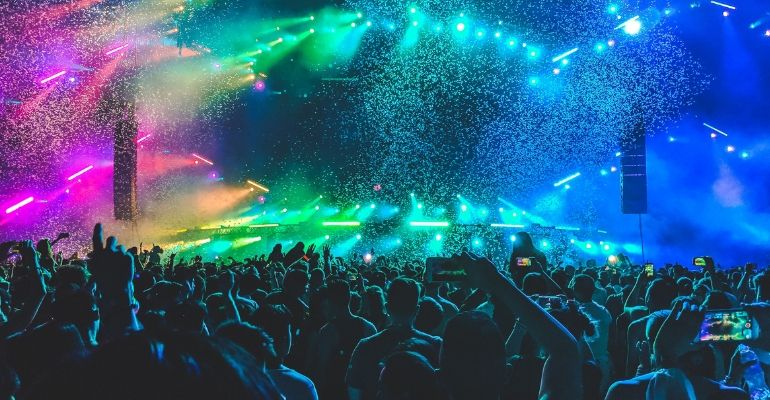 Whether you're a true born party animal or not, nightclubs in Las Vegas are unlike anything you have ever experienced. People are always raving about Vegas nightlife, but what actually makes these clubs so special?
What are Vegas nightclubs like? Las Vegas nightclubs are the largest nightclubs in the world, many of them accommodating over 4,000 guests a night. These mega clubs are extremely loud and are home to some of the most popular DJs. They are open until 4:00 am and offer guests free entry on many nights by signing up for their guest lists.
Although Las Vegas nightclubs can be some of the most expensive nightlife venues on the planet, all of them offer free entry to guests that are on their guest list (which you can sign up for here). All clubs offer free entry for women but some clubs require groups of men to have an even ratio of women in their group to get in for free.
Many first-time visitors to Vegas think that all clubs are relatively similar, but that is far from the truth. Your experience will change based on whether or not you have bottle service, what club you go to, what day of the week you are visiting, and the time of year you go.
Nightclubs also treat guys and girls much differently, as girls will commonly skip the line and get free bottle service or drink tickets.
Every Club Has a Different Vibe
Every Vegas club has a different crowd. So how do you know which nightclub is right for you? For the most part, the feel of the club is determined by the type of music being played. So for example a club like Drai's plays mostly Hip Hop music, so it attracts the type of crowd that enjoys Hip Hop.
I would recommend going to a club that plays the type of music you like, as that is what is going to be the most enjoyable. Nightclubs here in Vegas, for the most part, play either Hip Hop or different types of EDM or a combination of the two. The only club that completely strays away from this is On The Record, which plays a mix of classic throwbacks.
The layout of the venue also has a HUGE role in determining the overall vibe of a nightclub.
Typically nightclubs that have large outdoor sections and pools are going to be way more laid back than an overly loud indoor club packed to capacity. The nightclubs that are open to the outdoors are also way more spacious than venues that are strictly indoors. This is something that really needs to be considered when picking a club to go to.
Both indoor and outdoor venues have their advantages. Outdoor clubs have fewer people jammed into a small area. But at the same time, if you have a bottle service table, it is likely that your table will be further away from the action.
Nightclubs that are fully indoors will have most of their tables centered around the stage, making it easier to see the DJ. If you can't decide there are even clubs like XS that are half indoor, half outdoor, giving you the best of both worlds.
Groups of Guys VS Groups of Girls
Guys that come to Vegas and Girls that come to Vegas will have two very different experiences. Girls will get into every nightclub for free, no matter the night, as long as they're on the guest list.
Girls may even be given free drink tickets, comp dinners (comp means complimentary or free), and be able to cut the line at times. It is especially common for groups of 4+ girls to get free bottle service on nights that are less busy. Las Vegas is a really fun place for large groups of girls as the clubs will cater to you (for the most part).
Guys, on the other hand, have it much tougher. It's not too likely that a group of guys will get free comp dinners or bottle service. Guys even have a more difficult time on the guest list. Some nightclubs like Hakkasan or Omnia will always let guys in for free on the guest list. But there are many other clubs that will require men to have an even ratio of women in order to get in for free on the guest list.
And you can forget about cutting the line, that's not going to happen unless you have bottle service, which I'll talk about in the next section (bottle service is the only way to get VIP treatment as a guy).
For those mixed groups of guys and girls, getting into clubs for free will not be a problem, as long is there is an equal number of men and women. But if there are guys in the group you can forget about the special treatment. All the free stuff is unfortunately reserved for girl groups only.
Bottle Service VS General Admission
Bottle service is the great equalizer for guys that feel discriminated against in Las Vegas. Vegas nightclubs make most of their money from selling VIP bottle service tables, and therefore treat anyone purchasing those tables like royalty. So if you buy a table at a club you will get your own private area, your own bottles of alcohol and preferential treatment when it comes to skipping lines.
When you have a table you will have your own cocktail waitress that will get you whatever you need. Want different flavored mixes, DONE! Want a pack of Red Bulls, THEY'RE ON THE WAY! There is even a "girl guy" that works at the club that can bring a bunch of girls to your table, if you so choose. Bottle service is Vegas at its best.
You can reserve a table by in touch with a VIP host that works at the club. We can connect you with a VIP host here.
If you don't get bottle service and enter the club through General Admission (this includes pre-sale tickets) or the guest list line, you will not have access to many of the perks I just mentioned. But that doesn't mean it's not just as fun.
For one, if you used the guest list, you get into the club without spending a dime, so now you can use that saved money and get drinks at the bar.
And while you don't have a designated area all to yourself, there are still a few places to sit (but not a lot) at almost every club. You don't have to feel tied down to a specific location and are free to roam, go to the dance floor, or do whatever you want. Both bottle service and general admission are fun, depending on what type of night you are looking to have.
When You Visit Vegas Matters
Las Vegas is a much different place in the winter than it is in the summer. To start the pool parties close once it starts to get cold in Vegas (yes it gets cold). The pool parties are really only open from April through October. And while they may say that they are open for another month or so, they close down the pool and only have the club section open. So there are no dayclubs in the winter with the exception of Lavo Brunch which is actually really good.
Vegas does get really busy during specific holidays like Halloween or New Years but for the most part, the nightlife scene in the winter is nothing like it is during the summer. Not to say it's bad by any means, but it is a little different without the pool parties.
The days in which you're partying matter too. Going out on a Wednesday and going out on a Saturday are two different animals. Both are extremely fun and there will be plenty of people at the club, but they have different feels. On weekdays there will be a good mix of Vegas locals at the clubs while on weekends you will see plenty of people flying in from all over the world (including a ton of people from Los Angeles).
Like I said both weekdays and weekends are busy and a hell of a time, but you'll find the lines getting longer the closer to the weekend you get.
The DJ Will Impact Your Club Experience
While all Vegas DJs are really good, there are a few that will have a greater impact on your clubbing experience. The two most notable artists that have the greatest effects on a nightclub, are Drake and Calvin Harris. Drake only performs at XS and obviously brings in a huge crowd. If you go see Drake you will have to buy I ticket since there will be no guest list that night. I have seen the ticket prices go as high as $400 per person. The tables prices will also inflate for that night only.
Calvin Harris is the same way when he plays at Omnia, Hakkasan, and Wet Republic. It's not as bad as Drake, but the tickets will be a couple hundred bucks and there will be no guest list that night. If there is a guest list, it will be very limited and could be cut off at any point because it's based off of the capacity of the nightclub.
Other big-name DJ's, like The Chainsmokers, will make lines longer and ticket prices higher, but still have a guest list for free entry. Whenever a big DJ is playing it is always a safe bet to arrive early. You can be sure the nightclub will be packed.
What Are Dayclubs and Pool Parties Like?
Dayclubs and pool parties are only open April through October but they can be the absolute best parties in Vegas. Pool parties are essentially the same as nightclubs, except for the fact that the sun is out and you can go swimming.
Everything else is the same, big DJ's, loud music, everyone is drunk and having fun. These clubs will be packed! Its no secret that they are a ton of fun.
One notable difference between the pool parties and the nightclubs is the dress code. Everyone is required to have swimwear at all Vegas dayclubs. Any athletic attire, shorts, cargo shorts, and jeans are not allowed into the club. Women will also be required to wear a cover-up while in line. To learn more about what to wear to Vegas pool parties check out this guide for men and this one for women.
Related Questions
What is the dress code for women at Vegas nightclubs? At nightclubs in Las Vegas women should wear a nice dress that fits your body well in either black or a vibrant color along with a small clutch. A fancy top with jeans also works well. Women aren't required to wear heels, but they are highly recommended.
What is the dress code for men at a Vegas nightclub? At nightclubs in Las Vegas, men should wear either a collared shirt or sports jacket paired with nice shoes, and well-fitted jeans. All nightclubs accept this dress code making it the safest option, although some clubs allow fitted and fashionable t-shirts.