There is both an official and unofficial dress code for the nightclubs in Vegas. After going out to the clubs here for several years now I have been able to piece together what is allowed, not allowed and what actually looks good.
This is a complete guide to what men should wear. I wrote separate dress code guide for women here (don't worry there was plenty of female input when putting it together).
What should men wear to a Vegas nightclub? Men should wear a collared shirt or sports jacket, nice shoes, and well fitted (no baggy) jeans.
All nightclubs accept this dress code, making it the safest option. Although, what's allowed into the club is completely up to the discretion of the staff. They have been known to give some slack when it comes to fitted and fashionable t-shirts.
Las Vegas nightclubs will not let you into the club if you are wearing any of the following items:
Shorts
Baggy jeans
Sneakers or tennis shoes
Sandals or flip flops
Work boots
Hats
Athletic wear
Jerseys
Cut offs
For the most part nightclubs describe their dress code as "upscale fashionable" or "upscale chic" which leaves a lot open to interpretation.
There is a lot to consider when deciding what to wear since some nightclub are more relaxed on the dress code than others. I'll help you walk the fine line of what looks good and what is actually allowed into the club.
(This article may contain affiliate links and we may earn a commission if you make a purchase.)
Nightclub Dress Code For Men
Can I Wear Jeans in the Club?
Jeans are the most common article of clothing to see in a nightclub. There are a few things to note though before you show up at the club. Baggy jeans will ABSOLUTELY NOT WORK.
While the jeans you wear don't need to be squishing your junk, they do need to be well fitted. No loose fitting jeans will be allowed into the club.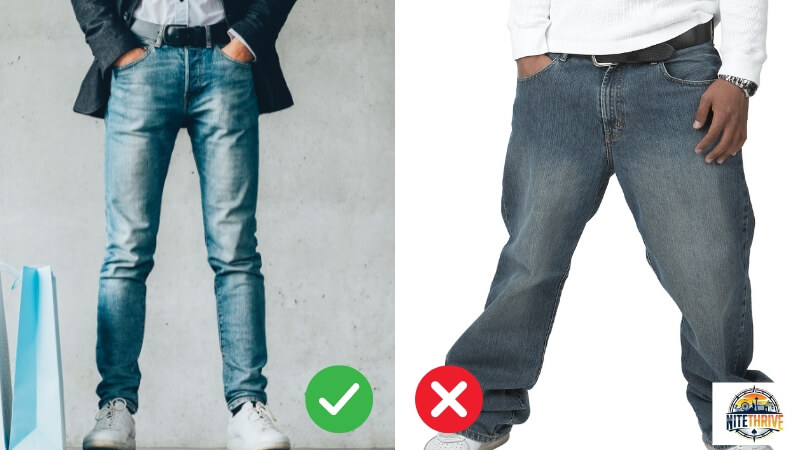 The one exception would be if you are purchasing a table, since the club is more lenient with anyone who drops a couple thousand dollars on bottle service. If you are using our free guest list services, then you will want to follow the dress code guidelines closely.
Jeans with rips and tears are allowed at most nightclubs, but anything with too many holes will be flagged at the door. While ripped jeans are stylist, try too keep the rips to a minimum.
If you are unsure what color pair of jeans to where, it is always a good idea to lean toward darker colors. There is no official rule against colored jeans, but black or dark blue work the best.
Should I Wear Dress Pants?
Dress pants aren't required at any club. If you are wearing a nice suit and want to look fresh, then absolutely, go for it. But you do not want to look like Jake from State Farm. Avoid khakis.
Are Collared Shirts Required?
Collared shirts are not required but if you are just looking to find something to wear that works without putting in too much effort, button up shirts are a good option. Make sure that the shirt you choose is slim fit and stylist, again avoid the baggy clothing look at all costs.
Are T-shirts Allowed Into the Club?
Technically, t-shirts are not allowed but they are becoming more commonplace in nightclubs. I personally wear a t-shirt almost every time I go out. But with that being said, it is a grey area.
It is up to the staff to decide whether the t-shirt you are wearing is acceptable, but their policies seem to change day by day. They may let one person in with a t-shirt and not another, even though they look identical.
Marquee Nightclub is the most strict when it comes to their t-shirt policy. Omnia and Hakkasan can also give you issues, but they are way less strict. All of the other clubs will allow you to wear t-shirts without issue, assuming you follows these guidelines: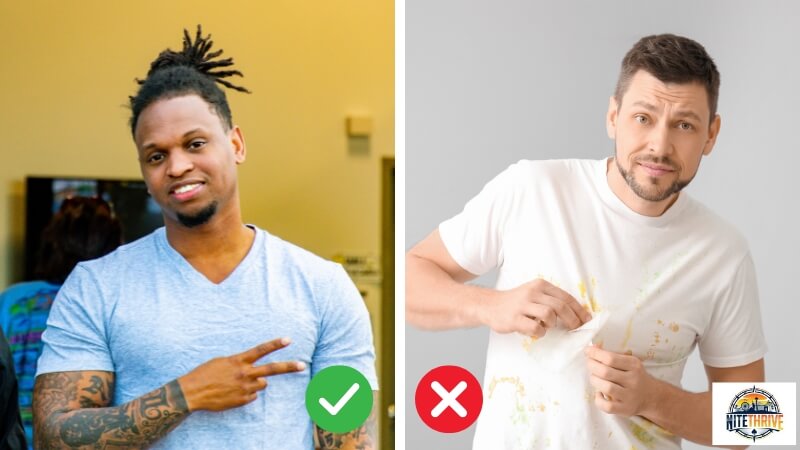 Slim fitted
Solid color (preferable dark colors – pink will not work)
No offensive labels or words
V-necks work well (make sure the V is not too deep)
I like to wear a plain black v-neck t-shirt and at most places I have never had an issue. The long t-shirt look is also becoming really popular, but you are walking a fine line if you wear one. For most long t's are best avoided.
What Type of Shoes Should I Wear?
The best shoes to wear are dress shoes or dress boots. Brown or black dress shoes can go with anything you wear and you will never have an issue at the door.
If you are someone who likes to push the limits, sometimes clubs will allow designer sneakers into the club, assuming that you look well put together and stylish.
Again it is best to stick with black colored shoes if you go this route (meaning completely black including laces). To pull this off the rest of your outfit must be completely on point.
A word of caution if you go the designer sneaker route: club staff is the strictest when it comes to shoes, so you are are taking a huge risk. I have even seen people wearing $500 Yeezy's get turned away. In most cases it is best just to wear dress shoes or dress boots over sneakers.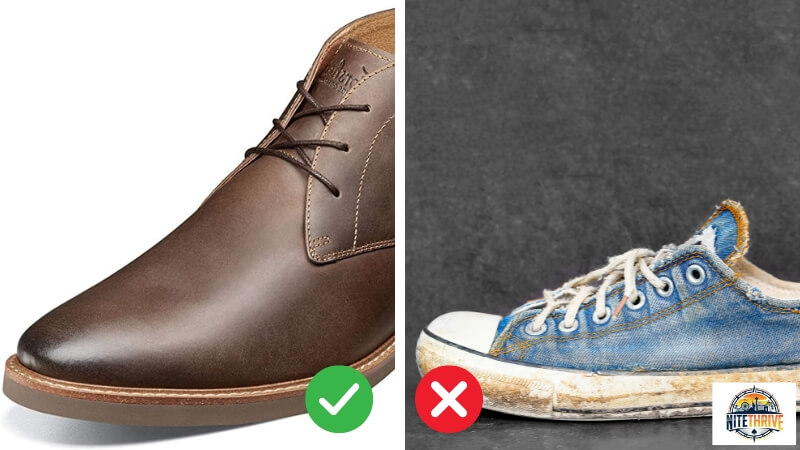 I personally prefer to wear some sort of all-purpose boot. This is the pair I've been wearing for the past year. They're extremely comfortable and durable. I literally wear them everywhere. They also make you about an inch taller, which is always a good thing in a nightclub.
Can I Wear a Hat?
Hats are not allowed into nightclubs with the exception of nighttime pool party's at clubs like XS and EBC at Night. On Sunday nights XS opens up its pool, so hats are allowed. Drai's also opens their pool on Thursdays allowing hats. They are always allowed at EBC at Night.
For normal nightclubs hats are a no go. I have seen people wearing fedoras get in, but it is best to leave your hat at home.
Dayclub and Pool Party Dress Code
Do I Have to Wear a swimsuit?
Swimwear is required at all Vegas pool parties and dayclubs. Athletic shorts, cargo shorts and jeans are not allowed into the club.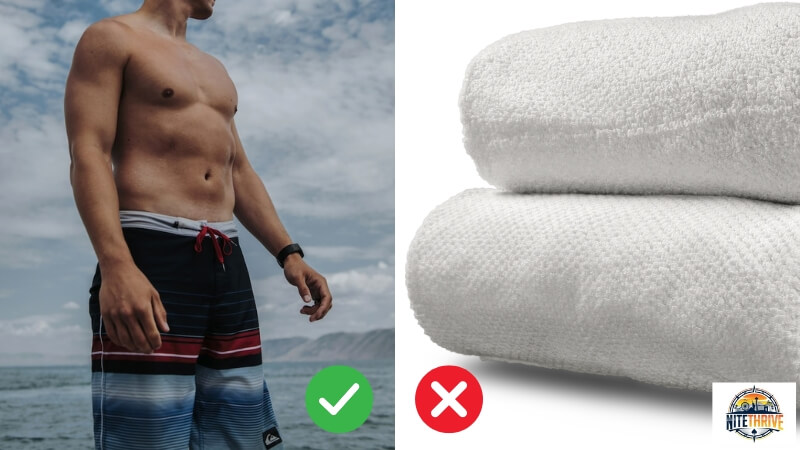 NOTE – It might seem obvious, but don't bring a towel – they will NOT let you get in in the club
Are Sunglasses or Hats Allowed?
Sunglasses and hats are both items allowed and encourage for dayclubs as the sun in Vegas can be pretty strong.
Can I Bring a Bag In?
You are allowed to bring a bag into dayclubs, although it must be small. Drawstring bags are going to be your best bet. To make life easier, most pool parties and dayclubs in Las Vegas have lockers available for rental.
Related Questions
How do I get into Vegas nightclubs for free? The easiest way to get into Vegas clubs for free is add your name to the guest list which you can do for free here. Women always get free entry on the guest list but some clubs require men to have and even ratio of guys to girls in order to get in for free.
What should women wear to a Vegas nightclub? Women should wear a dress that fits your body well in either black or a vibrant color along with a small clutch. A romper or a fancy top with jeans also work well. Women aren't required to wear heels but they are recommended.
Is there a casino dress code in Las Vegas? Casinos don't have an official dress code however, there are some unwritten rules. If you want to know what to wear in Las Vegas casinos, I recommend that you check out the casino dress code guide I recently put together.