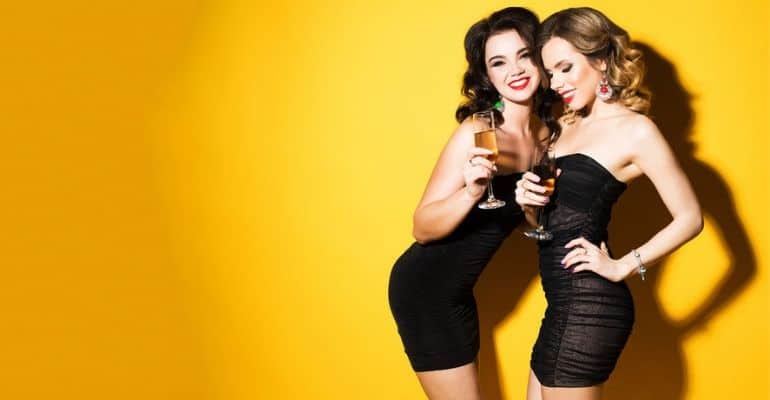 Picking out outfits for your night out in Vegas can be a ton of fun, but sometimes you can get caught up figuring out what to wear. There are some general dress code guidelines that you are going to want to follow to ensure that you get into the club without a hitch. This guide will cover what women are allowed to wear along with some recommendations. If you're also dressing your man, I wrote an identical dress code guide for men here.
What should women wear to a Vegas nightclub? Women should wear a dress that fits your body well in either black or a vibrant color along, with a small clutch. A romper or a fancy top with jeans also work well. Women aren't required to wear heels but they are recommended as they will get the attention of hosts and allow you to get inside the club faster.
Las Vegas nightclubs will not let you into the club if you are wearing any of the following items:
Yoga pants
Athletic attire
Sneakers
Sandals or flip flops
Work boots
Loose or baggy fitting clothing
Shorts
Hats
It is true women get a lot more freedom to wear what they want to the nightclubs than men do. There are however a few things to keep in mind that will make your life a lot easier when going out in Las Vegas.
Nightclub Dress Code For Women
What Type of Dress should I Wear?
All dresses should be tight, short, sexy and fit your body well. Cocktail dresses are recommended and are what you will see most girls wearing. As far as colors go you can either do black or go the opposite route and wear vibrant or flashy colors. Essential anything works as long as the dress accents your figure.
Are Dresses Required in Nightclubs?
Dresses are not required in nightclubs. Other options include a romper or jeans paired with a cute top. Anything that looks cute or sexy will work as long as there is no athletic attire (like yoga pants) involved.
Do I Have to Wear Heels?
Heels are not required but HEAVILY recommended. A majority of girls will be wearing heels in the club, you don't want to be the only one who is not. That being said flats are acceptable.
In most clubs they even sell disposable flats in the bathroom, so if your feet are really bothering you that is always an option. Wedges are another option if you really hate wearing heels.
Never take your heels off in the club. Every night there are always a few girls that do. It's kinda gross and honestly a really bad look. There is always the option to buy cheap flats in the bathroom if you're in a lot of pain.
How Big Should My Clutch Be?
There is no need to bring a handbag or a full tote bag to the club. A small clutch should be more than enough if you're not stuffing it with makeup. Your clutch should be big enough to fit lip gloss, maybe some powder or gum and your phone.
What Type of Accessories Should I Wear?
Pretty much any accessory you can think of is allowed into the club. Don't feel required to do so, but if you like to wear rings, bracelets or earnings go rock for favorite pair. I've even see girls wearing body chains. Just don't get too crazy as it will get uncomfortable carrying everything around for a few hours.
Dayclub and Pool Party Dress Code
What Type of Swimsuit should I wear?
Bikinis are what most girls are going to wear, but if you have a sexy one piece you like definitely wear it. As far as what is acceptable, you want your bikini to be flashy but not to revealing. If it is as thin as dental floss there is probably an issue. Thongs and string bikinis are not allowed.
What Kind Shoes Should I wear?
Wedges are going to be your best bet at pool parties although sandals are fine too. Although allowed, you're going to want to avoid wearing stilettos and sneakers, since they will look off at the pool.
Do I Need a Cover-up?
You will need a cover-up! If you try to walk around the hotel in your bikini the staff will tell you to leave. Rompers, sarongs, shorts and flowy tunics all work extremely well. You can take them off once you're inside the club. Avoid wearing everyday clothes like jeans, as they are not allowed at the pools.
What Accessories Should I Bring?
Sunglasses are the main accessory you will want since the Vegas sun is unforgiving. If you wear sunglasses you won't need any eye makeup. The only thing you would need to maybe bring is lip gloss.
Avoid anything too excessive like body chains as these will become really uncomfortable really quickly, especially if you plan on going in the pool.
What Size Handbag Can I Bring?
Clutches and small handbags are completely acceptable to bring into the dayclubs. As long as you're not lugging around a huge tote bag, you will be in the clear. There are even lockers available for rent at most pool parties in Las Vegas, which will make your life a lot easier.
Related Questions
How do I get into Vegas nightclubs for free? The easiest way to get into Vegas clubs for free is add your name to the guest list which you can do for free here. Women always get free entry on the guest list, but some clubs require men to have and even ratio of guys to girls in order to get in for free.
What should men wear to a Vegas nightclub? Men should near a button up or sports jacket, nice shoes, and well fitted (no loose fitting) jeans. Although what's allowed into the club is completely up to the discretion of the staff, they have been know to give some lee-way when it comes to things like fitted and fashionable t-shirts.
Is there a casino dress code in Las Vegas? Casinos don't have an official dress code however, there are some unwritten rules. I put together a Las Vegas casino dress code guide here.