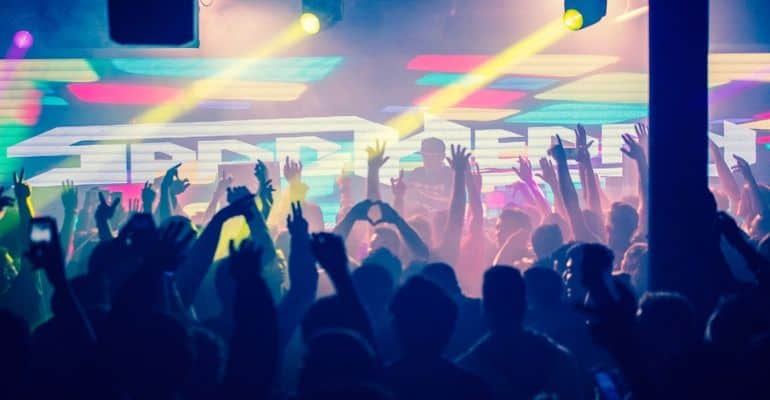 Most cities only open up their nightclubs on the weekends, but Las Vegas is not like most cities. While it's true that there are fewer people visiting Vegas during the week, the nightclubs are still packed on a nightly basis. This now begs the question: What Vegas nightclubs are open tonight?
Are Vegas nightclubs open during the week? Nightclubs in Las Vegas are open 7 days a week including holidays. Not every nightclub is open every night, but there will always be several clubs open on a given night. These clubs are just as busy during the week as they are on the weekend, as only a handful are open each weeknight.
| | | |
| --- | --- | --- |
| Weekday | Best Club That Night | Location |
| Sunday | XS Nightclub | Encore |
| Monday | Marquee | Cosmopolitan |
| Tuesday | Omnia | Caesars Palace |
| Wednesday | EBC At Night | Encore |
| Thursday | Hakkasan or Drai's | MGM or Cromwell |
Some week nights in Las Vegas are even better than the weekends. This is because the nightclubs, while still really busy, are not completely stuffed to capacity. Avoiding nights where too many people are packed into one room can make going out a lot more fun. That being said there are some clubs that are better than others during the week. I'll walk you through which ones are the best to attend every day of the week.
Also See: Best Nightclubs on the Las Vegas Strip
Sunday Night At XS Nightswim
Nightswim on Sunday nights at XS Nightclub is one of the best parties in town, regardless of the day of the week. Nightswim is a nighttime pool party in the half indoor, half outdoor wonderland of XS. For anyone unfamiliar with this venue, it is one of the largest nightclubs in the entire world.
XS also happens to have one of the best lineups of DJ's in Las Vegas which includes Drake, The Chainsmokers, DJ Snake, Major Lazer, Kygo, and Diplo. The combination of musical talent and overall luxury of the venue has helped promote XS into the number 1 voted nightclub in the world for several years running.
This club is awesome whether you plan on swimming, grabbing a drink at the bar, or purchasing bottle service. XS is a favorite of nightlife industry workers here in Vegas, so you can be sure it's going to be a ton of fun.
One important fact worth mentioning is that XS Sundays are seasonal, meaning that they shut down in the winter. This party normally runs from April through November so there is a 4-month gap when XS isn't open on Sundays. During that time Hakkasan is the best alternative on a Sunday night in Vegas. You can get into either nightclub for free here using the guest list.
Marquee Mondays
Going to Marquee Nightclub on a Monday night is one of my favorite parties in Vegas behind only XS nightswim and the Wednesday nightclub on our list. Marquee is a club built around the music. All the VIP tables are centered around the stage in the front.
The few tables that aren't conveniently located around the stage are outside around the pool giant pool. The outside area of Marquee is extremely fun and features an amazing view of the strip.
This club also has an upstairs area called the library. The library has a pool table, a large bar and this thing called a silent disco. Essentially when you walk upstairs the staff give you your own pair of noise-canceling headphones, that play different music. Don't worry, you're able to change the station and song on the headphones. Overall it's a ton of fun and you won't find anything like this anywhere else.
Marquee is also a great place to get bottle service as there isn't a bad table location in the entire venue. This club is really upscale since it's in the Cosmopolitan, and should definitely be your first choice if you find yourself out on a Monday night in Las Vegas.
Omnia Tuesdays
As it turns out, there used to be a handful of clubs open on Tuesday nights in Vegas. Now there is only one. Omnia is the last standing nightclub open for business on Tuesday for a reason.
The party here on Tuesdays was so good that it put Hyde Nightclub out of business and made Drai's switch their industry night to Thursday. And honestly, it's for the better. Anybody who is going out on a Tuesday will be at Omnia, making it one hell of a party.
Omnia is huge, featuring one giant main room that plays EDM music so loud that your ears hurt. This room has the iconic rotating chandelier that Omnia is known for. There is also an entire room dedicated solely to Hip Hop music called the Heart of Omnia. If you're a Hip Hop fan, I have to say the heart room is my favorite spot in all of Vegas to get a dose of some good Hip Hop music.
As if these two rooms weren't enough, Omnia has a surprisingly large outside Terrace, fitted with tons of VIP tables, an oversized bar, and a dance floor that literally lights up. The terrace has a really solid view of the strip and offers the perfect alternative to the eardrum busting beats downstairs.
Omnia is the only show in town for a Tuesday night, but trust me, it's a really good show. There is technically another nightclub that is open on Tuesday, called Voodoo nightclub, but it's honestly more of a rooftop bar. The only thing it offers is a unique view of Las Vegas from the 51st floor. Unless you're here to site-see, definitely stick with Omnia.
Voodoo rooftop is technically open on Tuesdays but it's never busy. I wouldn't go to Voodoo unless you wanted to see the view, which is actually pretty good.
EBC at Night on Wednesdays
Encore Beach Club or "EBC" is by far the best Vegas nightclub on a Wednesday night. Just like XS Nightclub, EBC at Night is a pool party, and a wild one at that. EBC during the day is by far the best dayclub in all of Vegas, and that carries over into the night.
Big-name DJs like The Chainsmokers, Kygo, Diplo, and DJ Snake constantly play here, since this is the premier Vegas pool party. There are TONS of VIP bottle service tables here with plenty of different pricing and location options if you want to go that route. You can also get free entry on the guest list using the link in the paragraph above.
Because EBC at Night is mainly a pool party (although you don't have to go swimming), it's only open April through November.
For anyone finding themselves in Vegas during those months, I would recommend On The Record. Or the other option would be Light, which plays mostly EDM. But for the times when EBC is open, always go there on a Wednesday night.
Hakkasan on Thursdays
The main club on a Thursday night has changed quite a bit recently as EBC moved their industry night to Wednesday. There are quite a few options on Thursday depending on your taste in music, but for most Hakkasan will be the best club.
Hakkasan is a mega-club with multiple floors. There are some serious DJs that call Hakkasan home including Calvin Harris, Steve Aoki, Lil Jon, Martin Garrix, and Zedd. Like Omnia, there is even a room dedicated to Hip Hop music called the Ling Ling Lounge. Best of all, to get free entry on the Hakkasan guest list there is no guy-to-girl ratio requirements.
Since there are so many clubs open on Thursday I'll offer a second option. Drai's is also really good on Thursday nights since it's their nighttime pool party. Drai's always has a ton of live shows including performances from Migos, Gucci Mane, Snoop Dogg, 2 Chainz, 50 Cent, Yo Gotti, Jeremih, Pauly D, Trey Songz, and Big Sean.
If you are a fan of any of those artists I would encourage you to see them live at Drai's when they are performing. Be aware that Drai's does require an even girl to guy ratio to use the guest list. Also for big events like Migos, there typically will be no guest list available.
If you are looking to have a fun night out in Vegas without worrying about cover charges or whether guest list is open, I would highly recommend going to Hakkasan. Hakkasan is a top-notch club and always a ton of fun.
Related Questions
What are industry nights at Las Vegas nightclubs? Industry nights are nights when nightlife industry workers go out to a specific club. Industry nights are Sunday through Thursday since nightlife workers are typically working on weekends. The crowd on these nights is a good mix of Vegas locals, industry workers, and tourists.
How to get into Vegas nightclubs for free? The quickest way to get into Las Vegas clubs for free is to add your name to the guest list. There are several ways to put your name on the guest list including texting a nightclub promoter, but the simplest way is to sign up for free here. Women always get free entry on the guest list but some clubs require men to have an even ratio of guys to girls in order to get in for free.