As someone who has lived in both New York and Las Vegas, I'm often asked which city is the better vacation spot. It's a tough question to answer, so I decided to do an in-depth comparison of the two cities.
Although New York and Las Vegas are both popular tourist destinations, they are vastly different cities. Las Vegas is known for its endless forms of entertainment-like nightclubs, casinos, and live shows-while New York City is more of a fast-paced business hub, with a rich history and iconic buildings.
These two cities couldn't be more different. You'll get a completely different experience depending on which one you choose. So to help you pick the right destination, I'm going to compare Las Vegas vs New York head-to-head, in several key areas. By the end of this post you'll have a clear understanding of what each city has to offer.
New York vs Las Vegas – General Atmosphere
What I mean by atmosphere is the overall vibe of the city, and the people in it. As I mentioned earlier, Las Vegas and New York are complete opposites, especially when it comes to atmosphere. The cities were designed with different intentions in mind.
New York City
New York City (NYC) is made up of 5 burrows: Manhattan, Brooklyn, Queens, The Bronx and Staten Island. Over 8.5 million people live in the city, plus an addition 1.6 million commuters come in every day.
It's important to understand, New York isn't just a vacation destination, but a place where actual people live and do business. Although there are plenty of things for visitors to do, it wasn't built with tourism in mind.
So when you visit New York, the first thing you'll notice is the pace. Everyone is in a hurry and moving at a hundred miles per hour. This can be an adjustment your first time visiting. It's intimating when you don't know where to go, and everyone is whizzing by you. Not to say that New Yorkers are rude, but most don't have the time or patience to help you find your way.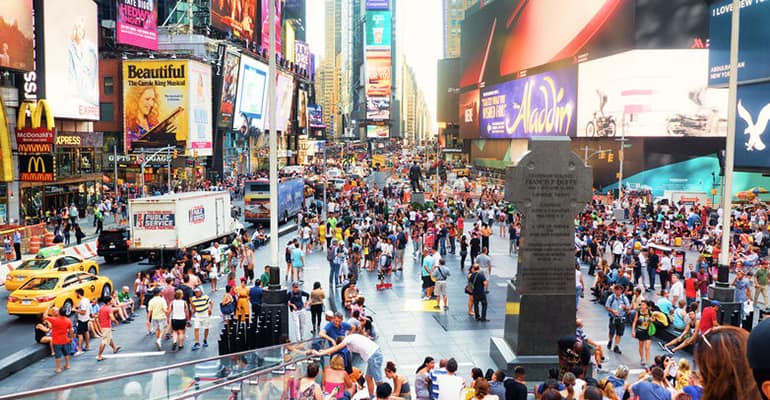 The herds of people rushing around the city 24 hours a day, creates a buzz and an energy unmatched anywhere on the planet. Once you acclimate to the city (which takes about a day), you'll be able to appreciate how unique it is. From the massive skyscrapers to the subways, you won't find any place quite like New York.
There are so many distinct sections of the city, packed into a small area. You could spend weeks exploring places like Midtown, Brooklyn, SoHo, Meatpacking, Chinatown, Little Italy and the Lower East Side, just to name a few. There's just so much diversity, and there's never a dull moment.
Las Vegas
Las Vegas is on the complete other side of the spectrum. The city is designed to be the ultimate tourist destination. Besides casino employees, you won't find too many locals walking around the strip.
Most of the people you run into are on vacation, or on a quasi business trip/vacation. Very few people are rushing to work, and this results in an overall friendlier atmosphere.
The city definitely embodies the saying "What happens in Vegas, stays in Vegas." People feel like they can let loose in Las Vegas, without being judged. Drinking binges, fast food/buffet benders and one night stands aren't uncommon-in fact, they are the norm. Of course you don't have to indulge in any of these vices if you don't want to. I mention them to paint the picture of an everything and anything goes environment.
Everyone feels like they can get lucky in Las Vegas, either at the bar or the blackjack tables. This creates an excitement, albeit a different type of excitement than NYC.
With a tourist centered focus, Las Vegas makes a trade-off. The environment is much more controlled and visitor friendly, but lacks some of the diversity and character ingrained in a city like New York.
New York vs Las Vegas – Things To Do
For the most part, anything that you can do in Las Vegas, you can also do in New York, and vice versa. But there are some things that each city does better than the other. In this section I'll cover some of the activities that each city has to offer, along with the most popular attractions.
New York City
There is a seemingly endless amount of things to do in New York City. Here are a few of the popular tourist attractions in The Big Apple:
Times Square
Central Park
Empire State Building
Madison Square Garden (Shows and Sports)
Broadway Shows
High Line
Staten Island Ferri
Coney Island
Battery Park
Union Square
Washington Square Park
Brooklyn Bridge
Yankee Stadium
Bronx Zoo
Statue of Liberty
The Museum of Modern Art (MoMA)
Restaurants, Delis, Food Carts, Pizzerias and Bakeries
Shopping
Bars
Nightclubs
Many of the things that you can do in New York involve sightseeing. In any other city I would consider "sightseeing" boring, but it really is an event in NYC.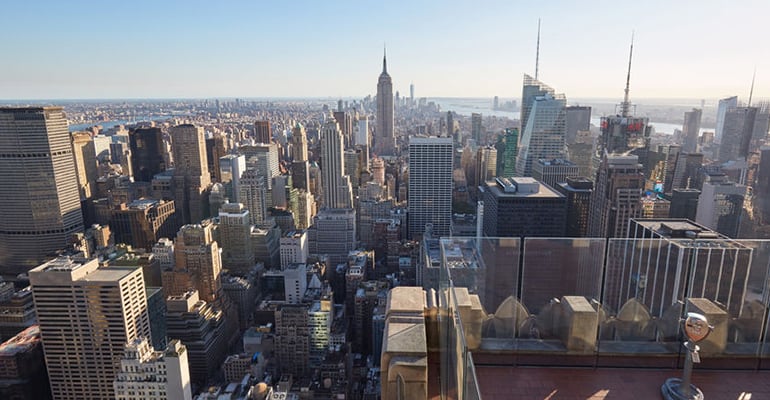 Simply walking the streets of New York is fun activity. There is so much going on at every street corner, that you'll never get bored. Having lived in the city, I still enjoy taking a walk down 5th Avenue, or taking a stroll through Washington Square Park.
You can do other things like boating or golf in New York too, just outside of the city. You can even legally gamble if you take the 2 hour trip down to Atlantic City. But most people don't come to New York to do activities that are available in their home town. The city itself is the biggest tourist draw.
Las Vegas
New York may be the financial capital of the world, but Las Vegas is the entertainment capital of the world. Las Vegas is party town, through and through. Here are some major Las Vegas attractions:
Gambling
Shows (Comedy Clubs, Cirque du Soleil, Concerts)
Music Festivals
Sightseeing (Bellagio Fountains, Grand Canyon, Hoover Dam)
Water Sports (Lake Mead, Lake Las Vegas)
Topgolf
Shooting Ranges
Exotic Car Racing
Spas
Sporting Events
Bars
Nightclubs
Pool Parties
Strip Clubs
Shopping
Conventions
Fremont Street
Restaurants
Recreational Cannabis
Las Vegas is all about the fun and indulgent things to do on the strip. There are some sights to see-like the Grand Canyon, the Hoover Dam or the Valley of Fire State Park-but they take a back seat to the pleasures of the strip.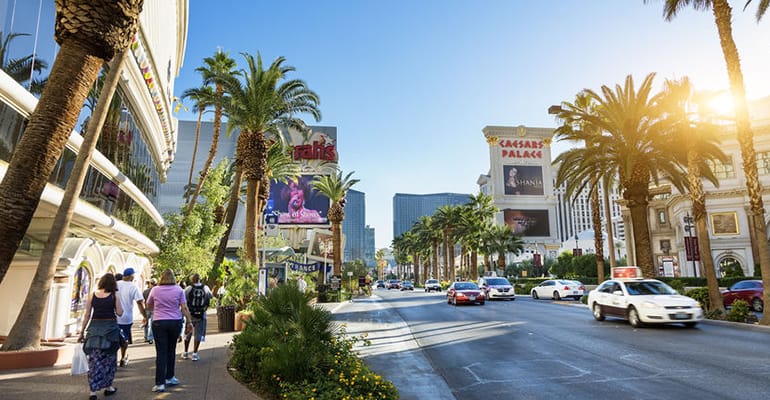 Vegas used to be all about the gambling, but in recent years the city has incorporated much more entertainment. This comes in many forms including concerts, Cirque du Soleil shows and comedy clubs. Professional sports have also found a home in Las Vegas.
World-renowned DJs bring thousands of guests into the nightclubs and pools parties, both day and night. Plus yearly music festivals like EDC (Electric Daisy Carnival) and LIB (Life Is Beautiful) bring in hundreds of thousands more.
If you're interested in high-stimulus entertainment, you're going to want to visit Las Vegas. It's not like New York, where you can be entertained just walking the streets. Las Vegas is all about STRUCTURED leisure and amusement.
(I wrote another post listing everything there is to do in Las Vegas here).
New York vs Las Vegas – Nightlife
Both New York and Las Vegas have robust, but very different, nightlife scenes. I've spent a lot of time (probably too much time) going out to the bars and clubs in both cities. If exploring the nightlife scene is a big part of your vacation, you're going to want to pay close attention to this section.
New York City
New York City has thousands of bars and nightclubs. That's no exaggeration! As you walk up and down the avenues you'll find no shortage of venues that serve alcohol. But there are a couple of areas that have a higher concentration of nightlife venues:
Meatpacking District
Greenwich Village
Midtown
Lower East Side
East Village
Williamsburg (Brooklyn)
If you were looking at a map, the majority of bars and nightclubs can be found below 14th St (this is where Meatpacking, Greenwich Village, East Village and Lower East Side are located).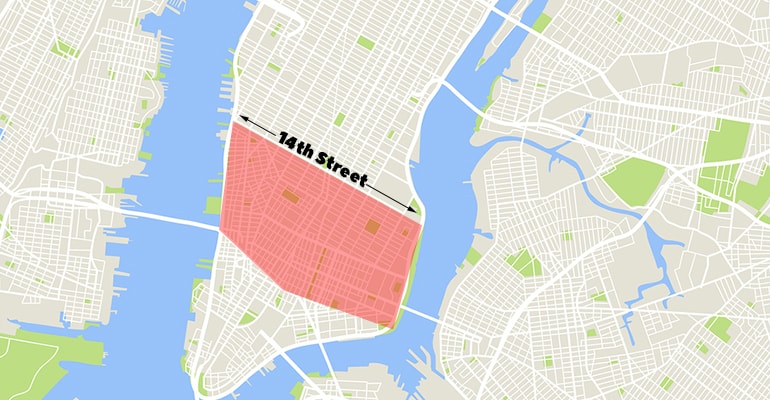 Most bars are either free to enter, or charge a nominal cover charge of $5-$10. On busy nights, the more popular bars may have a long line to get in. This isn't uncommon, since New York bars aren't very large. The biggest venues hold a little more than 100 people.
You can find hundreds of bars open every night of the week. These range from traditional bars, to Irish pubs, karaoke bars, sports bars, college bars, hotel bars and literally any other type of bar you can think of.
New York City Nightclubs
New York nightclubs are a completely different animal. In order to retain an image of exclusivity, the top clubs make it difficult to gain entry. This is where the notorious "doorman" comes into play.
Most clubs in New York have a doorman that decides who gets in and who doesn't. The level of selectivity varies by club, but in general women have a better chance of getting in than men.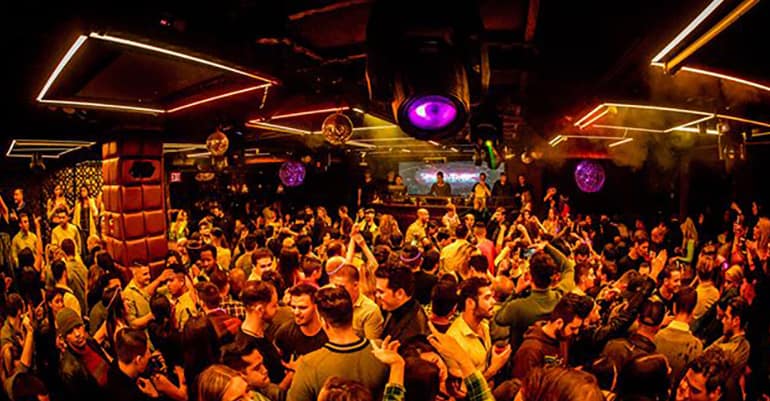 If the doorman doesn't let you in for free, then you'll typically be asked to either start a bar tab (usually $100-$200 minimum per person), or purchase bottle service (prices range from $200-$2,000+). You may also be given the option to pay a cover charge instead ($20-$50), although this is less common in New York.
It's impossible to know the price of entry until you actually show up at the club. This is because prices are contingent on how busy the venue is. Nightclubs are also known to artificially inflate prices on slower nights, in order to maintain their exclusive image.
The only way to guarantee you get into a New York club is to be willing to spend some money. If you aren't willing to pay, you run a high risk of not being able to get in. Here are a few examples of clubs that generally follow these rules:
1 Oak
Avenue
Up & Down
PHD Rooftop Lounge (Downtown and Uptown)
Lavo Nightclub
Tao Downtown Nightclub
Magic Hour Rooftop Bar
230 Fifth Rooftop Bar
Le Bain
The Top of the Standard
Marquee New York
Catch Rooftop
Paul's Casablanca
This isn't a complete list of clubs, but it includes many the top venues as of right now. Nightclubs in New York tend to fall in and out of favor quickly. Many of hottest clubs three years ago aren't in business today (as was the case with Provocateur a few years ago). But most of the clubs I included on this list are on solid footing.
Las Vegas
The nightlife scene in Las Vegas is a far cry from New York. It's bigger, more organized, and I would argue better. All Las Vegas nightclubs are located within the casinos, so you know they are safe and reputable. Vegas nightclubs have the most security of any nightclub in the world.
There's also no doorman who decides whether or not you get in. There are 4 surefire ways to enter a Las Vegas nightclub: the guest list, purchasing a ticket, paying a cover charge or getting bottle service.
| | | |
| --- | --- | --- |
| Method of Entry | Cost (women) | Cost (men) |
| Guest List | Free | Free (may require ratio) |
| Pre-sale Ticket | $15-$40 | $20-$75 |
| Cover Charge (at the door) | $15-$50 | $20-$100+ |
| Bottle Service | $500-$10,000 | $500-$10,000 |
Every single nightclub in Las Vegas has a free guest list, that you can sign up for online. Women on the guest list get free entry into the club. Men are required to have an even ratio of women in their group (or a greater number of women than men) in order to use the guest list. There are also a few clubs that allow men free entry without even ratio.
Nightclubs in Las Vegas are so big, that they offer free guest lists to ensure that they are filled up every night. They don't mind doing this because they make most of their money off of alcohol sales, not entry fees. This is the opposite of New York, where the clubs are much smaller.
Of course you can purchase a ticket too. All nightclubs sell pre-sale tickets on their website. But the guest list is the easiest way to get into the club.
Just so you get an idea of how big these mega-clubs are, some hold over 4,000 guests a night. The nightclubs also get the top DJs in the world to headline the party every single night.
Pool Parties
Las Vegas is famous for its wild pool parties too. Some people consider the pool parties even better than the nightclubs. And all of the top nightclub DJs perform at these pool parties during the day.
Similar to the nightclubs, every Vegas pool party has a guest list. Most of them require even ratio, but Wet Republic and Daylight Beach Club do not. If you would rather buy a ticket, the prices are comparable to nightclub ticket prices.
Bottle service is another popular option at pool parties. Prices are largely dependent on your group size. To give you an idea of what a table costs, here are some examples:
$350-$1,500 for a group of 6-8 people
$1,500-$3,000 for a group of 9-12 people
$3,000-$8,000 for a group of 13-15 people
Bottle service tables in Las Vegas nightclubs present a number of benefits. (I wrote a more in depth article about the pros and cons of bottle service here).
Bars
Las Vegas has a ton of bars, although not as many as New York. Every casino on the strip has several free hotel lobby bars open 24 hours a day. And unlike New York, you can actually leave the bar and walk around with your drink.
Fremont Street and Town Square offer more traditional bar options, off of Las Vegas Boulevard. The drinks are cheaper as you venture further from the strip, and you'll run into more locals too.
Las Vegas vs New York -Restaurants
The food is an important part of any vacation, and when it comes to restaurants, neither city disappoints. There are dozens of top restaurants in each city, at a multitude of price points.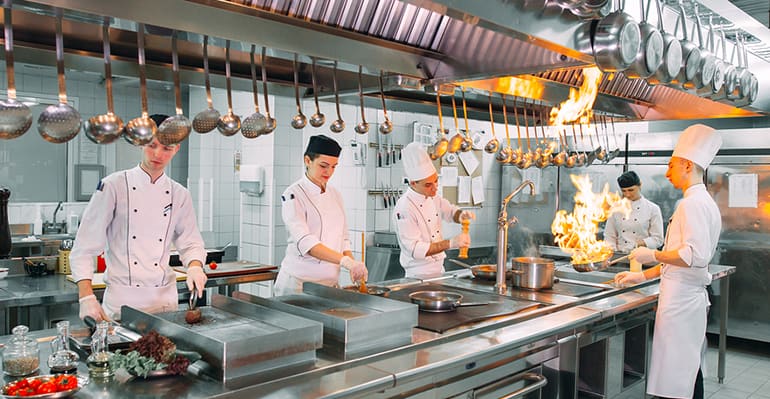 New York City
In general, I find food in New York to be about the same price as food on the Vegas strip. But that isn't really saying much. Prices for everything in New York City are ridiculous when you compare them to the rest of the world.
For example, I find both the Chipotle and Subway restaurants to be more expensive in Manhattan than anywhere else on the planet. Now you can find some inexpensive delis and food carts spread throughout the city, but most walk-in restaurants will put a sizable hole in your wallet.
Here are some examples of the average food costs at different establishments in New York City:
Food Trucks and Pizzerias – $5-$15
Fast Food Restaurants – $10-$15
Delis – $15-$20
Diners and Cafes – $15-$25
Mid-tier Restaurants – $25-$50
Fine Dining – $50-$100
Las Vegas
Food on the strip is price very similarly to New York. But as soon as you get off the strip, everything becomes dramatically cheaper. Unfortunately, most people will find leaving the strip to be a major inconvenience, so I won't really harp on off-strip prices.
Below are some examples of what you can expect to pay for different types of meals in Las Vegas on the strip:
Fast Food – $10-$15
Diners and Cafes – $15-$20
Casual Restaurants – $20-$30
Hotel Buffets – $20-$50
Mid-tier Restaurants – $25-$50
Fine Dining – $50-$100
As you can see, the two cities are pretty close when it comes to prices. As far as quality goes, it's also a tie. Both cities are known for having terrific food. However, New York has more dining options than Las Vegas. If you're a foodie looking for variety, New York is going to be your best bet.
Las Vegas vs New York – Cost
Total cost is one of the biggest determining factors when picking a travel destination. In this section, I'll compare the total cost of a Las Vegas vacation to the cost of a New York trip. These numbers aren't factoring in flight costs, since airline rates change based on where you're coming in from.
New York City
New York isn't a cheap city to travel to, especially when you consider that the average trip length is about 7 days. The chart below breaks down approximately how much you'll be spending a day per person.
| | |
| --- | --- |
| Expense | Cost |
| Hotel (mid-tier) | $250 |
| Food | $60 |
| Entertainment | $100 |
| Nightclubs/Bars | $50 |
| Transportation | $20 |
| Total | $480 |
Hotel – For an average mid-level hotel room, expect to be paying $200-$300 a night in Manhattan (most people will want to stay in Manhattan). Standard rooms only have one bed, so expect to pay a little more if you want two beds.
Food – This is heavily dependent on where you eat. Also note that if you're visiting during the summer, you'll definitely need to buy several bottled waters throughout the day.
Entertainment – Your entertainment budget is determined by what you do. Many sights in New York don't cost money, but some do. For example, tickets to see the Empire State Building start at $42, and tickets for Broadway shows cost an average of $100 a piece. You may also want to bring extra money for shopping.
Nightclubs/Bars – If you get into a bar or nightclub for free, expect to pay about $60 for 4 or 5 drinks. If you attend a top nightclub and get bottle service or a bar tab, expect to pay $100-$200 a person.
Transportation – You can go anywhere in the city (one-way) for $2.75 on the subway. If you choose to take cabs or rideshare apps instead, you'll be paying $20-$30 to go 20 blocks. During rush hour this will cost even more. I highly recommend using the subway, it's faster and much cheaper.
Las Vegas
The average stay in Las Vegas is about 3 days, which is half the average length of stay in NYC. There is nothing wrong with staying in Sin City for 4-5 days, although any longer and you'll start to get burned out. Here is an estimate of how much money you'll spend per day in Las Vegas.
| | |
| --- | --- |
| Expense | Cost |
| Hotel (mid-tier) | $180 |
| Food | $50 |
| Entertainment | $100 |
| Nightclubs/Pool Parties | $60 |
| Transportation | $25 |
| Total | $415 |
Hotel – Most rooms have 2 beds in Las Vegas. Hotel rates vary greatly based on the day of the week. For a mid-tier hotel expect to pay $80-$120 a night during the week, and $160-$200 a night on the weekend.
Food – The amount you spend on food is dependent on where you eat. I always find that I spend less on food in Las Vegas, than I do in New York. You also won't have to buy a ton a bottled waters, since you'll be spending most of your day in the air-conditioned casinos.
Entertainment – Again this is dependent upon the attractions you see and the activities you do. Spending $100 a day is pretty typical. I also consider gambling an entertainment expense, since most people aren't going to win money.
Nightclubs/Pool Parties – You'll get into most clubs free if you use the guest list. Once you're at the club, plan on spending $15-$20 per drink.
Transportation – There are many ways to get around Las Vegas including cabs, rideshare apps, the monorail and walking. I recommend using Uber or Lyft. Vegas makes ridesharing apps extremely easy to use, and you typically won't pay more than $12-$15 to go anywhere on the strip.
Overall Las Vegas is slightly cheaper than New York. But if you're just looking to party, Las Vegas is WAY CHEAPER than New York City. You could easily cut back on entertainment and stay at a budget hotel. If you're just hitting the nightclubs and pool parties, you could party in Las Vegas for $150 a day in total. It would be impossible to do that in New York.
You get more for your money in Las Vegas when it comes to hotels. Las Vegas hotel rooms come with 2 beds, while standard New York rooms only come with one.
Vegas hotels also have more amenities: like full casinos, restaurants, large spas, gyms, pools, buffets, in-house nightclubs, and the list goes on. New York hotels simply don't have the real estate to match the Las Vegas resorts.
Las Vegas vs New York – Best Time Of Year To Visit
You'll get a very different experience in New York depending upon the time of year you visit. The same goes for Las Vegas. Besides cost, the time of year you go is the biggest determining factor when deciding between the two cities.
New York City
Let's talk about weather for a minute. The city goes from freezing cold in the winter, to ridiculously hot in the summer. Not many people realize just how extreme the temperatures get, so I'll break it down by season below:
| | | |
| --- | --- | --- |
| Season | Degrees Fahrenheit | Degrees Celsius |
| Spring (Late March – May) | 40 – 65 | 4 – 18 |
| Summer (June – August) | 70 – 90 | 21 – 32 |
| Fall (September – November) | 40 – 65 | 4 – 18 |
| Winter (December – Early March) | 20 – 40 | -6 – 5 |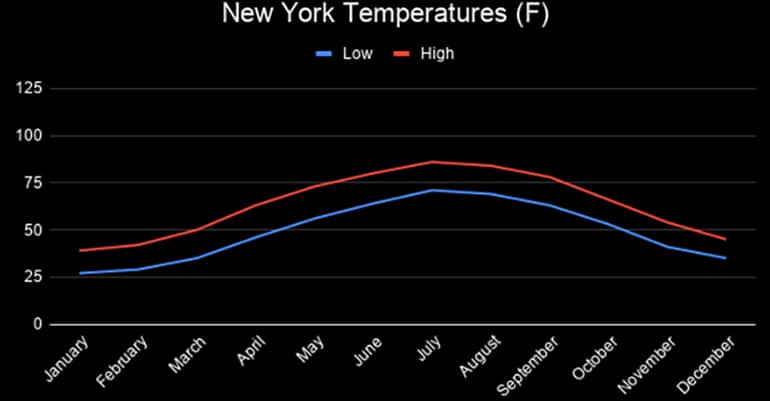 New York is windy in the winter, and temperatures go well below freezing. The city also gets a lot of snow, which is undesirable to many people.
Summers in New York are extremely hot and humid, so plan on sweating a lot if you're out during the day. The heat from all the cars on the road doesn't help the situation either.
I would say the best time to visit New York is around May – June and late August – September. This way you avoid the worst of the heat, but still get to enjoy the months with the nicest weather. But to be honest, the city is busy all year long. There's only a small dropoff in the winter.
There are some people that like to visit in the winter when all the holiday decorations are up (I'm personally not one of those people). New Years is also a huge holiday in New York City. You can expect hotel rates to double or triple for New Years Eve.
Las Vegas
The seasons in Las Vegas are much more mild. Vegas gets nearly 300 days of sun a year, so it almost never rains. Temperatures also stay above freezing the entire year:
| | | |
| --- | --- | --- |
| Season | Degrees Fahrenheit | Degrees Celsius |
| Spring (March – May) | 60 – 90 | 16 – 32 |
| Summer (June – August) | 90 – 110 | 32 – 43 |
| Fall (September – November) | 60 – 90 | 16 – 32 |
| Winter (December – March) | 40 – 60 | 4 – 16 |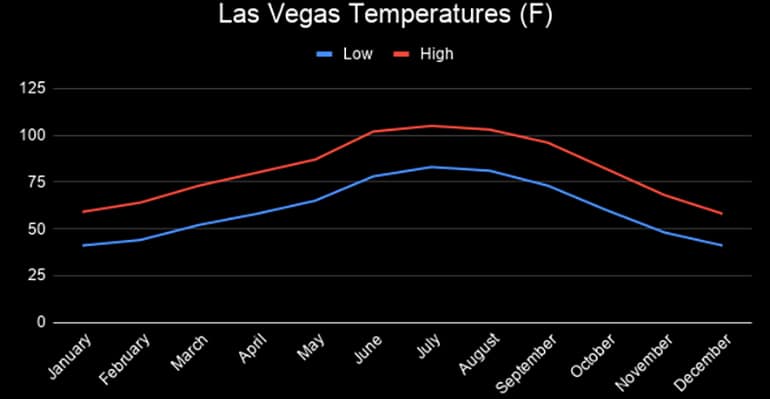 Las Vegas is sunny year round, and temperatures in the summer get up to 110° F during the day. This may sound really hot (and it is), but it's a dry heat. The heat has less of an effect because you'll either be in a pool, or an air-conditioned casino all day.
While the winters in Las Vegas don't get that cold, the city itself is much less busy during these months (with the exception of Halloween and New Years). Las Vegas is open all year round, but November – March are definitely slower than the rest of the year. This can be a positive if you're looking for lower prices.
The best time to visit Las Vegas is May – September. This is peak season in Vegas. It's also when the pool parties are open (pool parties close in the winter).
New York Or Las Vegas: Final Thoughts
New York vs Las Vegas – which is better?
To really simplify the decision, I would sum it up like this: If you're looking to party and have a good time, I recommend Las Vegas. If you're looking to do more touristy-type activities, I would say go with New York.
If you have limited funds, Vegas is also the better option. You can stretch your budget a lot further in Las Vegas than you can in New York City. There are no budget hotels in New York. And prices don't go down during the week, like they do in Vegas.
And for those of you who are planning your trip during the winter, when both cities are in a permafrost, I would recommend Miami. I wrote another post, similar to this one, comparing Miami to Las Vegas here.