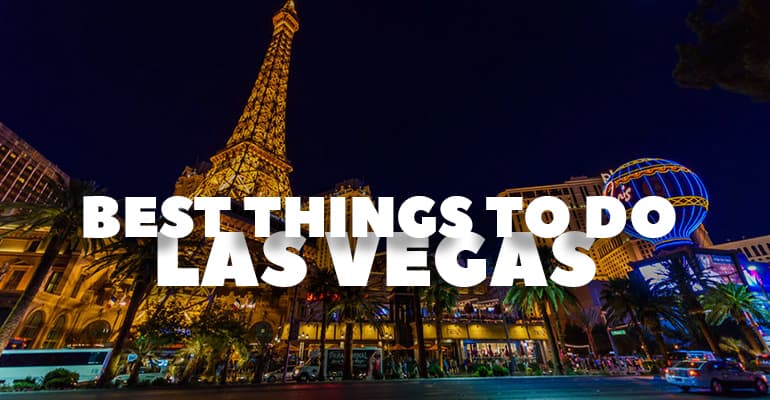 (This article may contain affiliate links and we may earn a commission if you make a purchase.)
When you think of Las Vegas, gambling is usually the first thing that comes to mind. But, there is so much more to do in Las Vegas off of the casino floor.
Unless you travel to Sin City frequently, you're probably missing out on half of the fun things this city has to offer, and you don't even realize it! As someone who lives in Las Vegas, I've been able to try every attraction at least once. So, I decided to put together a complete list of everything there is to do in Las Vegas. You can even enjoy many of these activities for under $50.
1. High Roller Observation Wheel
The High Roller is easily a must-see attraction. Located on the LINQ Promenade, this giant Ferris wheel is the largest observation wheel in the world. It offers a truly unique view, 550 feet above the city. The ride is 30 minutes long, and tickets cost less than $20. For an additional $20, they'll even throw in an open bar during the ride.
2. Topgolf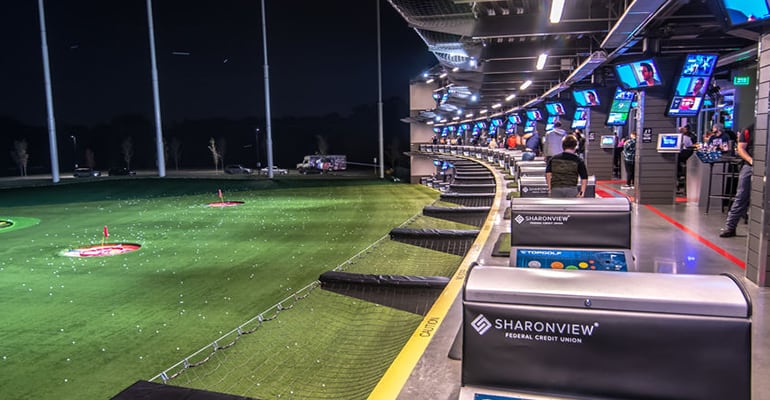 Whether you're an avid golfer or not, driving some golf balls down range is a ton of fun. This 4 story driving range has everything from pools and a restaurant to several bars and a gaming lounge. For less than $35, you really can't beat Topgolf.
3. Concerts
A number of artists hold live concerts on the strip throughout the year including Lady Gaga, the Jonas Brothers, Aerosmith, Justin Bieber, Bon Jovi and Bruno Mars, just to name a few. Pricing is dependent on the artist, but you'd be surprised how often you can grab cheap concert tickets while in Sin City.
4. Buffets
All-you-can-eat buffets have been a staple of Las Vegas for years. Most major hotels on the strip have their own buffet, but that doesn't prevent you from exploring the buffets at other popular hotels that you aren't staying at. No vacation is complete without stuffing yourself with endless mac 'n cheese, lobster rolls and creme brulee.
5. Nightclubs
Everyone knows that Las Vegas has some of the biggest and most popular nightclubs in the world. But many people don't know that you can get into these clubs for free using the guest list. Every Vegas nightclub has a guest list, and you can sign up for free online. Groups of women get free entry at every club, while men are required to have an even ratio of women in their group (or a greater number of women than men). However, there are a few clubs that allow men free entry without ratio.
6. Sporting Events
Las Vegas is home to several professional sports teams including the Las Vegas Raiders and the Vegas Golden Knights. Most boxing matches and MMA fights also take place in Las Vegas. You can find inexpensive tickets for many (not all) of these events online. You can catch NBA summer league games for cheap too.
7.Shopping
As one of the top shopping cities in the world, you'll find exactly what you're looking for in Vegas' extensive retail outlets. You'll probably even end up buying things you weren't looking for! Many of the most popular retailers in the world have shops located at the Fashion Show Mall, the Grand Canal Shoppes, the Wynn Plaza Shops, the Forum Shops at Caesars, the Miracle Mile Shops and the Shops at Crystals.
8. Fremont Street Experience
Fremont Street is located in downtown Las Vegas, about 10-15 minutes north of the strip. This is a great place to visit if you're tired of the glitz and glam of Las Vegas Boulevard. Everything on Fremont Street is within walking distance, making it feel like the Times Square of Las Vegas. You can easily hop in and out of the many bars and restaurants lining the street.
9. Ziplining
There are a couple of places to zipline around Las Vegas. There's one at the Rio Hotel, one on Fremont Street and on at the LINQ Promenade, in the center of the strip. If you're looking for something quick and fun to do that doesn't cost more than $30, I highly recommend you try ziplining.
10. Spas
Spas are a great way to relax and recharge during the day, before you go back out at night. Whether it's a message, a trip to the steam room or a dip in the Jacuzzi, your body will thank you later. Most major resorts have in-house spas that cost anywhere from $30-$100 a day. You'll typically get a discount if you're a hotel guest.
11. Pool Parties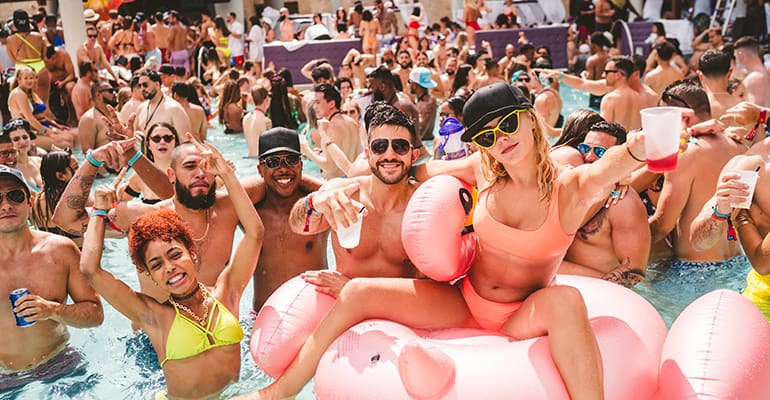 Pool parties are essentially nightclubs during the day. In fact, Las Vegas pool parties are more popular than the nightclubs. You can get free entry to these parties using the pool party guest list. Women get into every dayclub for free on the guest list. Men are again required to have an even ratio of women in their group to use the guest list at most (but not all) clubs.
12. Comedy Shows
There is a wide variety of comedy clubs on the strip. Comedians like Jay Leno, Daniel Tosh, Carrot Top, Bill Maher and Ron White have their own shows. Plus, a number of other famous comedians have shows scheduled in Vegas throughout the year. Most tickets cost in the $40-$50 range.
13. Shooting Ranges
Shooting ranges are a great way to blow off some steam, while trying something new on vacation. With a starting price of $25, this activity is also super affordable. There are a couple of ranges located right off the strip, and many of them will pick you up at your hotel in a Humvee for free.
14. Bellagio Fountains
No Vegas trip is complete without seeing the Bellagio Fountains. Fountain shows are free and occur every 15 to 30 minutes, depending on the time of the day. During the week shows start at 3 pm, and during the weekend they start around noon.
15. Indoor Skydiving
Indoor skydiving is another fun thing you can do directly on the strip. It does cost slightly more than $50, but it's more than worth the money. You can also try traditional skydiving, but you'll have travel 20-30 minutes off the strip.
16. Sin City Smash
Ever wanted to just smash a bunch of household items? At Sin City Smash you can. Either bring your own stuff, or chose from what's available to destroy with your smashing tools. This is a blast and Sin City Smash provides all the safety equipment you need. Smash room packages start at $35.
17. Lake Las Vegas Water Sports
Try a number of water sports at Lake Las Vegas including tubing, an aqua park, cable wakeboarding, kayaking, stand-up paddle boarding and flyboarding (similar to a water pressure jet pack). All activities cost under $50, except Flyboarding which costs $79.
18. Grand Canyon Tour
The Grand Canyon is only a 4 hour drive from Las Vegas. If you have a rental car, it costs only $30 per vehicle. You can also take a bus or helicopter tour of the canyon. Helicopter tours, although more expensive, allow you to take in the view without spending an entire day driving to the canyon.
19. Shark Reef Aquarium
Mandalay Bay has Las Vegas' most well known aquarium. They have well over 100 sharks and other fish that you can feed and even dive with. Tickets start at $22 for adults and $15 for children.
20. The Strat Skypod
Formerly known as the Stratosphere, the Strat is the tallest building in Las Vegas. The Skypod offers a breathtaking 360 degree view of the city and has a restaurant, a bar and several thrill rides. A trip to the top of this iconic building only costs $25.
21. Smoke Recreational Cannabis
Recreational cannabis is legal in the state of Nevada. There are numerous dispensaries around the city that have drive-through and delivery services. You can also go shop in person if you want. This isn't for everyone, but it's extremely popular in Las Vegas.
22. Pinball Hall Of Fame
If you're a fan of arcade games, you may want to check out the Pinball Hall of Fame. It's located about 10 minutes off the strip, and they have over 200 pinball and arcade games. There is no entry fee. Games cost between 25 cents to a dollar.
23. Mandalay Bay Wave Pool And Lazy River
Mandalay Bay has the largest water complex of all the hotels on the strip. This includes a massive lazy river and wave pool. Hotels guests get free access to the pool, while non-hotel guests must pay $20 for admission. There are lockers available for rent and towels are provided.
24. Welcome To Las Vegas Sign
The iconic Welcome To Las Vegas sign is one of the most popular spots to snap a quick photo. It's located less than 5 minutes south of the last major hotel on the strip. You can walk there in about 20 minutes, but I recommend driving or taking an Uber.
25. Gentlemen's Clubs
You know this had to be on the list somewhere. Las Vegas has the best Gentlemen's clubs in the world. Many of them offer free entry and a free limo pickup when you pre-order 2 drinks. I highly recommend this for bachelor and even bachelorette parties.
26. Male Revue Shows
Essentially the female version of a Gentlemen's club, male revue shows are great for bachelorette parties. Tickets for shows like Magic Mike and Chippendales costs about $50.
27. Mob Museum
The National Museum of Organized Crime and Law Enforcement is one of the most interesting museums you can visit. It's located about 10-15 minutes north of the main strip and tickets only cost $30 for a day pass ($20 after 5 pm).
28. Gondola Ride
Enjoy a gondola ride along the canals inside the Venetian. The canals replicate the ones found in Venice Italy. Rides are about 15 minutes long and cost about $30 per person.
29. Siegfried & Roy's Secret Garden And Dolphin Habitat
Located at the Mirage this exhibit allows guests to interact with dolphins, white tigers, white lions and leopards. You can even do a yoga session with the dolphins. General admission tickets cost $25.
30. EDC Las Vegas
Electric Daisy Carnival, or "EDC", is the largest electric dance music festival in the United States. It's a 3 day event, held annually in May. Although, tickets are relatively expensive, this event is one of the biggest draws to Las Vegas.
31. AVN Adult Entertainment Expo
Every January the AVN awards for adult films stars is hosted in Las Vegas. You can even meet many of your favorite adult stars when you attend the expo. Tickets typically range from $60-$150 dollars.
32. Life Is Beautiful Music And Art Festival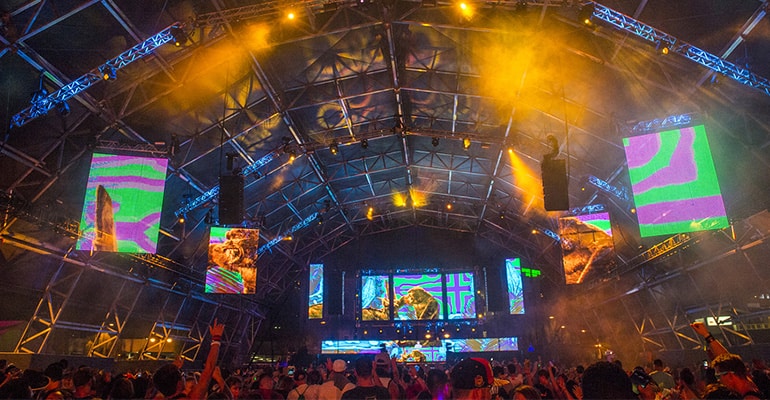 The Life Is Beautiful Music And Art Festival, or "LIB" for short, is another 5 day annual festival held in September. The biggest names in music perform here every year. Again, tickets are relatively expensive, but it's one of the largest events held in Vegas.
33. Olympic Fitness And Performance Expo
This is another large annual event held in Las Vegas in September. If you're into fitness or bodybuilding, you'll want to check it out. Ticket prices vary by year, but they're typically under $50.
34. Lavo Party Brunch
There's no better way to enjoy your vacation than by getting brunch. My favorite brunch option is Lavo at the Palazzo. Every Saturday (October-March) Lavo turns into a "Party Brunch." This is the pool party alternative in the winter. They even offer a brunch guest list.
35. Red Rock Canyon
Red Rock Canyon is one of the best places to go hiking in Las Vegas. Located 45 minutes off the strip, it's also a great place to enjoy Nevada's beautify scenery. Passes cost $15 per vehicle.
36. Hoover Dam
The Hoover Dam is an engineering marvel and a popular tourist spot. It's located about 45 minutes outside of Las Vegas and tours of the dam start at $15.
37. Cirque du Soleil
There are a ton of Cirque du Soleil style acrobatic shows on the strip like Zumanity and Le Reve. Every show is a little bit different. Tickets are in the $50-$70 range.
38. Stony's Rockin' Country Bar
A favorite of Vegas locals, this country bar offers cheap beers, line dancing and even a mechanical bull. The bar is located in Town Square, 15 minutes off the strip, and is open Wednesday-Saturday. There's a $5-$10 cover charge.
39. Pawn Stars
Visit the Gold & Silver Pawn Shop from the hit TV show "Pawn Stars." It's free to visit the shop, and the stars of the show do occasional meet-and-greets both in the Gold & Silver Pawn Shop, and at Pawn Plaza next door.
40. Big Apple Coaster And Arcade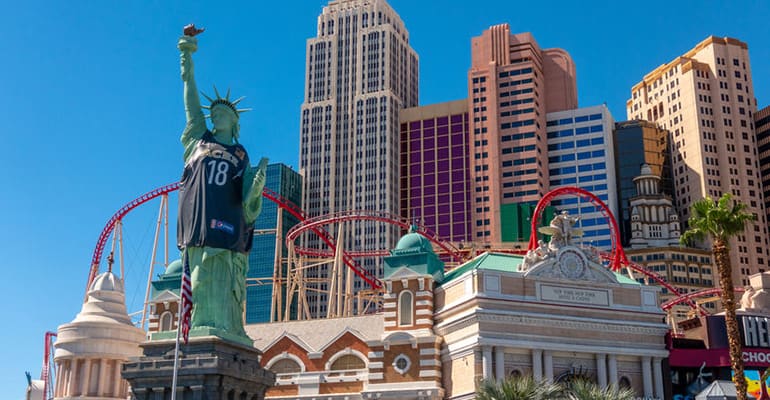 The New York-New York Hotel & Casino has a roller coaster called the Big Apple Coaster. Tickets cost $17, and re-rides cost $8. There's also a virtually reality experience on the ride where you put on a VR helmet and chase aliens for $20.
41. Ride The Monorail
The monorail is designed to be a quick way to get around the city, but you can also ride it to enjoy the view of the strip. It costs $5 to ride, and you'll get a nice elevated view of the attractions up and down Las Vegas Boulevard.
42. Eiffel Tower Viewing Deck
The Eiffel Tower in Las Vegas is the largest and closest replica to the original Eiffel Tower. You can take a trip up to the viewing deck for less than $15. In addition, there is a restaurant on the 11th floor, and a nightclub called Chateau directly under the tower.
43. Marvel's Avengers Station
If you're a fan of the Avengers movie and comic book series, you'll want to check out this exhibit at Treasure Island. You'll learn about the history and technology behind the popular franchise. Tickets cost $34 for adults and $24 for children.
44. Walk The Strip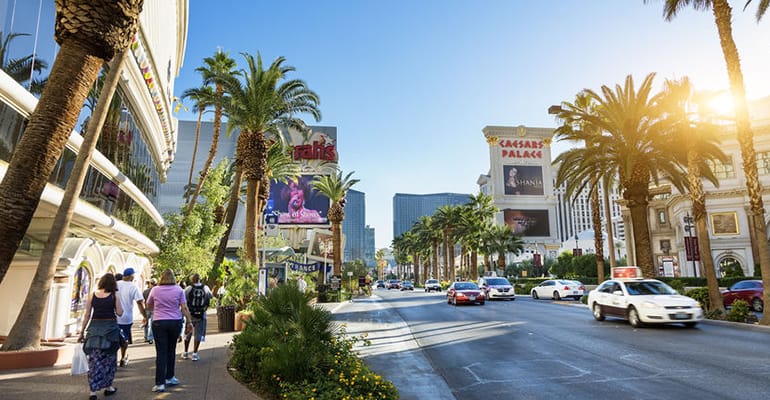 Walking the strip is completely free and a ton of fun. You'll see a bunch of things that you wouldn't have otherwise noticed if you had taken a cab everywhere (for example the LINQ Promenade). The main part of the strip is about 4 miles long, and takes about an hour to walk from end to end.
45. Escape Rooms
Escape rooms offer a nice break from the stimulus of the strip. You and your friends are locked in a room and have to complete challenges and puzzles. You have an hour to complete the challenges and escape. Escape rooms cost $40 per person.
46. Go Karts
Another fun activity away from the strip is go karts. You can do several races with your friends for as low as $27. There's a great go kart place next to the Palms, about 5 minutes off the strip.
47. Bodies The Exhibition
This exhibition, located at Mandalay Bay, showcases 13 whole human body specimens. Bodies provides an up-close look inside our muscular, skeletal, circulatory and respiratory systems. These exhibits are designed to encourage us to explore the human body in a thought-provoking style. Bally's has a similar exhibit called Real Bodies. Tickets for both exhibits cost about $30.
48. Jet Skiing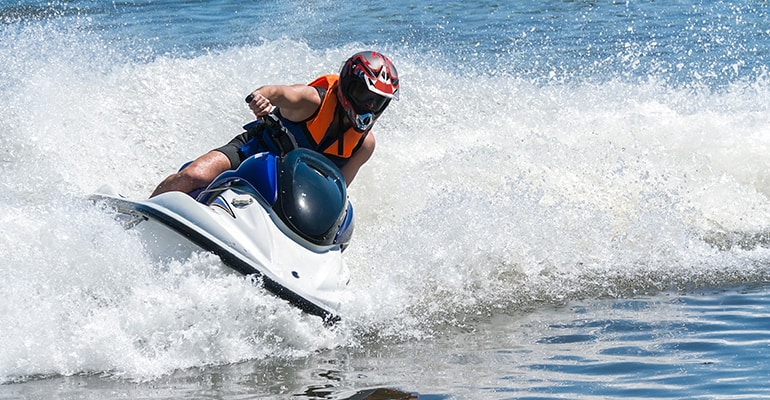 Renting either a boat or a jet ski on Lake Mead is one of my favorite things to do in Las Vegas. The water is literally air temperature in the summer, making water sports a must. You can rent a jet ski for $95 an hour. They seat 2 people, so you can split the cost with a friend.
49. The Flamingo Wildlife Habitat
Check out a number of exotic birds, fish and turtles at this free wildlife habitat at the Flamingo Hotel. It's home to flamingos, parrots, pelicans, ducks, ibis, swans, turtles and koi fish.
50. Mirage Volcano Show
The volcano outside of the Mirage erupts into a full show every night at 8, 9 and 10 pm. This spectacle is completely free and you can see it from the sidewalk on the strip.
51. Axe Throwing
Axe throwing is really simple. Just take turns hurling axes at targets downrange. This activity feels oddly similar to bowling, and it only costs $30 for an hour
52. Valley Of Fire State Park
This beautiful park is full of bright red Aztec sandstone, grey and tan limestone and petrified trees. There are also a few campsites with grills and tables around the park too. It's a great place to take some Instagram pics, especially during golden hour. This park is located about 50 minutes outside of Vegas, and charges $10 for admission.
53. Rent A Limo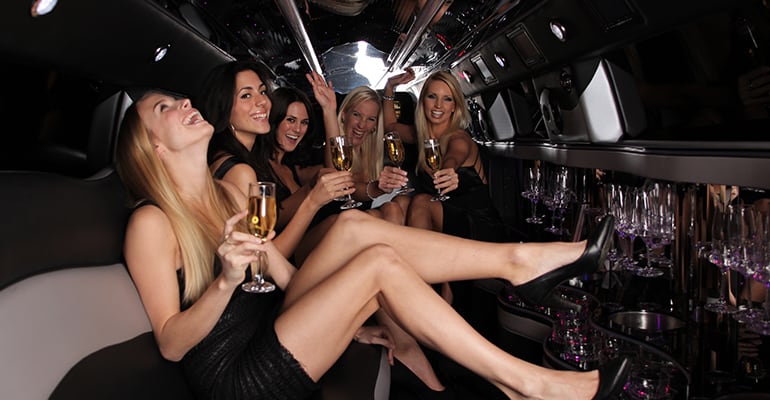 Why not just skip the rental car, and get a limo. Costing less than $100 for a few hours, limos are surprising affordable in Las Vegas. And when you split the cost between 4 or 5 of your friends, it's really only $20.
54. Magic Shows
There are a bunch of magic show spread throughout the hotels on the strip. Some of them include Chiss Angel, David Copperfield and Mat Franco. Most shows cost between $50-$60.
55. Club And Pub Crawls
There's nothing like a good old fashioned pub crawl, or the newer club crawl. Stumble through the bars of Las Vegas getting discounted drink specials along the way. Tickets cost between $25-$35.
56. Las Vegas Motor Speedway
There are several companies that let you take exotic sports cars around the track for a test drive. Choose from Lamborghinis, Ferraris, Porsches or whatever your dream car is. It's slightly more expensive than some of the other activities on this list, but I can tell you it's really fun.
57. Titanic Artifact Exhibition
See real artifacts that tell the story of the Titanic. You'll also get to walk through some full-scale re-creations of parts of the ship. The exhibit is located at the Luxor and tickets cost $32.
58. Bellagio Conservatory and Botanical Garden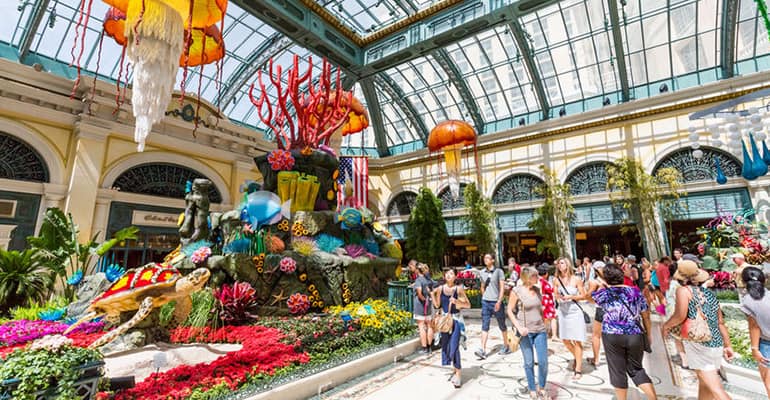 Located in the lobby of the Bellagio, the conservatory is a 14,000-square-foot floral display. It features numerous sculptures made out of thousands of individual flowers that change every season. And it's completely free to see.
59. Gold Spike
Gold Spike is one of the many bars found on Fremont Street in downtown Las Vegas. What sets this bar apart is the large adult playground. It's open 24 hours a day and has games like beer pong, giant Jenga, shuffle board, pool tables and live music. Women typically get in for free at Gold Spike, but men have to pay a cover after 10:30 pm.
60. Learn To Pole Dance
This one is great for bachelorette parties. It's an easy way to burn off those extra cocktails and have some laughs. There's a high quality pole dancing class inside Planet Hollywood called Stripper 101.
61. Gourmet Meals At A Celebrity Restaurant
A bunch of celebrity chefs have restaurants on the strip including Gordon Ramsay (Gordon Ramsay Hell's Kitchen and Gordon Ramsay Burger), Guy Fieri (Guy Fieri's Las Vegas Kitchen & Bar and Guy Fieri's El Burro Borracho) and Nobu Matsuhisa (Nobu Restaurant at Caesars Palace and Nobu Restaurant at Bally's). Meals at these establishments typically cost in the $50-$75 range.
62. The Hunger Games Exhibition
This exhibit celebrates the Hunger Games franchise, while taking you on a tour with interactive experiences and games. There's a bunch of behind the scenes content and stories too. Tickets cost $40 for adults.
63. 7 Magic Mountains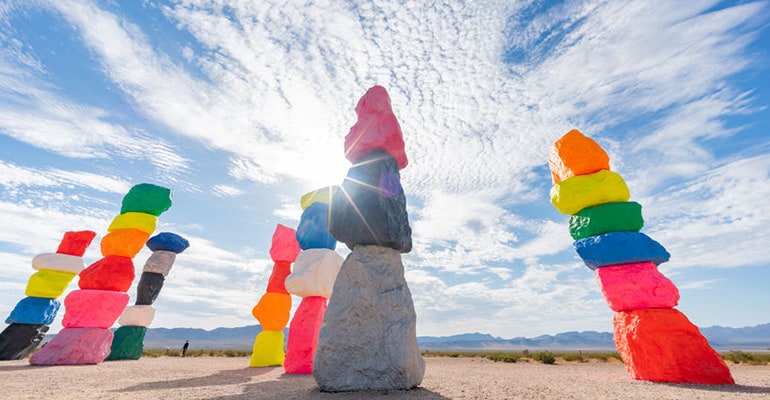 7 Magic Mountains is an iconic art installation directly outside the city. The location is a popular spot to get social media pictures. It's about a 25 minute drive to get there from the strip, and there's no entrance fee since it's located on public lands.
64. Big Bus Tour
Explore a number of major attractions on a double-decker open air bus. Every Big Bus has a tour guide to fill you in on every detail. Classic tickets cost $45 and Night Tour tickets cost $49.
65. Town Square
Town square is located just south of the strip. It features open-air shops, dining and entertainment during both the day and night. Blue Martini and Stony's Rockin' Country are popular nightlife spots on the weekends.
66. Downtown Container Park
The Container Park is another open-air shopping center with dining and live entertainment. The park also has an adult sized playground, similar to Goldspike. It's located north of the strip on Fremont Street.
67. Neon Museum
The Neon Museum is an outdoor museum featuring 250 restored signs and other items from old casinos. There is also a light show in the north gallery. The museum is located north of the strip and general admission tickets start at $20.
68. Helicopter Tour Above The Strip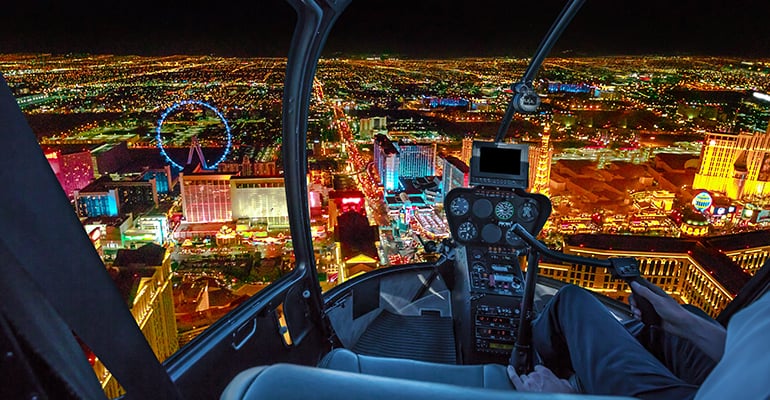 There's nothing more breathtaking than seeing the strip light up at night. You'll get the best view from a helicopter tour hovering over the city. Tickets are a little pricey (around $100 a person), but more than worth it.
69. Fall Of Atlantis At Caesars Forum Shops
This is a free show depicting the fall of Atlantis. You can catch it while shopping at the Forum Shops at Caesars every hour, on the hour.
70. Golf
We already brought up Topgolf, but Las Vegas has a ton of popular full golf courses at varies price points. Cheaper courses include Chimera Golf Club and Boulder Creek Golf Club. Depending on how busy it is, 18 holes will cost between $50-$150 for non-residents. Nevada residents can tee off for as low as $30 at some courses.
71. Fly A Jet
You can literally fly and maneuver a real airplane in Las Vegas (with a trained co-pilot). I'll admit this costs much more than $50 (packages start at $299), but if you can afford it you're in for a good time.
72. Las Vegas Natural History Museum
Explore exhibits featuring dinosaurs, marine animals, rainforests and ancient Egypt. It's located north of Las Vegas, right next to the Neon Museum. Tickets only cost $12 for adults.
73. Gambling
Ok this one's super obvious, but I felt I had to mention it somewhere. Gambling in Las Vegas takes many forms including: sports betting, slot machines, blackjack, roulette, craps and poker.
74. Mermaid Show
The Silverton Casino has a mermaid show, where you see "real" mermaids swimming in a tank. This is a great activity to do if you're bring your kids to Vegas. It's located south of the strip, and the show is free.
75. Go Off-Roading
Go off-roading on desert tracks in dune buggies, race trucks and razors. This activity is on the expensive side ($325 for 5 laps), but it's a blast.
76. Bar Hop On The Strip
You don't have to hit the nightclubs to enjoy the robust Las Vegas nightlife scene. There are plenty of free high-end bars spread throughout the hotels on the strip. A few include the Chandelier Bar at the Cosmopolitan, the Dorsey Cocktail Bar at the Venetian and Minus5 Icebar at Mandalay Bay.