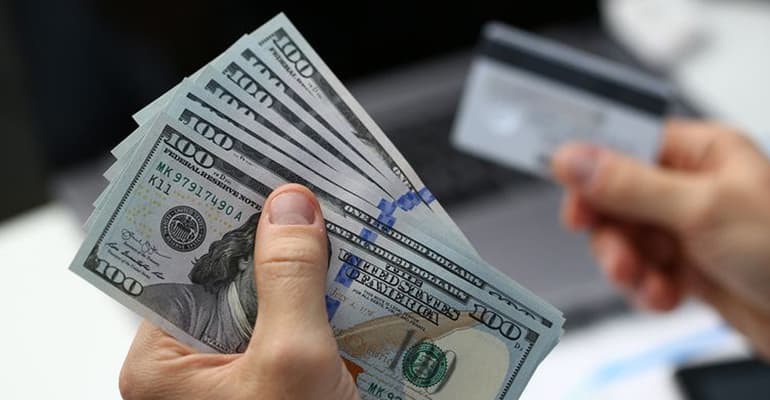 When booking a trip to Las Vegas, you know exactly how much your plane ticket and hotel are going to cost ahead of time. But, it's much more difficult to estimate how much spending money you need to take with you.
For every day that you are in Las Vegas you should bring between $150 – $500 in spending money. The average person spends about $250 per day on food, entertainment and transportation. If you plan on gambling, you should take an additional $100 – $200 a day.
| | |
| --- | --- |
| Duration of Trip | Budget |
| 1 day | $250 |
| 2 days | $500 |
| 3 days | $750 |
| 4 days | $1,000 |
| 5 days | $1,250 |
| 6 days | $1,500 |
| 7 days | $1,750 |
The amount of money you plan to bring to Las Vegas is dependent on what you plan on doing. It is possible to spend less than $500 on an entire 3 day trip, although the average person should budget to spend $250 per day. In this post I'll help you figure out exactly how much spending money you should bring to Las Vegas.
Estimating Your Spending Budget In Las Vegas
The amount of money you plan on spending each day is determined by the activities you do and the attractions you see. To help you get a better idea of what things are going to cost, I'll provide of few examples of common expenses in Las Vegas.
To simplify this even more, I'll beak the expenses down into four separate categories: Entertainment, Food and Drink, Transportation and Gambling.
Entertainment
There is an endless amount of things to do in Las Vegas, so I'm not going to list out everything. (If you want to see a complete list of things to do in Las Vegas, I wrote another post here). But for now, here are a few popular Vegas attractions, and their associated cost:
Nightclubs – $20-$60*
Pool Parties – $20-$75*
Concerts – $50-$100
Comedy Clubs – $40-$80
Magic Shows – $40-$60
Cirque du Soleil – $50-$100
Exotic Car Racing – $100-$500
Strip Clubs – $40-$100
Topgolf – $35-$50
Lake Las Vegas Water Sports – $25-$80
Shopping – Up to you
Spas – $30-$100
Sporting Events – $50-$150
Music Festivals – $100-$500
Sightseeing – Free
*You can actually get into nightclubs and pool parties for free on the guest list.
Unless you plan on staying in town for a week or more, your probably not going to do all of these activities. Most people are only going to do 3 or 4 of the items on this list.
Food and Drink
Now lets look at the cost of food. There are a ton of dining options in Las Vegas, and like the previous section, it's pointless to list them all out. Every hotel has their own set of cafes and restaurants. But to give you a general idea of what food is going to cost, here is a general overview:
Fast Food – $10-$15
Diners and Cafes – $15-$20
Casual Restaurants – $20-$30
Hotel Buffets – $20-$50
Mid-tier Restaurants – $25-$50
Fine Dining – $50-$100
The cost of alcohol depends on where you go. You can go to a liquor store off the strip, and get a handle of vodka for $30. Or you can spend upwards of several thousand dollars on nightclub bottle service.
Liquor Store – $10-$40 (full bottle)
Bars Off The Strip $5-$10 (per drink)
Hotel Bars – $10-$15 (per drink)
Nightclubs, Pool Parties and Lounges $15-$20 (per drink)
Nightclub Bottle Service $350-$10,000 (for several bottles)
Transportation
There are many ways to get around Las Vegas. I'll list out the most popular transportation methods below:
Rental Cars – $35-$40 (per day)
Rideshare Apps – $10-$15 (to go anywhere on the strip)
Taxi Cabs – $15-$25 (to go anywhere on the strip)
Deuce Bus – $8 (24 hour pass)
Monorail – $13 (24 hour pass)
Walking – free
I recommended using rideshare apps like Uber and Lyft. They are extremely convenient, and the hotels have designated pick-up and drop-off areas. I live in Las Vegas and use Uber all the time. I don't think I have ever paid more than $20 for a ride.
I don't recommend getting a rental car unless you plan on doing activities off of the strip. Rentals are expensive and most hotels charge between $10-$30 a day for parking.
Gambling
Gambling is tough to estimate, since everyone has a different risk tolerance. I recommend not gambling all of your money on day 1. Instead set loss limits, and cash out once you hit them. Here are the bet minimums for a few table games:
Blackjack – $10
Craps – $10
Roulette – $10
Poker – $40-$60
Slots – $0.01
Sportsbook – $5-$10
Every casino has different table minimums, and they often change depending on how busy the casino floor is. Also, casinos off of the strip tend to have lower minimums than their counterparts on the strip.
How Much Money Should You Take To Las Vegas?
The amount of spending money you take to Las Vegas will depend on how many activities you choose to do, and how expensive they are. If you know exactly what you plan to do ahead of time, you should have a rough estimate of what it's going to cost.
For most people, $250 a day should cover all potential expenses. If you plan on gambling, I recommend bringing a little bit more money. $500 a day is a decent sized budget if you plan on doing a moderate amount of gambling, in addition to seeing some shows and heading to a nightclub.
Whatever your budget ends up being, I HIGHLY recommend sticking to it. It's easy to rack up your credit card bill while in Vegas, or charge things directly to your room. Expenses tend to add up fast, especially if they don't show up on your account right away.
Also remember, many hotels in Las Vegas charge resort fees as high as $40 a night, on top of your nightly rate. Most people don't realize that these fees exist until it's time to check out. If you were cutting it close with you credit card balance, it's not uncommon to have your card declined.
When it comes to bringing spending money, you don't actually have to bring cash. All Las Vegas casinos have ATMs, and the fees are typically only $2 or $3.
Determining Your Overall Las Vegas Budget
To determine the overall budget for your trip to Las Vegas, just add your flight and hotel costs to the amount of spending money you bring. This number will vary depending on which hotel you stay at, and how expensive your plane tickets are.
Most flights to Vegas cost somewhere between $350-$700, depending on your starting point. You can get the cheapest flights by booking your arrival and departure during weekdays. Avoid Friday arrivals and Sunday departures at all costs.
There are a wide range of hotels in Las Vegas, all with different rates. Just like with flights, you'll always get the best rates during the week.
| | | |
| --- | --- | --- |
| Type of Hotel | Weekday Rate | Weekend Rate |
| Budget | $30-$50 | $75-$140 |
| Mid-Tier | $80-$120 | $160-$200 |
| High-End | $150-$250 | $225-$350 |
Most people who visit Las Vegas will end up spending about $500 on a plane ticket, plus $500 for every day they stay ($250 spending money + $150 a night on a hotel). If you want to learn more about the exact costs associated with a trip to Las Vegas, I wrote a more in depth post here.