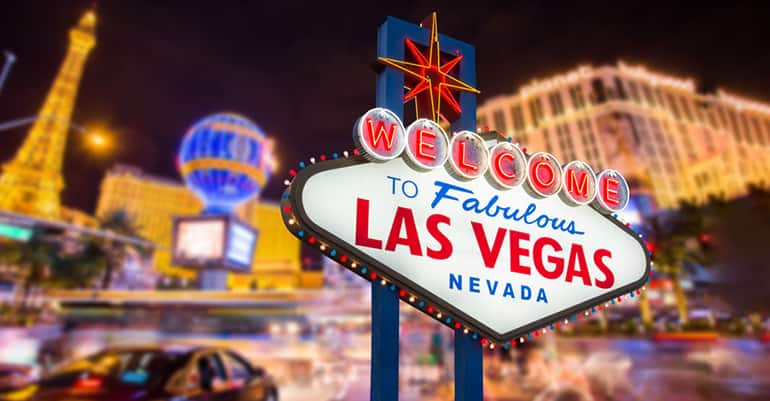 Many people wonder, when is the best time to visit Las Vegas. As someone who lives in the city year-round, I'm able to offer a unique perspective.
The best time to visit Las Vegas is between May (Memorial Day) and September (Labor Day). Late Spring to early Fall is when the pools are open, and tourism is at it's peak. You'll also be able to find plenty of good travel deals, since convention season doesn't start until September.
Some of the most popular times to visit Las Vegas are:
New Years
Halloween
Memorial Day Weekend
Labor Day Weekend
Fourth of July
Super Bowl Weekend
March Madness
Electric Daisy Carnival (EDC)
Life Is Beautiful Festival (LIB)
The best time to visit ultimately depends on what you're looking for. If you're looking for the biggest and best parties-or just want to enjoy the best pool weather-then you're going to want to book your trip in the summer. However, if you want to avoid the crowds and get the best deals, then you may want to visit in the off-season.
Most Popular Time To Visit Las Vegas
Despite what many of the large travel websites say, summer is the most popular time of year to visit Las Vegas. May through September is called "busy-season" or "high-season" by locals. There is no dip in attendance during the summer, even with daytime temperatures reaching 110° F (43° C).
In fact, tourism is up during the summer months. The only thing that is down, is the number of conventions being held. In the summer, there are noticeably more people in the casinos, the nightclubs and out walking the strip. To make sure I wasn't just seeing things, I actually verified my personal experience with the official tourism numbers released by the LVCVA.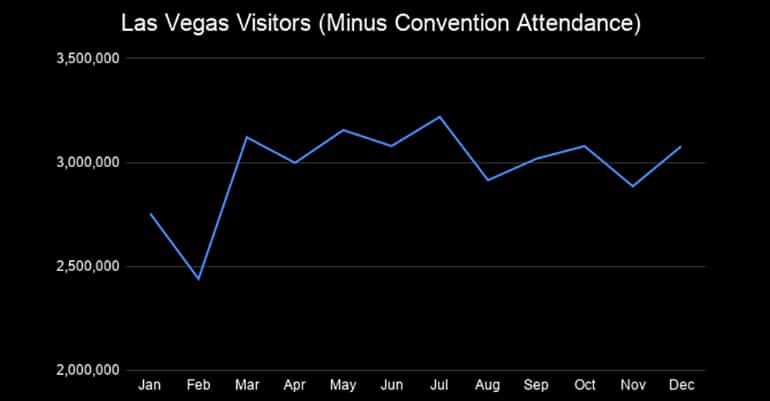 Of course, not everyone is going to want to visit during the busy-season. If you're looking for the best deals, then you'll want to visit in late fall or during the winter (I'll cover the cheapest times to visit in a minute). But there are plenty of people who prefer to visit Las Vegas at its peak, and for good reason…
Why Is Summer The Most Popular Time To Visit?
Late spring, summer and early fall are the most popular times to visit Sin City for a reason. Not only do people tend to take their vacations around this time, but it's also when the pools are open.
Las Vegas is famous for its wild pool parties and luxurious resorts. There is also a growing water sports scene on both Lake Las Vegas and Lake Mead. The ultra hot temperatures during the day make the pools all the more refreshing.
If you're not in the water, then you're likely going to spending most of your time in the air-conditioned casinos. Either way, the heat isn't going to effect you too much.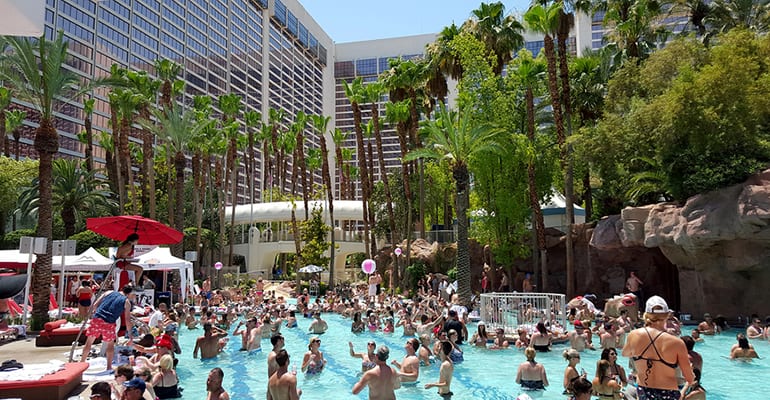 If you're into the nightlife scene, you'll be pleased to know that many Vegas nightclubs have large outdoor areas-some even have pools! Nighttime temperatures stay in the mid 80's (29° C) during the summer. This is perfect party weather.
Don't be fooled into thinking that hotel rates are more expensive in the summer. With fewer conventions, there are plenty of great deals to be found, especially mid-week. Hotel rates mid-week are often 50% cheaper than on the weekend.
Busiest Weekends In Vegas (May Want To Avoid)
Holidays like New Years and Halloween are EXTREMELY popular in Las Vegas, maybe too popular. Everything is sold out and prices are through the roof. There are only a couple of holidays every year that are like this, and they include:
New Years
Halloween
Fourth of July
Memorial Day Weekend
Labor Day Weekend
Super Bowl Weekend
Based on their popularity you could argue that these are the "best" times to visit Las Vegas. But in my opinion, they aren't worth it. The city is just too expensive and too congested. Plus, the best deals of the year are often the week after one of these major holidays.
Best Time To Get Low Prices In Las Vegas
Since Las Vegas is so reliant on tourism, you can be certain that you'll find cheap airfare year-round. However, prices will vary depending on where you're flying in from. If you really want the best deals, I recommend that you avoid flying in on a Friday and flying out on a Sunday.
As far as hotel rooms go, you'll find the best rates in the off-season (December-January). The one exception is during the major holidays mentioned in the previous section. Prices skyrocket for those specific dates.
Oddly enough, you'll also be able to get great deals throughout the summer, since conventions and special events aren't pushing up prices. The graph below shows the average price for a room on the strip, every month of the year. (If you want more information about the cheapest time to visit Las Vegas, I wrote another post here).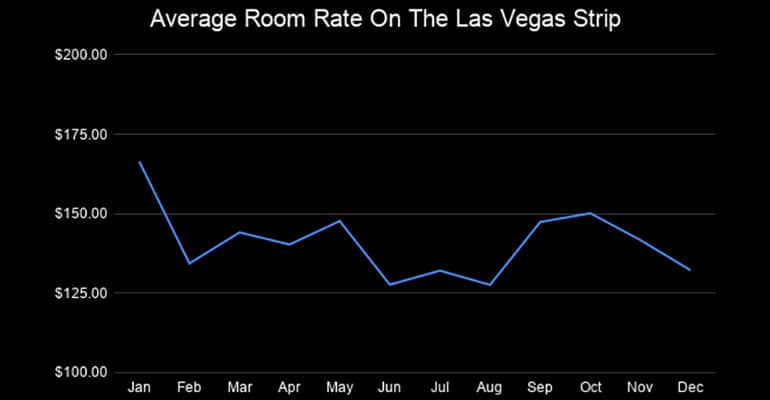 The week directly after a huge holiday is also one of the best times to snag great deals on hotels. For example, January 1st and 2nd are among the cheapest days to book a hotel room in Las Vegas (the spike on the left side of the graph is New Years). Take advantage of this if you're looking to avoid crowds.
Best Time To Visit To Avoid Crowds In Las Vegas
Typically, the months with the cheapest prices also have the smallest crowds. November-February will be the least busy. Although, "less busy" is only relative. Vegas is still plenty busy in the winter.
You can find slower weekends in the summer too. Even though May-September is the busy-season, there are select weekends that have less going on. You'll be able to pinpoint these dates when looking at a rate calendar on any hotel website, by find the cheapest prices.
Avoiding weekends with major conventions (like Def Con) and bigger sporting events (like MMA and Boxing), will also help you to avoid crowds.
Overall, the best strategy to avoid herds of tourists is to visit the city November-February. Besides New Years and the Super Bowl, there are very few events that will draw a crowd during those months.
Best Day Of The Week To Visit Las Vegas
There are benefits to visiting Las Vegas mid-week, as well as weekend. Both offer clear advantages and disadvantages, so I'll quickly mention a few of them.
Visiting Mid-Week (Sunday-Thursday)
Pros

:

Cheaper flights
Cheaper hotel rates
Less busy

Cons

:

Biggest events happen on the weekend
Not all nightclubs and pool parties are open
Vising On The Weekend (Friday-Saturday)
Pros

:

Biggest events are scheduled for weekends
All nightclubs and pool parties are open
Strip has more energy
Meet more people (What happens in Vegas, stays in Vegas)

Cons

:

Flights and hotels are more expensive
More crowded
Picking the best time to visit depends on why you're going to Vegas in the first place. If you just want to gamble, then it makes sense to visit mid-week when the crowds are smaller. If you want to party, then you'll want to visit on the weekend when more people will be in town.
It is important to note, that while Vegas is less busy during the week, it isn't dead. For example, nightclubs are still open 7 nights a week, and they get busy. It just isn't as packed as it would be on a busy Saturday.
If you can, spread your trip out to include a few weekdays along with the weekend. For example, fly in Thursday and stay through Sunday. This way you're able to take advantage of the weekday hotel rates. As I mentioned earlier, nightly rates during the week are often 50% cheaper than the weekend.
Best Time To Visit Las Vegas For Good Weather
Most people would argue that May and September offer the best weather in Las Vegas. This is because it's warm (about 85° F or 30° C), but not too hot.
The summer highs of 110° F (43° C) are too hot for some people. However, it's a dry heat. And most people won't be bothered by it, since they'll either be in a pool or the air-conditioned casinos. I personally prefer the hotter temperatures in June, July and August.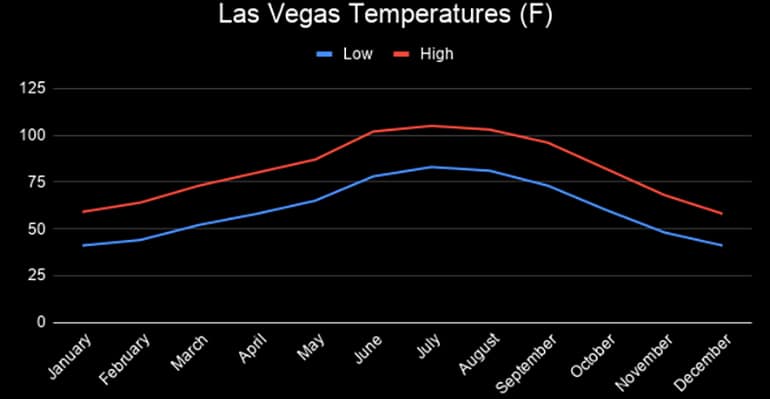 Winter temperatures do dip down into the 30's (2° C). And nighttime temperatures in the late fall and early spring sometimes call for a light sweatshirt. But there really isn't a month with extremely bad weather. You can visit comfortable any time of the year. The city has over 300 days of sun a year. Plus in hardly ever rains.
Best Time Of Year For Nightclubs & Pool Parties
While the nightlife in Las Vegas is robust the entire year, the nightclubs are the best from March-September. The same goes for the pool parties, since they are only open during those months.
To put it plainly, there are just more people who are in Las Vegas to party during the summer. Starting during spring break and lasting until Labor Day Weekend, Vegas is the best place to be if you want to party. Plus festivals like Electric Daisy Carnival (EDC), Life Is Beautiful Festival (LIB) and the iHeartRadio Music Festival bring in hundreds of thousands more party-goers every year.
The only real advantage of Las Vegas nightlife in the off-season, is the fact the bottle service tables are cheaper. Lower demand means you can pick up VIP bottle service at a steep discount. Of course, you don't need bottle service. You can get free entry into most Las Vegas nightclubs on the guest list year round.