Las Vegas and Miami are two of the top party destinations in the world. Both cities are known for their extensive nightlife and tourist attractions, but which is better?
Both Las Vegas and Miami have robust nightlife scenes, however, Las Vegas puts more of an emphasis on live entertainment. Las Vegas has more shows, bigger nightclubs and allows gambling in its casinos. On the other hand, Miami attracts tourists with its beautiful beaches and art districts.
Choosing between Miami and Las Vegas can be difficult. On the surface these two cities have a lot of similarities, but make no mistake, they are very different. To help you pick what city is best for you, I compare Miami and Las Vegas, head to head, in the following areas:
1. Nightlife: Miami vs Las Vegas
Let's start off by comparing Las Vegas nightlife to the Miami nightlife scene. Both of these cities have well known nightclubs, but with some key differences. Depending on the type of vacation you're looking for, you may be better off visiting one of these cities over the other.
Las Vegas Nightlife
Las Vegas has the largest nightlife scene in the world with over a dozen mega-clubs, many of them holding several thousand people a night. These include XS, Omnia, Drai's, Hakkasan and Marquee, just to name a few. There is also a solid mix of indoor and outdoor venues, most of which are on the strip.
A number of celebrity DJs have residencies in Las Vegas including Calvin Harris, The Chainsmokers, Martin Garrix, Diplo and Zedd. Live performances from Hip Hop artists like Migos, 2 Chainz, Tyga, Rick Ross and Travis Scott are extremely common too.
Las Vegas Nightclub Prices
You may think cover charges to these nightclubs to would be expensive, but you can actually get into all of the clubs for free using the guest list. Las Vegas is the only city in the world that has an organized guest list system.
Women on the guest list can get free entry at every nightclub. Men on the other hand, can get in free if they have an even ratio of women in their group (or a greater number of women than men). There are also a few clubs that allow men free entry without even ratio.
You can put your name on the guest list through a promoter or by signing up online. It takes less than 2 minutes to sign up for the guest list online and it's completely free.
| | | |
| --- | --- | --- |
| Method of Entry | Cost (women) | Cost (men) |
| Guest List | Free | Free (may require ratio) |
| Pre-sale Ticket | $15-$40 | $20-$75 |
| Cover Charge (at the door) | $15-$50 | $20-$100+ |
| Bottle Service | $500-$10,000 | $500-$10,000 |
Bottle services is also extremely popular in Las Vegas. It can cost between $500-$10,000 for a table. But on average, expect to pay about $1,000 for a small group (6-8 people) and about $2,500 for a medium to larger sized group (10-15 people). You can compare bottle service prices at every Las Vegas nightclub here.
Of course, purchasing a ticket or paying a cover charge is always an option. Women should expect to pay between $15-$40 for a pre-sale tickets, while men can expect to pay $20-$75
EDC Las Vegas
This is one of the biggest draws to Las Vegas. The event brings in hundreds of thousands of people each year. EDC, or Electronic Daisy Carnival, is well known as being the largest electric dance music festival in the United States. The biggest names in EDM all perform at EDC. It typically last 3 days and is held annually in May, near the Las Vegas Motor Speedway. Tickets cost about $400,
Miami Nightlife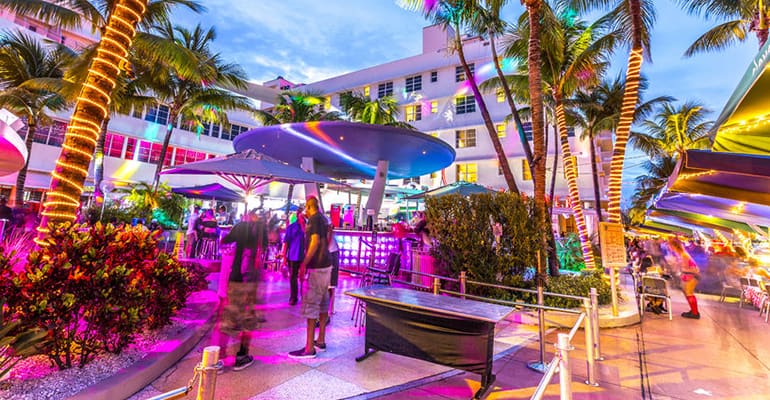 The nightlife scene in Miami is slightly smaller than it is in Las Vegas. The nightclubs are a bit smaller in size and capacity, and there are less of them. The biggest clubs only hold about 1,400 people (which is still pretty large compared to other cities).
Miami also incorporates more bars and lounges than Las Vegas. A few of the most popular venues include LIV, STORY, Rockwell, E11Even, Wall, Nikki Beach and the Clevelander. These clubs also have some top DJs, but they typically aren't residents since they do one-off performances.
Miami has a nice mix of indoor traditional nightclubs and outdoor bars and lounges, along Ocean Drive on the beach. The relaxing ocean views are really what sets Miami apart from Vegas. Both cities have warm weather but it's hard to beat Miami's tropical vibes.
Miami Nightclub Costs
Unlike Vegas, Miami does not have a guest list system. There are promoters you can use to get into some of the nightclubs, but they are unreliable. You're forced to either purchase a ticket or reserve bottle service.
Tickets to clubs like LIV or STORY are going to cost $20-$50 for women and $20-$80 for men. Even bars like the Clevelander and Mangos have cover charges of $5-$10 on the weekend. Bottle service costs about the same in Miami as it does in Vegas. However, tables at the smaller lounges are cheaper than tables at the mega-clubs.
| | | |
| --- | --- | --- |
| Method of Entry | Cost (women) | Cost (men) |
| Pre-sale Ticket | $20-$50 | $20-$80 |
| Cover Charge (at the door) | $20-$60 | $20-$100+ |
| Bottle Service | $350-$6,000 | $350-$6,000 |
The easiest way to purchase tickets is online on the club's website. But if that seems like too much work you can just show up and pay cover at the door. It may end up costing you a few bucks more that way, but it won't make too much of a difference.
Ultra Miami
Ultra Music Festival is very similar to EDC in Las Vegas. It's a 3 day EDM music festival in March, featuring performances from the biggest DJs in the industry. Ultra is usually a bit smaller than EDC, but it's still very popular with over a hundred thousand in attendance. Tickets are much cheaper too, coming in at about $150 for general admission.
2. Pool Parties And Beaches
The warm weather is huge a draw in both Miami and Las Vegas. And with the warm weather comes wild pool parties and tropical beaches. Let's see how the two cities stack up against each other in this area.
Las Vegas Pool Parties
Las Vegas is located in the middle of the desert, so there obviously aren't too many beaches. However, Lake Mead (located about 45 minutes off the Vegas strip) is just about as close to a beach as you can get. The lake is huge, and feels similar to a beach in some regards. There are plenty of sandy shores to relax on, and the water is air temperature in the summer. You can also rent equipment like boats and jet skis.
Unfortunately renting boating equipment can get expensive, and most people would rather just go to the pool parties. And this makes sense, since Las Vegas pool parties are the best in the world.
Dayclubs like Encore Beach Club and Wet Republic are gigantic, hosting over 3,000 people daily. I would describe the pool parties in Las Vegas as being very similar to the nightclubs, except for the fact that the sun is out and everyone is in a bikini. You can even argue that the pool parties are even crazier than the nightclubs.
Bottle service is available at every pool party, and the prices are comparable to the nightclubs. Celebrity headline DJs also grace the stages of Vegas pool parties on a daily bases.
Similar to the nightclubs, Vegas pool parties offer free guest lists. Many of them have ratio requirements for men, but clubs like Wet Republic and Daylight Beachclub don't. Women who sign up for the pool party guest list will get free entry at every dayclub.
Keep in mind that Las Vegas pool parties are only open March through the end of September. Vegas has a short winter, but the temperatures do dip for a few months. I'll cover the impact weather has on the city later on.
Miami Beaches & Pool Parties
South Beach is absolutely gorgeous, and I consider it one of the most beautiful beaches in the world. Many of the beaches in Miami are open 24 hours a day and they are free to visit. This includes several topless beaches.
But unless you're bring the party and booze yourself, don't expect a party on the beach. Yes, the beaches are plenty busy, but there is no organized party on the public beaches. You can however visit a place like Miami's Nikki Beach during the day, for something a bit closer to a beach party.
As far as actual pool parties go, Miami has a couple top-tier pool parties like SLS Pool Party or Arkadia Day Club. These clubs have a several big name DJs that perform on the weekend. And tickets are relatively inexpensive, typically costing $10-$40 at the most.
I do have to admit, that while the Miami pool parties are amazing, they aren't as good as they are in Las Vegas. Miami dayclubs are just smaller and aren't as popular. You'll definitely have plenty of fun, but Las Vegas just puts on a party on a larger scale. Although, if you prefer breathtaking ocean backdrops over non-stop debauchery, Miami is your place.
3. Daytime Attractions
Aside from hitting the nightclubs and pool parties, both Miami and Las Vegas have a number of daytime attractions. If you plan on being in either city for more than a day or two, you'll want to check out these attractions.
Las Vegas Daytime Attractions
Las Vegas has a ton of things to do outside of partying. This is nowhere near a complete list, but here are a few of the more interesting daytime activities:
Touring the Grand Canyon
Topgolf
Exotic car racing
Shooting ranges
Spas
Hiking
Jet Skiing
Helicopter tours
Strip clubs
Sightseeing (Bellagio Fountains, Las Vegas Sign, ect)
Shows (Cirque du Soleil, live Concerts, Magic shows, Comedy clubs)
Gambling
Shopping is another huge part of Las Vegas. There are endless retail shops and outlet malls, both on the strip and scattered throughout the city. Pretty much any brand you can think of has a store in Vegas.
Sporting events are big in Sin City too. This includes NHL games (Vegas Golden Knights), NFL games (Las Vegas Raiders), NBA summer league, MMA fights and boxing matches.
This isn't for everyone, but it's worth noting that recreational cannabis is legal in Nevada. This is a huge industry in Las Vegas and if it interests you, it's something worth considering.
Miami Daytime Attractions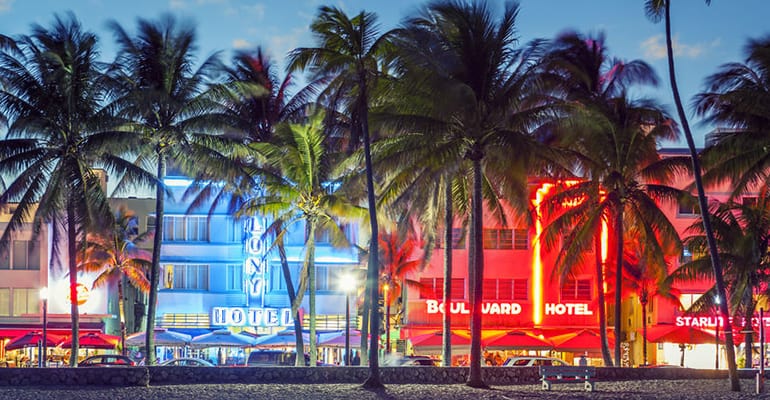 Just like Vegas, Miami has a wide range of daytime attractions. Here are a couple of the more popular daytime activities:
Hanging out on the beach
Visit the Art Deco District
Zoo Miami
Sightseeing (Vizcaya Museum and Gardens, Versace Mansion, ect)
Beach volleyball
Cigar lounges
Tour the Everglades National Park
Sporting events (NFL, NBA, MLS, MLB, NHL)
Water skiing
Surfing
Scuba diving
Tennis and golfing
Spas
Window shopping
Miami is big on art and culture festivals. The city hosts several of them throughout the year, including Art Basel. This art fair is extremely popular for both locals and tourists with interests in modern art. Art Basel Miami is a 3 day event usually held in September.
4. Weather, Scenery & Overall Party Atmosphere
Both locations are considered sunny getaways, but the climate of these two cities is extremely different. The same goes for the overall vibe of these two spring break hotspots.
Las Vegas Weather & Party Atmosphere
Las Vegas is a party town through and through. The entire city is built around the casinos and tourism, mostly on the strip. For this reason, I consider Vegas to be the bigger party city.
Sin City is one of the few places that serves alcohol around the clock, 24 hours a day. You can even walk the streets with open containers no problem. In fact, you'll probably get in trouble if you're not drinking!
Many people give the Las Vegas scenery a hard time, calling it a pile of dirt and rocks. While that's true, I personally find the mountain backdrop appealing. And don't discount the Vegas skyline, especially when it's lit up at night.
Weather
As far as whether goes, Vegas is sunny 294 days a year. And it only rains for about 26 days a year. That's some pretty good weather! It can however get hot, especially in the summer when temperatures rise above 110° F (43° C).
It's a dry heat, but the sun can be brutal midday. In the summer, the nights will cool down into the mid 80's. Winters in Vegas are a different story. It doesn't snow, but November-February temperatures get down into the 40's and 50's (5-10° C).
Miami Weather & Party Atmosphere
Miami has a huge tourism industry, but it isn't nearly as reliant on it as Las Vegas. However, Miami still has a party vibe, specifically in South Beach which is the touristy party of town.
The bars aren't open as long as they are in Vegas, since most of them close by 5 am. And the overall feel of the city is more chill. Vegas is high energy all the time, while Miami is much more laid back. In fact many people walk around the city, without taking cabs. It's that chill.
Not to mention the architecture is beautiful. Not only do you have the tropical beaches and palm trees, but the colors of the buildings just seem to pop. This goes back to the artsy aspect of the city. You can still party in Miami (and many people do, including me), but it's not as in-your-face as it is in Vegas.
Weather
The weather in Miami is much more consistent, than it is in Vegas. The highs range from 70-80° F (21-27° C) year round. The lows stay around 60-70° F (16-21° C) all year.
Miami gets 248 days of sun. It also rains about 129 days a year, but many of these showers only last 15-20 minutes. The winters are warm and dry, while the summers are hot and humid. Miami also has a hurricane season from June through November.
5. Restaurants
One of the best parts about traveling is the food. Miami and Las Vegas are both known for 5 star restaurants and celebrity chefs. It's difficult to say one city is better than the other, but so I'll list out a few of the most popular restaurants and let you decide which ones best fit your taste.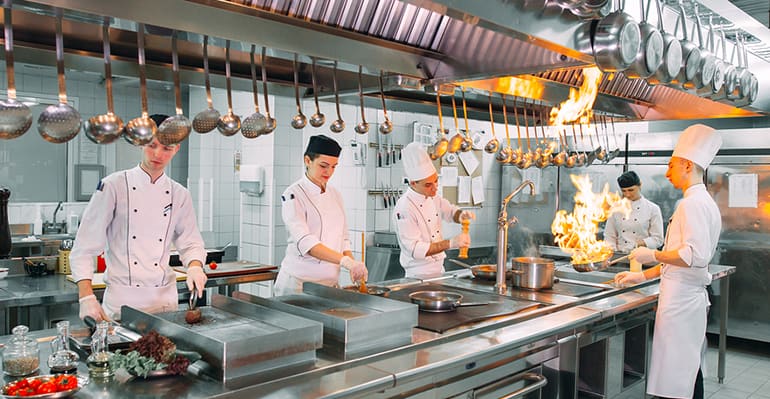 Las Vegas Restaurants
There are so many dining options in Las Vegas that it would take hours to list them all out. I know most people aren't going to venture too far off of the main strip, so here are some of the best options on the strip:
STK Las Vegas (Steakhouse)
House of Blues (Southern)
Allegro (Italian-American)
Secret Pizza (Pizza)
Cipriani (Italian)
SUSHISAMBA (Sushi)
Javier's (Mexican)
Miami Restaurants
There are plenty of boutique restaurants and cafes all around Miami. But similar to Las Vegas, most people on vacation aren't going to want to venture too far away from South Beach. So here are some of may favorite restaurants close to South Beach:
La Sandwicherie (Fresh Sandwiches)
Upland (Italian)
Red, the Steakhouse (Steak)
Nobu (Asian)
Santorini by Georgios (Greek)
Joe's Stone Crab (Seafood)
PLANTA (Plant-Based)
6. Total Vacation Cost
When deciding where to go on vacation, cost is always one of the biggest factors. When comparing Las Vegas to Miami, each city has their own set of costs. Although a trip to either city is ultimately going to cost about the same price in the end. I'll break down the associated cost below to give you a better idea of what to expect.
Cost Of A Las Vegas Vacation
When traveling to Las Vegas, your biggest expense is going to be your hotel followed by food and drinks. I'm not going to include airfare in this, since I don't know where you're flying in from.
Outside of those costs, your only real expenses are entertainment (shows, gambling, ect) and transportation. You can get into most of the nightclubs and pool parties for free on the guest list. So how much does all of that cost? This is the cost of an average 3 day trip to Las Vegas:
| | |
| --- | --- |
| Expense | Cost |
| Hotel (mid-tier) | $250* |
| Food | $150 |
| Drinks | $150 |
| Nightclubs/Pool Parties | Free |
| Entertainment | $50 |
| Transportation | $50 |
| Gambling | $100 |
| Total | $750 |
*This chart assumes that you're splitting the cost of the hotel room with a friend. After all, most Las Vegas hotel rooms have 2 beds.
You could reduce you expenses a little bit more by staying at a budget hotel off of the strip. Or if you just plan on hitting the clubs, you could completely avoid gambling and the shows to save some money. On a really tight budget, you could do a 3 day Vegas trip for under $500. If you want to learn more about how I got these cost estimates, you can learn more here.
Cost Of A Miami Vacation
A 3 day trip to Miami will have similar costs to a Vegas trip. However, you won't be temped to waste money gambling, and the hotel rates are slightly cheaper.
Also activities like hanging out on the beach are completely free. Plus it makes more sense to walk around Miami, instead of taking Uber/Lyft or taxis. This will allow you to potential save money on transportation.
In spite of those savings, expect to spend more at Miami nightclubs and pool parties. There is no guest list system, so if you plan on attending any top-tier clubs, you'll have to purchase a ticket or pay cover.
| | |
| --- | --- |
| Expense | Cost |
| Hotel (mid-tier) | $200* |
| Food | $150 |
| Drinks | $150 |
| Nightclubs/Pool Parties | $100 |
| Entertainment | $50 |
| Transportation | $50 |
| Total | $700 |
*Like in the Vegas chart above, we're assuming that you're splitting the cost of the hotel room with at least one friend.
To save a little more money, you could also get an Airbnb. Miami isn't like Vegas, where everything is located on one 4 mile strip. It won't hurt you if you stay at a place slightly further away from the action.
7. Best Time Of Year To Visit
Although you're able to travel to both Miami and Las Vegas year round, each city has its peak season. Depending on why you're visiting, it may also make sense to book your trip during the off season to save money.
Las Vegas: Best Time To Visit
Las Vegas pool parties are open March through the end of September. I would argue those are the best months to be in Las Vegas. That's when you'll experience the wildest parties and enjoy the best weather.
Major holidays like Halloween and New Years are also peak times for Vegas tourism. Although it's so busy, and everything is so expensive, I wouldn't necessary recommend going during those holidays.
If you do find yourself in Las Vegas during the winter, you'll be able to take advantage of lower prices across the board. The nightclubs will be slightly less busy, but still plenty packed. And while the pool parties are closed there are dayclub alternatives like Lavo Party Brunch.
Miami: Best Time To Visit
February through May is widely recognized as the best time to visit Miami. This makes a lot of sense, since the weather hovers in the 80's (27° C) during this period.
It's also winter in most other parts of the United States, making Miami the perfect tropical getaway. Miami is definitely the most busy in Spring, and that's when you'll see the best parties being thrown.
Starting in June, and running through November, Miami enters it's hurricane season. You can still visit Miami in the summer, but understand it will be hot and humid. I personally prefer to visit Miami in the Spring.
Miami Or Las Vegas: Final Thoughts
I enjoy visiting both cities, but I would argue that Las Vegas is the better "party city." While Miami comes close, there is just more in-your-face debauchery in Vegas. Plus the Las Vegas guest lists are a huge advantage that let anyone party for cheap.
Miami is better if you want to blend partying and relaxing. It's easier to chill on the beach than in a loud casino. Miami just has a more relaxed vibe.
If I were picking which city to visit, the biggest factor would be the time of year. Miami is better in the spring, and Las Vegas is better in the summer and fall. But you'll honestly, have a great time at either location year round.