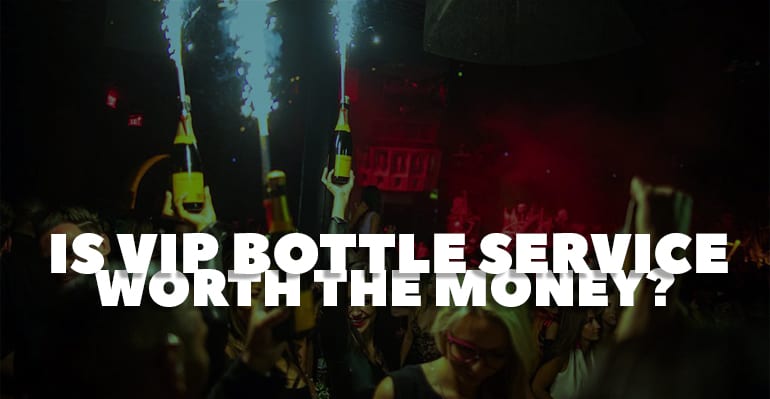 There's a lot of hype around bottle service in Las Vegas, but is it actually worth the money? After getting a few tables myself, I decided to weigh some of the pros and cons of bottle service.
Is Las Vegas bottle service worth it? Bottle service is the best way to party in Las Vegas. It provides a level of comfort and service not available through general admission. However, depending on the price, bottle service may not be your best option.
Overall, bottle service offers the best party experience in Vegas. But to determine whether or not a table is worth it, you would have to look at the price. A $1,000 table may make sense to you, but a $5,000 turns you off. In this post I'll weigh the pros and cons of bottle service, along with some cost effective alternatives.
Benefits Of Las Vegas Bottle Service
I'll start by mentioning some of the benefits of bottle service. There are many reasons why someone would want to purchase a table, but here are some of the major ones:
Get your own private area within the club
Get a place to sit (there is no seating in general admission)
Cocktail waitress and busser to pour your drinks
Security to keep people out
Expedited entry
No cover charge
Avoid long lines at the bar
Attention and status in the club
If you're looking to enjoy your night out without bumping elbows with strangers, bottle service is the way to go. But, the opposite is also true. If you're interested in meeting someone or hooking up (it's Vegas after all), a bottle service table makes it easier.
Nightclub tables are located in VIP sections, so being in this position will get you extra attention. Bottle service tables also have the best views of the DJ. The difference between partying in VIP vs general admission is noticeable, but completely necessary to enjoy your night out. The table just offers an extra level of convenience and luxury.
There is no doubt that bottle service is superior to general admission. But deciding if the extra layer of luxury is worth it, largely hinges on the price.
Budget Is A Huge Factor For Bottle Service
Let's start by looking at how bottle service pricing works in Las Vegas. Most nightclubs have table minimums, meaning that you agree to spend a minimum amount of money while at the club. The actual table is given to you for free.
Items that count toward your minimum spend are things like:
Bottle of alcohol (usually $350-$600 a bottle)
Individual drinks added onto the tab
Bottled water or energy drinks
Food (only for dayclubs)
If your table minimum is $1,200, then a typical night would consist of you purchasing 3 bottles for $400 a piece. You are also responsible for taxes (about 8%) and gratuity (about 18%-20%). These expenses are usually automatically included in the final bill.
For this reason, you should always expect the final cost of a table to about 30% more than the quoted "table minimum." Now lets look at how much the average table costs in Las Vegas.
Average Cost Of A Table In Las Vegas
Table prices vary dramatically from club to club. A similar sized table costs more at a bigger club than at a smaller one. Other factors like group size, how busy the club is and table location within the club will also impact price. So, these are some rough averages of what a table will cost across all Vegas nightclubs:
| | |
| --- | --- |
| Group Size | Price |
| 6 Guests | $1,200 |
| 8 Guests | $1,500 |
| 10 Guests | $2,500 |
| 12 Guests | $3,000 |
| 15+ Guests | $5,000+ |
Again, these are rough averages. To get a better idea of what you can expect, I put together a full list of bottle service prices for every club in another post here. But since you now have a idea of how much bottle service is going to cost you, lets compare that to some of the alternatives you have.
Cost Of Bottle Service
This first example below is a cost analysis for a group of 6 who purchase bottle service.
| | |
| --- | --- |
| Item | Cost |
| Cover Charge | $0 |
| Alcohol | $1,200 |
| Taxes and Gratuity | $360 |
| Total Cost | $1,560 |
| Total Cost (Per Person) | $260 |
As you can see, when split between 6 people, the $1,560 price tag becomes much more manageable. The larger your group is, the less each individual person has to pay.
Cost Of Tickets
One alternative to bottle service is to buy a ticket. You can either purchase a pre-sale ticket or pay cover at the door of the club. Pre-sale tickets are going to be much cheaper.
Tickets can cost between $20-$75 depending on the club. Also, tickets for men are often more expensive than tickets for women. For the example below we'll assume an average ticket price of $45.
The cost of drinks at Las Vegas nightclubs is as follows:
Beers – $10-$15
Shots – $15
Cocktails $15-$20
We'll use the average price of $15 in the chart below:
| | |
| --- | --- |
| Item | Cost |
| Cover Charge | $45 |
| Alcohol (8 Drinks Per Person at $15) | $120 |
| Total Cost (Per Person) | $165 |
Remember you may save some money on alcohol compared to bottle service, but you lose hours waiting in line to get in and at the bar.
In this example bottle service is only about $100 more expensive than purchasing a ticket. In my opinion, spending an extra $100 for a VIP experience is more than worth it.
Cost Of The Guest List
You also have a third option, which is the guest list. When you sign up for the guest list, you get into the club for free. Every Las Vegas nightclub offers a guest list and you can sign up online is less than a minute.
Clubs have these lists to encourage people to get to the venue early. There are also some rules associate with the guest list. The most important rule has to do with ratio.
Ratio means that women get into the club for free. But groups of men must have an even ratio of women in their group (or more women than men) to get free entry on the guest list. Not all clubs require ratio, but many do. I put together a list of all the clubs that require ratio in another post.
| | |
| --- | --- |
| Item | Cost |
| Cover Charge | $0 |
| Alcohol (8 Drinks Per Person at $15) | $120 |
| Total Cost (Per Person) | $120 |
The guest list is actually my favorite way to get into nightclubs in Vegas. It's completely free so all you have to do is purchase your own drinks once you get into the club (sometimes women get free drink tickets).
You don't get all the perks associated with bottle service when you use the guest list, but you save a ton of money. If you're not going to get bottle service I would recommend using the guest list over purchasing a ticket.
When Should You Purchase Bottle Service?
If you can comfortably afford bottle service, I would recommend that you go for it. It's a great experience and worth the money. But for those of you that are stretching your budget, I would say avoid bottle service.
The final bill is always going to be a bit more than you expect. So if you're maxing out your credit card to afford the table, don't get bottle service. However, there are also some clubs that offer cheap bottle service (less than $500) that I'll mention in a bit.
Generally, bottle service is great for larger groups who can split the cost. If you can't afford bottle service don't worry, you can save a ton of money by using the guest list. You can still have a great time at the club even if you don't have a table.
When Should You Pass On Bottle Service?
There are some times when bottle service is definitely not worth it in my opinion. Specifically, I'm talking about major holidays like:
4th of July
New Years
Halloween
Memorial Day Weekend
Labor Day Weekend
During these holidays, Las Vegas is completely swamped. Tables are going to cost double or triple their normal price. Paying $8,000 for bottle service is not a win in my book (unless you can comfortable afford it).
Also note that during these holidays, tickets are going to cost more too. Guests list are also unavailable, so it's not just bottle service prices that are being jacked up. Everything in Sin City is going to be more expensive.
Las Vegas Nightclubs With Cheap Bottle Service
There are a few clubs that offer bottle service for extremely cheap. Light Nightclub, Chateau Nightclub and Apex Social Club all offer tables starting around $500 for 6 guests. There are a couple other clubs that sell cheap bottle service too. I made a list of the Vegas clubs with the cheapest bottle service in another post.
You can also get better deals on bottle service by heading to the club on a weekday (Sunday-Thursday) instead of the weekend. Tables are often 10%-50% cheaper during the week.
How To Reserve Bottle Service In Las Vegas
To reserve bottle service, you're going to need to contact a VIP host that works for the club. Every Las Vegas nightclub keeps a number of hosts on staff that handle bottle service inquiries. If you're not already in contact with a VIP host you can contact us here, and we'll put you in touch with one who works at the club of your choice.