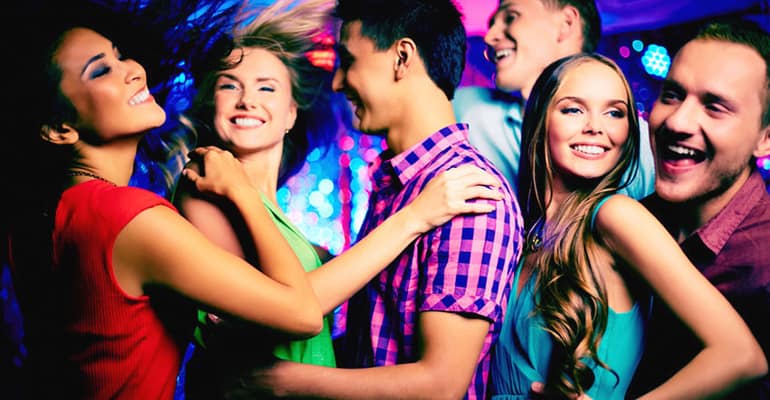 Vegas club crawls often get mixed reviews online, making it difficult to assess how good they are. So, I decided to jump on several crawls myself to find out if these club crawls are worth the money or not.
On average, tickets for a Las Vegas club crawl cost between $35 and $115 a person. Pool party club crawls will cost between $35 and $100 a person, depending on the company. Generally, club crawls are less expensive than paying a nightclub cover charge.
I jumped on nightclub and pool party tours from multiple companies, and overall I would say LA Epic provided the most value for the price. Their nightclub crawls only cost $65 and the pool party crawls cost $60 a person. But, there may be cheaper (sometimes free) and better options available. Let's compare your club crawl options and weigh some of the alternatives.
Comparing Vegas Club Crawl Prices
The most important factor in determining whether a club crawl is worth the money, is the price you pay for a ticket. There are well over a dozen club crawl companies in Las Vegas, and it seems like more and more pop up everyday. Each company offers something slightly different like free party buses or drink specials, but these are the baseline prices for the most popular club crawl companies.
| | | |
| --- | --- | --- |
| Company | Nightclub Crawl | Pool Party Crawl |
| LA Epic | $35 | $40 |
| VIP Vegas Club Crawl | $35 | $35 |
| Nocturnal Tours | $54 | $42 |
| Club Viva Las Vegas | $75 | – |
| Sin City Club Crawls | $79 | $69 |
| Vegas Party VIP | $89 | $80 |
| Party Tours | $89 | $49 |
| Nite Tours | $89 | – |
| Club Tour Vegas | $99 | – |
| Turnt Up Tours | $99 | $99 |
| Vegas Party People | $109 | $99 |
| World Crawl | $115 | $99 |
It is important to note that these prices do change over time, but for the most part they stay the same. Also, many of these club crawl companies hire sales people to walk the strip selling tickets for their crawl. Most of these sales people are paid on a commission and have some flexibility with the prices that they can offer, so they tend to high ball the tickets they sell. You'll usually get the lowest possible price buying directly from the club crawl's website.
Which Club Crawl Is Best?
Each crawl offers similar benefits. They all advertise no cover charges, no lines, drink specials and they all visit 3-4 clubs in a night. Some mention they provide free transportation in the form of a limo or party bus, while others charge extra for transportation.
In my experience going on tours with all of these companies, I would say they offer essentially the thing. Yes, some of these companies offer slightly better customer service, or free snacks but the core product is largely interchangeable. It's just a question of whether you're willing to pay an extra $50+ for a 10% better experience.
That's the main reason why I recommend LA Epic. First, they have the best prices. The 2 lowest-priced options (LA Epic and VIP Vegas Club Crawl) are both run by LA Epic. And second, I found their staff and tour guides to be just as friendly and helpful as the higher-priced options. The experience I had wasn't perfect, but it was just as good, if not better than many of the other club crawl companies. If you want more information, check out the more in-depth Las Vegas club crawl comparison I made here.
Who Should Consider Going On A Club Crawl
Club crawls are not for everybody. If this is you're 4th or 5th trip to Vegas, you probably don't need to be going on a club crawl. These tours are mostly for anyone who is new to Las Vegas and doesn't know their way around.
These crawls pick out the best clubs in advance, so you don't need to figure out where to go on your own. They also take care of things like finding the correct lines and getting you into the venue on time. If this is your first trip to Vegas, figuring out the logistics of where to go can be stressful. It can be beneficial to have the club crawl take care of that for you.
Also, if you're looking to meet new people club crawls can assist you in that process. Each crawl has several tour hosts. Part of the tour host's job is to start drinking games and get everyone on the crawl mingling. They will often play matchmaker and introduce a group of guys to a group of girls. That's something you won't get if you just go to the nightclub on your own.
What To Expect On A Club Crawl (Pros Vs Cons)
Depending on what company you go with, you can expect some slight variations in services offered. But these are some things that are universally offered by every club crawl company.
Pros
No cover charges at the club
Expedited entry (minimal lines)
Drink Specials (open bar or buy one get one)
Organized drinking games
Sociable tour hosts
Visit 3-4 venues per night
Don't have to stress about picking a club
Free limo or party bus (offered on most tours)
Crawl tickets are usually cheaper than nightclub cover charges (depending on the crawl)
Cons
It is possible to get a bad host
There are cheaper ways to get into Vegas nightclubs
You only spend about an hour at each venue (except the last one where you'll finish the night)
It's impossible to predict whether you're going to get a bad host or not. It's just the luck of the draw. But in my experience a bad host is rare, and I didn't have that issue with LA Epic.
As for the other things like party buses or drink specials, check what the crawl is offering before you buy a ticket. Most crawl companies have several levels of packages that add certain benefits. I personally don't think the add-ons are worth it, but you may think otherwise. The ones mentioned above come standard with most crawls.
When Club Crawls Are Not Worth The Money
There are times when club crawls are not your best option. If it's your first time visiting Vegas I still strongly recommend you go on one, but in certain scenarios they just don't make sense. For example if you have a group of all women, you can get free entry to every club by signing up for the guest list.
Every nightclub and dayclub in Las Vegas offers free admission to guests that use the guest list. Anyone can sign up for the guest list online or through a promoter that works for the club. It takes less than 2 minutes to sign up and it's completely free. This is the easiest and cheapest way to get into your favorite Vegas club.
Most clubs also offer free entry to guys that have an even ratio of women in their group (or a greater number of women than men). There are even a couple clubs that will let men on the guest list in for free, without an even ratio!
If you already have an idea of what club you want to visit or the DJ you want to see, then signing up for the guest list makes more sense than jumping from club to club on a club crawl. It is also much cheaper since all guest lists are free.
Bottle service is also an option if you're willing to spend a little bit of money. With bottle service you get special treatment including: waived cover charges, expedited entry, a private table, a cocktail waitress, a buser, security, and VIP status within the club. If money isn't an issue then I would definitely recommend going the bottle service route. You can learn more about Vegas bottle service here.
Related Questions
Is there a dress code on Vegas club crawls? All Vegas nightclubs have a strict dress code, and since club crawls visit these clubs it must be followed. Men should wear jeans (no baggy or ripped) with a dress shirt and dress pants. Women have more leeway and can pretty much wear whatever they want. However, most women wear a dress that fits their form, paired with either heels or flats. You can check out full dress code guides for men and women here.
Do club crawls cost more during holidays? Las Vegas club crawls raise their pricing for big holidays like the 4th of July or New Years. There is no uniform holiday pricing, since each company makes it's own decisions. To find out holiday pricing it is best to check on the club crawl's website.