If you're under the age of 21, you may find that there isn't a whole lot to do in Las Vegas. But, I have found that there are still a few places where 18-year-olds can legally party.
Las Vegas nightclubs are extremely strict with ID's, so unless you're 21 you won't be able to enter the big nightclubs. However, 18-year-olds can party at Little Darlings. Cloud 9 Hookah Lounge is also a popular destination for those who aren't old enough to drink.
If you're under 21, you need to get creative if you don't want your vacation to consist of shopping and visiting museums. There are only a handful of Vegas party options that don't have age restrictions. I'll cover the best ones, along with a few non-party options that are still a ton of fun.
(If you're looking for things to do in Las Vegas under 21, you'll also want to check out this article.)
18 and up clubs in Las Vegas
House of Blues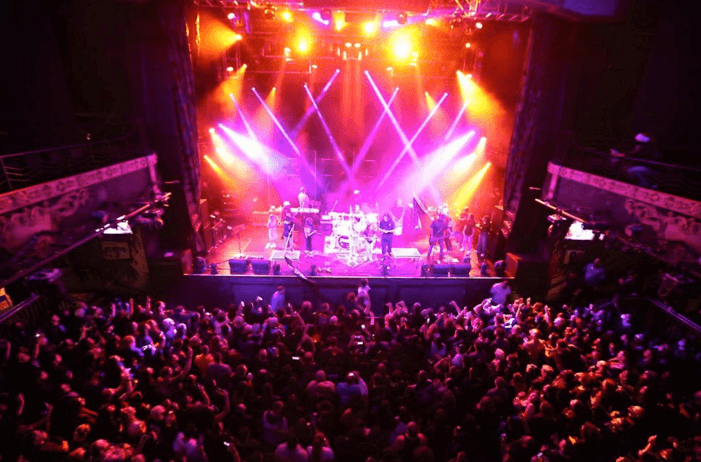 House of Blues is an awesome place to party if you're under 21. While not every event or night is meant for 18+ teens, make sure you check on their website before you book that the show you are going in indeed for 18+ so you won't have any problems getting in.
If you're hungry, the House of Blues restaurant and bar is a great choice to grab a snack before you hit the clubs.
The House of Blues is an iconic place to visit while you are in Vegas, it has been around for nearly three decades and offers shows and events that are a must see while you are here.
Make sure you check their website for upcoming shows and event and to see the age requirements.
Address: 3950 S Las Vegas Blvd, Las Vegas, NV 89119 ( In Mandalay Bay )
T Mobile Arena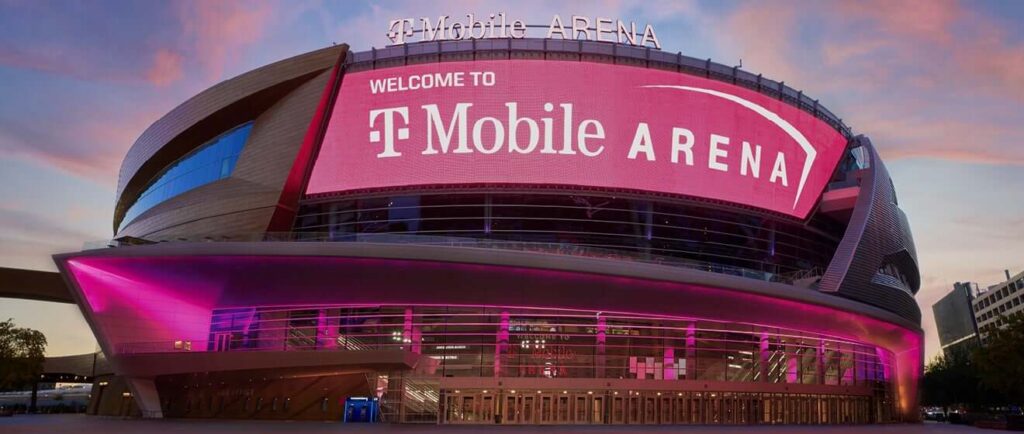 While not really a club, there are a lot of concerts during the year in the arena, and when you see a show or a Dj that is coming, you don't want to miss it.
T Mobile Arena opened its doors in 2016 and since the opening it has been the home of the Las Vegas Golden Knights ( A hockey team ) and many other events and shows that take place all year around.
The place itself is massive and can hold up to 20,000 people at a time so if it's a sports game you want to see, or a concert or show, you know it's going to be crowded.
Make sure to check the schedule before your trip to Vegas to never miss out on a cool event.
Address: 3780 Las Vegas Blvd S, Las Vegas, NV 89158
EDC Las Vegas ( Electric Daisy Carnival )
If you come to Vegas between May 19 to 21, this event is probably where everyone will be. The EDC is more than just a party or rave. It has so many stages, so many Dj's and art shows and food and pretty much anything you can think off to escape your reality.
The event is 18+ so even under 21 people can get in. Just make sure you buy your ticket on the website and check the calender.
EDC celebrates love, life, art and music, and the experience is well worth a visit if you're here in these dates.
The huge venue is held in the Las Vegas Speedway for obvious reasons as there is enough room there to host the 130,000+ people that can attend. Each year around 400,000 people party at this event and you should be one of them seriously.
Address: 7000 N. Las Vegas Blvd Las Vegas, NV 89115 ( Las Vegas Motor Speedway )
Life is Beautiful Festival
For 10 years now, every year on Sep 22 – 24 Down Town Las Vegas is transformed into a party rave area ( like it wasn't already right? ) and thousands of people come from all over the world to see the shows, and just dance and celebrate life.
As the name implies, the Life is Beautiful event goal is to make sure you know, even if it's just for a few days, that your life is beautiful and you need to celebrate it. We love this.
Make sure to check the official festival website for more info and lineup including tickets.
Address: Down Town Las Vegas
Little Darlings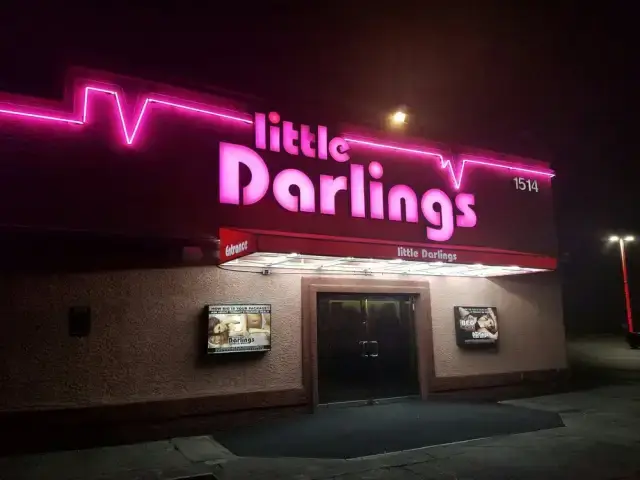 I mention Little Darlings because it's the closest thing you're going to come to a traditional Vegas nightclub. If you're a guy, you can't truly get the full Vegas experience without taking a trip to at least one Gentlemen's club. And for those of you under 21, Little Darlings is your best option.
Even without alcohol, the club gets pretty wild. This gives you the option to sit back and hang out with your friends, chat up the dancers or even get some private dances. The choice is yours. Being between the ages of 18-20 also gives you an advantage, since most of the girls are around that age too.
The club is open from 11 am to 6 am Monday through Saturday and from 6 pm to 4 am on Sunday. It's located about 5-10 minutes from the strip and offers a free limo pickup when you call the number on their website. There is also a coupon you can print off to get a discounted admission of $15.
Address: 1514 Western Ave, Las Vegas, NV 89102
Cloud 9 Hookah Lounge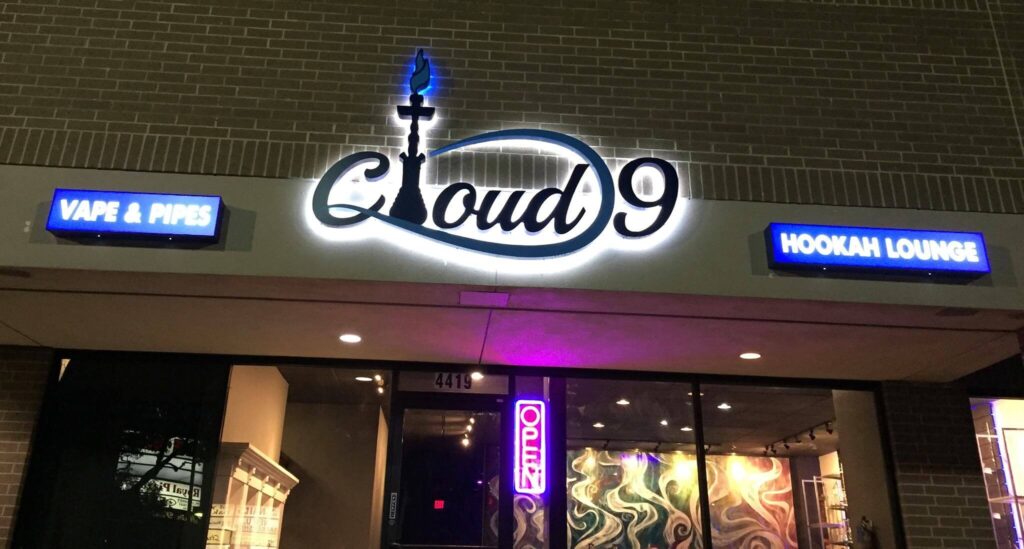 Cloud 9 is a small hookah lounge located west of the main Vegas strip. They don't serve alcohol so it is 18+, but they obviously have hookah available. The smoke may be a turn-off for some people but that is the nature of this club.
Cloud 9 is a popular place for 18 to 20-year-olds to hang out, especially on the weekends. I would almost compare it to an 18+ nightclub since most of the guests here are so young.
The vibe here on a busy night is very similar to a dance club, so if you're looking to dance and party with people your age Cloud 9 is a good option.
This club can be found about 10 minutes west of the strip, which may seem a little far if you don't have a car. But an Uber or Lyft from any of the main casinos will only cost about $15 ($25 max during rush hour).
If you have a few friends, you can even split the fare. If you're looking to party I would only recommend coming here on a Friday or Saturday.
Address: 6825 W Russell Rd #160, Las Vegas, NV 89118
Fremont Street Experience
Fremont Street is in downtown Las Vegas. The energy here is electric and it feels very similar to Times Square in New York City.
There are crowds of people walking up and down the street, along with street performers, rides (like zip-lining), and bars.
While you won't be able to drink, you'll still feel like you're in the center of the action. This is also a hot spot to see a number of infamous Vegas showgirls walking around. If you visit Fremont Street you are guaranteed to find something fun to do.
Address: 425 E Fremont St, Las Vegas, NV 89101
Walking The Strip At Night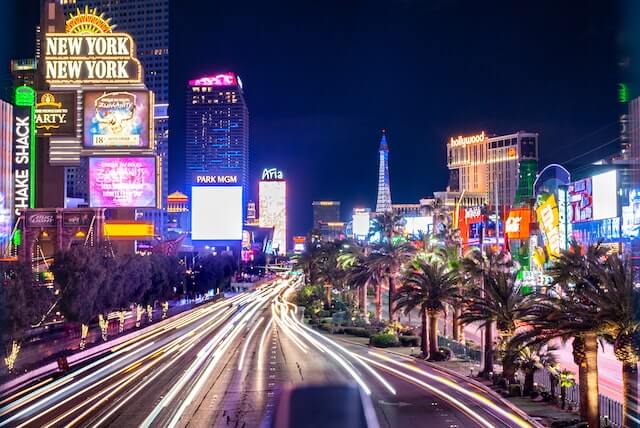 Similar to Fremont Street, the Vegas strip is an experience in of itself. The vibe is very high energy and there are a ton of sideshows and things to do. If you like to chill with your friends and people watch, this is probably the best place in the world to do it.
If you're staying in one of the major hotels, then you won't have to go very far to get to the strip. It's a super convenient way to just get out of your hotel room and see what happens.
It's also fun to walk into all the casinos and see what's going on. It may sound a bit dull, but each casino is designed differently, and walking through them is surprising enjoying. Many of them are like mazes and it's easy to get lost in them.
Some of the best casinos to explore are the Wynn, Venetian, Palazzo, Mirage, Cosmopolitan, New York-New York, Caesars Palace, and the Luxor. You never know what you're going to see, especially at night.
Address: 3950 S. Las Vegas Boulevard
Other Things To Do In Vegas Under 21
While those are your best options for things to do at night, there are plenty of other things to do during the day. I'll leave some of the more obvious things (like shopping or shows) off the list. These are a few of the most fun things to do during the day in Las Vegas, that don't involve alcohol:
Jet skiing and boating on Lake Mead (this is a ton of fun and during the summer the water feels like it's air temperature)
Ski diving (both real and indoor)
New York-New York has a roller coaster
Visit an escape room (surprisingly a ton of fun)
Battlefield Las Vegas (fun for guys and girls and it's located right next to the strip)
Axehole (I know throwing axes sounds kind of violent but this place is family-friendly)
Check out the Stratosphere
Ride the High Roller (do this one at sunset)
Helicopter tour of the Grand Canyon (helicopters are awesome and it's a 4-hour drive if you don't take one)
Hiking (Red Rock Canyon is my favorite place and only 30 minutes from the strip)
I made a more complete list of all the things there are to do under 21 in Las Vegas here.
Related Questions
Are Vegas nightclubs strict with ID's? Las Vegas nightclubs, casinos, and bars are all extremely strict when it comes to IDs. Do not attempt to use a fake ID or you will be removed from the property.
Casinos take this very seriously as it can cost them their gaming license. If you're over the age of 21 make sure you have a photo ID that is up to date.
Can you book a hotel in Las Vegas if you're under 21? Most hotels in Las Vegas require guests to be at least 21 years old to book a room. However, there are a small number of hotels that allow anyone over the age of 18 to make a reservation. I made a list of the best Las Vegas hotels without age restrictions here.