Bottle service is the hands down best way to party in Las Vegas. But most people don't take full advantage of everything that is included in Vegas bottle service. I used to be one of those people, until I did some research and popped some bottles at these nightclubs.
Bottle service in Las Vegas is where you purchase a bottle of alcohol at a nightclub. With the bottle you also get a private table within the club, separating you from the general admission. The table includes mixers, a dedicated cocktail waitress, busser, and security who pour your drinks and keep your area clean. When you purchase bottle service you also get expedited entry into the club and have your cover charge waived.
Bottle service isn't just for athletes and celebrities looking to blow money. Its actually very affordable if you choose the right package as each club and table location have their own advantages. When getting a table you will want to consider your budget, your group size, the DJ and the time of year that you're visiting. Deciding on a table that is more low key vs one that will draw a lot of attention is also important factor.
Why Get Bottle Service In Las Vegas?
If you are new to bottle service you may be asking yourself "Why do I even need bottle service?" The fact of the matter is that you don't need bottle service. You can have a great time in the club without it. In fact you can save a lot of money and get into most Vegas nightclubs for free on the guest list.
But there are advantages that make bottle service a worthwhile investment. In some cases it's even cheaper than buying drinks at the bar (more on this later)! Here are some of the many benefits that make table service so popular:
Expedited entry and waived cover charge
Get your own private area to put your stuff and party
Place to sit (there is no seating in general admission)
Dedicated cocktail waitress
Dedicated busser
Security to keep unwanted people out
Avoid crowds at the bar
Plenty of attention and status within the club
Access to the Girl Guy (more on this below)
Guys can bring girls back to the table
Girls can bring guys back or avoid weirdos
Vegas clubs have thousands of guests coming through the doors every night, so it gets crowded. It pays to have your very own real estate within the venue. This is especially important if you're looking to stand out. And getting your bottles brought to your table by a dozen scantily clad waitresses holding sparklers is a good way to do it.
Table clients also have access to the girl guy. Girl guys are hosts hired by the club to bring women to your table to party with (if you're a women you may be able to have guys brought to your table but I've never tried it). The one caveat is that typically only the higher paying clients get access to the girl guy, so you're going to need to spend at least $3,000 to take advantage of this perk. Most clubs have at least one girl guy and all you have to do is ask your host about it. In many cases you can even have them look for your specific type of girl.
Compare this to standing around at the bar, looking lost in the club, and you see why so many people opt for table service. Being escorted into the club and having a cocktail waitress pour all of drinks for you is just an added benefit of having a table. Anyone looking for the ultimate Vegas experience needs bottle service. And when you compare bottle service to the cost of buying drinks at the bar, you'll be surprised by how similar the two final bills actually look.
Cost Bottle Service Vs Cost Of Drinks At The Bar
The average drink in a Vegas nightclub is going to cost about $20 including tip (prices are $2 to $3 higher at dayclubs). Lets just say you enter the club by purchasing a ticket at the door for $50 (they usually cost more than that, unless you buy pre-sale). Now if you buy 5 drinks at the bar you have already blown $150.
If you're in Sin City your probably planning on getting relatively drunk, which for most people takes more than 5 drinks. So, as you can see, it's not out of the ordinary for someone to spend upwards of $200 a night at a Vegas nightclub.
However, if you were to plan ahead and purchase a table, you would end up spending the same amount of money (maybe even less) but with all the added perks that come with a VIP table. A $1,000 bottle service table split 6 ways is only $170 per person.
How Much Does Bottle Service Actually Cost?
Bottle service prices are not static and change over the course of a night. A specific table that costs $2,000 one night may go for $5,000 the very next day. There are a number a variables that effect table prices including:
The nightclub (which club you attend)
Demand (how busy the club is)
The DJ
The table location
Group size
Weekdays vs weekends
Holidays
Busy season vs slow season
As you can see when you go to the nightclub is one of the biggest factors in determining price. As a general rule you'll pay double the normal price on major Holidays like the 4th of July or New Years. Weekdays (Sunday – Thursday) are less expensive that weekends (Friday and Saturday). The busy season (May – September) is more expensive than the winter. And the more popular the DJ, the more a table is going to cost.
Here is a list of the table minimums at all of the major Vegas nightclubs:
| | |
| --- | --- |
| Nightclub | Minimum Table Price |
| EBC At Night | $1,000 |
| XS | $1,500 ($2,500 on weekends) |
| Chateau | $425 (special package) |
| Tao | $600 |
| Marquee | $600 |
| Hakkasan | $1,500 |
| Omnia | $1,500 |
| 1Oak | $1,500 |
| Jewel | $1,500 |
| Apex | $350 (special package) |
| On The Record | $600 |
| Light | $500 |
| Drai's | $600 ($1,200 on weekends) |
As I mentioned these prices can change at the clubs discretion based on demand. But for the most, if you are looking to get the lowest prices tables, this is a good estimate of what you'll be paying.
Every club has several tiers of tables, each increasing in price and size. The higher priced tables are obviously going to get you a better location within the club (I'll cover the best tables and the best table bargains later on).
How does bottle service pricing work?
When you purchase bottle service you agree to spend a minimum amount of money at the club (i.e. $1,500). You can order anything on the menu but at the end of the night it must be at least the minimum spend that you agreed to. Things that count toward this minimum spend include:
Bottles of Alcohol
Energy drinks
Bottled water
Bottle presentations
Beer, shots, or mixed drinks added to the tab
Food (Dayclub only)
When you agree to the minimum spend the club gives you the actual table for free. You don't pay separately for the table. So if your table minimum is $1,500, all $1,500 can go toward alcohol. Some clubs also require you to buy a minimum number of bottles in addition to the minimum spend. The cost per bottle ranges from $350 – $600 on average depending on what you get.
Once you close out your tab, in addition to the minimum spend, you will also have to pay taxes and gratuity. Tax is about 8% and gratuity is 18 – 20%, which is automatically included on your tab. For this reason you should always expect to spend about 30% more than you table minimum (or multiply the table minimum by 1.3). For example, at a table with a $1,000 minimum you will likely end up spending $1,300.
When looking at tables keep in mind that there are limits to how many guests you can have at the table. Each table has a maximum number of guests allowed before you must upgrade to a bigger table. For reference all the tables mentioned in the chart above have a limit of 6 guests. If you have more guests you must get a larger table.
However, this rule only applies when you are entering the nightclub. Once you're inside the club you can have as many people at your table as you like. So if you have an extra person and don't want to upgrade to a table that could be a couple thousand dollars more expensive, you may want to have that odd person buy a ticket and go in separately. They can meet you at the table inside with no issue.
How To Reserve A Bottle Service Table
In order to purchase a bottle service table in Las Vegas, you're going to need to talk to a VIP host. VIP hosts are employed by the venue and are at top of the nightlife food chain, handling everything related to bottle service at the club. There are many ways to get in touch with a VIP host but if you don't already know one, you can contact us here, and we'll put you in touch with a VIP host at the club of your choice.
Once you contact a host and choose a table the next step is to reserve the table. There are 3 ways that nightclubs in Vegas will handle your reservation:
Put down a deposit
Demand based pricing
Full prepay
The first way you can make a reservation is by paying an initial deposit of about 20% of your table minimum. The club will give you a form breaking down all applicable taxes and fees. You'll be responsible to pay the remaining balance the night of the event, once you close the tab. The deposit you put down earlier will go toward that final bill. When you pay this way the club reserves the right to change your table location if the venue is extremely busy, although this is rare. You may also get moved if you show up late, so its best to arrive by 11.
Your table reservation is not guaranteed until you arrive. Don't be late!
Some clubs work off of demand based pricing, where they don't take deposits. The club tries to provide the most accurate price quotes but reserves the right to increase minimums if the clubs is especially busy. This sounds bad but it can also work in your favor if the club has less reservations than expected. They will lower the table minimums and upgrade you to a better table. If the club does happen to increase the table minimum you will still be able to get a table, it just won't be in the same location.
The only way to fully guarantee a table location is to pay in full. Not all nightclubs offer this option but if you pay for the entire table ahead of time you will always get the agreed upon location, without having to worry about prices changing. You can still lose you're location if you show up late, but that's the only way you lose the table.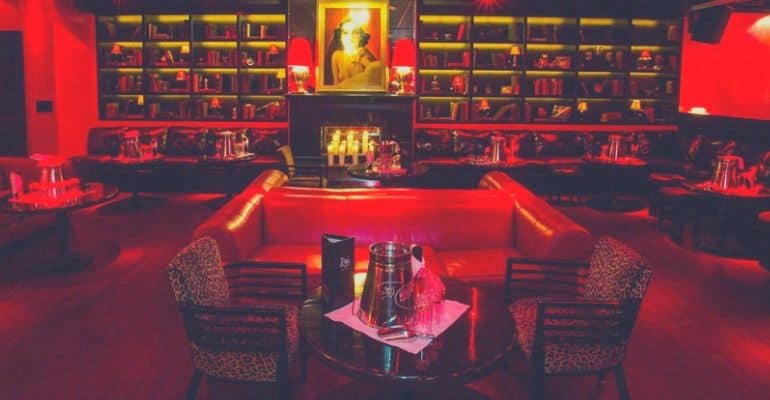 Best Nightclubs For Bottle Service & Best Bargains
If you were looking for the best overall bottle service table regardless of price, 9 times out of 10 you will want to go with a dance floor table. These tables cost between $2,000 – $8,000 at most nightclubs and are always closest to the DJ booth.
When you get a dance floor table you are paying for the best view of the stage. These tables are highly visible, so if you want to get noticed having a table on the dance floor is a good place to start. They also have a lot of room, so you can typically bring 10 – 15 guests in with you, depending on the club.
Purchasing a dance floor table automatically makes you one of the biggest spenders at the club, making you a de facto VIP. The staff will go out of their way to make sure you and your party are having a good time. You will be able to ask for special bottle service presentations or even pictures with the DJ. If you're spending that kind of money don't be afraid to throw your weigh around, the club will cater to you.
These are usually are the best tables at every club, but XS, Omnia, Hakkasan, Drai's and Marquee are the best places to get dance floor tables. These are the top 5 Vegas nightclubs, so having the best table location here will make your Vegas experience that much better.
What bottle service tables are the best bargain?
Just because a table is more expensive doesn't necessarily mean that it's far superior to a lower priced table. Yes, the dance floor tables are usually the best but at some clubs other table locations come pretty close.
For example at XS the upper dance floor tables can cost $6,000 while the big 3rd tier couches cost only $3,000. The big 3rd tier couches are almost as good as the upper dance floor tables (they're only a few feet apart), but they're half the price. A lot of clubs have table sections that are only a few feet away from the dance floor tables but cost dramatically less.
Other clubs like Hakkasan or Omnia have multiple rooms within the club. The tables in the side rooms cost way less than the tables in the main rooms. In this example Hakkasan and Omnia both have Hip Hop focused side rooms, so if you prefer Hip Hop over EDM, you're going to want to be in the side room anyways.
But if you would rather party with your friends than see a specific DJ, then you will want to check out Light, Chateau and Apex. These clubs offer some of the best bottle service deals. Light is an older nightclub that still goes hard, but they have very generous bottle service prices. The 2nd row and 2nd row side tables start at $500 and $750 respectively.
Chateau is located underneath the Eiffel Tower at the Paris hotel, so it has one of the best views of the Bellagio fountains. Bottle service there starts at $425 for 4 guests and $575 for 6 guests. Then you have Apex which is more of a high end lounge than a nightclub but has one of the best views of Las Vegas. Its located on the 55th floor of the Palms Hotel and bottle service starts at only $350 for 6 guests. I have even seen them offer promotions for $250, easily giving them the lowest priced bottle service in town.
What Happens Once You Arrive At The Club
After you make your bottle reservation and arrive at the club, you will want to get into the table line. All Vegas nightclubs have a line designated for bottle service. From here you have two options: One, you can wait in line until you get to the front, where you will be checked in. Or two, you can text your host and see if they can come out and grab your group, so you can skip the line.
Either way, once you are checked in your host will escort you into the venue and show you to your table, where you will be introduced to your cocktail waitress and busser. The waitress will give you the bottle menu and you can start ordering drinks. Your host and waitress are there to answer any questions or concerns you may have. If you need something or want to order anything they are the people to talk to.
Closing Out Your Bottle Service Bill
You are able to close out your bill at any time. This means you can order everything once you arrive and close the tab right away. If you plan on leaving an open tab, it is best to designate a single person to do the ordering, so the entire group doesn't drive up the bill. Make sure you tell this to your waitress. Most Vegas nightclubs allow you to split the bill up between 3 credit cards. You can also pay in cash at most venues.
The table is yours for the entire night but be aware that the bussers will start clearing the table once your alcohol runs out. To prevent this from happening you can either order another bottle or make sure that you never finish the bottles you have. If you leave at least one bottle 1/4 full the bussers won't clear you're table. So if you want to keep drinking but don't want to get another bottle, just start ordering individual drinks.
Additional Bottle Service Tips
Large tables can get expensive, so sometimes it can be beneficial to get 2 smaller tables. For example, if you have 12 guests you can either get a large table for $8,000 or 2 smaller ones for $1,000 each. (Just keep in mind the tables may not be directly next to one another).
Reserve your table early as Vegas nightclubs often sellout. Dayclubs are even worse and are almost always sold out. Prices also rise as the event gets closer.
Alcohol tends to go fast, especially if you have a larger group. So be prepared to buy more. (Nothing is worse than running out of drinks in Las Vegas!)
The smaller clubs are just as fun as the larger ones. The smaller clubs also tend to offer better bottle specials.
Related Questions
Is there a dress code at Vegas nightclubs? All Vegas nightclubs are considered upscale venues and have dress codes. You will not be admitted into the club if you are out of compliance with the dress code, which varies slightly from club to club. You can check out full dress code guides for men and women here.
What is a comp bottle service table? Comp or "complimentary" bottle service is where the club gives you a table for free, although tipping is still expected. A comp table is typically reserved for large groups of girls or Vegas nightlife workers. These tables typically include one bottle for every 5 to 6 people.