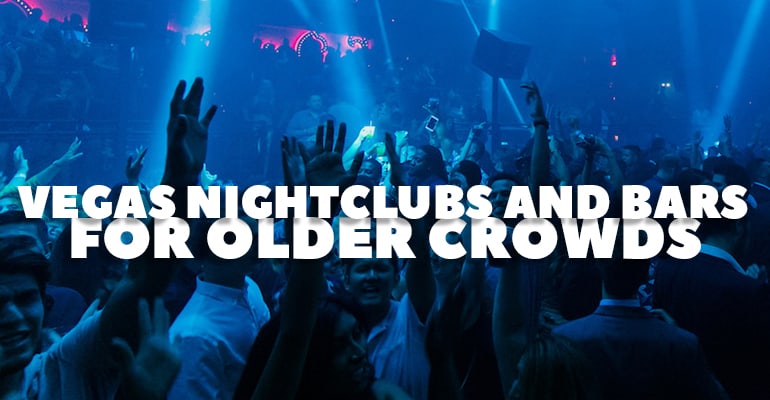 Las Vegas isn't just a place for 21-year-olds to go on a drinking binge. Whether you're in your 30s, 40s, or beyond there are plenty of places to enjoy yourself in Las Vegas. Living in Sin City, I have found many bars even cater to an older crowd. These are the bars and nightclubs where you won't feel out of place being a bit older.
Chateau Nightclub
Since we're talking about Las Vegas, I'll start this list with a nightclub instead of a bar. Chateau is located on the rooftop of the Paris Hotel, directly underneath the Eiffel Tower. Because of its location, the club has a unparalleled view of the Bellagio fountains.
This club has a solid mix of young and old, so you won't feel out of place either way. While Chateau does play mostly Hip Hop and Top 40 music, it's not as loud as most Vegas nightclubs. You'll actually be able to have a conversation since the music isn't overwhelming.
The club also has multiple bars making it easy to grab a drink.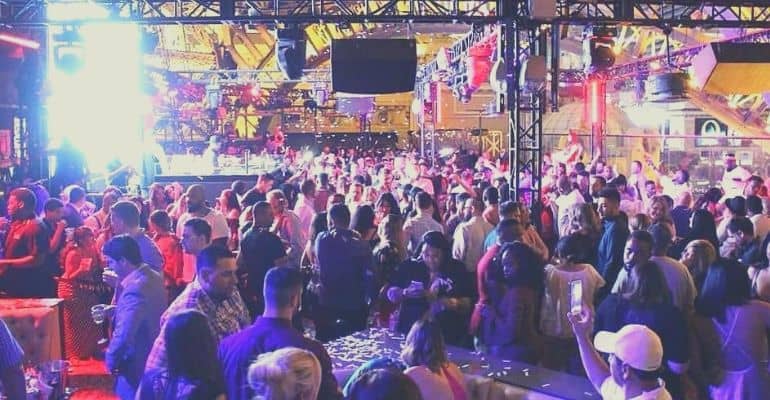 If you're looking to have the Vegas nightclub experience without dark stuffy rooms and crowded dance floors, I highly recommend Chateau. The view here is worth the trip alone. You can also get free entry using the club's guest list.
The Chateau guest list is free to sign up for and guarantees you'll get into the club for free if you have an even ratio of women in your group (or a greater number of women than men). There is no age limit for the guest list. Chateau is open Wednesday – Saturday.
Oddfellows
If you're looking for a bar that plays 80's or 90's music, look no further than Oddfellows. Oddfellows is located on Fremont Street, which is about 10 minutes from the strip. This bar has an 80's dance party every Friday night where they play a ton of 80's classics.
Whether you grew up in the 80's or just love the music, you'll have a blast here. If you're a little younger then check out the 90's night held here every Wednesday.
Chandelier Bar
The Chandelier Bar is a 3 level bar found in the Cosmopolitan. The exterior of this bar is encrusted with 2 million crystals making it a popular spot for photos.
This bar gives off a classy and luxurious feel and is home to several signature cocktails including the infamous flower drink (formaerly known as the Verbena Cocktail). The cocktails here are award-winning so you won't be disappointed.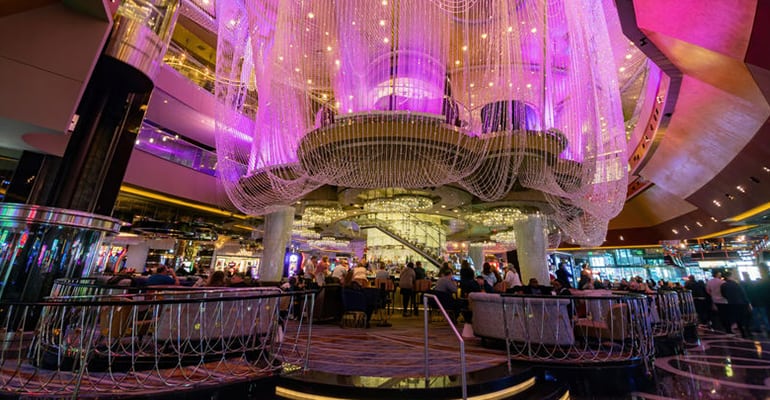 The Chandelier is open 24 hours a day and is surrounded by plenty of restaurants and dining options. Marquee nightclub can also be found just a few steps away from this iconic bar.
On The Record
On The Record is a nightclub that highly resembles a speakeasy bar. They play a mix of music from all genres here. You'll get some 80's, 90's, 2000's, and today's hits. On The Record even has private karaoke rooms if you're looking for something different.
This club is a ton of fun and really convenient to get to if you're staying on the south side of the Vegas strip. It can be found inside the Park MGM Casino and is open on Wednesday, Friday, and Saturday.
On The Record also offers free entry on its guest list. Both men and women can get free entry using the On The Record guest list, regardless of ratio. Just make sure you show up on time, as the guest list does have a cutoff time.
Apex Social Club
Apex has one of the best views in Las Vegas, rivaled only by Voodoo (more on Voodoo later). Located on the 55th floor of the Palms Hotel, this club has a 360-degree view of the entire city. The chic, upscale interior in combination with the house DJ, provides a high level of energy. The music of choice here is a combination of Hip Hop and Top 40.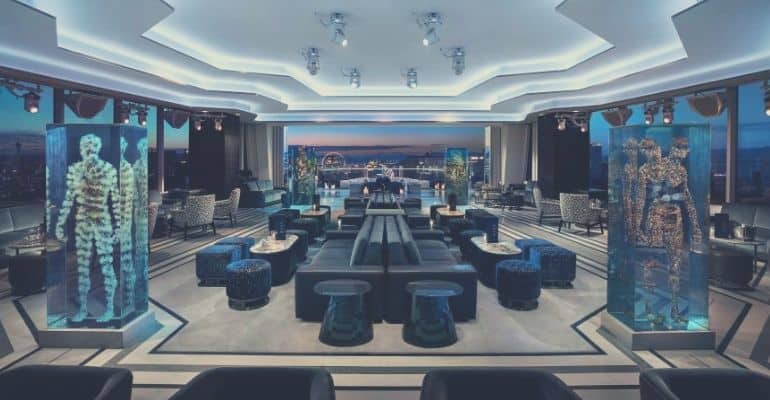 For anyone looking to enjoy the bottle service experience without shelling out thousands of dollars, Apex offers some of the lowest prices among Vegas nightclubs.
They commonly have a 2 bottle special that costs $350 for 8 guests. If you're not familiar with bottle service; you get the table for the entire night, a cocktail waitress to pour your drinks, a buser, and unlimited mixers included in the special.
Bottle service is something you're going to want to reserve in advance, so the best way to reserve a table is through a VIP host that works for the venue. If you're interested in bottle service you can contact us here and we'll put you in touch with a VIP host at Apex.
The club also has a free guest list for groups that have at least an even ratio of women. You can sign up for the Apex guest list here. The club is open Thursday – Sunday.
Foundation Room
Foundation Room is a bar that can be found on top of the Mandalay Bay Casino. This cozy lounge is 63 floors up and features a great view, multiple rooms, and a fireplace. The DJs play a nice combination of Hip Hop, EDM, and Top 40 music.
In addition to the delicious cocktails, Foundation Room also offers both bottle service and dining options. This bar is open 7 days a week from 5 pm to 1 am.
Light Nightclub
Light is a traditional Vegas nightclub that plays mostly Hip Hop and EDM music. Although Light does have a state-of-the-art lighting and sound system, the club is a bit older. So, on slower nights where there isn't a big DJ playing, a good chunk of the crowd is older. This is a great time to go since the dance floor won't be crowded with buck-wild youth.
You'll also be able to get the bartender's attention quickly as there won't be as long a line at the bar. Not to mention that Light usually gives out free drink tickets to all guests who enter the club via the guest list on Wednesday nights.
Both men and women can gain free entry to the venue using the Light guest list. There are no ratio requirements at this club. The club is open Wednesday, Friday, and Saturday.
Voodoo
Located down the street from Apex, you'll find Voodoo Rooftop Nightclub 51 stories off the ground inside the Rio Hotel. The view here is very similar to Apex and is among the best you can find in Las Vegas. This club is known for its flair bartending and steakhouse found just below the club on the 50th floor.
I've never seen this club get too busy, and since it's located off of the main strip you won't see too many guests in their early 20s here. At Voodoo, you'll find most people dancing on the outside patio while enjoying the view.
This club is a solid option if you don't want to deal with crowds. Voodoo is open 7 days a week.
XS Nightclub
This pick may seem surprising since XS is known for its loud EDM music and hot girls. But every time I set foot in XS (which is at least once a week), I always see a good amount of people in their 40s or older.
XS is considered the most luxurious Vegas nightclub, so it attracts an older crowd who plan on spending a large amount of money on bottle service.
That means at XS you'll see the older crowd at bottle service tables, while the youth are running around in general admission. This makes sense, as most people want to spend their hard-earned money at the best club.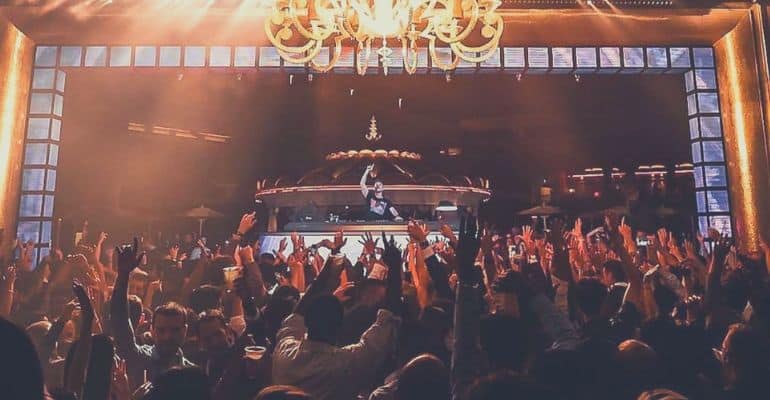 So if you can afford it, it may be worth checking out the bottle service at XS. Tables start around $1,500 on slower nights, but if you're in your 30s or 40s you definitely won't feel out of place here.
For those of you who want to visit XS without a table, the club does have a free guest list. However, to sign up for the XS guest list you must have at least an even ratio of women in your group. The club is open Friday – Sunday.
Any Lobby Bar
For this last one, there are plenty of bars I could have picked but honestly, most lobby bars in Vegas are top notch, some of them are even world-class. Every Vegas casino on the strip has at least one bar, providing a solid and convenient option.
Lobby bars often get a bad rap but if you visit any of the major hotels on the strip you'll find plenty of quality cocktail lounges and beer gardens. You can even make a whole evening of jumping from bar to bar checking them all out since there are hundreds of them.
That being said I'll mention some of my favorites: The Dorsey at the Venetian, Lobby Bar at the Encore, and Alibi Ultra Lounge at the Aria.
Related Questions
Do Vegas nightclubs have an age limit? You must be at least 21 years or older to enter a Vegas nightclub or bar. There is no upper age limit for any Vegas nightclub. There is also no upper age limit for any nightclub guest list. If you want to more learn about the nightclubs on the Las Vegas Strip, check out the article I wrote here.
Do bars in Las Vegas have a cover charge? Most Las Vegas bars do not have a cover charge. The few that do won't charge more than $5-$10 for admission. Vegas nightclubs typically do have cover charges but they can be avoided by signing up for the guest list. Be aware that most nightclub guest lists (but not all) require your group to have an even ratio of women in it (or more women than men).
What benefits do I get from bottle service? The benefits of bottle service include a waived cover charge, expedited entry, a private table, a cocktail waitress, a buser, security, and often a better view of the stage. When you order bottle service you also get unlimited mixers and won't have to wait in line at the bar. You can learn more about Vegas bottle service and how to reserve it here.