Club crawls are an underrated way to experience Las Vegas nightlife. Some of the better club crawl operators can get you free entry to the club, discounted drinks, and even a free party bus ride. But which Las Vegas club crawl is the best? I decided to find out.
We compared over a dozen club crawls in Las Vegas and ranked them based on price, customer service, and the overall quality of the tour. After some consideration, we've narrowed them down to the top 5 in each category. These are the best Las Vegas club crawls.
A quick note – (If you're new to the concept of a club crawl, check out the FAQ section towards the bottom of this page. That section answers some common questions about Vegas club crawls.)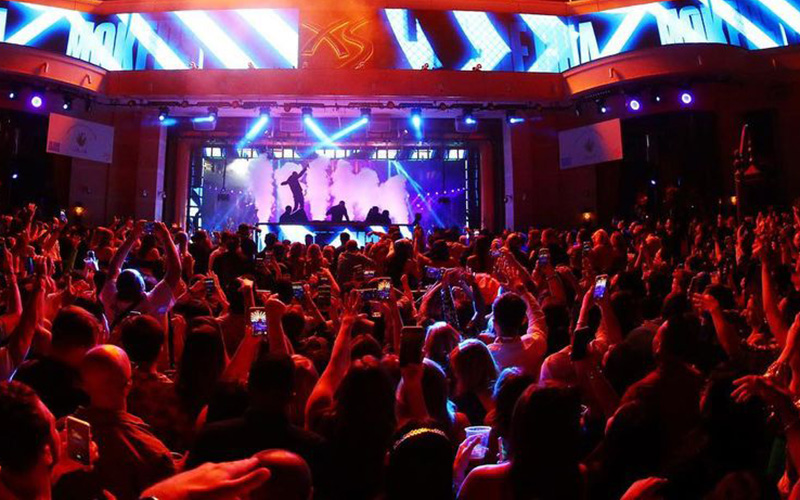 Best Las Vegas Club Crawls
1. LA Epic – Most Popular Vegas Club Crawl
LA Epic has been one of the best club crawl companies in Las Vegas for a while now, and for good reason. They provide excellent service, go to all the top clubs, and have affordable pricing. Their party hosts are really good too. I've often seen the hosts go out of their way to get people from different groups to start mingling.
LA Epic hosts a tour almost every day of the week and showcases what nightclubs are on the schedule for a particular date before you purchase a ticket. On their website, LA Epic gives you the option of signing up for a club crawl, a pool crawl, or a Fremont Street bar crawl. You can expect to pay roughly $65 a person for guys and $55 a person for girls.
2. Sin City Club Crawl – Best Hip Hop Club Crawl
Sin City Club Crawl is another top club crawl in Vegas. If you like hop hip music, this is the tour you want to join. Sin City Club Crawl runs the best hip hop club crawls in Las Vegas, stopping at premier hip hop venues like Jewel and Hakkasan. Every crawl includes free entry to the club, expedited entry, and a party bus ride.
Tickets for Sin City Club Crawl are usually about $100 a person, however, they do offer bachelor and bachelorette party packages. When you include the drink specials you get, Sin City Club Crawl is one of the cheapest club crawl in Vegas.
3. World Crawl – Top Las Vegas Pool Party Crawl
World Crawl is another big crawl provider in Vegas. They offer both nightclub crawls and pool crawls. The nightclub crawl includes access to 3-4 venues, a party bus, VIP expedited entry to top Las Vegas nightclubs, free shots, and an open bar. The Vegas pool crawl is very similar but stops at Las Vegas pool parties instead of nightclubs.
Both tours are good, but I prefer their pool crawl. There is more value in bypassing the line at Vegas pools since they tend to get more crowded. Tickets for this Vegas club crawl cost between $100 and $120 a person. It's not the most affordable, but their excellent reviews speak for themself.
4. Turnt Up Tours – Premier Party Bus Tour Las Vegas
Turnt Up Tours is a popular club crawl company that focuses on party buses. Each crawl includes 2 party bus rides, 3 stops at nightclubs or dayclubs, no cover charge, and expedited VIP entry. The party bus rides are a fun way to pregame before the club so you don't end up spending a fortune on drinks.
Turnt Up Tour Las Vegas tickets cost $100 per person. You also have the option of renting your own private VIP party bus, using the party bus packages offered on their website.
5. Nocturnal Tours – Popular Tour for Las Vegas Clubs at Night
The team at Nocturnal Tours has over 20 years of experience in nightlife, so they know how to offer a VIP party experience. Their crawls include access to 4 party venues with no cover, 2 party bus rides, and expedited VIP entry.
Nocturnal Tours Club Crawl Las Vegas costs $72 a person, so it's not the cheapest crawl, but it's certainly not the most expensive. If you're looking to attend a Las Vegas club without the hassle, this is a solid option.
What is a Vegas Club Crawl?
A club crawl is a tour that lets you party at multiple Vegas nightclubs in a single night. The crawl is led by hosts that have been going out in Vegas for a while, so they know their way around. Crawls in Vegas often include drink specials at the bar, a party bus tour for transportation, and free entry into the clubs.
What Nightclubs do Club Crawls Visit in Las Vegas?
Every club crawl stops at a different set of venues. The best way to see which nightclubs a crawl is going to stop at is by looking at the list of upcoming events on their website. Most Las Vegas club crawl and Vegas party bus operators update this info daily.
Las Vegas Club Crawl – Final Thoughts
Whether you're looking for a club crawl, party bus, or bar crawl on Fremont Street, these are the best companies that offer tours in Sin City. Regardless of which one you choose, I'm confident you'll have fun enjoying the nightlife in Vegas.