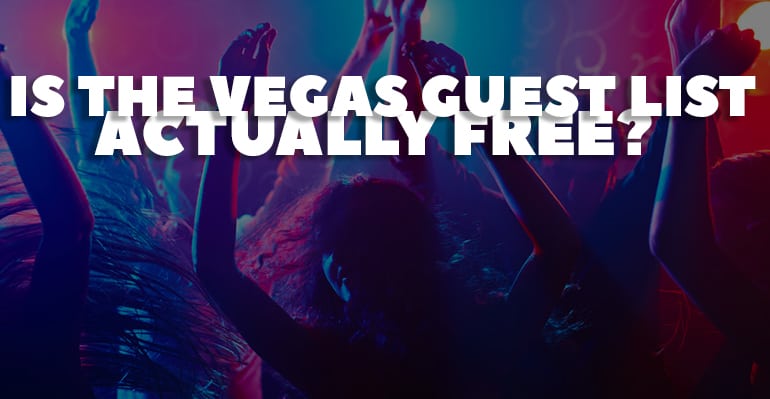 You may have heard that you can get into clubs in Las Vegas for free, if you sign up for the guest list. But, is that actually true? I decided to find out.
Is The Las Vegas guest list free? When you sign up for the guest you either get free or reduced entry into the club. Each club has their own set of rules. Universally, all clubs allow women on the guest list free admission. Some clubs require men to have an even ratio of women in their group to use the guest list.
All nightclubs and pool parties in Las Vegas offer a guest list. It's free to sign up for the guest list online, and it takes less than a minute. While most clubs require men to have an even ratio of women, not all do. I'll debunk some common guest list myths in this post.
How Much Does It Cost To Sign Up For Guest List?
Signing up for the guest list is completely free. This may sound to good to be true, but nightclubs want you to use the guest list. Nightclubs use these lists as a way to encourage guests to get to the club early.
The club draws you in with free entry knowing that they'll make money when you buy drinks (either at the bar or through bottle service). For guests who would rather show up a couple minutes early, than pay for a $50 ticket, the guest list is a beautiful thing.
Do You Actually Get Into The Club For Free?
Assuming you meet all the guest list requirements for that night, you will get into the club 100% free. There are only a few requirements that need to be met:
Ratio requirements (only some clubs)
Dress Code Requirements
Get To The Club On Time
Ratio Requirements
Most clubs (but not all) require groups of men to have an even ratio of women in their group to use the guest list. A greater number of women than men in the group is also acceptable. Groups of all guys will have to pay full cover.
Not all clubs have these requirements, but a lot do. Some clubs allow men free entry without ratio. I put together a chart detailing the ratio requirements for every Vegas club in another post here.
If you have a group with an even ratio of guys and girls, most of the time everyone will get in free. But at some clubs, the men will get a reduced cover charge instead of getting in free. Women on the other hand will get free entry at every club.
Dress Code Requirements
Every Las Vegas nightclub and pool party has a dress code. You must follow the dress code whether you use the guest list, buy a ticket or purchase bottle service.
For nightclubs men should wear a dress shirt, jeans and dress shoes. You can also wear a suit or sports coat if you like. Women can get away with much more. Most women wear a dress that fits their form paired with either heels or flats. Jeans with a top can work too.
For pool parties you must be wearing swimwear. Jeans are not allowed in pool parties. Women must also wear a cover-up while in line. You can get a more detailed dress code guide for both men and women here.
Get To The Club On Time
All guest lists have a cut-off time. If you're not in the club by that time, then you'll have to pay the full cover charge. For nightclubs this cut-off occurs around 12:30 am and for pool parties it happens around 1:00 pm. However, clubs do hold the right to end the guest list earlier.
Lines for the guest list can get long, especially on the weekends. For this reason I recommend getting in line no later than 10:15 pm. If you're still waiting in line when the guest list is cut-off, you're out of luck.
When Is The Guest List Unavailable?
Guest lists are available on most nights. The only time when guest lists aren't available are during major holidays like:
4th of July
Memorial Day Weekend
Labor Day Weekend
Halloween
New Years
Other than holidays, sometimes a club may restrict it's guest list for a special event. If this is the case you'll know in advance if the guest list is made unavailable.
Who Can Sign Up For The Guest List?
You don't have to be a model or celebrity to use the guest list. Anyone can sign up for the guest, assuming you're over the age of 21. Make sure that you bring a valid ID with you when you head to the club.
Also make sure your group size is kept to 10 people maximum. If you have more people, then I recommend signing up under two separate names. There is a limit to how many people can sign up under a single guest list.
Can One Guest List Be Better Than Another?
All Las Vegas nightclubs and dayclubs offer a free guest list. You can sign up for the guest list through a promoter that works for the club, or online. All guest lists are the same no matter who you signed up through. No one promoter can offer you additional perks on the guest list.
You can however, get additional perks if you have a comp table, but that's much different than the guest list. Comp tables are only available to groups of all women. I wrote another post explaining how comp tables work here.
What Happens When I Get To The Club?
After you sign up for the guest list and get to the club, you'll want to find the guest list line. Around every nightclub and pool party there are plenty of signs to push you in the right direction.
Once you're in line, the staff will check you in. That's about it. After you're checked in, you can go inside the club. If you're a group of guys and the club is offering reduced cover instead of free entry, then you'll go to the cashier to pay the reduced cover.
As an aside, guys paying reduce cover is rare. Most of the time, if your group has even ratio everyone will get in free.
Related Questions
What is bottle service in Las Vegas? Bottle service is where you purchase full bottles of alcohol at a nightclub. When you do this you get a private table in the VIP section, along with other perks like expedited entry. You can learn more about Las Vegas bottle service here.