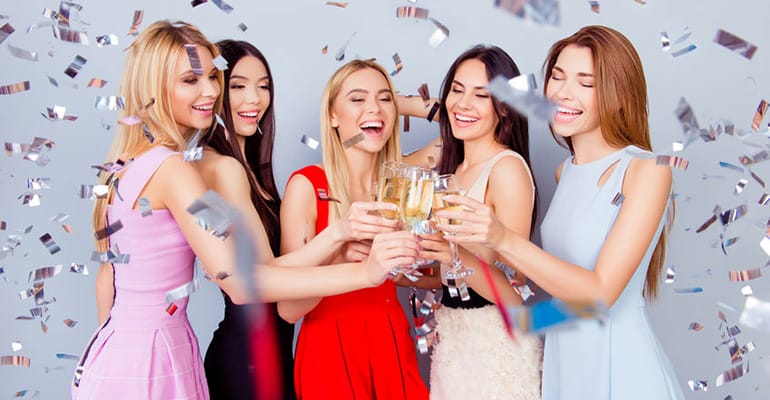 Las Vegas is the number one spot to throw a bachelorette party. While in Vegas it is essentially required that you go out to a popular nightclub. But there are so many factors that go into picking the best club, making it a difficult choice. Some crucial factors include the DJ that is performing, the type of music you prefer, and whether or not you getting bottle service.
The most important factors are the music and DJ because you are in for a rough night if you hate the music, but bottle service is another detail you may want to consider. Getting VIP treatment and having your own table can put your Vegas experience over the top (in a good way), and it's even free in some cases.
It is well known that groups of women can get free entry to most Vegas nightclubs on the guest list but bottle service can also be completely free. Complimentary tables are extremely common in Vegas and I'll explain how to get them later on in this post.
These are the best Vegas clubs for bachelorette parties:
XS Nightclub
Omnia
Encore Beach Club (Dayclub)
Wet Republic (Dayclub)
Drai's
Light (Dayclub & Nightclub)
Chateau
XS Nightclub Is The Best Club For Bachelorette Parties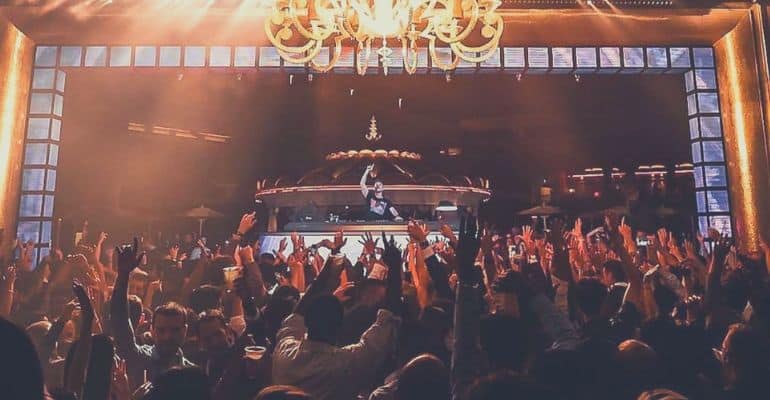 XS is the best overall nightclub in all of Las Vegas making it the top club for bachelorette parties. There are a number of things that make XS number one.
The first being that its the most expensive. Don't worry if you are a group of girls you can get in for free by signing up for the XS guest list. If you have a guy in your group don't panic, as long as you have more girls than guys everyone can get in for free.
But the general admission and ticket prices are extremely high at XS, ranging from $30 – $60 pre-sale and over $100 at the door of the club. Bottle service prices also go anywhere from $2,000 to $10,000+. This is actually a good thing because it keeps the quality of the crowd very high.
You won't have too worry about any weirdos in the club, as you will surrounded by beautiful people for the most part. Plenty of celebrities show up too, so you know XS is the place to be.
XS Is Both A Nightclub And A Pool Party
Besides the high quality crowd, what sets XS apart from the other clubs is its design. Its half indoors and half outdoors with the outdoor section having a large pool in the center.
The pool is only open on Sunday's and is closed during the winter but it is the most fun party in all of Vegas. XS Nightswim is a must see if you're in Vegas on a Sunday night.
Type of Music Played At XS Nightclub
XS is primarily an EDM club but you will find that some DJs, like the Chainsmokers, will throw in some Top 40. Headline DJs at XS include the Chainsmokers, Diplo, Kygo, Major Lazer, RL Grime, Dillon Francis and DJ Snake. Drake also has a few performances here every couple of months.
Cost To Attend XS
As I mentioned earlier women get free entry at XS on the guest list. Its super simple to sign up for and costs nothing. The guest list is the quickest and easiest way to get into the club. You can sign up for the XS guest list and see a complete list of upcoming events here.
Bachelorette Parties At Omnia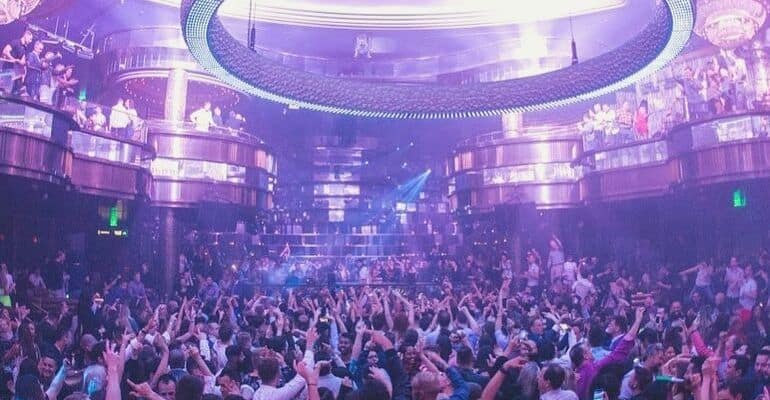 Omnia is a top Vegas nightclub that brings in an extremely large crowd every time it is open. One of the main reasons for that is the long list of famous DJs that call Omnia home.
But besides the headline DJs, (which I'll cover in a moment) there are plenty of other things that make Omnia one of the best clubs for bachelorette parties.
One of them being that groups of all women get preferential treatment at Omnia. Just like XS women get free entry on the guest list, but at Omnia promoters will pull you out of line and ask if you want to join a VIP table.
Essentially how this works is the promoter will ask if you want to join a table and if you say yes they typically bring you to a large bottle service table inside the club where you can drink for free. This is different from a complimentary table because it is not actually your table. It belongs to someone who bought it but wants some girls to hang out at the table.
This is a normal process at most Vegas nightclubs and most of the guys who buy tables are actually pretty cool. If you enter the club this why you are under no obligation to stay at that table and can leave whenever you want. This is a great way to meet some cool people while getting free bottle service at a top nightclub.
Omnia Is Actually 3 Clubs All In One
Omnia has three separate rooms: the main EDM room that has two levels, the Hip Hop room called the Heart of Omnia, and the outside rooftop Terrace.
Each of these rooms play different types of music and have their own DJ booth, bar and dance floor. It is a ton of fun bouncing back and forth between these 3 rooms until you find which one you like best.
Type Of Music Played At Omnia
Omnia is mostly known as an EDM club because of the main DJs. They include Calvin Harris, Martin Garrix, Lil Jon, Zedd and Steve Aoki.
There is also the Hip Hop room and the outside Terrace that plays house music. All of these rooms are completely soundproof so you can only hear the music played in that room.
Cost To Attend Omnia
Like XS women get free entry on the Omnia guest list. There is a limited guest list when Calvin Harris performs so if you really want to see him purchasing a ticket is a better bet. Tickets typically cost between $75 – $100.
Encore Beach Club Is The Best Pool Party For Bachorettes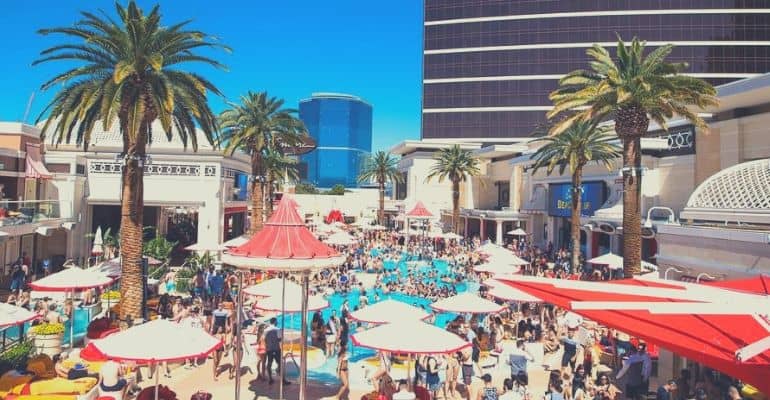 Vegas pool parties have become extremely popular in recent years and EBC (Encore Beach Club) is the premier pool party. These dayclubs often get even more wild than the nightclubs so you are definitely going to want to attend one.
Pool parties offer everything a nightclub can offer with the only difference being that the sun is up and everyone is wearing a bikini. This is the perfect excuse to show off your beach body assuming you go when the pools are open. They are open April through October and close down during the winter.
These pool parties are a ton of fun and EBC is the best one. You can dance, swim, drink, order food and even gamble without ever leaving the club. Need I say more?
Type Of Music Played At Encore Beach Club
Encore Beach Club focuses mostly on EDM music. This club has the same DJs as XS so the Chainsmokers, DJ Snake, Major Lazor and Kygo play here often.
Cost To Attend Encore Beach Club
Encore Beach Club is free for your entire bachelorette party if sign up for the EBC guest list. The one exception is major holidays like the 4th of July or Memorial Day, when there is no guest list available.
Wet Republic For Bachelorette Parties
Wet Republic is the second best Vegas pool party and maybe even the best if you prefer the DJs over the ones at Encore.
Wet Republic is very similar to Encore Beach club in that they play EDM music, you can swim, order food and get drinks. The difference is that at Wet there is no gambling area.
The area that Wet Republic actually beats Encore in is the dance floor. There is slightly more room on the Wet Republic dance floor and the entire club is centered around the stage. If you are looking to do more dancing Wet may be a better choice with the extra room.
Wet Republic is also open Thursday through Monday, making it the go-to Vegas pool party on Monday. EBC is only open Friday, Saturday and Sunday.
Type Of Music Played At Wet Republic
Wet Republic plays EDM music. DJs featured at Wet Republic are the same as the DJs that perform at Omnia. That means you will see Calvin Harris, Martin Garrix, Zedd and Steve Aoki play here often.
Cost To Attend Wet Republic
Women always get free entry when they put their name on Wet Republic's guest list. You can see a full list of upcoming events at the bottom of the linked page.
Drai's Nightclub Bachelorette Parties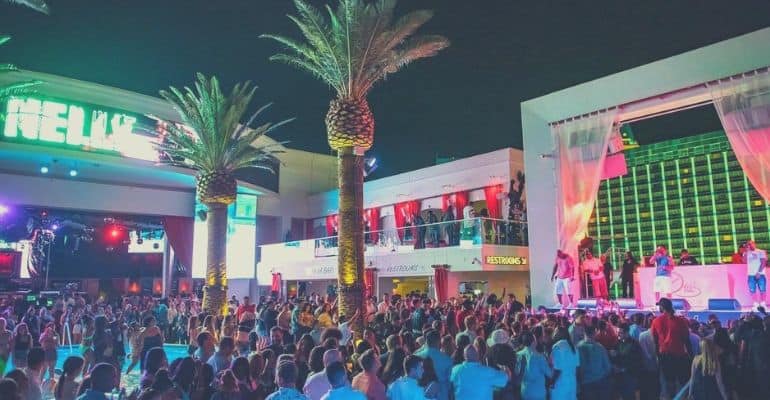 Drai's is the best nightclub for Hip Hop music in Las Vegas. If your squad enjoys Hip Hop then Drai's is the place to go for your bachelorette party.
Drai's is another club that has both indoor and outdoor areas along with a pool. The pool is only open on Thursday nights for their week day pool party or during the daytime. However, Drai's is different because it is located on the rooftop of the Cromwell Hotel. It's the only rooftop pool party in Vegas.
The main draw for this club is the live Hip Hop performances. Drai's is much different than most of the other Vegas nightclubs in that it has less resident DJs and focuses more on live concert like performances.
Type Of Music Played At Drai's
Drai's caters to the Hip Hop crowd the most, but it does play a little bit of EDM (although not much). Live performances from artists like 2 Chainz, Migos, Trey Songz, Snoop Dogg, Yo Gotti, Big Sean and 50 Cent are common here.
Drai's rotates the artists frequently and new ones are added to the calendar all the time. There are some resident DJs that play weekly like DJ Pauley D.
Cost To Attend Drai's
Just like most Vegas nightclubs women get free entry as long they are on the Drai's guest list. The one exception is when the Migos are performing as there is no guest list available those nights.
Throwing Your Bachelorette Party At Chateau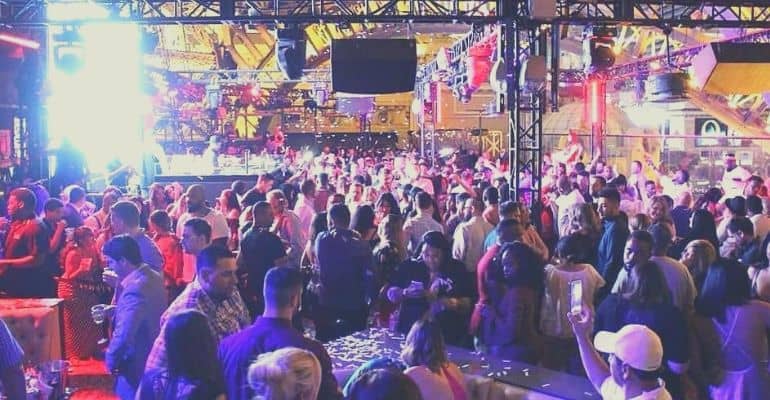 Chateau is a unique nightclub because it is located at the Paris Hotel directly under the Eiffel Tower. The view this club has of the Bellagio Fountains is amazing but thats not why I mention it here.
The reason why Chateau is on this list is because it has some of the most affordable bottle service prices of any Las Vegas nightclub. If you are going to throw a bachelorette party and can afford it, nothing beats a VIP bottle service table.
Chateau offers some extremely competitive bottle service packages specifically for bachelorette parties starting at only $300. This is one of the cheapest bottle service packages in all of Vegas as they normally go for a couple thousand dollars.
If you have never experienced bottle service you get your own private table with at cocktail waitress. You choose the type of alcohol you want and are provided with mixers so you don't have to go to the bar. It is a blast and I highly recommend it to anyone visiting Vegas.
Type Of Music Played At Chateau
Chateau plays a mix of Hip Hop, Top 40 and EDM. While you won't recognize the names of any of the DJs they are surprisingly good and interact heavily with the crowd. This is one of the best clubs to let loose on the dance floor as there is plenty of room.
Cost To Attend Chateau
All women on the Chateau guest list get free entry. If you are interested in bottle service you can contact us here and we will put you in touch with a VIP host at Chateau.
Bachelorette Parties At Light Nightclub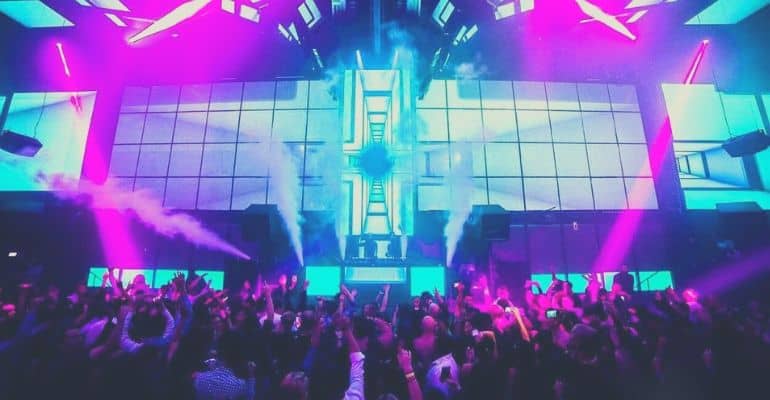 Light is one of the older nightclubs in Las Vegas. It's a solid nightclub that always puts on a show.
Because Light is one of the older clubs they offer more promotions to bring people in, which is great news for you. One of the main promotions commonly offered at Light is that they give out several free drink tickets to anyone who enters the club on the guest list on Wednesdays.
More importantly both Light and Daylight (the dayclub located at the same hotel) give out a large amount of complimentary tables. These are free tables in which you get free bottle service for our entire group. Every club offers comps but Light gives them out more frequently. I'll cover how to get them in the section below. Keep Reading!
Type Of Music Played At Light
Light plays mostly EDM music. There is some Hip Hop played here as Rick Ross puts on shows at least once a month.
Cost To Attend Light
All women get free entry on the Light and Daylight guest lists. If you get a comp table it is customary to leave a tip of about $10 – $20 per person for the waitress.
How To Get Comp Bottle Service At Vegas Clubs For Bachelorette Parties
Complimentary or "comp" tables are given out at Vegas nightclubs pretty much every night, although they are more common on off nights (Sunday – Thursday). While being awarded at all clubs comp tables are more prevalent at the less busy venues.
Comp tables are essentially free bottle service given out by the clubs to fill up unsold tables. They are reserved for industry locals and groups of girls. Only bachelorette parties with all women can get comp tables this way, so if you have any guys in your group you can kiss your comp table goodbye.
Complimentary tables are the holy grail of bachelorette parties, there is nothing like getting a VIP table with bottle service all to yourself, without having to pay for it. But clubs don't typically hand out comp tables to anyone. There are a few steps you must follow.
There Are More Comp Tables Available On Less Busy Nights
There is a limit to the amount of free bottle service a club can give out. You are much more likely to get the table under the following circumstances:
Have at least 4 girls in your group (more the better)
The less busy clubs are more likely to give out comps
Avoid Fridays and Saturdays
Avoid the nights with the biggest DJs (tables sell out)
Avoid big holidays (4th of July, New Years, ect)
The minimum number of girls required for a comp table is 4 but the more you have the better your odds are. Vegas clubs will go out of their way to accommodate for a large group of girls.
Also asking for them on the less busy nights will yield better results as many clubs will sell out of all their tables on Friday and Saturday.
Getting In Contact With A Club Promoter Or VIP Host
Typically VIP hosts hold the most power in Vegas nightlife but promoters are easier to track down. If you know a Vegas promoter/ host or you have a friend that does, this is the point where you would text them and ask to set up a comp table.
Simply tell them them how many girls are in your bachelorette party and what days you are coming. Promoters get paid to bring girls into the club so its in their best interest to help you out.
If you don't know a Vegas promoter or host don't worry they are surprisingly easy to find. You can go onto Instagram in find a bunch there or you can just walk down the Vegas strip. There are hundreds of promoters working there every day between 12pm – 5pm.
If you are a large group of girls they will typically approach you and ask to put you on their guest list. Just tell them you are looking for a comp table. If they say they can't do it just keep walking and ask the next one, you'll run into about 20 promoters every 100 feet.
Which Clubs Are Most Likely To Accommodate For Your Bachelorette Party
Like I mentioned earlier the less busy clubs are more likely to hand out comp tables. XS and Omnia are typically the toughest ones to get a table at. But clubs like Light and EBC at Night are actually relatively easy, even on the weekends. In my experience Daylight is the easiest dayclub to get bottle service, no matter the day.
Not all promoters work for the same club so if you want to go to a specific venue and can't find a promoter that works there, you need to get creative. The easiest thing to do is to politely ask the promoters on the street if they can give you the number of a club promoter that works at the club you actually want to go to. All of the promoters in Vegas are somewhat connected and probably know someone at all of the clubs.
This doesn't always happen but at the more competitive clubs it is not uncommon for these promoters to ask for your Instagram. While you don't need to be a model to get a comp table they don't want to be handing out free bottle service to unattractive women.
What To Do Once Your Bachelorette Party Has Set A Table Up
I know this is asking a lot (especially for a bachelorette party) but the most important thing you must do once you set up a comp table is to show up on time.
If you don't show up at the club by 10:30 pm it is common for the club to give your table away to someone else. These tables are free in the first place so the clubs can take them away, so show up on time.
Once you check in through the bottle service line at the club, you will be seated at your table. The amount of bottles you get is dependent upon how many girls you have.
You will typically get 1 bottle for every 4 to 6 girls. The alcohol is typically either vodka or tequila. You don't get to pick what you get but you can always buy another bottle off the menu later on. Unlimited mixers are always free.
It is customary (but not required) to tip your cocktail waitress even though the table is free. Tipping $10 – $20 per person is normal. If you have a bunch of girls with you can max out your tip at $100.
What Happens When Your Comp Table Gets "Bumped"
On really busy nights it is possible to get your table "bumped." This means that the nightclub has sold your table and it is no longer available. This only happens on extremely busy nights and at the busiest clubs. This is why getting comp bottles for your bachelorette party at less busy clubs like Light and EBC at Night is an advantage, as they will rarely bump.
If you get bumped you can still go into the club for free, you just won't have a table. It is also common to get bumped after you have already been seated. In this scenario you typically have the table for an hour or two until the club sells the table. Again you stay in the club, you just don't have the table anymore.
The best way to avoid getting bumped is to go to a club that is slightly less busy. Every Vegas club is wild and extremely fun, but some just get too busy. Its typically more fun to have bottle service at a less busy club than to not have it at a really busy one.
If you are coming to Vegas in the winter months, the clubs will be less busy altogether (except for Halloween and New Years). This is the best time to get free bottle service. You will almost never get bumped in the winter, no matter what club you go to.
Your Bachelorette Party May Be Better Off On The Guest List
Although fun, sometimes it is best to avoid comp tables. You should do this if there is a specific DJ that you want to see. To ensure that you get into the nightclub it is easier to just put your name on the guest list, which always ensures free entry for women.
Also comp tables only typically give you 1, maybe 2 bottles if you are lucky. These bottles will go really quick and equate to 2 or 3 drinks per person depending on how many people you have.
If you go in on the guest list, you are usually given a couple free drink tickets. The amount of free alcohol is about the same either way and the guest list is way less of a hassle. You can sign up in 2 minutes and not have to worry about it. There are no moving parts like comp tables have.
Going in on the guest list can be just as fun as getting a table especially if you plan on dancing and don't want to be tied down to one location. You can get into any club for free on the guest list pretty much any night, making it a solid alternative to comp tables.
Bachelorette Parties Should Avoid Promoter Tables At Clubs
Comp tables and promoter tables are two separate things. Comp tables are 100% yours, no one else will be at the table. Promoter tables on the other hand are a mix and match group of the promoters that work at the club and the girls that they bring.
These tables aren't suited for bachelorette parties as there will be other people at the table competing for space and drinking all of the alcohol, which runs dry quickly. These types of tables can get unpleasant if you don't get along with someone else there. They are best avoided.
Related Questions
What should women wear to Las Vegas nightclubs? Women should wear a dress that fits your body well along with heels. Flats are acceptable footwear for nightclubs but not as common. Although a dress is the standard outfit in Vegas, women can wear anything as long as it looks good and isn't too revealing. The only thing not acceptable is athletic attire.
What is the best Vegas nightclub for bachelor parties? The best Vegas nightclub for a bachelor party is XS Nightclub. XS is the top nightclub in Vegas, featuring world class EDM DJs. Although XS is the best overall nightclub bachelor parties may want to consider other clubs like Hakkasan or Omnia, as they allow men to enter the club for free on the guest list. XS requires men to have an even ratio of women with them to get free entry.