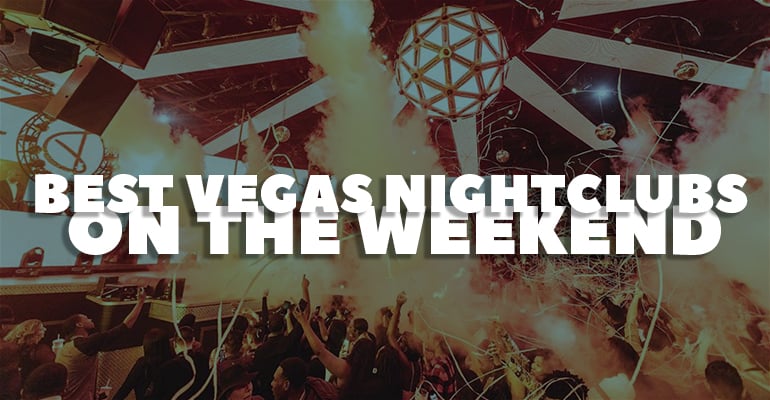 Nightclubs in Las Vegas are at their peak on Friday and Saturday nights. You already know that every club is going to be busy, but which nightclub's actually live up to the hype? I did some research to find out.
What are the best Las Vegas nightclubs on the weekend? Based on their popularity, headline DJs and overall party atmosphere, these are the top Vegas nightclubs on the weekend:
XS Nightclub
Omnia Nightclub
Drai's Nightclub
Marquee Nightclub
Hakkasan Nightclub
EBC at Night
Since these nightclubs are the most popular, you would think that they're also the most expensive. But you can actually get into all of these clubs for free using their guest lists. The guest list rules are different at each venue, so based on the number of guys or girls in your group, you may want to go to one club over another.
1. XS Nightclub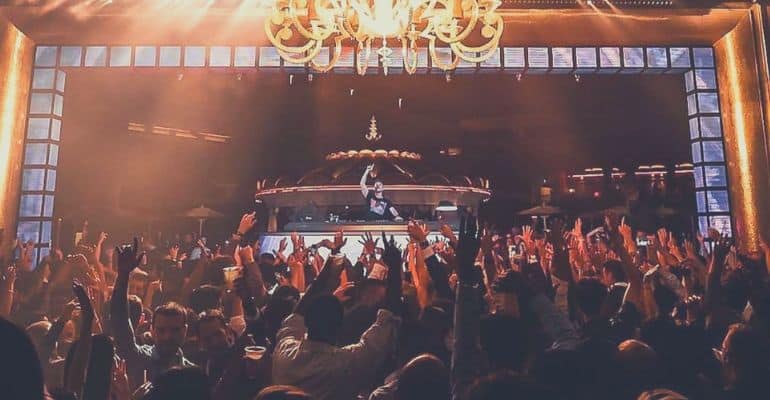 XS is widely considered the best nightclub in the world, and for good reason. The club is massive, holding up to 4,000 guests each night. XS is also a half indoor/half outdoor venue, which gives it a unique feel. Plus, there's a large pool in the center that opens up for swimming on Sunday nights.
The DJs at XS Nightclub are just about as good as they get. The Chainsmokers, Diplo and Kygo are all frequent headliners here. That means XS is a sanctuary for EDM fans.
Being the top club, tickets for XS can cost upwards of $75. And that's if you buy pre-sale tickets. If you pay cover at the door expect to be paying $100+ per person. Luckily, you can completely avoid these expenses by using XS's guest list.
Women who sign up for the guest list get free entry into the club. Men must have an even ratio of women in their group (or a greater number of women than men) in order to get into the club for free on the guest list. You can sign up for the XS guest list for free online.
2. Omnia Nightclub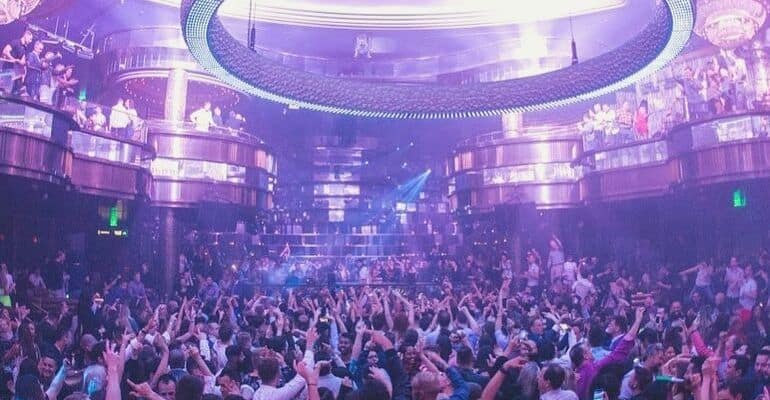 Omnia is a close second to XS, and some may even argue it's better. This club is by far the largest in Sin City, entertaining more than 4,500 guest each night. Omnia is separated into 3 rooms, each playing a different genre of music.
The list of headline DJs here is currently the best in my opinion. Resident DJs include Calvin Harris, Zedd, Martin Garrix, Steve Aoki and Tiesto. Now that's a star studded EDM lineup!
Not only does Omnia play EDM music, one of the 3 rooms inside of the club is dedicated exclusively to Hip Hop. The Heart of Omnia is one of the best places to get your fix of Hip Hop in Vegas.
Ticket prices at Omnia are relatively high, but you can get free entry into the club using the guest list. Both men and women can get into the club for free using the Omnia guest list. There are no ratio requirements here.
If you use the guest list it's important that get in line early. The guest list has a cutoff time around 12:30 am and lines get ridiculously long at this club, especially on the weekend. I highly recommend getting in line by 10:00 pm on weekends.
3. Drai's Nightclub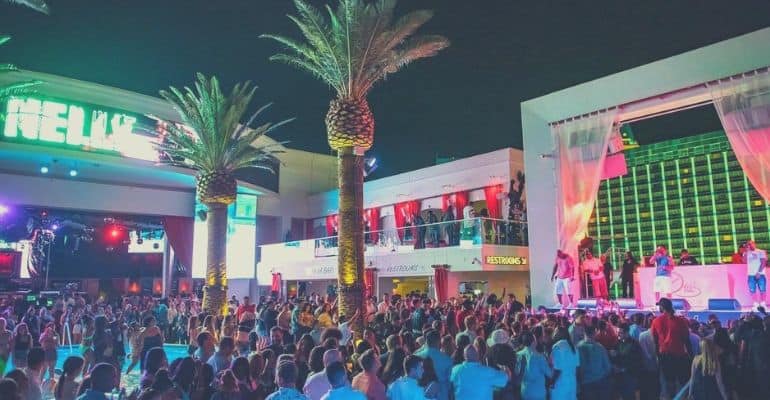 Drai's is Las Vegas' premier Hip Hop nightclub. It's also the only rooftop pool party in Vegas. While the pool is only open on Thursday nights, the club always features a beautiful view overlooking the heart of the strip.
If you're a Hip Hop fan, Drai's should your first choice in nightclubs. This club is unique in that it features live performances from popular Hip Hop artists, similar to a concert. Artists that perform at Drai's include 2 Chainz, Big Sean, Gucci Mane, 50 Cent and Wiz Khalifa among many others.
Drai's has some of the most stringent guest list rules. Women will always get free entry to the club on the Drai's guest list. But men who have an even ratio will either get free entry or a reduced cover. Just having an even ratio doesn't guarantee that a group of guys will get in free. On some nights the guest list is exclusively for women.
4. Marquee Nightclub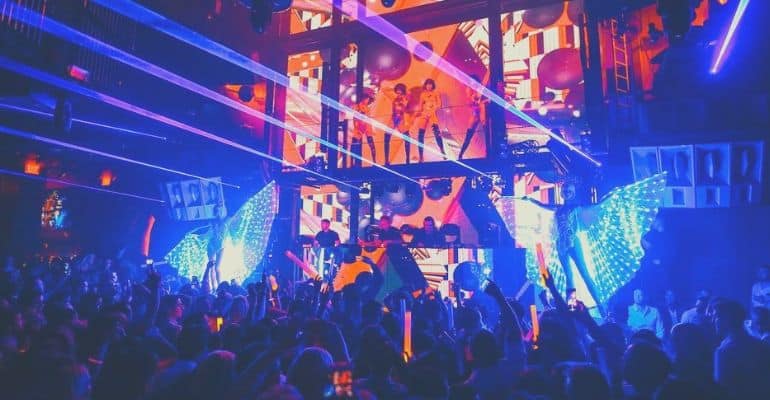 Marquee is another mega-club with multiple rooms. On it's busiest nights Marquee will open up 4 distinctive areas: the Main Room, the Library, the Boom Box Room and the Outside Patio. Each room has a different feels making it one of my favorite clubs.
The main room plays a stimulating mix of EDM, Top 40 and Hip Hop. These original mixes are delivered to you from top DJs like Travis Scott and DJ Mustard. The Library and Patio will play slightly softer versions of the EDM/Hip Hop mix, while the Boom Box Room often hosts Latin themed nights.
Women who sign up for the Marquee guest list get free entry to the club. Men must have an even ratio of women in their group to use the Marquee guest list. In addition to free entry, women also usually get access to an open bar on Monday nights. So if you're still in Vegas on Monday, definitely check out Marquee.
5. Hakkasan Nightclub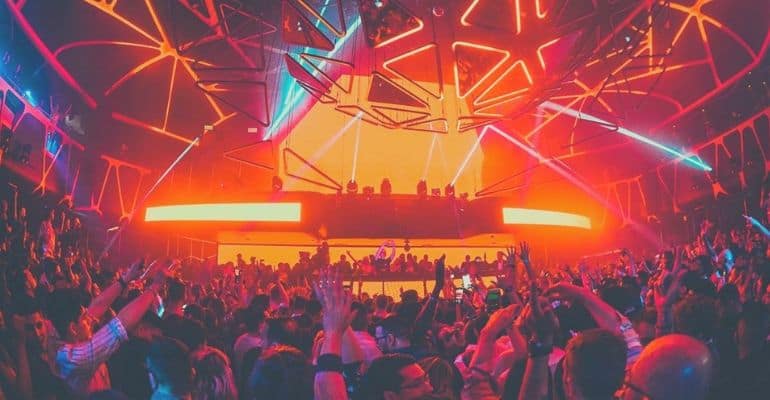 Hakkasan is a the long standing nightclub at the MGM Grand. Like some of the other clubs on this list, Hakkasan has a multiple room setup. Besides the giant main room, the most notable is the Ling Ling Club which plays popular Hip Hop and Top 40 songs.
Hakkasan is the sister club to Omnia, so they have the same DJs. Expect EDM heavy performances from Zedd, Steve Aoki, Calvin Harris and Lil Jon here.
Even though Hakkasan and Omnia share the same DJs, note that ticket prices and bottle service tables are much cheaper at Hakkasan. Take advantage of that if you're planning on getting bottle service.
If you're considering reserving a table, you're going to want to talk to a VIP host that works at the club. If you don't know a VIP host you can contact us here, and we'll put you in touch with a host that works at the club of your choosing.
Both men and women get into the club for free when they sign up for the Hakkasan guest list. Groups of men are not required to have an even ratio of women. Remember to arrive on time, since the guest list has a cutoff time around 12:30 am, and lines get long.
6. EBC at Night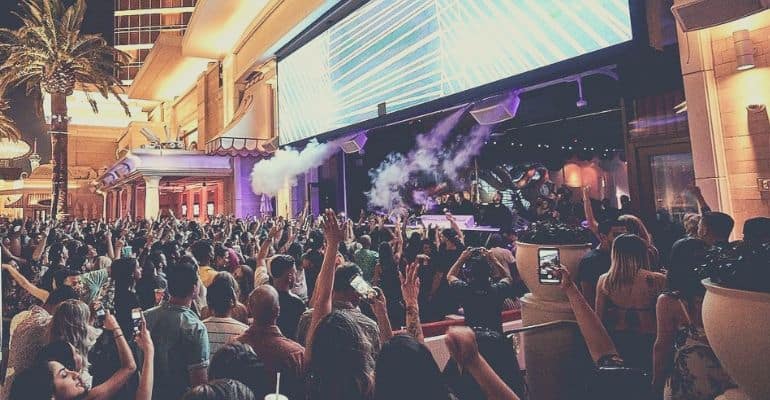 EBC at Night is the only Las Vegas nightclub that's dedicated solely to pool parties. EBC at Night stand for "Encore Beach Club at Night," and is named after the popular dayclub.
This club has 3 huge pools along with the widest assortment of VIP tables in Las Vegas. From Bungalows with private infinity pools, to Lilly Pads that literally sit in the water, EBC at Night has it all. And since it's a pool party it has the most relaxed dress code of all nightclub. I recommend bringing swimwear to the club.
EBC at Night is located in the same hotel as XS Nightclub, so they have similar DJs. This is a EDM heavy nightclub with frequent performances from DJs like The Chainsmokers, Diplo, Dillon Francis and RL Grime.
Like XS, women will get into the club for free, given they sign up for the EBC at Night guest list. Men must have an even ratio of women to get into the club free on the guest list.
Related Questions
What's the best nightclubs during the week? The best nightclub for every weekday are as follows:
Sunday – XS Nightclub or Hakkasan Nightclub
Monday – Marquee Nightclub or Jewel Nightclub
Tuesday – Omnia Nightclub
Wednesday – EBC at Night or On The Record
Thursday – Hakkasan Nightclub or Drai's Nightclub
What are the best Las Vegas Pool Parties? The two most popular Vegas pool parties are Encore Beach Club and Wet Republic. Both men and women can get into Wet Republic for free on the guest list, without ratio. At Encore Beach Club women get in free, but men need even ratio to use the guest list. You can sign up for pool party guest lists online here.