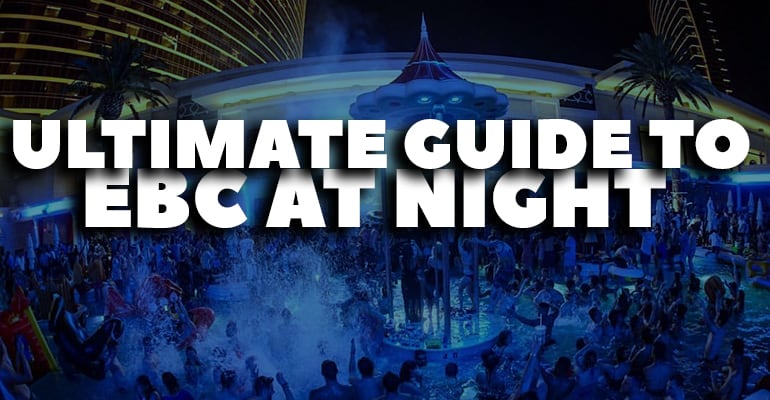 EBC at Night is one of Vegas' largest and most popular nightclubs. Whether its adding new DJ talent or updating its bottle service menu, every year the club becomes even more impressive. With Las Vegas pool parties growing in popularity I decided to take a closer look at EBC at Night, to find out exactly what you need to know before partying here.
What is EBC at Night? EBC at Night is the night time version of the popular dayclub pool party Encore Beach Club. EBC at Night is a pool party focused nightclub that plays mostly EDM music. The nightclub is open Wednesday, Friday and Saturday in the spring and summer. The pool is only open May through September, but the club opens for business in April and often stays open into December with the pool being shut down.
There's a lot that goes on at EBC at Night that the average Vegas club-goer doesn't know about like getting free entry on the guest list, scoring free bottle service and the knowing the best nights to attend. I'll cover all that and more in this insiders guide to EBC at Night.
EBC At Night Is The Top Rated Night Time Pool Party
EBC at Night, a nightclub made up of 3 large pools, is the only nightclub dedicated solely to pool parties. Other clubs, like XS on Sunday nights or Drai's on Thursday, hold pool parties but EBC is designed with swimming as the main focus. Because of this you'll find more guests in bikinis and swimsuits at EBC than you will anywhere else. So if you missed out by not going to one of the many wild Vegas dayclubs, then showing off your beach body at EBC at Night is a must.
This club is also known for having some of the most attractive cocktail waitresses out of any Las Vegas nightclub. And the crowd here doesn't look to bad either. On top of that, EBC is home to some of Vegas' best DJs. They include the Chainsmokers, Diplo, Kygo, DJ Snake, Dillon Francis and Major Lazor among other top DJs. This long list of headline DJs easily makes EBC one of the top Vegas nightclubs for EDM music.
4 Ways To Get Into EBC at Night
There are 4 main ways to gain entry to EBC at Night. Some of them are free while others can get rather pricey, but all of them have their distinct advantages. Getting comp or "complimentary" bottle service is also an option that I'll cover later on in this article. But the 4 main ways to get inside EBC at Night are:
Guest List
Bottle Service
General Admission or Pre-sale Ticket
Discounted Ticket
Getting Free Entry On The Guest List
Putting your name on the guest list is free and anybody can do it. All women who add their name to the EBC at Night guest list will get free entry into the club, along with free drink tickets on many nights. Men on the guest list can also get free entry so long as they have an even ratio of women (or more women than men) in their group.
It takes less than 2 minutes to sign up for the guest list, making it the easiest way to get into the club. The only restriction to be aware of is the cutoff time. The guest list usually closes around 12:30 am, so if you haven't checked in by then you will be required to pay full cover.
Bottle Service At EBC At Night
I recommend getting bottle service at EBC because there is no seating unless you purchase a bottle service table. A table is nice because it gives you a place to put all your stuff along with a private area to party. A rough estimate of the average cost of a table at EBC at Night is as follows:
| | |
| --- | --- |
| Number of Guests | Table Price |
| 6 | $750 – $2,000 |
| 8 | $1,000 – $2,500 |
| 10 | $1,500 – $3,000 |
| 12 | $2,000 – $4,000 |
| 20 | $4,000 – $8,000 |
Table prices fluctuate on a nightly based on demand and the DJ that is performing. There are also many different types of tables at EBC including lilly pads, daybeds, beach couches, gaming couches, water couches, cabanas, bungalows, DJ booth tables and backstage tables. Lily pads are floating couches along the side of the water and are always the cheapest option.
The bungalows and cabanas are the most luxurious and offer the most real estate. The cabanas give you an indoor area with several couches and a temperature control system. In addition you get a large daybed on the spacious patio area. The cabana also offers access to dials that control the volume of the music being played through the speakers at your table.
The bungalows have all the same amenities as the cabanas in addition to a private infinity pool, a private bathroom and almost double the space. You will never be disappointed with a bungalow.
The most expensive tables however are the ones directly in front of the stage. There are only two of these tables available but they connect directly to the dance floor. For groups of guys looking for women to party with, these are the best tables available. They are the most visible and are located in a high traffic area. You can also just sit back and have the Girl Guy find female companions for you on your behave. If you're interested in learning more about bottle service and the perks that come along with it (including the Girl Guy) you can read more here.
There is one more option when it comes to bottle service. Its called best available and you pay a fixed cost for it. What it does is gives you the best table location available when you arrive at the club. If there are unsold tables that are worth more than what you paid then you get the better table. But you do run the risk of getting a table that's worth exactly what you paid without the choice of location.
General Admission And Pre-sale Tickets
General admission means you plan on buying a ticket at the door. General admission is the least cost effective way to get into the club as ticket prices are generally jacked up the day of the event. Ticket prices also rise as the night goes on, sometimes costing upwards of $100.
Pre-sales tickets are much cheaper than what you would be paying at the door. They typically cost $20 -$30 for women and between $40 – $75 for men. There is never a need for women to purchase pre-sale tickets however, since all women will always get free entry on the guest list.
Discounted Tickets On The Guest List
If you sign up for the guest list but don't have at least an even ratio of women in your party, you can get a discounted ticket by signing up for the guest list. Just sign up for the guest list like you normally would and hop in the guest list line when you get to the venue. When you get to the front of the line the cashier will give you the option of purchasing a reduced price ticket. The discount can vary depending on the night but it's usually about 50% of the advertised price at the door.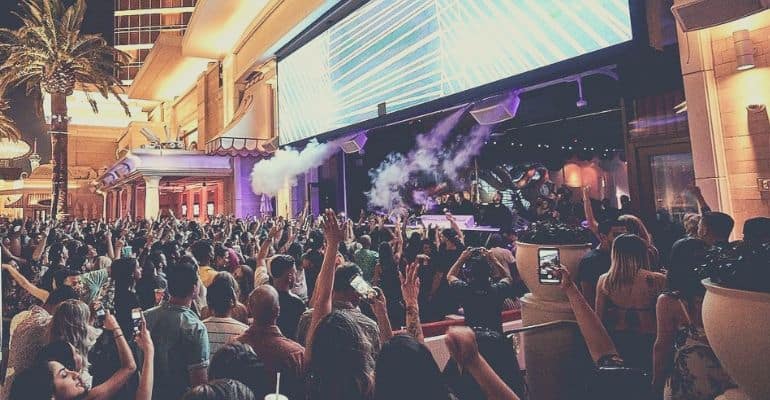 Best Nights To Attend EBC AT Night
EBC at Night is open Wednesday, Friday and Saturday but Wednesday's are when EBC is at its best. Wednesday night is local industry night at Encore Beach Club which means all the nightlife workers from the other clubs come to party. You will partying alongside the bartenders, hosts, promoters, cocktails and strippers from all the other nightlife venues. Industry night is the equivalent of a weekend for anyone who works in Vegas nightlife, so you can bet it gets wild.
Also, EBC at Night shares DJs with XS. So when both clubs are open at the same time (Friday and Saturday), the more popular DJ tends to play at XS. The same goes for EBC Dayclub. On Friday and Saturday the most popular DJs play during the day, so its not likely you will see them at night. Because of all of this, the most likely night to see a big DJ is going to Wednesday, when both XS and EBC Dayclub are closed.
On the weekends you can still expect great musically talent at EBC at Night. There are no bad DJs in the lineup, they're just more niche. On Friday and Saturday expect performances from Flosstradamus, RL Grime, Galantis, DJ Diesel (aka Shaq) and Afrojack. These are all great artist that always put on a show.
EBC At Night Gives Out Plenty Of Comp Tables
EBC at Night has some of the most bottle service tables of any nightclub in Las Vegas. With a large surplus of tables it is common for the club to give some of them away for free, as comp tables, in order to fill up the venue. Comp tables are free bottle service tables usually given to local nightlife workers or large groups of girls. So if you have at least 4 girls in your group, it shouldn't be to difficult to score free bottle service.
Unfortunately, you can't have any guys in your group, it must be all ladies for this to work. All you have to do is get in touch with a promoter or a VIP host from the club, give them some information (how many people and what day you're coming) and ask them to set up a comp table. I walk you through the entire step by step process of setting up a comp table here if you want to a more in depth explanation of how to do it.
When you get a comp table you typically get a bottle for every 4 to 5 girls in you're group. At EBC it is also common to get "pitchers" of mixed drinks. These pitchers taste like fruit punch flavored alcohol, and sometimes the club gives them out instead of actually bottles. Either way, you will typically get enough alcohol for everyone in your group to make at least 3 drinks. Not too bad for a free table, especially when drinks cost upwards of $20! If you run out of alcohol you have the choice of purchasing another bottle or just buying drinks at the bar.
You are still expected to tip, even through the table is free. You won't be chased down by the staff but you may get some dirty looks if you try to dodge tipping. $10 – $20 per person is a completely acceptable gratuity for these comp tables.
EBC Has The Most Casual Dress Code Of Any Nightclub
It's true, because EBC at Night is exclusively a pool party, it has the most casual dress code of any nightclub. Of course you can still wear your normal club attire, and many people do, but a majority of guests will be in swimsuits and bikinis. If you have no intention of getting wet, you can also break out your favorite pair of shorts. Just avoid wearing cargo or athletic shorts. Women are also required to wear cover-ups before entering the club.
Other things that are allowed at EBC are tank tops, sneakers, hats and small drawstring bags. You can check out full dress code guides for both men and women here, to see a full list of what is and isn't allowed.
EBC has lockers that you're able to rent to hold all of your valuables. Also, don't worry about bringing a towel, the club will provide you with one.
EBC Has The Tightest Security Of Any Nightclub
Although bags are allowed into the club, they will be thoroughly checked by security. EBC has the toughest security for any nightclub by far which includes both metal detectors and pat downs. I have even had to open up my phone case so that security could take a look. The staff here is no joke.
Some items that the club will not allow in include gum, mints, prescription medications, or any type of liquid. And although cannabis is legal in Nevada, EBC at Night doesn't allow you to bring it into the nightclub. There is an amnesty box in line before you get to security, if you need to throw something away.
EBC At Night VS EBC Dayclub
EBC at Night and EBC Dayclub known as simply "Encore Beach Club," are the same club, one just takes place at night. But there are some very obvious differences between the 2 clubs. The first one being the nightclub costs much less than the dayclub. Bottle service tables are twice as expensive during the day as they are at night. And while not double the price, the same goes for ticket prices and individual drinks. Expect to pay $2 to $3 more per drink during the daytime (its about $23 for a mixed drink).
Also while there is a full kitchen and food counter at the dayclub, you cannot order food at the nightclub. Another important distinction is that you can't where jeans to the dayclub, you are required to have swimwear. Which is not a bad rule as daytime temperatures in Vegas routinely rise above 100 degrees. Plus the Vegas sun can do a number on you if you're not careful.
If you attend both the dayclub and nightclub, you'll probably notice that the dayclub is a bit busier. That's a product of the better DJs performing during the day and the fact that there is considerably less dayclub competition in Vegas. There are only a few large dayclubs compared to a much larger number of major nightclubs. And for what its worth, EBC Dayclub is considered the best overall Vegas pool party.
Insider Tips For EBC At Night
EBC has a gambling pavilion where you can play blackjack, poker and craps. If you're lucky, you can win more money to purchase those expensive drinks!
The pool has plenty of floats that anyone can use and lay on top of.
Drinks are not allowed in the pool. The lifeguards will call you out if you attempt to bring them into the water.
There are two water fountains located by the gaming pavilion. If you start at the gaming pavilion and walk into either cabana area, you will see a water fountain against the back wall.
If you need a cup to fill up at the water fountain, you can ask a bartender for one. EBC uses disposable plastic cups instead of glasses, so you can grab them for free. Bottled water costs $12.
There are two bathrooms, one located by the entrance, and one all the way in the back of the club. The bathroom in the back is always less busy. There is also another water fountain outside of this bathroom.
EBC has some of the longest lines in Las Vegas. The table line gets especially long, which is uncommon at other nightclubs. Its best to get in line by 10:15 pm even though the doors open at 10:30 pm. You may even want to consider getting in line by 10:00 pm on busy nights.
Never leave you stuff unattended if you plan on getting into the pool. I always see lost phones laying around at the end of the night because someone accidentally left them. If you don't have a table, it's a good idea to get a locker.
The main DJ doesn't typically come on until at least 1:15 am.
EBC has a program called rollover where you get free entry to XS Nightclub at 2:00 am. Just go to the XS general admission line and show them your EBC entry stamps and they will let you in for free.
EBC has free re-entry.
Related Questions
How do I reserve bottle service at EBC at Night? The easiest way to reserve bottle service at EBC is to talk to a VIP host that works for the nightclub. VIP hosts are in charge of bottle service reservations and typically walk you to your table once you show up at the venue. If you want to reserve a table you can contact us here and we will put you in touch with a VIP host at Encore Beach Club.
What time does EBC at Night close? EBC at Night closes at 4:00 am on most nights. Sometimes the club may close a half hour earlier if its not busy. If the club closes early guests can typically get free entry into XS Nightclub by showing the staff at the door their entry stamps from EBC.