XS constantly ranks as the best nightclub, not just in Las Vegas, but in the world. This massive half indoor, half outdoor nightclub has a lot to offer including: world class DJ talent (mostly EDM), a wild Sunday pool party and some of the best cocktails money can buy. Not to mention they attract some of the most irresistibly good looking guests, in all of Vegas. But there are a lot of things that the club won't tell you. After spending countless nights popping bottles at XS, I've put together this list of the 16 things you must know about XS nightclub.
1. You Can Get Free Entry On The XS Guest List
I'll start with this one because nobody likes spending more money than they have to, and that's especially true for Vegas nightclubs. All the luxury XS has to offer doesn't come cheap. With individual drinks costing upwards of $20, you can plan on spending a pretty penny when you come to XS.
Fortunately, the club offers guest list services that grants all women on the guest list free entry. Even guys who have an even ratio of women (or more women than men) in their group get free admission. Anyone can sign up for the XS guest list, but make sure you get to the club on time. There is a cut-off time for the guest list around 12:30 am (men must be checked in by 11:30 pm), so if you're not in by then, you'll have to pay full cover.
2. You Can Gamble Inside Of the Club
XS is one of only two nightclubs, the other one being EBC at Night, that have casino areas set up inside the venue. At the bar closest to the center of the pool, XS has about a dozen black jack tables set up. Not that its likely to happen, but if you where to get burned out dancing, this is a good place to retreat and get your legs back under you. This is also a convenient spot to win some more money for drinks while you wait for the main DJ to come on.
3. You Automatically Get Free Entry To EBC At Night
Both XS and EBC At Night are located in the same hotel, the Encore at Wynn. Because of this, Wynn nightlife implemented the rollover program. Rollover allows the guests of each club to "rollover" or get free entry to the other venue. So if you started off at XS, you're allowed to go to EBC At Night free of charge, and vice versa. The only catch is that you are required to wait until 2:00 am to make the switch. But once the clock strikes 2, feel free to grab your crew and head over to the just as impressive sister club.
All you have to do is show the staff at the door your stamps from XS, and they'll let you right in. 2:00 am may sound late but the main DJs don't typically come on until 1:15 am anyways. You'll be walking in towards the middle of the show, giving you plenty of time because the clubs don't close until 4:00 am. In the winter when the nightclubs are less busy, they even let guests start to rollover around 1:30 am, making rollover even more of a no brainer.
4. Spending $3,000+ On Bottles Get You Access To The Girl Guy
The girl guy is a host employed by the club who's main job is to find female companions for the table clients to party with. When you're one of the biggest spenders at the club, the special perks start to add up. And this is definitely one of those perks that is well worth the money. Instead of awkwardly standing by the bar, you can sit back and let the girl guy find party companions for you. If you're looking to meet women in Las Vegas, this is by far the easiest way to do it.
And if you're a girl, this can also be of help to you. The girl guy can bring you and your friends to a table where, you can drink for free. This also gives you a place to sit, so you won't have to stand in your heels all night. You can usually find the girl guy by the guest list line. If he's looking for girls to bring to a table, the girl guy will typically pull you out of line.
5. XS Has The Most Expensive Bottle Service
Since we're already on the topic of bottle service tables, I'd like to point out that XS has the most expensive bottle service prices on the strip. "How much does a table cost?" you ask. Here is a chart outlining the average cost of a table at XS.
| | |
| --- | --- |
| Number of Guests | Table Price |
| 6 | $1,000 – $2,500 |
| 8 | $1,500 – $4,000 |
| 10 | $1,500 – $5,000 |
| 12 | $3,000 – $7,000 |
| 15 | $4,000 – $9,000 |
| 20 | $5,000 – $10,000+ |
Prices fluctuate every night based on demand, the DJ, table location, your group size and the time of year. Also, the closer you get to the actual event, the higher prices climb. If you plan on getting bottle service, it is always best to make reservations early.
The high starting prices for bottle service are justified given the reputation of the club and all the added benefits that come along with purchasing a table. If you want to learn more, I answer many questions related to bottle service here.
6. XS Has The Most Attractive Crowd
XS's reputation for luxury and excellence doesn't go unnoticed. The club is a magnet for both celebrities and wealthy party goers looking to get loose. And partying along side these high rollers are a whole lot of beautiful people. Everyone at XS is dressed to look their best. It makes perfect sense that the best club brings in the best looking crowd.
7. Some Of The Best Dining In Vegas Is Walking Distance From XS
The Wynn and Encore have well over a dozen dining options just a few hundred feet from the club. Many (but not all) of these restaurants are open 24/7, making it easy to grab a bite to eat both before and after the club. I would definitely recommend eating before to avoid drinking on a empty stomach.
Some of my favorite restaurants outside of XS include Allegro, Andreas, Jardin and Cipriani. Charlie's is also good, they have plenty of affordable options if you're not looking to spend an arm and a leg on food. I've even seen some of the DJs at XS eating at Charlie's before they go on, so you know it's good. Wing Lei is another amazing restaurant located at the Wynn. They are the first Chinese restaurant in the United States to earn a Michelin Star.
If you're just looking for a quick snack there are two cafes, Goodies on Demand and The Cafe, to hold you over. I can't tell you how many pre-made panini's I've grabbed at The Cafe before hitting XS. Definitely worth the $10 price tag.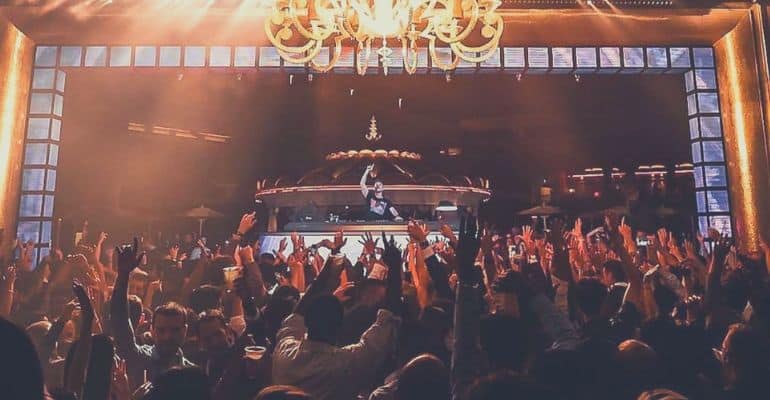 8. Sunday Nightswim At XS Is The Best Party In Vegas
Every Sunday night XS opens up its pool and hosts its weekly Nightswim pool party. This is the only night that the club opens the pool up for swimming. These are some of the most wild parties you'll find in Vegas, and my personal favorite event. Sunday also happens to be local industry night at XS which means the nightlife workers from all of the other clubs come out to XS to party. Things get crazy when you have the hosts, bartenders and cocktail waitresses from the other clubs partying along side you.
You're not required to wear a swimsuit or a bikini to these pool parties but most people do. If you don't wear a swimsuit feel free to take advantage of the relaxed dress code and wear shorts or a hat. Just avoid athletic or cargo shorts. Also, as always you have the option to wear your typical club attire. You can check out full dress code guides for both men and women here, to see what is acceptable.
It is important to note that Nightswim pool parties are only held April through September. Vegas gets relatively cold in the winter so the pools shut down.
9. Avoid The Outside Part Of XS In The Winter
Staying indoors in the winter may seem like a no brainer, but many people don't realize how cold Vegas actually gets. Not only this but if it's your first time going to XS, you probably didn't know that half of the club is outside. Wearing a short cocktail dress in 30 degree weather isn't exactly a recipe for success, yet you see people make this mistake every night.
To avoid this issue you're going to want to stay in the inside part of the club. This again may sound like common sense but if you entered the venue through the guest list line, you'll find yourself on the outside portion of the club. And while the two halves of the club are connected, in the winter there is typically a long line to get inside.
So if you attend XS November through March, make sure you get to the venue early and get inside ASAP. If not, you will be left outside to freeze.
10. XS Is One Of The Few Clubs Where Re-Entry Is Easy
Very few Vegas nightclubs advertise re-entry, in fact many nightclubs even have a sign by the exit that says "NO RE-ENTRY". XS is one of the few clubs that actually has an entire line dedicated solely to re-entry. So if you have to leave the club for any reason, you won't have to beg security to let you back inside.
There have been countless times where I was at XS and decided to leave and get food while waiting for the headline DJ to come on. Also, the drinks in the lobby are often cheaper than inside the nightclub. So if you feel like taking a quick break and popping back inside later, the re-entry line makes your life a whole lot easier.
11. Don't Go Outside XS Past Midnight
As I mentioned in tip number 8, there tends to be a large line that forms to get to the inside part of the nightclub. This is also true during the busy summer months. After midnight, especially when the Chainsmokers are performing, the line to get inside gets impossibly long. It can often take 45 minutes to an hour just to get inside.
There are two ways to combat this: one, get inside as soon as you get into the club. Or two, leave the nightclub entirely and come back through the re-entry line. This is a pro-tip that takes less than 10 minutes to execute. Instead of standing in line for an hour I prefer to leave the club and immediately come back through re-entry. The re-entry line will take you to the front entrance of the club or in other words the inside area. So now when you come back into the club, you are now on the inside and have avoided the long lines.
This only works if you entered the nightclub through general admission or the table line. If you initially entered through the guest list line, you will have a separate re-entry line, located by the outside part of the club. The staff letting you back inside know what line to send you to because they gave you hand stamps when you initially came in. You'll have a different hand stamp depending on which route you took.
Why does everyone want to be on the inside part of the club? Honestly, I don't really know. It may be because the dance floor is inside, or that there are more confetti drops on the inside. The only time when you see more people outside than inside is during the Sunday Nightswim pool parties. Everyone is outside enjoying the pool.
12. You Can Purchase Reduced Price Tickets On The Guest List
As I touched upon in the first tip, all women get free entry when they sign up for the guest list, along with men that have at least an equal ratio of women. But in addition to this, men who don't have an even ratio can purchase discounted tickets by signing up for the guest list.
All you have to do is sign up for the guest list like you normally would. Then when you get to the nightclub jump in the guest list line. Once you reach the front of the line the cashier will give you the option to purchase a reduced price ticket. The discount is up to the club but it's typically about 50% off the advertised ticket price at the door.
13. XS Has One Of The Most Relaxed Dress Codes
Even as the most luxurious and expensive Vegas nightclub, XS is relatively relaxed with their dress code policy compared to other clubs. To be clear there is still a dress code that you need to follow in order to be allowed in, but it seems to be slightly less strict at XS. And men seem to be the main beneficiary of this relaxed dress code.
Women can get away wearing essentially anything at Vegas nightclubs as long as it isn't too revealing. This is no different at XS. Men on the other hand can catch a lot of flack for not having the correct shoes, or not having a collared shirt.
At XS, more times than not, the security will allow guests to wear designer T-shirts into the club. Solid colored v-necks are also common. The club is still an upscale venue and you need to make sure you look put together but you can get away with a more casual look than you would at other clubs.
14. XS Offers Seating If You Don't Have A Table
This is huge, especially for women who don't want to stand in heels all night long. At most clubs, the only seating is at VIP bottle service tables. So unless you purchase a table, you can expect to spend the entire night on your feet.
However, XS does have a good amount of seating on the outside part of the club. You will see people sitting on the ledges in back of the club, directly in front of the cabanas. It isn't formal seating (its a ledge) but a ton of people sit here and it will get you off of your feet. There is only seating for about 50 people, so with up to 5,000 guests walking through the door every night, this is prime real estate.
15. The DJ Doesn't Come On Until 1:15 AM
I briefly mentioned this earlier, but the DJs at XS don't come on until 1:15 am, sometimes even waiting until after 1:30 am. This is important because if you get to the club when it opens expecting to see your favorite DJ already on, you'll be waiting close to 3 hours.
If you're running late to the club, don't worry you aren't going to miss much the first couple of hours. Although, it's still a good idea to get in line early because the guest list closes around 12:30 am for women and 11:30 pm for men. You're still not safe to show up late even if you have a table, as the best locations sell out quick. Also, ticket prices tend to rise as the night goes on. The only scenario in which you can safely get to XS late is if you bought a pre-sale tickets.
16. XS Has Free Drinking Water
When I say free drinking water, what I really mean is a water fountain. I know it doesn't sound sexy but at most Vegas clubs you are going to have to pay about $10 for a bottled water. The $10 gets you a very small Fiji water that you can finish in about 2 sips. So for those of you who don't want to wait in line at the bar for water, XS is one of the few nightclubs with a water fountain. Many people fill up their glass with water once they finish their drinks. The water fountain is located on the outside part of the club, in between the Jacuzzi and the cabanas.
Related Questions
How do I reserve bottle service at XS nightclub? The best way to make a bottle service reservation at XS is to get in contact with a VIP host that works for the club. VIP hosts are in charge of everything related to bottle service at the club and can give you the best price quotes for tables. If you want to reserve a table you can contact us here and we will put you in touch with a VIP host from XS.
How do I sign up for the XS guest list? To sign up for the XS guest list you can either talk to a promoter from the club or sign up online. Adding your name to the guest list online is free and takes less than 2 minutes. You can see upcoming events and sign up for the XS guest list here.
Where is the XS guest list line located? The guest list line for XS is located on the left hand side when you walk through the main entrance to the Encore. The general admission and tables lines are located in the walkway between the Encore and Wynn.
When is the best time to get to XS nightclub? The best time to get to XS is 10:15 pm as its one busiest Vegas nightclubs. The doors typically open at 10:30 pm but lines can get extremely long, especially when the Chainsmokers or Drake are performing. The club remains open until 4:00 am.