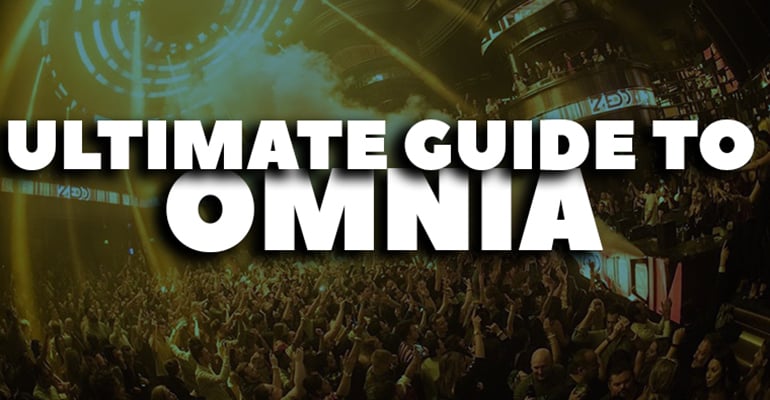 Omnia is one of the most popular nightclubs in Las Vegas. There's plenty that sets Omnia apart from other nightclubs, including the giant spinning LED chandelier that hangs over the dance floor. But there are other less obvious things you're going to want to know about Omnia before you party here. So I popped some bottles and put together this list of must know tips, to help you can avoid some common mistakes and ensure that your night out at Omnia gets as wild as possible.
1. Get Free Entry On The Omnia Guest List
If it's your first time to Vegas, you may be surprised to hear that many of the clubs actually let you in for free. Most nightclubs in Las Vegas have guest lists that allow everyone who adds their name to it, to get free admission. Anyone can add their name to the guest list and it takes less than 2 minutes to do. However, each nightclub has different rules surrounding their respective guest lists.
Luckily, Omnia has some of the most relaxed guest list rules. Most Vegas nightclubs only allow women to get free entry. Groups of men can only get into these clubs for free if they have an even ratio of women in their group. Omnia doesn't have those requirements. Both men and women get free entry on the Omnia guest list, regardless of ratio.
The only exceptions are holidays like the 4th of July and New Years where guest lists aren't available. Also, there is usually no guest list on nights when Calvin Harris is performing at Omnia. If there is a guest list its only for women, but its limited and entry is by no means a guarantee. If you want to see Calvin, you need to buy a ticket.
| | | |
| --- | --- | --- |
| Method of Entry | Women | Men |
| Guest List | Free | Free |
| General Admission (Pre-sale Ticket) | $20 – $50 | $30 -$75 |
| General Admission (At the Door) | $30 – $75 | $40 – $100 |
| Holiday or Special Event (Pre-sale Ticket) | $75 – $200 | $125 – $250 |
There is a cutoff time around 12:30 am for the guest list. This cutoff can also happen earlier if the club is super busy. Its best to arrive by 10:15 pm at the latest in order to ensure entry. If you miss the cutoff you'll be required to pay full cover, which is often upwards of $100 on busy nights.
On Friday and Saturday I would even recommend getting in line by 10:00 pm as lines start forming around that time. Also if you have more than 8 people in your party, its best to split into 2 separate groups and meet up inside.
2. Omnia Is The Loudest Vegas Nightclub
I've been to many nightclubs in my time, and Omnia is definitely one of the the loudest. Omnia's sound system is among the best in Las Vegas, and the bass is especially deep. When you stand on the dance floor you can literally feel your chest vibrating. So you can forget about trying to communicate with your friends. You could be yelling directly into their ear and they still won't be able to make out exactly what you are saying.
The Heart of Omnia and the rooftop Terrace (two separate rooms within the club that I'll mention later), are also pretty loud but nowhere near as loud as the main EDM room. If you enjoy EDM music you will absolutely love Omnia, its nearly impossible to not start dancing when the music is this loud and this good. However, if you have sensitive ears I would recommend bringing earplugs. You can still hear the music perfectly, but the volume will be a few notches lower.
3. The Heart of Omnia Only Plays Hip Hop Music
The Heart of Omnia is a room inside of the main club that is dedicated solely to Hip Hop. It's about as large as a normal sized nightclub and it has its own bar, bottle service tables, DJ booth and dance floor. And while you're free to travel between the different rooms at will, the heart room acts almost independently of Omnia. You can't hear the music from the other rooms while in the heart room, and it has its own staff of cocktail waitresses and bussers.
Even though Omnia is known as an EDM nightclub, the DJs in the Heart of Omnia are still really good. It's my favorite spot to listen to Hip Hop music in all of Las Vegas. Every single song played in this room is a hit, you can't go wrong if you choose to party here. Also, the bottle service tables cost dramatically less in the heart room than they do in the main room (I'll go over pricing in the next section), making for some great deals.
4. Omnia Bottle Service Prices Fluctuate Dramatically
As a top Vegas nightclub, Omnia has some of the most expensive bottle service tables in the industry. But the club also has a large number of a reasonably priced tables too. There are many factors that effect price including table location, the DJ that's performing and the day of the week.
Omnia is typically open Tuesday, Thursday, Friday, Saturday and Sunday. Friday and Saturday are by far the busiest nights, making bottle service much more expensive. But if you plan on visiting Omnia on a Tuesday, Thursday or Sunday prices are going to be noticeably lower.
Prices change nightly based upon demand, so you won't know exactly what you'll be paying until you actually get to the venue. To give you an idea of what to expect I put together the chart below outlining the average cost of a table.
| | |
| --- | --- |
| Number of Guest | Table Prices |
| Terrace | |
| 6 | $1,500 – $2,500 |
| 8 – 10 | $2,000 – $3,000 |
| Heart of Omnia | |
| 10 | $1,500 – $2,500 |
| 12 | $2,000 – $3,000 |
| Balcony (Main Room) | |
| 10 | $3,000 – $5,000 |
| 15 | $4,000 – $6,000 |
| 20 | $5,000 – $8,000 |
| Main Room | |
| 10 – 12 | $4,000 – $6,000 |
| 15 | $6,000 – $10,000+ |
As you can see table location is big factor in price. The dance floor tables in the main room are most expensive table location. The closer you get to the DJ, the more you'll have to shell out. But that presents opportunities to purchase cheaper tables in the Heart of Omnia and on the Terrace. Both of these spots are great and tables start at half the cost.
There are many benefits to bottle service including expedited entry and receiving your own private area within the club. One lesser known benefit is having access to the girl guy. The girl guy is a host that can help you find friends to party with. For groups of guys looking to meet women, this is by far the easiest way to do it in Vegas. If you're considering reserving a table you can learn more about Vegas bottle service here.
5. Omnia Has A Dress Code
All nightclubs in Las Vegas have a slightly different dress code. Each club enforces its dress code to varying degrees but Omnia tends to be more strict than most other nightclubs. These rules are usually only an issue for men, as women can essentially wear whatever they want assuming it isn't too revealing.
There are some clubs like XS or EBC at Night, where guys can occasionally get away with a more casual look (like a solid color or fashioable t-shirt). But at Omnia it's much safer to wear a dress shirt, either by itself or with a jacket. If you really hate button up shirts you can get away with a t-shirt if you have a sports jacket over it. I have worn a plain back v-neck to Omnia before, so it is possible. But its not worth the risk of not being allowed into the club if you're only in Vegas for a few nights.
The security at the door also pays close attention to shoes. I have had friends denied entry before for wearing Yeezys (if you're not familiar, Yeezys are a $500 sneaker). So it's best to wear dress shoes to avoid any issues at the door. If you want some recommendations on what to wear you can check out full dress code guides for men and women here.
6. Drinks Get Expensive Inside The Club
The second you step into the nightclub drinks automatically get more expensive. Check out the average price for a drink at Omnia:
| | |
| --- | --- |
| Type of Drink | Price |
| Beer | $12 – $15 |
| Shots | $15 |
| Mixed Drinks | $15 – $20 |
When you start adding a tip onto those prices, it really adds up. If you plan on getting 7 or 8 drinks you can easily end up spending $150 a person. In that case it may be better to split a bottle and get a table.
But if you don't get a table I recommend pre-gaming in the lobby bars before you get into the nightclub. The drinks are usually a couple bucks cheaper and you can drink while you wait in line.
7. Omnia Has Seating Even Without Bottle Service
Most Vegas nightclubs only reserve seating for groups that purchase a table but Omnia has seating for everyone, sort of. There is no official seating for guests that don't have bottle service but there are places to sit in all 3 rooms at Omnia. This is great news, especially for ladies that would otherwise have to stand in heels all night long.
There are ledges along the walls and on the backs of bottles service tables that are the perfect height for sitting. In the main room there is a ledge for seating on the back wall. If you where looking at the DJ booth it would be on your left. There's only space there for about 10 people but if you manage to get one of the spots, you have just secured a seat with a great view of the DJ for free.
In the Heart of Omnia there is seating next to the bar, on the back of the bottle service tables. There is also more seating on the back on the bottle service tables closest to the hallway that connects the heart room to the main room. The outside Terrace has some space to sit both across from the bar and by the edge of the Terrace against the windows.
If you're concerned security will tell you to move, don't be, people sit in these spots all the time. I have never seen security tell someone to move.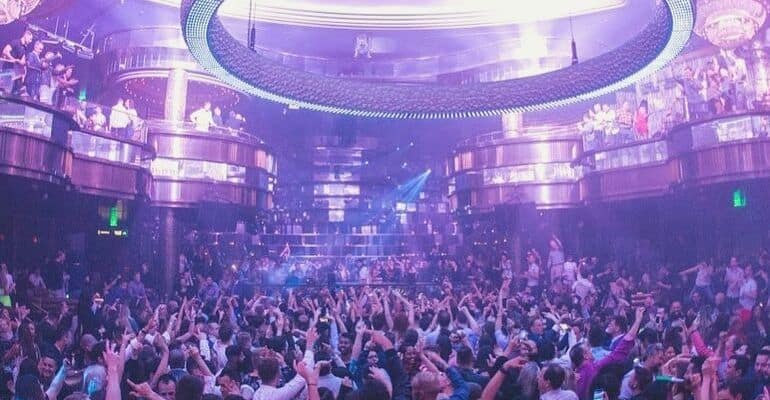 8. Omnia Has The Longest Lines In Las Vegas
As one of the best nightclubs in Las Vegas, Omnia has the longest lines of any nightclub. The lines at Omnia are only rivaled by its sister club, Hakkasan. On the busiest nights the lines at Omnia start forming around 9:30 pm, an hour before the doors open. By the time the club finally opens the guest list line is literally out the door and continues around the outside of the casino. If you sign up for the guest list on the weekend you must get in line by 10:15 pm at the latest. If you don't you'll be waiting in line for over 2 hours and run the risk of missing the cutoff for the guest list.
The bottle service line is a better, but not by much. I can only describe it as an organized mosh pit because there really aren't any lines. Everyone just crowds around the ropes trying to get the attention of the hosts. The best thing to do if you have a bottle service table is to either be first in line or text your VIP host once you arrive. If you text your host they can come out and grab your group so you can skip the line.
9. Prepare To Get Bumped Around: Omnia Is Crowded
Not only does Omnia have long lines but once you actually get into the club, you'll find it to be completely packed. This isn't too much of a surprise, after all you're going to a nightclub, but Omnia is especially crowded. The main room has only two small walkways to get from one side of the club to the other. By midnight you will literally have to push people out of the way just to find the bathroom.
I do find this sort of ridiculous for a club of Omnia's caliber, but foot traffic is a serious issue. Most of the the overflow dilemmas go away if you have a bottle service table to keep people out, but it can still be get annoying. Luckily the this is only an issue in the main room since the heart room and rooftop Terrace both have better spacing. They do however have the occasional crowd form in front of the bar. Fortunately, the club has 5 separate bars to keep this to a minimum.
10. Women Can Get Free Bottle Service At Omnia
There are two ways that women can get free bottle service at Omnia. The first one is through the girl guy that I mentioned earlier. Typically a host or promoter will ask groups of girls in the guest list line if they would like to be seated at a VIP bottle service table. If you want to join a table this host will help you cut the line and then set you and your friends up at a table. The table isn't exactly yours (someone else paid for it) but it gives you an opportunity to drink for free and a place to sit.
The other option is getting a comp or "complimentary" table. These are free bottle service tables and are available on less busy nights. You need at least 4 girls in your group to lock down a comp table but they're relatively simple to get. All you have to do is contact a host or promoter that works for the club a couple days in advance and ask if they can set up a comp table.
Every nightclub offers comps but there are only a limited number of them given out each night. I go more in depth about the exact process you need to follow to get a comp table here if want to learn more.
11. Don't Use Some Of Omnia's Bathrooms
Omnia has 5 separate restrooms spread throughout the club but you're going to want to avoid some of them. As I mentioned earlier, there are parts of the club that get extremely overcrowded and that also goes for the bathrooms. You're at the nightclub to have fun, not stand in the bathroom line for 15 minutes. To avoid the lines, don't use the bathrooms in the main room. You can easily get to the 2nd floor balcony (there are 2 obvious stair cases) where there is a restroom that normally has no line. You can also use the ones in the heart room or the Terrace without too much of a wait.
12. The Outside Terrace Plays House Music
I've made mentioned the rooftop Terrace several times already. This part of the club is typically only open in the warmer months but it's definitely worth checking out if you see it's open. The Terrace is surprising large, it has its own DJ, dance floor and bar. House music is what is normally played up here which is a nice change of pace from the loud EDM and Hip Hop in the two other rooms. The volume is a little lower outside too, so you can actually hear people talking to you.
Located on the rooftop of Omnia the Terrace is only 2 stories off the ground, but it still offers an amazing panoramic view of the Vegas strip. The view here is so good that during the Sunday night parties in the summer, they close the rest of the club to throw parties on the Terrace.
13. Don't Leave Omnia: There Is No Re-Entry
Some Vegas nightclubs allow you to re-enter the club after you have left, Omnia is not one of those clubs. There is a big sign by the exit that reads "NO RE-ENTRY". So if you plan on partying at Omnia the whole night, make sure you don't leave the club. I have managed to get back into the club a couple of times after leaving, but only on less busy nights. If you leave on a Friday or Saturday you can pretty much guarantee that the staff won't allow you back inside.
14. Water Is Not Free At Omnia
If you ask for a glass of water at one of the bars in the lobby of Caesars Palace, the bartender will gladly give it to you for free. If you do the same thing inside Omnia, the bartender will tell you that you need to buy a bottled water for $10.
15. You Can't Get Onto The Dance Floor After 1 AM
Once the main DJ comes on around 1:15 am, the dance floor gets so crowded that the security stops letting people in. This only happens on the busier nights but don't get caught off guard when this happens. If you want to dance make sure you get to the dance floor before 1:00 am.
Related Questions
How do I reserve a bottle service table at Omnia? The best way to reserve a bottle service table is to speak to a VIP host. VIP hosts work for the nightclub and handle all bottle service reservations at the club. If you want to get in touch VIP host at Omnia you can contact us here and we'll put you in touch with one.
Can I wear jeans at Omnia? You are allowed to wear jeans at Omnia as long as they aren't baggy. It's also best to avoid jeans with a large number of rips and tears in them. Dark colored jeans are usually preferable over lighter colors.
Can I smoke inside Vegas nightclubs? You are allowed to smoke cigarettes and cigars in most Vegas nightclubs. Many bathroom attendants have both cigars and cigarettes for sale if you tip them. Although cannabis is legal in the state of Nevada, you're not allowed to smoke or bring it into the nightclub.