I've taken several trips to Las Vegas over the past few years. But every time I book a vacation, I end up spending more than I budgeted for. So, I decided to do some research and find out exactly how much a trip to Las Vegas actually costs.
How much does a trip to vegas cost? The average person spends between $200-$300 a day in Las Vegas. A typical trip to Las Vegas lasts 3 days, so a budget of $750 is sufficient for most visitors. However, depending on your travel style, you may spend as low as $150 a day.
| Budget | 2 Nights | 3 Nights | 5 Nights | 7 Nights |
| --- | --- | --- | --- | --- |
| Cheap | $300 | $450 | $750 | $1,050 |
| Mid-Tier | $500 | $750 | $1,250 | $1,750 |
| High-End | $1,000 | $1,500 | $2,500 | $3,500 |
**The budget estimates above don't include flight costs, since I can't predict where you're flying in from.
On a tight budget, you should plan to spend about $150 a day. If you plan on doing additional activities like seeing a show or touring the Grand Canyon, plan on spending more. In this post I'll break down the exact cost of everything from hotel rooms and nightclubs, to drink prices. By the end, you'll know precisely what your trip is going to cost you.
Las Vegas Trip Cost – Overview of all Potential Expenses in Vegas
There's an unlimited amount of expenses that can come up while on vacation, like in-flight Wi-Fi, a lost wallet, or Advil to cure a hangover. But, for the sake of simplicity, I'm only going to cover the major costs that are sure to come up.
In the chart below, I broke down all of the biggest expenses for a 3 night Vegas vacation:
| Expense | Cheap | Mid-Tier | High-End |
| --- | --- | --- | --- |
| Hotel | $150 | $250 | $500 |
| Food | $100 | $150 | $250 |
| Drinks | $100 | $150 | $200 |
| Nightclubs | Free | Free | Free (or bottle service) |
| Entertainment | $25 | $50 | $200 |
| Transportation | $50 | $50 | $50 |
| Gambling | $25 | $100 | $300 |
| Total | $450 | $750 | $1,500 |
Please note that the hotel section of this chart assumes you're splitting the room with one other person. This is a complete cost breakdown for a single person.
If you aren't too fond of gambling or nightclubs you can easily interchange those items with something like shopping, sightseeing, or any of the other activities I mention later on.
These are the general categories of all the expenses you're likely to incur while in Las Vegas. Now let's dive into each category individually. I'll cover each of the following sections in depth below. Read on or click a link to skip straight to the section you want:
Cost Of Hotels In Las Vegas
Besides your flight, the hotel you stay at is going to be your biggest expense. Las Vegas has a wide range of hotels ranging from $20 a night, all the way to $500+ a night.
When booking, understand that hotel rooms for a single person are going to cost the same as a room for two. That means you can split the rate between you and a friend. So an $80 a night hotel, quickly becomes an affordable $40 a night per person.
I would avoid looking for rooms with 3+ beds since rates for those rooms get expensive fast. A group of 4 is better off getting 2 rooms, rather than overpaying for one large room. Keep in mind that many hotels add a resort fee, which is between $10-$40 depending on where you're staying.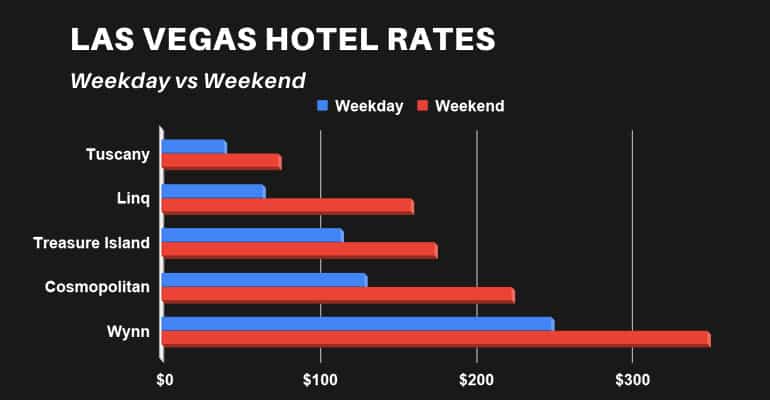 Also, note that hotel rates on the weekend are dramatically more expensive than rates during the week. The chart above compares weekend and weekday prices at some of the most popular Vegas hotels.
Inexpensive Hotel Options
If you really want to stretch your money out as far as possible, you can get a hotel room for $30 a night and split that with a friend. There are plenty of quality hotels less than a block away from the strip that offer insanely low prices. Here are a few low priced options:
| Hotel | Price (weekday) | Price (weekend) |
| --- | --- | --- |
| Excalibur | $40 | $135 |
| Circus Circus | $30 | $90 |
| Stratosphere | $30 | $140 |
| Tuscany | $40 | $75 |
| Rita Suites | $30 | $70 |
It's important to note that hotel prices change all of the time. I got these numbers by getting quotes for several dates throughout the year and averaging them together. These rates are taken directly from the hotel websites and are for a standard room with two beds.
Circus Circus and the Stratosphere are both located on the strip but are pretty far north, away from the action. Excalibur, on the other hand, is on the south end of the strip and is much closer to everything (pictured below).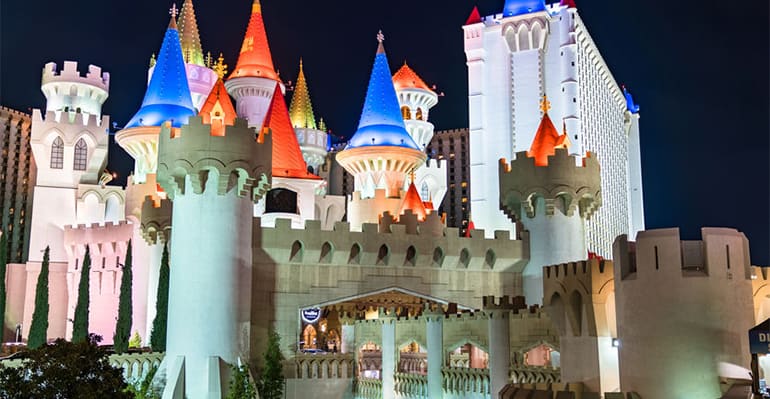 The Rita Suites are another solid option, within a 5-minute walk from the strip. I also like Tuscany, which is about a block away. I've been to both places and recommend them highly if you're looking to save a little money.
Mid-Tier Hotel Options
When it comes to mid-tier hotel options, there is no shortage of choices. Most of these hotels are located directly on the strip. I listed out a few of the more popular ones below:
| Hotel | Price (weekday) | Price (weekend) |
| --- | --- | --- |
| Tropicana | $110 | $200 |
| Treasure Island | $115 | $175 |
| Mirage | $125 | $200 |
| Linq | $65 | $160 |
| Flamingo | $65 | $200 |
| Harrah's | $95 | $150 |
| Bally's | $75 | $160 |
| Paris | $85 | $180 |
| Luxor | $80 | $170 |
| New York-New York | $135 | $190 |
| Park MGM | $130 | $175 |
| Travelodge Center | $105 | $175 |
| Planet Hollywood | $100 | $185 |
| MGM Grand | $140 | $160 |
Again, I got these numbers by taking an average of the hotel rates over time. On any given weekend you can find cheaper or more expensive prices, depending on how busy the hotel is.
Notice that rooms during the week cost significantly less. If at all possible, I recommend planning your vacation to include as many weekdays as you can. You'll get great deals that way.
All of the hotels listed here are quality options. Personally, I'm a big fan of the Linq, the Mirage (pictured below), and Treasure Island. The Mirage and Treasure Island are located directly next to each other, in the center of the strip. Both properties have great amenities and are known for having decent prices (Treasure Island is slightly cheaper).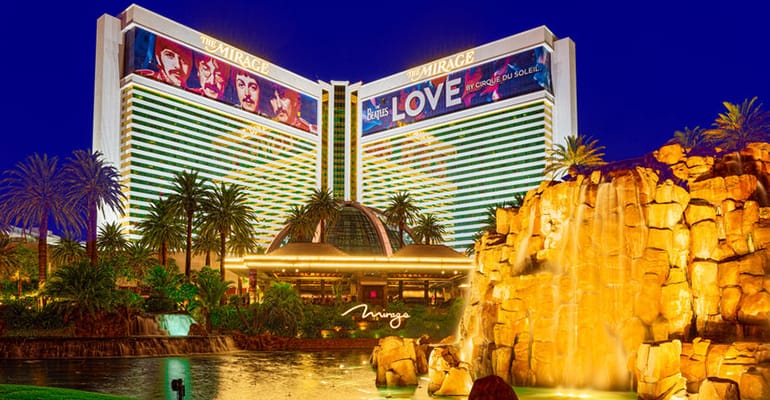 The Linq has a fantastic location directly in the center of the strip, right across from Caesars Palace. I'm a big fan of one of their 24-hour restaurants, Hash House A Go Go. The food is amazing, and it's reasonably priced. I definitely recommend eating here if you have the chance.
Luxury Hotel Options
If money is no object for you, Las Vegas has plenty of high-end accommodations. Aside from the penthouses and mega-suites, these are some of the best luxury hotel options available:
| Hotel | Price (weekday) | Price (weekend) |
| --- | --- | --- |
| Bellagio | $200 | $325 |
| Wynn | $250 | $350 |
| Encore | $250 | $350 |
| Caesars Palace | $200 | $250 |
| Venetian | $200 | $265 |
| Palazzo | $200 | $265 |
| Mandalay Bay | $150 | $215 |
| Delano | $190 | $270 |
| Aria | $195 | $250 |
| Vdara | $150 | $240 |
| Cromwell | $160 | $230 |
| Cosmopolitan | $130 | $225 |
You probably recognize at least a few of these names. All of these classic Vegas hotels offer something different. My personal favorite is the Encore (pictured below), which is adjacent to the Wynn. These hotels are home to arguably the best nightclub and pool party in Las Vegas, in addition to a number of elegant dining options.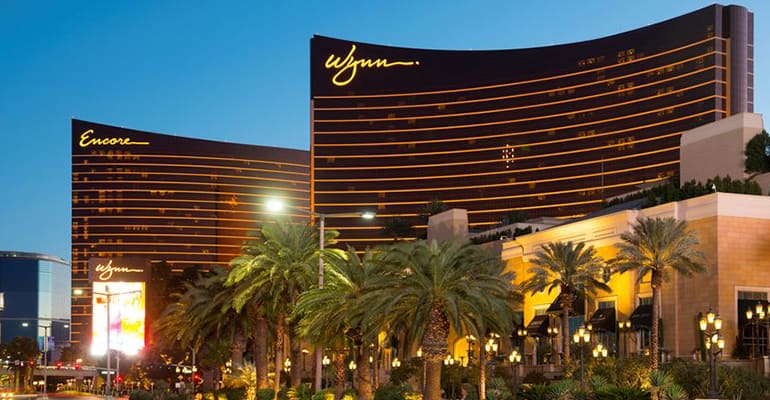 I also like the Cosmopolitan, which has the same proximity to both nightlife and fine dining options. The rooms at the Cosmopolitan were designed as luxury apartments, so they tend to be bigger than the average room on the strip.
Essentially all of these hotels cater to shopping enthusiasts. Whether you go to the Forum Shops at Caesars, the Fashion Show Mall, the Grand Canal Shoppes or the Shops at Crystals, you're guaranteed to find what you're looking for.
Cost Of Nightclubs, Bars & Pool Parties In Las Vegas
Las Vegas is known for its extensive nightlife scene. Both nightclubs and pool parties have become immensely popular in recent years. There are over a dozen clubs spread throughout the casinos on the strip.
Nightclubs are open to guests of all ages, but for those of you who prefer bars over clubs, you'll still have plenty of options. I'll cover some of the costs associated with nightlife venues below.
Nightclubs
The cost of attending a nightclub can vary from free to $10,000+. It all depends on how to decide to party. Luckily, most people will be able to get into the club free of charge. This may come as a surprise to most, but every nightclub offers a free guest list.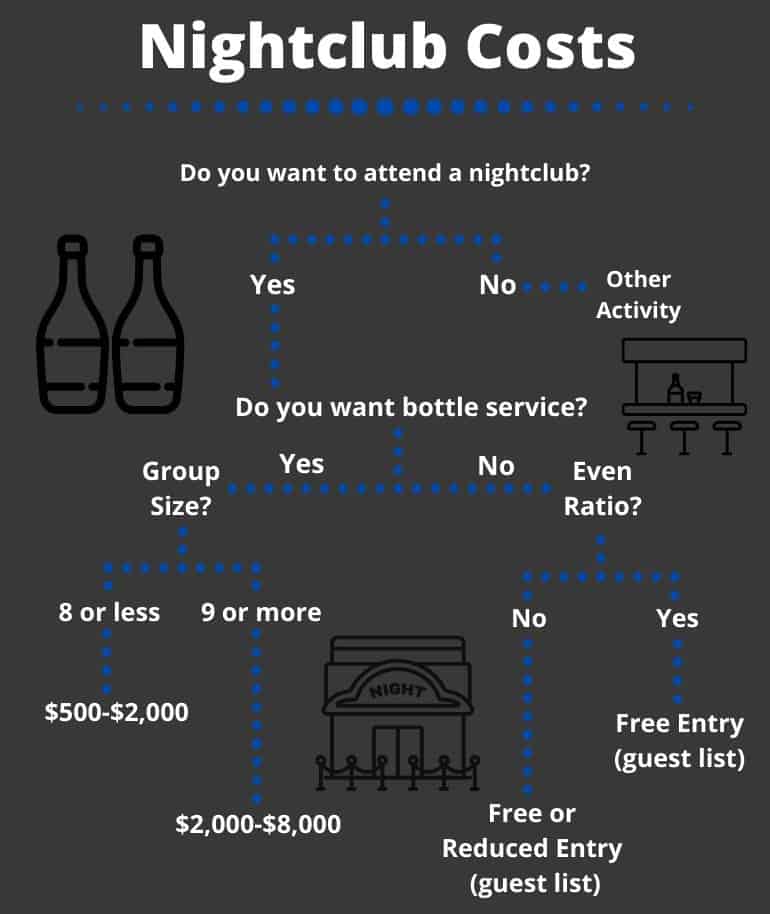 When you put your name on the guest list, you get free or reduced entry into the club. Anyone can sign up for the guest list for free online. Some clubs do require men to have an even ratio of women in their group (or a greater number of women than men).
However, there are also a number of clubs that let allow men free entry on the guest list, regardless of ratio. Women get free entry at every club. Guest lists are available every night. The only time when guest lists are unavailable are during major holidays like the 4th of July, Halloween, and New Years.
Of course, you always have the option to purchase a ticket or pay a cover charge at the door. I don't recommend this since cover charges range from $20-$100+. It doesn't make sense to purchase a ticket when you can get into the club for free on the guest list.
| Method of Entry | Women | Men |
| --- | --- | --- |
| Guest List | Free | Free (may require ratio) |
| Pre-sale Tickets | $15-$40 | $20-$75 |
| Cover Charge (at the door) | $15-$50 | $20-$100+ |
For those of you with a bigger budget, you can upgrade to bottle service. Bottle service is going to be more expensive ($500-$10,000+ depending on the club and your group size), but it gives you a number of benefits including:
Expedited entry
Private area with a table
A place to sit and put your stuff
Dedicated cocktail waitress
Avoid lines at the bar
Extra attention and VIP status in the club
Bottle service is not at all necessary to enjoy your night out. But if you have a larger budget, the added luxury and convenience may be worth it for you. You can compare bottle service prices at every club here.
Pool Parties and Dayclubs
Pool parties are very similar to nightclubs, except these parties are held during the day. And since they are "pool parties," you will be required to wear swimwear to the club.
I'd also like to take this time to point out that "pool parties" are different from "hotel pools." Pool parties are 21+, have DJs, and sell tickets and bottle service tables. Hotel pools typically have none of these.
Like the nightclubs, all Vegas pool parties offer free guest lists. Women can get in free at all pool parties. Men also get in free, assuming they have even ratio. But there are a few clubs, like Wet Republic or Daylight, that don't require ratio.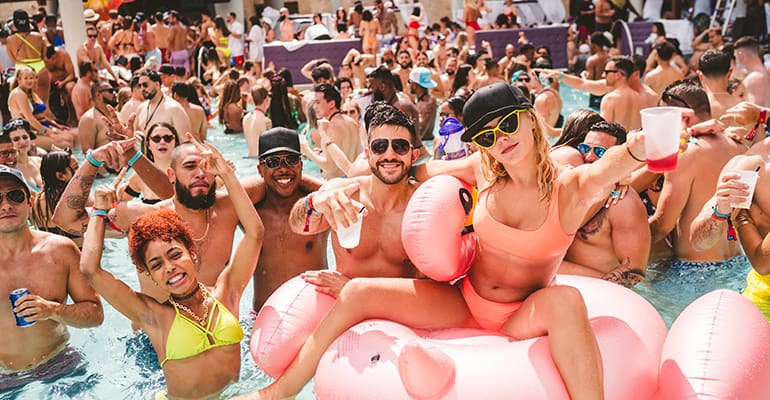 Tickets and bottle service are also options at pool parties, and the prices are comparable to nightclubs. But again, most people are going to want to go with the guest list. It's by far the most cost effective way to get into the club.
Unfortunately, pool parties are seasonal (March-October). So, if you visit Las Vegas in the winter you're going to want to visit Lavo Brunch. It's the only dayclub open November-March, making it extremely popular. Women can get in free on the guest list, but men will be required to pay a reduced cover charge (about $20). Additionally, women on the guest list usually get access to an open bar.
Bars and Lounges
There are easily hundreds of bars on the Las Vegas strip. The vast majority of them are free. If you plan on hitting the bars on the strip, each hotel has a handful of fantastic options. Several of my favorites include:
The Chandelier Lounge at the Cosmopolitan
Lobby Bar at the Encore
The Dorsey at the Venetian
Alto Bar at Caesars Palace
SkyBar at the Waldorf Astoria
ALIBI Ultra Lounge at the Aria.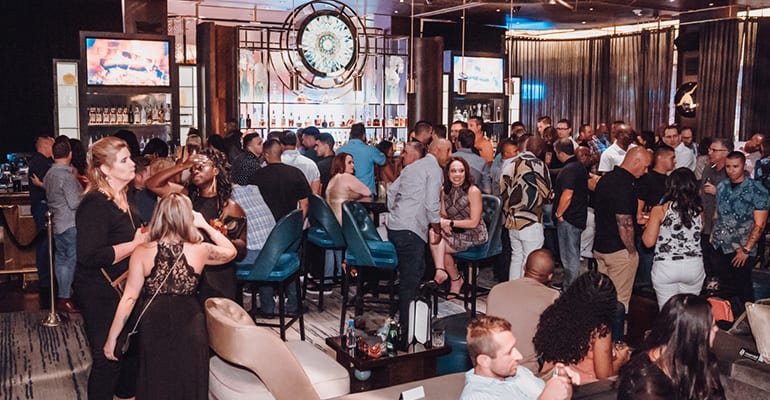 You can also head to Fremont Street or Town Square to find more traditional-style bars. These bars leave the glitz and glamour of the strip behind. Your options range from karaoke bars, 80's bars, Latin bars, and dive bars.
If you prefer rooftop bars or high-end lounges my two favorites are Apex Social Club and Foundation Room. Both of these lounges have free guest lists. Foundation Room is located at Mandalay Bay and is open every night. Apex Social Club on the other hand can be found at the Palms, and is only open Thursday through Sunday. Both lounges have great bottle service deals.
Cost Of Entertainment In Las Vegas
There are so many things you can do in Las Vegas outside of partying and gambling. I'll list out a few of them here, with their associated cost:
| Activity | Cost |
| --- | --- |
| Touring the Grand Canyon | $75 |
| Helicopter Tours | $100-$500 |
| Hiking at Red Rocks Canyon | $15 |
| Jet Skiing on Lake Mead | $95 (1 hour) |
| Escape Rooms | $35 |
| Axe Throwing | $30 |
| Sky Diving | $175 |
| Indoor Sky Diving | $100 |
| Shows | $30-$100 |
| Shooting Ranges | $25-$300 |
| Exotic Car Racing | $100-$300 |
| The Strat (Tallest Building in Vegas) | $25 |
| High Roller (Giant Ferris Wheel) | $10-$20 |
| Roller Coaster at New York-New York | $15 |
| Sightseeing (Bellagio Fountains, Las Vegas Sign, ect) | Free |
| Window Shopping | $0-$1,000+ |
| Zip-lining | $30 |
| Topgolf | $30-$80 |
| Go Karts | $25 |
| Touring The Hoover Dam | $10-$30 |
| Spas | $75-$200 |
| Gentleman's Clubs | $20-$1,000+ |
| Sporting Events | $25-$100+ |
Las Vegas has a ton of shows, including acrobatic shows (like Cirque du Soleil and Le Reve), comedy shows, magic shows, sporting events (lots of boxing and MMA), and live concerts.
There are plenty of additional things to do, that aren't listed here. I guarantee that there is at least one activity that will peak your interest. One of my favorites is renting a boat or jet skiing on Lake Mead. In the summer, the water actually feels like it's the same temperature as the air. If your budget allows, I highly recommend checking it out.
Gentlemen's clubs and adult shows like Magic Mike Live are also really popular for bachelor and bachelorette parties. Many venues even offer free limo pick-up packages. You can save a ton of money by taking advantage of the specials offered by the club.
If you're on a budget, understand that by no means are you required to do any of these activities. You can have a ton of fun without spending stacks of cash.
A lot of people prefer to just let loose and hit the nightclubs. I often fall into that camp too. Doing a bunch of activities like the ones mentioned above can get expensive. If you're on a really tight budget, it may be a good idea to forgo some of these, or just choose one or two.
Cost Of Food And Drinks (Alcohol) In Las Vegas
Everyone has to eat. But not everyone pays the same amount of money for their meals. Las Vegas has no shortage of places to eat, ranging from super expensive to affordable.
The same goes for alcohol. Your budget will ultimately determine where and how you get most of your drinks. I'll cover all of your options in the sections below.
Food
Since you're on vacation, I'm going to assume most people aren't going to the grocery store and cooking for themselves. You could try to buy cereal and milk, but most hotel rooms don't have a fridge.
As a side note, don't move anything in the mini-fridge to fit your own stuff in. These refrigerators have weight sensors, so you'll immediately be charged.
I think it's safe to assume that most people are going to be getting their food from restaurants, buffets, and any other establishment that prepares food for you. Below I listed out a few dining options close to the strip along with their prices:
| Restaurant | Price |
| --- | --- |
| Fast Food (Taco Bell, In-N-Out Burger, Chipotle, ect) | $10 |
| Tacos El Gordo | $10-$20 |
| Peppermill Restaurant | $10-$20 |
| Denny's | $10-$20 |
| Marilyn's Cafe (Tuscany hotel) | $10-$20 |
| Ellis Island Barbecue | $10-$20 |
| House of Blues (Mandalay Bay) | $15-$25 |
| Charlie's Bar and Grill (Wynn) | $15-$25 |
| Secret Pizza (Cosmopolitan) | $5-$30 |
| SUSHISAMBA (Venetian) | $15-$50 |
| Hotel Buffets | $20-$50 |
| Javier's (Aria) | $20-$50 |
| STK | $40-$100 |
This is by no means a complete list. It would take an hour to read if I included everything. Every hotel has their own set of cafes and restaurants, so you'll have different options depending on where you stay.
If you're on a budget, you can easily live off of Chipotle for your whole trip. The small cafes in each hotel also offer cheap meals on the go. Some of my favorite budget options are Marilyn's Cafe at Tuscany and Peppermill Restaurant, which is located near the Wynn on the north side of the strip.
Drinks
Drinks at a lobby bar in Las Vegas are going to cost between $8-$12 on average, although some cocktails may be as high as $15. At nightclubs, you can instantly tack a few dollars onto that total. Expect drinks prices inside of nightclubs and pool parties to be somewhere within the following range:
| Type of Drink | Price |
| --- | --- |
| Beers | $10-$15 |
| Shots | $12-$15 |
| Mixed Drinks | $15-$20 |
If you plan on spending most of your time at nightclubs and pool parties, drinks can get expensive really quickly. This is why I recommend pre-gaming before you get to the club.
You can do this at the lobby bars, or by purchasing some liquor at the nearest convenience store. A handle of vodka may cost you $30 at the liquor store, but the same amount of alcohol will cost you hundreds inside the club. By having your first few drinks before you go out you'll save a small fortune.
If you use the guest list, you'll often find that the club gives out free drink tickets to guests on the guest list. This is normally reserved for women, but some clubs do give out free drink tickets to men too.
If you have the budget for it, bottle service is another great way to get your drinks. As I mentioned earlier, bottle service tables cost between $500-$10,000+, depending on your group size and the club.
That may sound expensive, but you can split the bill multiple ways. If you're interested in bottle service but don't want to spend a fortune, I wrote another post detailing the clubs with the best bottle service deals.
Cost Of Transportation In Las Vegas
Transportation in Las Vegas is actually relatively cheap, especially if you're splitting rides with your friends. I went back and looked at over 100 Uber trips I've taken while in Vegas, and never once has a ride cost me more than $20. In fact, most rides, to locations on the strip, were under $12. And that's before splitting the fare with a friend. Lyft has about the same prices.
I definitely recommend ride-sharing apps over cabs. Cabs and taxis are overpriced, and the drivers will often take advantage of tourists by taking longer routes.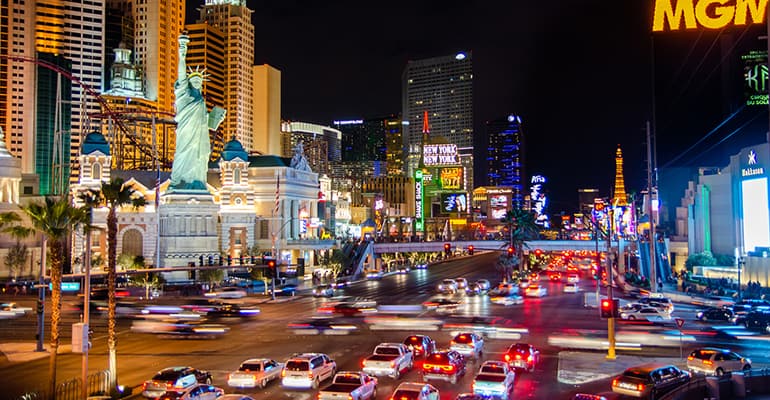 There are a large number of Uber/Lyft drivers in Las Vegas, so there's no wait time. You'll get picked up within 5 minutes of confirming your ride. Walking is also an option, but the distance between hotels can be deceiving. It takes over an hour to walk the entire strip.
As far as rental cars go, I would say you don't need one. The only scenario in which a rental car makes sense is if you're going to be traveling well off the strip. If you're going to Lake Mead or driving yourself to the Grand Canyon then yes, a rental car makes sense. On average they'll cost about $40 a day.
Cost Of Gambling In Las Vegas
Only you can decide how much money you're willing to gamble, but understand that the odds are not set in your favor. The longer you play, the more likely you are to lose. The house is always set up to win in the long run.
For this reason, I view gambling as an expense (like a show or attraction). I recommend setting a limit of how much you're willing to lose, and then cashing out when you hit that limit. Gambling can be fun, but when you lose more money than you can afford, it's no longer a game.
If you want your gambling budget to last the longest, the slots are going to be your best bet, followed by low-limit blackjack, craps, and roulette tables. Gambling is no fun if you blow all of your money in 5 minutes. Going to the lower limit tables allows you to play for longer. However, if you're winning, throw all my advice out the window! You can play for however long you want.
Las Vegas On A Budget
If you're on a really tight budget you can strip out all of the extra-curricular activities, and just focus on the few that you actually want to do. As I mentioned in the nightclub section, you can get into clubs for free using the guest list. You can also save money by pre-gaming in your hotel room.
There's no shame in splitting hotel rooms with your friends (most rooms have 2 beds anyways). When you split things like Uber rides and hotel rooms, you can dramatically lower your total expenses. If you play your cards right you can lower your total expenses to around $150 a day, while still having a ton of fun.