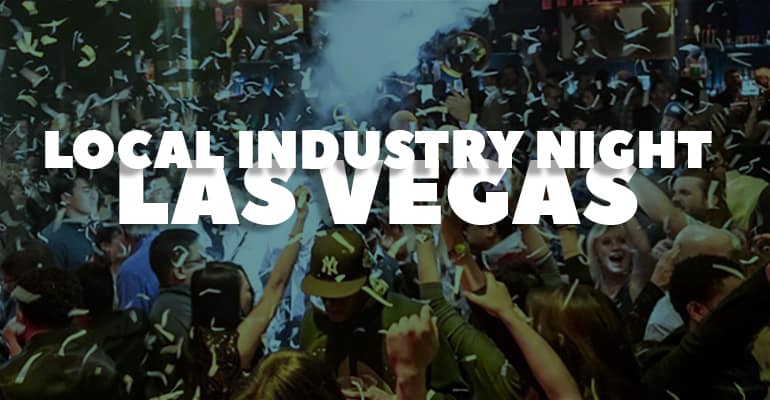 There are so many nightclubs in Las Vegas that locals can have a hard time deciding where to go. But there isn't just one club where everyone goes. Locals tend to party at a number of nightclubs, specifically the ones that host local industry nights.
What are industry nights in Las Vegas? Industry nights are events hosted Sunday-Thursday at top Vegas nightclubs. These parties are thrown by nightlife workers in Las Vegas and are often the wildest parties in town. Tourists and Vegas locals who aren't part of the nightlife industry can also participate in industry nights.
Not only are industry nights some of the best nights to go out in Las Vegas, but partying on an industry night provides additional benefits. These benefits include cheaper bottle service, shorter lines, and the occasional drink special. In this post, I'll explain exactly what an industry night is, what clubs host them, and how to get in for free.
What Are Local Industry Nights In Las Vegas
Nightlife workers typically work during the weekend, so if they want to party they must go out during the week. Industry nights are events held Sunday-Thursday, that cater to nightlife employees. These events are held at every major nightclub in Las Vegas (every club holds at least one industry event per week).
To encourage nightlife workers to come out to their industry night, the clubs often hand out free bottle service tables to employees of other clubs. But you don't have to be a nightlife employee to take advantage of the perks of industry night. Vegas locals who aren't involved with the nightlife industry get access to many of these benefits too (I'll cover these in the next section).
Since these parties are held during the week, nightclubs also offer incentives to tourists who come out to the club. This ensures that industry night parties are as crazy as possible. You get a solid mix of nightlife workers, Vegas locals, and tourists at these parties.
Benefits Of Local Industry Nights
There are a number of benefits you get when attending a local industry night. Every club offers different perks, but here are some common ones:
Cheaper bottle service
Shorter lines
Free entry for locals
Drink specials (open bar or free drink tickets)
Comp tables
Bottle service is between 10%-50% cheaper during the week than it is on weekends. Local industry nights are some of the best times to splurge on VIP bottle service, without overpaying for it.
If you're not purchasing bottle service, most nightclubs offer free entry to all locals who present a valid Nevada ID. All you have to do is show your ID to the cashier, and you'll get free entry. Tourists can also get free entry by signing up for the guest list.
Every club has different guest list rules, but women typically get free entry at every club. Men are required to have an even ratio of women in their group (or a greater number of women than men) in order to get free entry on the guest list. Not all nightclubs require ratio, but many do. Of course, if you're local, you won't have to worry about ratio requirements.
In addition to free entry, some clubs offer drink specials to locals and women who enter the club on the guest list. This can range from free drink tickets given out upon entry, to an hour-long open bar. Complimentary or "comp" bottle service tables are also available to large groups of all women. You can learn more about how to get comp bottle service here.
I'll also mention that some of the most attractive crowds come out on industry nights. Las Vegas nightlife employs a lot of beautiful people, and they all come to these events.
What Nightclubs Host Local Industry Nights
Every major Las Vegas nightclub hosts a local industry night. Each club hosts its industry night on a different day of the week, and on some nights there is more than one venue open. Here is a list of some of the best local industry parties Monday-Thursday:
It is important to note that industry and local nights are not held on Friday and Saturday. By design, they are only hosted Sunday-Thursday. When the flood of tourists come into town on the weekend, the nightclubs return to normal operation.
Why Nightclubs Host Local Industry Nights
One of the biggest reasons why nightclubs host industry and local nights, is to get people into the venue. There are less people in Las Vegas during the week, so these events work to incentivize people to come to the club.
I would argue that this tactic works well since the clubs are relatively busy, even midweek. This is great news for tourists (or anyone on a business conference) who find themselves in Vegas during the week. For locals, industry nights provide a great way to party for cheap.
Industry nights also act as a way for nightclubs to show appreciation to their employees, by providing them with free bottle service. On top of that, nightlife workers get the opportunity to network with hosts and promoters from other clubs.
Off-Strip Nightclub Alternatives For Vegas Locals
Being surrounded by the best nightclubs in the world is fun, but sometimes you get burnt out. Many locals in Las Vegas get tired of the strip and prefer to go to a more traditional bar.
Depending on where you live in Vegas, there are hundreds of non-touristy options available to you. Here are a few of the more popular spots, centrally located in the city:
Blue Martini Lounge
Stoney's Rockin' Country
Fremont Street
First Friday
Blue Martini is a Latin-themed bar/lounge located in Town Square. It's extremely popular and is open 7 nights a week. There is typically a cover charge of $5-$10 and happy hour specials every day from 4-8 pm.
Stony's Rockin' County is a country bar located in Town Square, within walking distance from Blue Martini. Stony's features cheap beers, line dancing, and a mechanical bull. Cover charges range from $5-$10, but locals get in free on Wednesday. The bar is open Wednesday-Saturday.
Fremont Street is located in downtown Las Vegas and is home to a variety of bars, ranging from dive bars to karaoke bars. There are also some venues, like Gold Spike, that have plenty of games like pool, shuffleboard, and beer pong. Some of these bars aren't dissimilar to adult playgrounds.
First Friday is a community art and music festival located in downtown Las Vegas, just north of the strip. The festival is held on the first Friday of every month from 5-11 pm. It's free and extremely popular for locals, with thousands in attendance. First Friday features live entertainment, food trucks, and local art.
Related Questions
How to reserve bottle service at Las Vegas nightclubs? The simplest way to reserve bottle service in Las Vegas is to contact a VIP host. VIP hosts work directly for the club and handle all bottle service reservations. You can contact us here, and we'll put you in touch with a VIP host at the club of your choice.