A well executed Vegas bachelor party can easily turn into one of the wildest weekends of your life. But aside from watching "The Hangover", most people don't know where to start when it comes to planning a bachelor party.
There are plenty of things to do in Las Vegas, but only a handful of them are fun enough to put on your bachelor party itinerary. Here are some of the best bachelor party activities:
Racing Lamborghinis – $100
Topgolf – $40
Nightclub Bottle Service – $250 (per person)
Jet Skiing – $95
Gambling – $100+
Sporting Events – $100
Pool Parties – $50
Helicopter Tours – $100
Bar Hopping – $25
Gentlemen's Clubs – $80
Shooting Ranges – $50
Comedy Shows – $60
Spas/Massages – $100
The average bachelor party in Las Vegas costs between $500-$1,000 a person, plus flight costs. The total cost of the party will ultimately depend on how many days you plan to stay, and how expensive your planned activities are.
This guide is designed to help you plan your ideal bachelor party, without overpaying for it. I cut out all of the boring stuff, and only included the things that will make your last few nights of freedom truly epic. These are the 18 best bachelor party ideas, each of them under $300.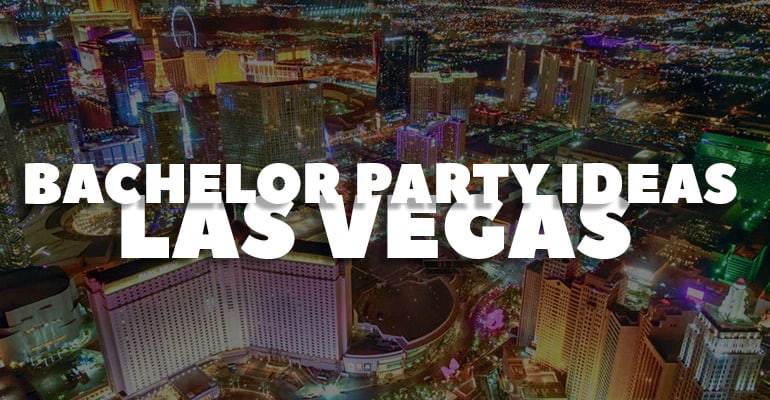 (This article may contain affiliate links and we may earn a commission if you make a purchase.)
Top Hotels For Your Las Vegas Bachelor Party
Before we dive into the party ideas, I first want to talk about Las Vegas hotels. After staying in Las Vegas a number of times, I realized that by far my biggest expense was always the hotel room. This was puzzling to me since I never actually spend any time in the room, outside of sleeping.
In any movie involving a bachelor party, they always get a penthouse suite with a view of the strip. I've been in some of these suites first hand, and can honestly say that for $2,000 a night they aren't worth it.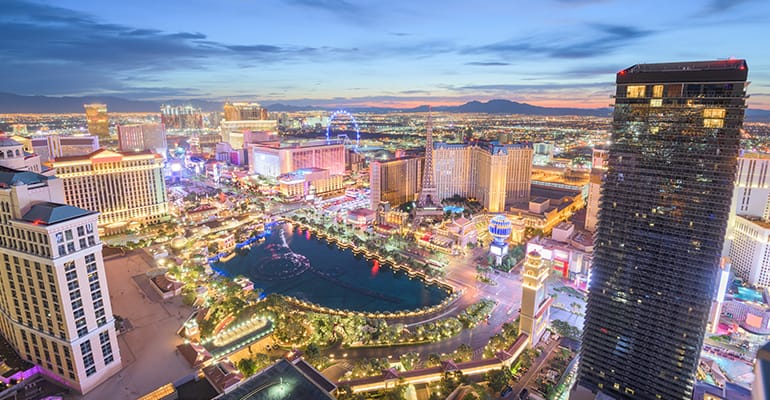 While luxury suites are cool, chances are that you're not going to be spending too much time in your room. And unfortunately, a suite is going to eat up a large portion of your trip's budget. You're much better off going with a mid-tier hotel room and saving your money for something more fun.
If you're not sure which hotel to go with, I wrote another post detailing the best Vegas hotel options with their prices here. If you're hard pressed on getting a suite, here are the nightly rates for a few of the top penthouses on the strip:
Empathy Suite Sky Villa at The Palms – $35,000
Nobu Villa at Nobu Hotel Caesars Palace – $35,000
Villas at Caesars Palace – $25,000
Penthouse Suites at The Cosmopolitan – $25,000
Aria Sky Suites – $7,500
Chairman Suite at The Bellagio – $5,000
These suites are huge, most of them between 3,000-10,000 square feet. There some less expensive suite options too, but they will obviously be a bit smaller. The Bungalow Suites at The Cosmopolitan are nice. They overlook Marquee dayclub and cost as low as $1,500 on less busy nights. Some of the smaller Encore Tower Suites are also "affordable" luxury options.
Ideas for Las Vegas Bachelor Parties Under $50
There are plenty of fun things to do in Vegas that don't cost a whole lot of money. In fact, you can host an entire bachelor party for less than $50 a day. Chances are most people will want to spend more than that, but you can absolutely pull it off on a really tight budget. Here are some of the least expensive party ideas:
1. Las Vegas Nightlife
All bachelor parties in Vegas need to make a stop at a nightclub. Las Vegas nightclubs have a reputation of being expensive and really hard to get into, especially for a group of all guys. But, this simply isn't true. All Las Vegas nightclubs have a guest list, allowing you to get free entry into the club.
Anyone can sign up for the guest list for free online, there are just a few rules you have to follow. The biggest rule is that groups of guys are required to have an even ratio of women in their group (or a greater number of women than men) in order to get free admission. But, there are a few nightclubs that allow men free entry without having any female companions. They include:
Hakkasan Nightclub
Omnia Nightclub
Jewel Nightclub
Light Nightclub
On The Record
It's pretty remarkable when you think about it. To party at the best nightclubs in the world, all you have to do is sign up for a free guest list and show up on time (usually before 12:30 am).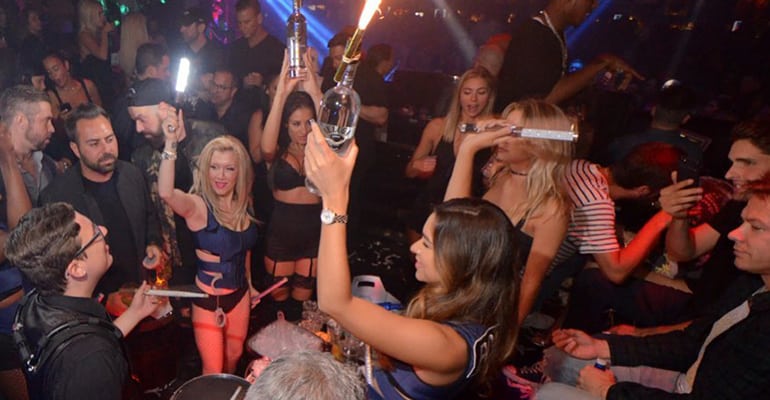 When you use the guest list you'll still have to purchase your own drinks inside the venue, but you'll avoid the ridiculous cover charges at the door. If you don't use the guest list tickets for guys typically range from $30-$75 a person, depending on the club.
If you're willing to spend a little bit more money for a premium experience, you can also opt for bottle service. But since that's going to cost more than $50, I'll cover bottle service a little later.
2. Go To A Vegas Pool Party
Las Vegas pool parties actually get wilder than the nightclubs. They are just like nightclubs, but with more sun and half the clothes. And similar to nightclubs, pool parties have free guest lists.
You can sign up for pool party guest lists online. Most require an even ratio of women, but a few don't. Both Wet Republic at the MGM Grand and Daylight Beachclub at Mandalay Bay offer free entry to guys on the guest list, assuming you arrive before 1:00 pm.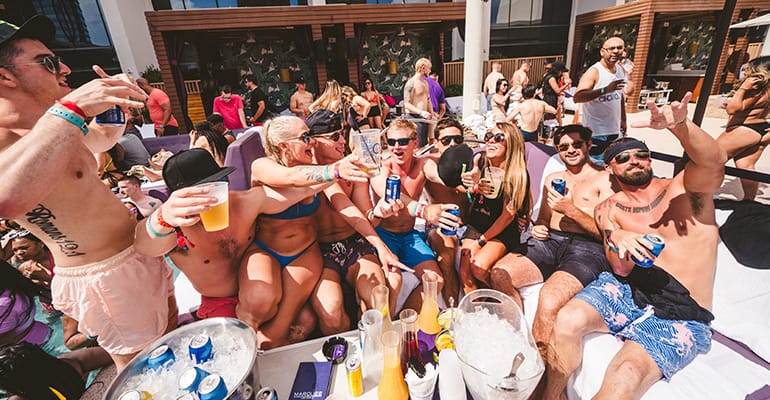 For those of you that aren't are familiar with the Vegas party scene, pool parties are different from the hotel pools. Pool parties are 21+ and have DJs, while hotel pools do not.
You DO NOT want to get stuck at the hotel pool during your Las Vegas bachelor party. You're going to want to get the maximum level of debauchery in one weekend as humanly possible. And one of the best ways to do that is pool parties.
If your bachelor party is taking place in the winter (October-March), then your going to want to hit Lavo Party Brunch. It's the only dayclub open in the winter, since all the pools are closed down. Lavo is a solid alternative for a pool party, you won't be disappointed.
3. Test Your Accuracy On The Shooting Range
There are a couple of shooting ranges around the strip, but these aren't your typical ranges. You're able to build your own packages choosing from 1,000's of available weapons. These armories include pretty much anything you can think of from World War 2, all the way up to modern day weapon systems.
These packages are truly diverse. Some involve crushing cars with tanks, while others have you shooting a mini-gun out of a helicopter. A lot of ranges will even pick you up directly from your hotel in a limo or military Humvee, free of charge.
With some packages starting at only $25 a person, this is a no-brainer for bachelor parties. You can barely even get a steak for that cheap!
4. Hit The Driving Range At Topgolf Las Vegas
Even if you aren't an avid golfer, Topgolf is a great time. A few rounds at this 4 story driving range can cost as low as $30. Not to mention the golf club employs a number of beautiful waitresses.
Topgolf also has a 5 full bars, a restaurant, 2 pools and a gaming lounge. All of the booths are fitted with posh couches and luxury seating. You can even have your food and drinks bought directly into your booth while playing.
In my experience levels 3 and 4 are the most fun, since you're higher up and can hit the ball further. I also recommend trying their burgers, which are top notch. You really can't go wrong when visiting Topgolf.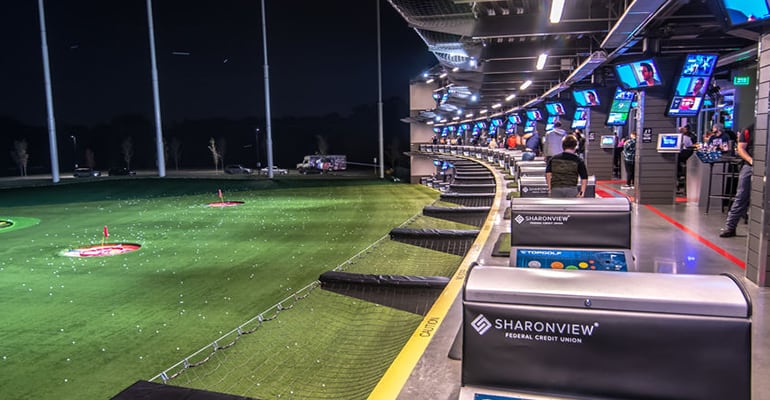 5. Throw Axes At Axe Monkeys Las Vegas
Not to get too overboard with these weapons, but axe throwing is super popular. Technically, this activity is classified as family friendly, but it's just going to be you and your crew.
Axe throwing is kind of similar to bowling. You take turns throwing axes downrange, trying to hit targets. At a cost of only $30 for an hour session, this can be a nice addition to the itinerary.
6. Bar Hop On Fremont Street
If you prefer bar hopping over the glitz and glam of the strip, consider heading to Fremont Street. Fremont is located in downtown Las Vegas and feels similar to Times Square in New York City. Everything is within walking distance and there are plenty of bars to choose from.
You have the choice of bar hopping on your own, or joining a bar/club crawl. These crawls are organized pub tours that have a set route and offer drink specials at each location. For $25, joining a bar crawl isn't a bad idea. Plus it eliminate the guesswork when you're figuring out where to go.
Bachelor Party Ideas in Las Vegas Under $100
The title of this section is "Las Vegas Bachelor Party Ideas Under $100," but some may cost slightly more depending on what company you use. The average price for each of these activities hovers around $100 per person. Here are some of your best options at this price point:
7. Jet Ski On Lake Mead
This is one of the funnest things you can do in Las Vegas. During the summer the water at Lake Mead feels like air temperature, making water sports a must. You can rent a Jet Ski (or speedboat) for under $100 an hour and explore the endless reservoir, which goes on for miles.
For an extra $10, you could rent some water ski equipment too. Surfing waves off of the back of your boat, will quickly double the excitement. If prefer something more relaxing, pontoon boats are also available. Cracking open a few 6 packs on the lake isn't a bad way to spend an afternoon.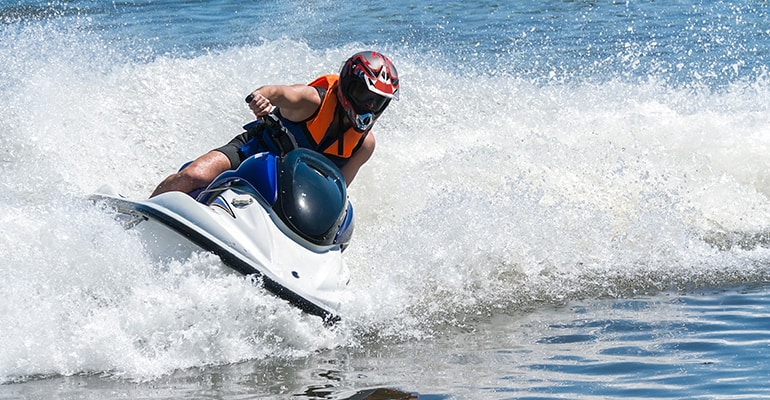 8. Get A Complimentary Limo To A Gentlemen's Club
Is it even possible to host a bachelor party in Las Vegas, without hitting a Gentlemen's club! Most major clubs in Sin City will pick you up at your hotel for free in a party bus. They'll also waive your cover charge if you pre-purchase 2 drinks when you walk in the door.
Vegas Gentlemen's clubs are the biggest and best in the world. Some clubs even have full kitchens with admittedly good food. You could easily save time by eating dinner at the club, before you head out for the night. Many of these clubs also offer party packages.
9. Race Lamborghinis
Lamborghini, Ferrari, Porsche or whatever your dream car is, give it a test drive while in Las Vegas. There are a number of speedways that allow you take your favorite supercar around the track at a reasonable price.
If you don't feel comfortable handling all that horsepower, you can do a ride along or try the simulator for a fraction of the price. But, I have a feeling you're going to want to get behind the wheel yourself.
There are also multiple car and drifting packages available too. I have found Exotics Racing to have the widest variety of vehicles, but there are cheaper options available.
10. Try Your Luck At Blackjack
Gambling is the foundation of Las Vegas. It's hard to say no to the thousands of slot machines and blackjack tables spread throughout the casinos. Roulette and craps are also really popular table games that are relatively easy to learn.
If poker is more your speed, Vegas hosts plenty of tournaments every year. Just make sure you don't blow all of your money on the first night. Nothing sucks more than losing money, especially in Las Vegas.
11. Attend A Sporting Event
Aside from sports betting, there are plenty of live sporting event hosted in the city. They range from NBA summer league, MMA fights, Boxing matches, NHL games (Vegas Golden Knights) and NFL games (Las Vegas Raiders).
Depending on the event you want to attend, tickets can usually be purchased for under $100. Some are going to cost more, but many will be priced affordably. It's hard not to enjoy watching the game with your closest friends.
12. Do A Helicopter Tour
Ever wanted to ride in a helicopter? The best view in Vegas isn't from the top of the Strat, it's from the passenger seat of a helicopter. There are a couple of different helicopter tours available, like Grand Canyon tours or simple flyovers of the city at night. The most affordable tours are the ones that just hover over the city, they start around $100 per person.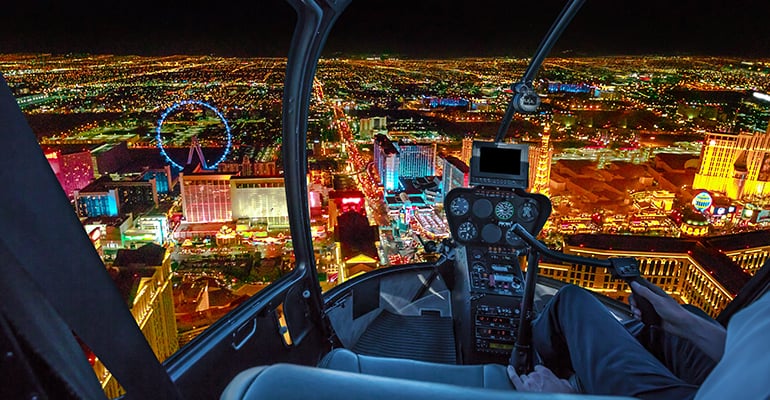 13. Go To A Comedy Show
There are no shortage of shows in Las Vegas, but unless you're really into Cirque du Soleil, I recommend comedy shows. You'll have your choice of famous comedians like: Carrot Top, Bill Maher, Daniel Tosh, Ron White and Jay Leno. Plus other famous comedians occasionally do pop up shows or bring their tours into Las Vegas. Tickets for a comedy show don't usually cost more than $60 at the most.
14. Relax At The Spa/Get A Massage
For those of you that would rather relax than go balls-to-the-wall, hitting a spa is always a great idea. Getting a massage is an underrated bachelor party activity. Almost every major Vegas resort has at least one spa to help you recover. After all, a wild party will take it's toll on your body.
Get a full body massage and then head to the steam room or Jacuzzi, to release some tension. A mid-afternoon spa may be just what you need to detox and get over that nasty hangover. Most decent spas will cost about $100.
15. Skydive
You're already making irresponsible decisions in Las Vegas, why not jump out of a perfectly good airplane? One of the best ways to get your fix of adrenaline is to go skydiving. Talking to girls at the club is nothing compared to jumping out of airplanes. You can be sure you'll be plenty loose at the bar later.
If free falling from 10,000 ft is a tad too much for you, there are also indoor skydiving facilities minutes off the strip. The cost for solo Skydiving is between $100-$125 at most places. Indoors will obviously be cheaper.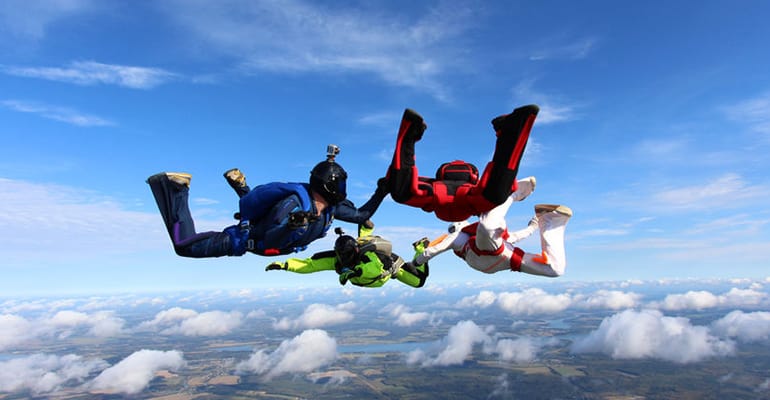 16. Treat Yourself To A Gourmet Meal
You'll be busy during your bachelor party, but you can't forget to eat. While the buffets are great, you should treat yourself and your crew to at least one gourmet meal. Some of the my favorite gourmet restaurants include:
Gordon Ramsey Steak at the Paris Hotel
STK Las Vegas at the Cosmopolitan
Javier's at the Aria
These are some of the most expensive restaurant options. If you don't plan on spending $60 on a steak, there are hundreds of less expensive options all around the strip. It's hard to go wrong when choosing a restaurant in Las Vegas.
Bachelor Party Ideas Under $300
Now we're getting into some of the more expensive Las Vegas bachelor party ideas. While these activities are more expensive, they will by no means break the bank. If you split the cost between everyone involved in the bachelor party, you can keep costs under $300.
17. Go All In On Bottle Service
If there was one thing that I would recommend the most for a Las Vegas bachelor party, it would have to be bottle service. Whether you get bottle service at a nightclub or pool part, this is the VIP Vegas experience that you see in the movies.
When you get bottle service inside of a club you get a number of benefits including:
Expedited entry
A private section with VIP seating
Dedicated cocktail waitress and busser
Security to kick out unwanted people
Avoid crowds at the bar
Extra attention and status withing the club
Access to the girl guy
If any of your single friends are looking to one night fling while in Vegas, bottle service is your best bet. Not only can you bring girls back to your table, but you also get access to the girl guy. The girl guy is a host that will help you find female companions within the club, sort of like a matchmaker.
Not everyone with bottle service gets access to this perk. It's only available to groups that purchase one of the larger tables at the club. However, this shouldn't be a problem if you have a party of 5 to 10 guys.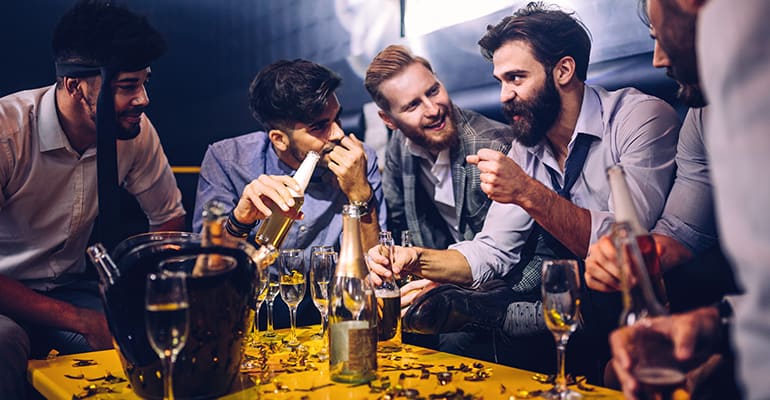 Prices for bottle service tables vary depending on which venue you choose and your group size. You can check out a full bottle service pricing guide here. Tables usually cost between $500-$5,000, but you'll be able to split the bill with everyone in your group.
For example if your party had 8 guys, a $2,500 table at Hakkasan Nightclub would only cost $312 a person. All the VIP perks and alcohol for the night are included in that total.
Bottle service at Gentlemen's clubs is even cheaper than it is at nightclubs. You can get all of the same perks you do at a nightclub, but for about $80 a person. For a larger bachelor party, that's actually cheaper than getting drinks at the bar. Plus all the dancers tend to flock to bottle service tables.
18. Fly A Jet
Yes, you can literally fly an airplane. Of course you'll be under the close supervision of a trained copilot, but you'll have the ability to maneuver the aircraft. Companies like Sky Combat Ace offer packages starting at $299.
The packages range from aerobatics to air combat, where you can actually get into aerial dogfights with your friends. The higher tiered packages can cost as high as $2,000 a person, but if you have the budget (and the stomach) for it, you're in for some seriously good times.
Last Minute Vegas Bachelor Party Tips
Las Vegas one of the most popular bachelor party destinations in the world. And if you ask me, Las Vegas bachelor parties are the best kind of bachelor party. The city has a year round party atmosphere and there is an unlimited amount of things to do. Here are some last minute tips before your wedding:
Use Uber/Lyft and avoid cabs. Cabs and taxis will overcharge you.
Ensure that you drink enough water, especially if you're drinking. Vegas is hot during the summer and I occasionally see people pass out.
To reserve bottle service you're going to want to talk to a VIP host that works at the club. Contact us here, and we'll but you in touch with a host that works at the club of your choice.
Don't overplan and book too many activities. You won't have fun if you're always in a rush.
If you only hit the nightclubs and pool parties, you'll have an amazing time. You aren't required to do a bunch of stuff you're not interested in.
What happens in Vegas, stays in Vegas. But don't break the law, that will follow you.