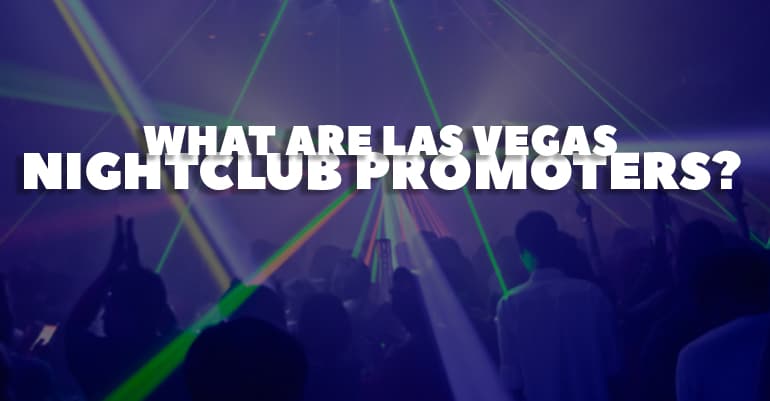 Nightclub promoters are a common sight on the Las Vegas strip. If you've ever been to Sin City before you've probably run into a few of them. But, what do these promoters actually do?
A club promoter's main job is to encourage guests to come to events. Promoters are paid to bring people into the nightclub using their guest list. They are typically employed by a single venue, but some may work at more than one club.
It's true that promoters can help you get into nightclubs, but you'll want to be careful which promoters you use. Not all Vegas club promoters provide the same level of service, so choosing the wrong one can prove catastrophic. In this post I'll cover exactly what a promoter is, why you need them and how to find the best ones.
What Is A Las Vegas Nightclub Promoter?
Las Vegas nightclubs hire promoters to fill their venues every night. The goal of a promoter is to get as many people into the club as possible. They get paid when you check into the club on their list.
Once they put your name on the list, they'll usually send you a text message confirmation. After that, their job is done. Most promoters don't ever show up at the club.
When you sign up for the guest list, you'll get free entry into the club. Every club has different guest list rules, but generally women on the guest list get into every club for free. Men can also get free entry if they have an even ratio of women in their group (or a greater number of women than men). However, there are a few clubs that allow men free admission without even ratio.
Most promoters only work at 1 or 2 clubs. So if you meet a Hakkasan promoter but want to go to XS, you're out of luck. Fortunately there are ways to ensure that you get into the club you want, that I'll cover later on in this post.
Hierarchy Of Nightlife Promoters
There are different levels of promoters in Las Vegas, all with varying levels of power within the club. The type of promoter you want to deal with will depend on what service you're looking for.
Most people are going to come into contact with low level street promoters. These promoters are the ones that approach you on the strip, asking if they can put you on their guest list.
This type of promoter is sufficient for most people, but they can be unreliable. These guys are at the bottom of the nightlife food chain. Some of them will spam you with texts, while others will completely forget to put your name on the list all together!
Another type of promoter is a VIP liaison or "girl guy." These promoters set up complimentary tables for large groups of girls. They also bring groups of girls to clients that pay for expensive bottle service tables. These types of promoters don't usually walk the strip, since they already have a large network from years of promoting.
Las Vegas Nightclub Promoters Vs VIP Hosts
Nightclubs in Las Vegas work much differently than clubs in other cities. Vegas clubs are so big that responsibilities are split between promoters and hosts.
Like promoters, hosts are capable of putting you on the guest list. But their main responsibility is to handle bottle service reservations. Because they bring in the most money for the club, hosts have the most power.
You'll never run into a host walking the strip. It's much harder to sell $2,000 tables on street corners than it is to offer free guest list services! The only way to find a host is to reach out to the club directly. If you're interested in bottle service you can contact us here, and we'll put you in touch with a VIP host that works at the club of your choice.
How To Find A Las Vegas Promoter
As I mentioned earlier, most promoters only work at 1 or 2 clubs. There are over a dozen nightclubs in Las Vegas, so it can be difficult to find the promoter you want.
Luckily, technology has advanced quite a bit in the past few years. While you can wonder the strip for hours trying to find a promoter, it makes more sense to find one online.
All Las Vegas nightclubs and pool parties allow you to sign up for their guest list online for free. You don't even have to deal with a promoter in person. All guest lists are the same, so you won't get any extra perks by choosing one over another.
This is the simplest way to get your name on the guest list. You can find all of the clubs in one place without ever having to track down a promoter. It takes less than 2 minutes to sign up, and you don't ever have to guess whether or not someone forget to put you on the list. Whenever I go out, I always sign up for the guest list online.
How Do Promoters Get You Into The Club For Free
You may have noticed that nightclubs in Las Vegas sell tickets. So why would you purchase a ticket if everyone can get into the club for free on the guest list?
The truth is that not everyone knows about the guest list. And it's not a good look for the clubs themselves to be promoting free entry on their website. So they hire promoters to do it on the strip.
Vegas nightclubs are huge, some holding over 4,000 guests each night. They know that they aren't going to sell 4,000 tickets while also competing with other clubs. So they have promoters go out and put people on the "guest list" in order to get them through the door.
The nightclubs know that they're cannibalizing their ticket sales, but they aren't concerned since they make most of their money selling alcohol. As someone visiting Las Vegas, I recommend taking advantage of these generous promotions.
Should You Tip A Las Vegas Promoter
Promoters are paid when you check in at the club on their guest list. So in reality you're actually doing them a favor by using their guest list, even if they're getting you in for free. There is no need to tip a promoter.
If a promoter is pressuring you for tips that should be an immediate red flag. I would recommend immediately finding a new promoter. Every club has at least a dozen of them on staff. Your other option is to sign up for the guest list online. Signing up online is always free, and you'll never have to tip.
Related Questions
What Las Vegas nightclubs have guest lists? All Las Vegas nightclubs and pool parties offer free guest lists. You can sign up for the guest list either through a promoter, or online. Some clubs don't have promoters walking the strip, so you'll have to sign up online or call the club.
Are guest guest lists available every night? Guest list are available every night with the exception of major holidays and special events. Dates when guest lists are unavailable include: the 4th of July, Halloween, Memorial Day Weekend, Labor Day Weekend and New Years.