Las Vegas is famous for its nightclubs, but it's the dayclubs that are growing in popularity. These pool parties often get crazier than the nightclubs, making them a must for every Vegas trip.
But not every Vegas pool party is built the same. With well over a dozen pool parties in Las Vegas, it can be difficult to pick the right one. In this article, I'll let you know where the best Las Vegas pool parties are located, and how to get into them for free.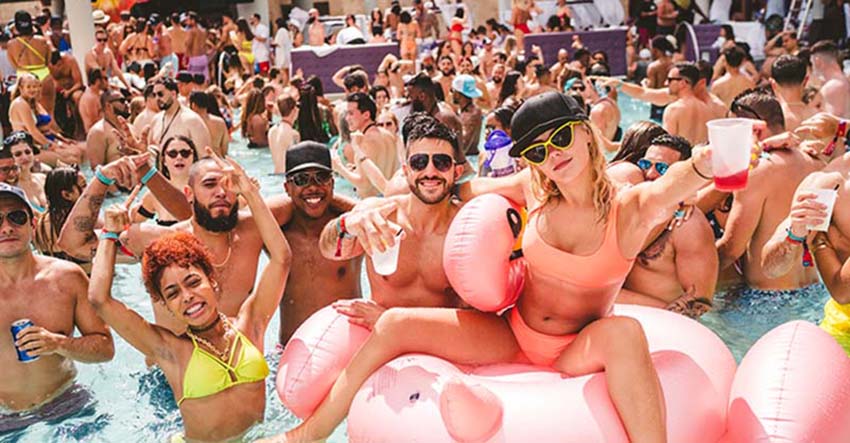 Best Pool Parties in Las Vegas
1. Encore Beach Club
Encore Beach Club (or EBC for short) is widely recognized as Vegas' best pool party. It has arguably the best DJs out of all of the dayclubs. EBC is an enormous venue with 3 total pools. The outside of the pool is lined with a level of private cabanas and bungalows that offer shade and their own temperature control systems.
Encore is always packed, so the 5 separate bars within the club make it easy to grab a drink. There is even a full kitchen booth where you can get lunch. And if you need a break from the pool, there is a large gambling area where you can play blackjack (thankfully in the shade).
Location: Encore Las Vegas
Days open: Friday, Saturday & Sunday
Type of music: EDM & Top 40
This pool truly gets wilder than most nightclubs. You'll feed off of the loud music and enjoy all the pleasure this club has to offer. Encore Beach Club plays mostly EDM music with a live DJ (The Chainsmokers have been residents here for years). Women can usually get free entry into the club by signing up for the Encore Beach Club guest list. Men can get free entry as well, but only if they have an even ratio of women in their group (or more women than men).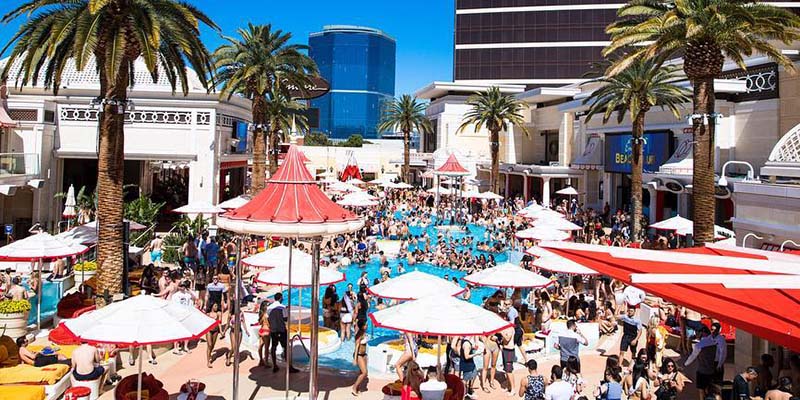 2. Wet Republic
Wet Republic challenges EBC as the best party pool in Las Vegas. This dayclub is roughly the same size and gets just as busy. The DJs at Wet Republic are also comparable to those at Encore.
Location: MGM Grand
Days open: Thursday, Friday, Saturday & Sunday
Type of music: EDM & Top 40
There are 2 large pools, a ton of VIP cabanas, and plenty of bars where you can order food, cocktails, and everything else you need. There is also a good-sized dance floor located directly in front of the DJ booth. The pool party plays mostly EDM hits, but top 40 is occasionally thrown into the mix.
Wet Republic is one of the few pool parties that allow men free entry on the guest list. As long as you get to the club early enough, anyone on the guest list can get in for free (with the exception of holidays). The pool complex next door is also a nice place to take a rest if the loud music starts to get to you.
3. Marquee Dayclub
Marquee Dayclub is smaller than some of the other clubs mentioned on this list, but it gets just as packed. The pool operates as a normal hotel pool during the week but turns into a full-blown dayclub on the weekend. If you stay at the hotel, you can usually get into the parties for free.
The Marquee pool party is located on the rooftop of the Cosmopolitan and overlooks the center of the Las Vegas Strip. You'll get a combination of Top 40 and EDM music here since the club features artists like Deorro and DJ Mustard.
Location: Cosmopolitan
Days open: Friday, Saturday & Sunday
Type of music: EDM & Top 40
This dayclub offers the most luxurious and expensive Vegas pool party packages. You can rent a 3-story bungalow with an infinity pool, rooftop terrace, and butler service. It's an absolute blast if you are able to afford it. Otherwise, Marquee Dayclub does offer a menu of competitive bottle service prices starting at around $750. But you can also grab a drink at the bar.
Women get free admission on the Marquee Dayclub guest list. Groups of guys are required to have an even number of women with them to use the guest list. This is one pool party in Las Vegas where hotel guests can sometimes get free entry.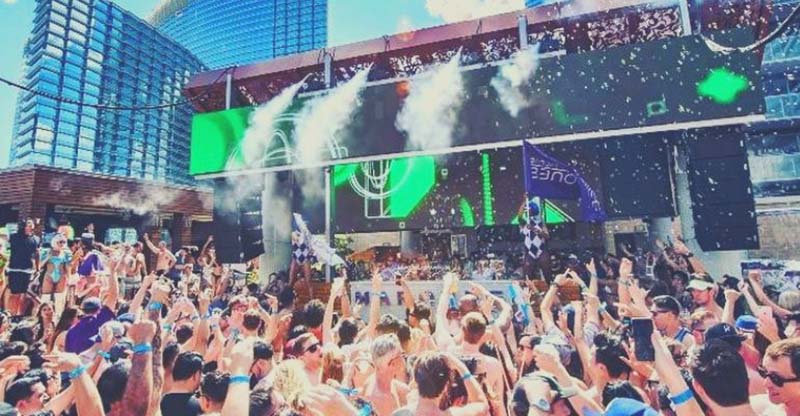 4. Daylight Beach Club
Daylight is another large pool party on the Strip. The club plays some EDM, but you'll also hear a fair amount of hip hop. The music blasted through the club's state-of-the-art sound systems is so loud that it makes your eardrums rattle.
If you are looking to get bottle service, Daylight offers some of the best deals of any of the large Vegas pool parties. They have plenty of VIP tables to choose from, as the entire perimeter of the venue is lined with them.
Location: Mandalay Bay
Days open: Friday, Saturday & Sunday
Type of music: Hip Hop & EDM
Daylight also has an occasional nighttime pool party called Daylight Eclipse. If you're lucky enough to be in Vegas during a Daylight Eclipse, I would encourage you to check it out. Both men and women can get free entry to this pool party by using the Daylight Beach Club guest list.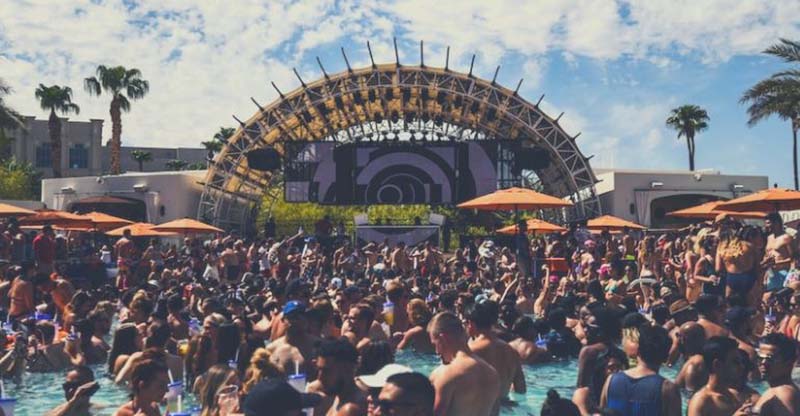 5. Drai's Beachclub
Drai's Beachclub is located on the rooftop of the Cromwell, offering a beautiful view of the Las Vegas Strip. If you're looking for a Las Vegas pool party that plays hip hop music (or if you simply want to take in some views), you'll want to come to Drai's. This is the premier hip hop pool party in Vegas.
The club has 2 large pools located directly in front of the stage. And just like many other Vegas pool parties, Drai's has a full gourmet kitchen, so there is no need to leave the venue for lunch. If you want the ultimate VIP party experience, you'll want to get a cabana. Cabanas are granted access to their own private plunge pools.
Location: Cromwell
Days open: Friday, Saturday & Sunday
Type of music: Hip Hop & Top 40
Anyone looking to get into the club for free can do so by using the Drai's Beachclub guest list. Women can usually get free entry without any issues by signing up for the guest list. However, men are required to have an even number of women in their group.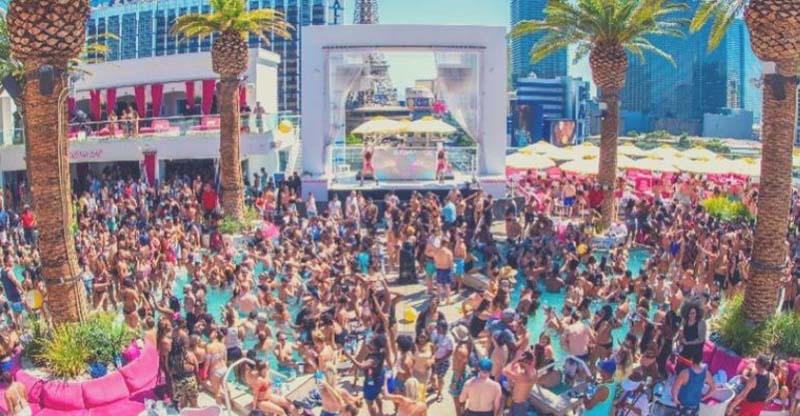 6. Tao Beach Dayclub
Tao Beach is the smallest Vegas pool party on this list, but it offers a more intimate experience. Tao is a great pool party if you're looking to party in Vegas without people spilling their drinks on you.
The club has 2 pools, the main pool, and a quieter spa area in the corner of the venue. Private cabanas along the perimeter of the pool offer shade and are full of comfortable seating and high-definition TVs. If you're looking for a VIP experience while in Las Vegas, Tao is the place to do it. The bottle service here tends to be cheaper than at other clubs.
Location: Venetian Hotel & Casino
Days open: Thursday, Friday, Saturday & Sunday
Type of music: EDM & Top 40
Tao Beach Dayclub plays a combination of EDM and top 40. The DJs here are good but there aren't too many big names. Groups of women can get into Tao Beach Dayclub for free using the upcoming events guest list. Men need an even ratio of women to get free entry.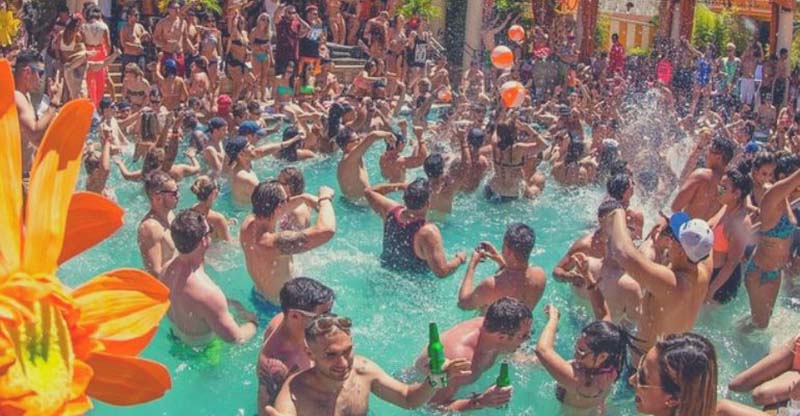 7. Ayu Dayclub
Ayu is one of the newest pool parties in Las Vegas. This massive dayclub has a tropical island theme and features multiple pools, bars, cabanas, and daybeds. The venue is impressive, which explains why it's one of the hottest pools in Las Vegas right now.
You can expect to hear a heavy dose of EDM at Ayu Dayclub. However, there are so many different DJs, that the club really has more of an open format. Top 40 and house music are always mixed into the sets.
Location: Resorts World
Days open: Friday, Saturday & Sunday
Type of music: EDM & House
Groups of women can get into Ayu Dayclub for free using the guest list, while men are required to have even ratio. I highly recommend you check out this resort.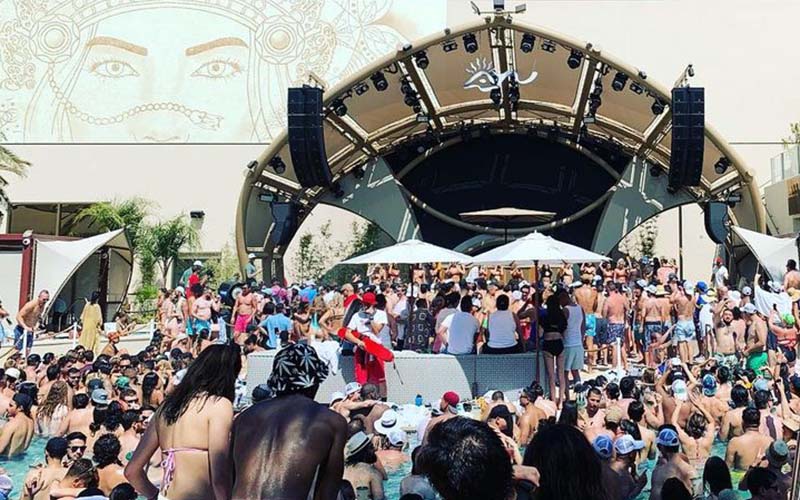 8. Elia Beach Club
Elia Beach Club is one of the new pool parties that opened around the same time as Ayu. The venue has a similar tropical feel and plays both EDM and house music. Elia has a singular massive pool in the center of the club and is surrounded by real beach sand, making it feel like an oasis.
There's also a small dance floor in front of the stage if you're looking to let loose. Despite its location off of the Strip, Elia still manages to draw giant crowds to its pool deck every weekend.
Location: Virgin Hotel
Days open: Friday, Saturday & Sunday
Type of music: EDM, House & Top 40
This pool has very favorable guest list rules. Both men and women can get into the club for free by signing up for the Elia Beach Club events guest list.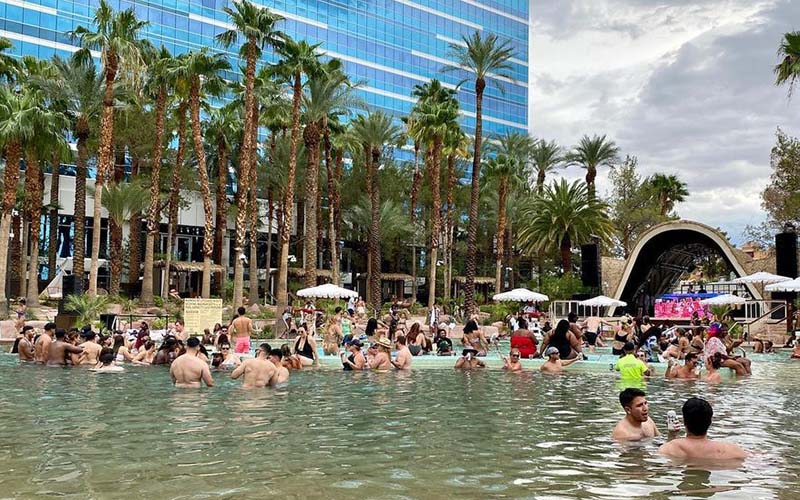 Las Vegas Pool Party Schedule – What Pools are Open?
Pool parties in Las Vegas are not open year-round. Most pools are scheduled to open by mid-March and generally closed by late September. However, if it's warm, pool season can carry over into early October. You can see all of the upcoming events for each pool on their official websites.
Las Vegas party pools are the most popular in July, but if you're looking to party Sin City during the winter, I recommend that you check out Lavo Party Brunch. It doesn't have a pool, but it's the only Las Vegas dayclub open in the winter. Considering the alternatives, many regard it as the best.
What Time Should You Get to the Pool in Las Vegas?
You came to Vegas to experience a wild pool party, but what time should you actually get to the pool. If you look at any pool's event schedule, they're generally open by 11 am. However, most pools have tight security, so it may take a while to actually get into the venue and start the party.
At most of these parties, a line starts forming around 12 pm, so I recommend that you get there around 11:30 am at the latest. The small details matter. If you get to one of these parties even 30 minutes late, you can be waiting in line for hours. Welcome to Vegas, where seconds equal minutes. Lines are not how you want to spend your time. Pool parties in Vegas are no exception.
What Time does the Pool Close in Vegas?
Pool parties are usually open for about 6 or 7 hours, so most events are finished by 6 pm. However, if you plan on going to one of the nightclub parties or a show later in the evening, you may not want to stay the entire day.
A Vegas pool can take a lot of energy out of you, especially in the intense sun. But if you're not going out a night, pool parties are a great way to enjoy Vegas. Regardless, no Vegas trip is complete if you don't attend one of these epic pool parties.
How Much do Las Vegas Pool Parties Cost?
Most Las Vegas pool parties offer guests free entry on their guest list. However, the guest list rules change daily based on the day of the week, and how busy the club is going to be. The safest way to guarantee entry into one of these pool parties is by purchasing a ticket.
Tickets are available for sale at the door of the venue, but you can also get presale tickets online. A ticket for one of these pools is generally in the $20-$50 range, depending on the club. However, some pool parties have a cover charge as high as $100, which is as much as admission to a nightclub.
The longer you wait to purchase a ticket in Las Vegas, the more it will costs. Buying tickets at the entrance of the club is always the most expensive way to experience nightlife.
Vegas Bottle Service by the Pool
You can also go the VIP route by making a bottle service reservation. This will ensure that you get into the club and really optimize your Las Vegas party experience. Bottle service is the pinacle of any night out or day party.
You honestly can't tell your friends at home that you went to Vegas unless you try it. Bottle service not only provides luxury, but has a way of creating a party atmosphere and injecting a lot of energy. You can even get bottle service in a cabana if you party during the day.
Las Vegas Hotel Pools – Party at a Resort Pool
If you're looking to party but don't want to visit a dayclub, there are plenty of fun Las Vegas hotel pools. For example, the LINQ has a nice rooftop pool deck, and the Wynn has a popular European pool. The Venus Pool & Lounge at Caesars Palace is also a ton of fun.
Almost every major Las Vegas hotel has a deck where you can grab some sun. Many resorts also have some sort of adult pool or a spot that's 21+.
If you're looking for a pool party that isn't quite as chaotic as an official dayclub, I recommend you check out the article I wrote about the best adult pools in Las Vegas. Dayclubs are the only way to party in the city, other pool concepts work as well. You find information about every type of Las Vegas pool in that post.