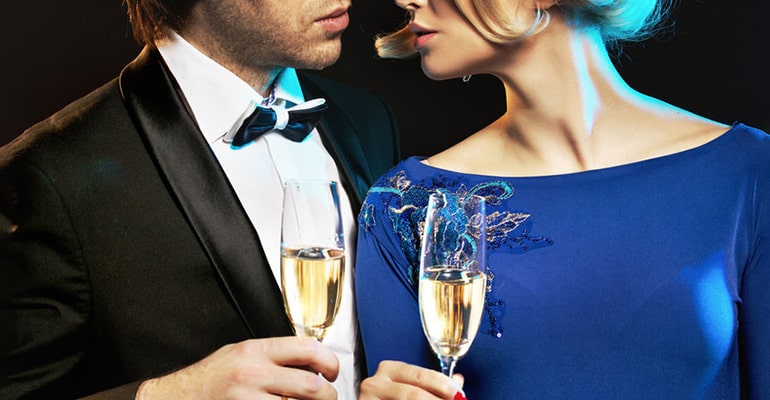 Bottle service is unquestionably the best way to experience Las Vegas. But, a table can be hard to justify for for just two people. This poses a challenge for many couples looking to enjoy a night out in Sin City.
Should couples in Las Vegas get bottle service? In most cases couples should not get bottle service. Purchasing bottle service is expensive and typically you're not going to finish the bottle. Couples are better off getting individual drinks at the bar.
Although bottle service is fun, getting a table is going to put a huge dent in your wallet. But, there are a few nightclubs that offer cheap enough bottle service to make it worth your while. I'll cover some of the pros and cons of bottle service in this post, along with some possible alternative.
Advantages Couples Gain From Bottle Service
Usually bottle service isn't worth it for just two people, but I'll briefly cover some of the benefits it offers. These are some of the clear advantages offered by bottle service:
No waiting in line at the bar
Get your own private area
Place to sit (there's no seating in general admission)
Expedited entry
No weirdos grinding on your wife/girlfriend
Just the fact that you don't have to bump elbows with the masses at the bar, can make a table worth it for some people. It allows you to enjoy the night with your significant other, without having to worry about getting bumped around or fighting for the bartender's attention.
If money isn't an issue, then I would highly recommend you get a bottle service table. The VIP experience will be money well spent. But, if you're already maxing out your credit cards, bottle service will just bring you unneeded stress. Plus, you can honestly have just as much fun without a table.
There are a few clubs that offer bottle service for relatively cheap (meaning $500 or less). I'll mention those clubs in a bit, but first let's compare the cost of bottle service against what you would be paying at the bar.
Bottle Service VS Drinks At The Bar
If it's just you and your significant other hitting the club, then you're probably going to want the smallest table available. On average, the smallest tables in a Las Vegas nightclub are going to cost somewhere between $500-$1,000.
Individual drinks at the club cost between $10-$20 each. Beers cost about $10, shots are $15 and mixed drinks are $20. So for the sake of this example, we'll say that the average drink is going to cost $15.
| | |
| --- | --- |
| Method of Consumption | Price |
| Bottle Service | $500-$1,000 |
| 10 Individual Drinks (5 each) | $150 |
As you can see bottle service is going to be more than twice the price as getting drinks at the bar. You do get much more alcohol with bottle service, but it's unlikely that you're going to finish it all (at least not without risking a serious hangover).
There are a select few clubs where you can secure a table without breaking the bank. I'll touch on those in the next section.
Nightclubs With Cheap Bottle Service For Couples
Some clubs have very competitive bottle service prices. If you're planning on getting a table, I would strongly recommend you consider one of the following clubs:
| | |
| --- | --- |
| Nightclub | Price |
| Voodoo Nightclub | $300 |
| Apex Social Club | $350 |
| Chateau Nightclub | $425 |
| Foundation Room | $500 |
| Light Nightclub | $500 |
These are the cheapest bottle service options in Las Vegas. Sometimes on slow nights prices can dip even lower, but you would need to contact a VIP host that works at the club to find out.
If you're not already in contact with a VIP host you can contact us here, and we'll put you in touch with one that works at the club of your choice. VIP hosts handle all bottle service reservations at the nightclubs in Las Vegas.
Bottle Service Alternatives For Couples
There are some solid alternatives to bottle service. Couples can easily get into clubs for free using the guest list. Most nightclubs require groups to have an even guy/girl ratio to use the guest list. But, this isn't a problem if you're hitting the club as a couple.
When you sign up for the guest list you get free entry into the club. Every club has a guest list and it takes less than a minute to sign up online. If you're not getting bottle service this is the best way to get into clubs. There's no need to buy a ticket if you can take advantage of the guest list.
This is my favorite way to get into nightclubs in Vegas. You just have to make sure that you get to the club on time. Most guest lists have a cutoff time around 12:30 am. After that, you'll have to pay the full cover charge (which is $20-$100, depending on the club).
Related Questions
What are the best Las Vegas nightclubs for couples? Apex Social Club, XS Nightclub and Foundation Room are among the best nightclubs for couples. Couples should avoid crowded nightclubs, as bumping into strangers can easily ruin your night out. For more information, I wrote a more in depth guide detailing the best Vegas nightclubs for couples.
How much do you tip a VIP host in Vegas? Depending on the level of service given, you should tip a VIP anywhere from $50-$1,000. This number is highly dependent on the amount you spent at the table. As a general rule, the more expensive the table, the more you should tip.
How does bottle service pricing work? When you purchase a table, you'll be required to spend a minimum amount of money while at the club. Things that count toward this minimum spend include bottles of alcohol and individual drinks ordered on the tab. The actual table is given to you for free.