Before permanently tying the knot every man must let loose in Las Vegas at least once in his life. Vegas is the best place on earth to host your bachelor party, mainly because of its legendary nightlife scene. This is one of the biggest parties of your life, and you don't want to waste by going to a sausage fest. You want to pick the best nightclub. A couple of the top nightclubs for bachelor parties include:
XS Nightclub
Omnia
Hakkasan
Encore Beach Club
Wet Republic
Drai's
Gentlemen's Clubs
Not all Vegas clubs are created equal. Depending on several variables like your budget, the time of year you are in Vegas and your preference of music, you are going to want to visit very different clubs.
For example, if you are planning to get bottle service, the prices can range from $400 to $10,000+ depending on the club. If those prices sound scary you may want to attend a club like Hakkasan, where men can get in free on the guest list. Also your taste in music will be a deciding factor in the club you ultimately go to. I'll cover all of your options and more in this post.
XS Is The Best Club To Get Bottle Service For Your Bachelor Party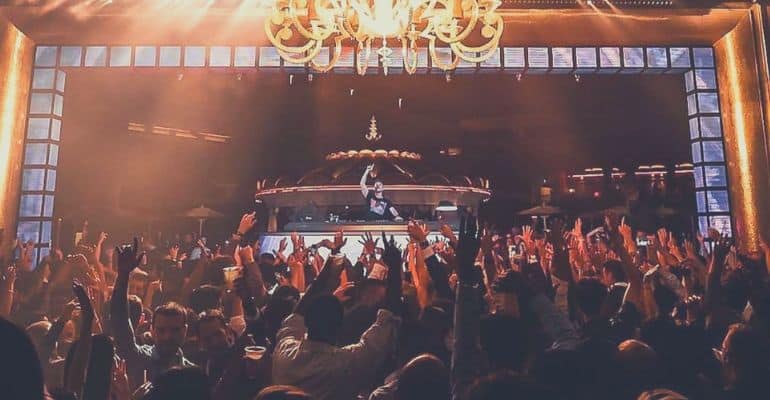 If you are coming to Vegas and plan on dropping a couple thousand dollars for the time of your life, XS is the place to do it. XS is the top nightclub in the entire world, making it the ideal spot for any bachelor party.
As the best nightclub in the world, XS is also the most expensive. There are other nightclubs, that I'll mention later, that offer free entry to guys on the guest list but XS is not one of them. For guys to go in for free they need an even ratio of women with them (which is unlikely for a bachelor party). Ticket prices also run $50 – $100 pre-sale, and are much higher at the door. Then you will pay $20 a drink once inside, OUCH!
So if you want to go to XS, your best option is going to be bottle service.
XS Nightclub Bottle Service Is The Peak Vegas Experience
When you get bottle service not only are you purchasing your own bottle of alcohol, you're purchasing your own real estate within the club. You get your very own private section of the club with a table and seating. This is a real advantage as Vegas clubs can get crowded.
You also get your own cocktail waitress and free mixers for your alcohol, so you won't have to make trips to the bar. But for bachelor parties, the main advantage of having a table is the girl guy.
Girl guys have one main job, bring attractive women to the clients' tables. Most guys would be pissed if they spent a couple thousand dollars at a nightclub and did't talk to any girls, I know I would be. It's your bachelor party, you didn't sign up for a sausage fest.
The girl guy makes your life a lot easier. Just text your VIP host saying that you would like some girls brought to your table to party with, and he'll get the girl guy right on it. In most cases you can even tell the girl guy what type of girls you like and he'll go find your exact type. And for the record, these aren't escorts, they are normal girls who are also at the nightclub, looking to party.
Most Vegas nightclubs employ at least one girl guy. This service, however, is only for bottle service tables that spend a minimum of $3,000. But it's the easiest way to meet girls in Las Vegas.
XS Holds The Best Night Time Pool Party In Vegas
This club is a half indoor half outdoor venue. It has a giant pool in the center and holds crazy pool parties every Sunday night. Because of these pool parties XS deserves its title as the best nightclub in the world and you'll see why if you hold your bachelor party here.
Type Of Music Played At XS Nightclub
EDM music is what you will get when you attend XS. This club has one of the best lineups of headline DJs which includes the Chainsmokers, Major Lazor, DJ Snake, Kygo and Diplo. Drake also does occasion performances at XS.
Cost To Attend XS Nightclub
Table service at XS starts at $2,000 although depending on the location of the table you choose, prices can go up to $10,000. That number is the minimum amount that you agree to spend at the club. Each individual bottle typically costs between $350 and $600.
If you plan on dropping some serious cash the Upper, Lower and 3rd Tier dance floor tables are best spots in the club. They range from $4,000 – $9,000. The patio tables are the best bargain sitting it $2,000.
If you are not getting a table and you have an even ratio of women in your group you can enter the club for free by signing up for the XS guest list. Just get there by 10:30 pm as there is a 12:00 am cutoff.
If you plan on buying a ticket, I would still recommend signing up for the guest list even if you don't have an even ratio. You will be able to buy a reduced price ticket. When you get up to the cashier in the guest list line they will give you this option.
Bachelor Parties At Omnia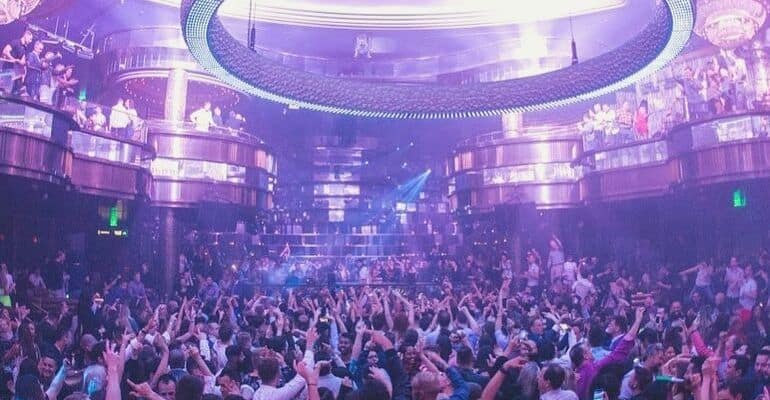 Omnia is not too far behind XS in terms of the quality of the nightclub. Many can even argue its better than XS if you prefer the Omnia DJs. But Omnia has one distinct advantage over XS for bachelor parties, they offer free entry on their guest list.
That's right, your entire bachelor party can get into the club for FREE! Unlike XS where guys need an even ratio of women to get in free on the guest list there is no ratio required at Omnia. Everyone gets into the club at no cost, saving you money to spend on drinks.
Omnia Plays Almost Every Type Of Music
One of the reasons that Omnia is among the top Vegas nightclubs is the fact that its's really 3 clubs in one. Omnia has 3 separate rooms within the club all playing different genres of music.
The main club is the EDM room, which is the largest of the 3. World class DJs perform in this 2 leveled room nightly. If you enjoy partying to ear deafening EDM music this is the place for you. Omnia is by far the loudest club you will ever go to.
The second room is the Hip Hop room and is called The Heart of Omnia. It has its own DJ, dance floor and bar. It almost operates like a entirely separate venue main club because you can't the music from next door. Its my favorite spot in Vegas to listen to Hip Hop.
The final room is the rooftop Terrace. Again it has its own DJ, bar and dance floor. The Terrace focuses on House music and is the best place to go to meet people as its not as loud.
Its always really fun bouncing back and forth between all three rooms. Not too many nightclubs in the world are designed like this so enjoy it while you are in Vegas.
Type Of Music Played At Omnia
Like I just mentioned Omnia plays EDM, Hip Hop and House music depending on the room that you find yourself in. It's known as an EDM nightclub for the most part and features headliners like Calvin Harris, Zedd, Steve Aoki, Lil Jon and Martin Garrix.
Cost To Attend Omnia
Omnia is free to attend as long as you sign up for the Omnia guest list. It is extremely important that you get to the venue early if you use the guest list.
Lines literally go out door and there is a cutoff time for the guest list around 12:30 am. After that time you will have to pay a cover of $50 – $100. I recommend getting in line around 10:00 pm to ensure that you get in. The doors open around 10:30 pm and you can drink while you wait in line.
Also, there is a maximum of 8 people per group that can enter the club on the guest list. So if your bachelor party has more than 8 people I recommend splitting your group into 2. Just sign up for the guest list twice under 2 separate names to avoid any issues.
It is also worth mentioning that there is no guest list on nights that Calvin Harris performing. On those days you either need to purchase a ticket or choose another club.
Hakkasan For Bachelor Parties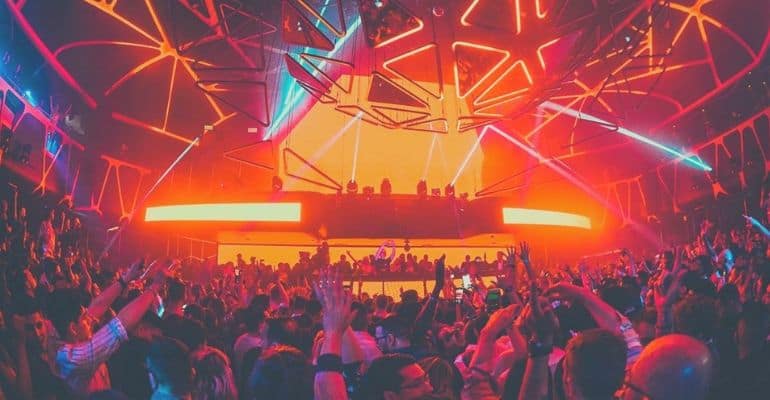 Hakkasan is the sister club of Omnia. they are run by the same group and share the same DJs. They are very similar nightclubs with only a few distinct differences.
One of the main differences is that Hakkasan doesn't have a rooftop terrace, as Hakkasan is a 100% indoor venue. Hakkasan does have a separate room for Hip Hop music similar to the Heart of Omnia. Its called the Ling Ling Lounge and it's as good a Hip Hop spot as you will find in Vegas.
Hakkasan is always packed and designed sort of like a maze. There are technically 5 floors to Hakkasan but the first 2 are restricted to the restaurant.
If you are considering bottle service for your bachelor party Hakkasan is a solid place to do it. This is is top 5 Vegas nightclub and there are some sections of the club that offer really competitive prices. The Ling Ling Lounge and the Pavilion area both start around $1,500 and are close to the action. To get in touch with a VIP host at Hakkasan, contact us here.
Type Of Music At Hakkasan
Hakkasan shares DJs with Omnia so expect Calvin Harris, Steve Aoki, Zedd and Martin Garrix to perform here. These are primarily EDM DJs but the Ling Ling Lounge on the 3rd floor of the club plays Hip Hop music.
Cost To Attend Hakkasan
Hakkasan offers free entry to your entire party given you have put your name on the Hakkasan guest list. There are no ratio requirements.
However, just like Omnia, there is no guest list at Hakkasan when Calvin Harris is playing. It is also imperative that you get in line by 10:00 pm as there is a cutoff time. The lines always get extremely long.
Encore Beach Club Is The Top Bachelor Pool Party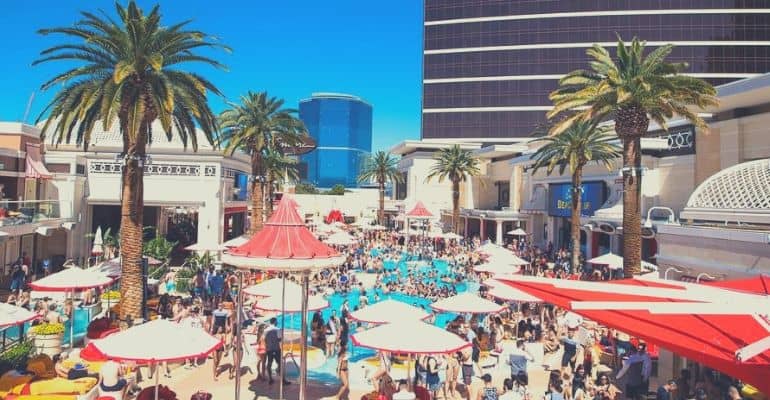 Encore Beach club is the best dayclub in Las Vegas. Pool parties are just as crazy as nightclubs and have become extremely popular in recent years. You can do everything at these pool parties that you can do at a nightclub except now everyone is wearing a swimsuit or a bikini.
Encore Beach Club is huge, accommodating thousands of people every time it opens its doors. You can drink, gamble, order food, swim and partake in any other debauchery you can think of any from within the walls of this club.
It is important to note that pool parties are only open from April through October, as Vegas gets cold in the winter.
Type Of Music Played At Encore Beach Club
Encore has the same DJs as XS nightclub. The most popular DJs actually perform at Encore Beach Club more often than they do at XS. Expect performances from the Chainsmokers, Kygo, Major Lazor, Diplo and DJ Snake.
Cost To Attend Encore Beach Club
Ticket prices for Encore Beach Club range from $50 – $100. If you are looking to get bottle service it typically starts around $1,000 and is actually a pretty good bargain considering that drinks cost $20 – $25 here. If you are interested in bottle service you can contact us here and we will put you in touch with a Encore Beach Club VIP host.
Unfortunately all guys will need an even ratio of women to use the Encore Beach Club guest list for free entry. However, if you are looking to go to a top Vegas pool party for free, you should check out the next club on this list.
Wet Republic For Bachelor Parties
Wet Republic is widely regarded as the second best Vegas pool party, but it isn't too far behind Encore Beach Club. It may even be better for your bachelor party if you take into account the favorable guest list rules for guys.
Wet Republic is a giant dayclub that constantly puts the best DJ talent on stage. Wet matches everything that Encore has: you can swim, buy drinks and get food. The only feature missing is the ability to gamble within the club. There is no gambling area inside of Wet Republic, although you can always take the short walk into the MGM Grand casino to win some money.
Type Of Music Played At Wet Republic
Like most Vegas clubs, Wet Republic puts an emphasis on EDM music. Wet also shares DJs with both Hakkasan and Omnia, so Calvin Harris, Zedd and Martin Garrix all play here.
Cost To Attend Wet Republic
Everyone in your bachelor party can get free entry to Wet Republic. All you have to do is sign up for the Wet Republic guest list. It is a good idea to arrive at the pool early (meaning 10:30 am or earlier) before the lines get too long.
Bachelor Parties At Drai's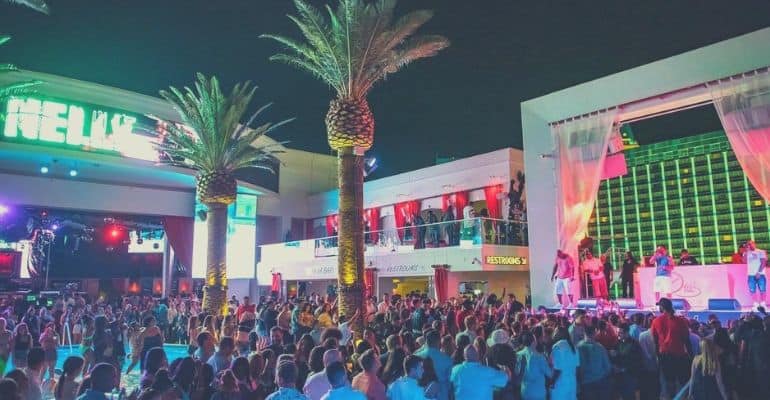 Drai's is the best Vegas club for Hip Hop music. If Hip Hop and R&B is your thing then Drai's is the club for you.
Drai's is a half indoor, half outdoor nightclub located on the rooftop of the Cromwell Hotel. It has a large pool in the center that is open on Thursday nights and during the day, April through October.
What makes Drai's special are the live performances from top Hip Hop artists hosted here every week. Drai's is like a live concert inside of a nightclub. They always have new artists performing here.
Type Of Music Played At Drai's
Although Drai's main musical genre is Hip Hop it does occasionally play some EDM. Artists that perform at Drai's include 2 Chainz, Big Sean, 50 Cent, Migos, Snoop Dogg and DJ Pauly D.
Drai's always rotates who they have on their event calendar so you get a good mix of 20 or 30 artists throughout the year.
Cost To Attend Drai's
It is unlikely that a bachelor party will use the Drai's guest list because it requires an even ratio of women. So if you want to attend Drai's you will either have to buy a ticket, which go for $50 – $100. Or get a bottle service table which start around $1,000 for the tables furthest from the stage. Again contact us here if you want to get in touch with a Drai's VIP host.
Drai's is not the only option for Hip Hop music. The Heart Room at Omnia and the Ling Ling Lounge at Hakkasan are both solid alternatives to Drai's. They both offer free entry on their respective guest lists. While you don't have artists performing live on stage, the DJs at these places are really good and should not be underestimated.
Club Crawls For Bachelor Parties
Club crawls are also a solid way to party in Vegas, especially for a bachelor party. Essentially club crawls are hosted tours that visit several nightclubs (or dayclubs) over the course of the night (or day) and offer drink specials at each spot.
The advantage of club crawls is that you have hosts leading you so you won't have to guess where the best places to go are. It is also one of the best ways to meet people in Vegas.
Behind getting bottle service, club crawls are the easiest way to meet groups of girls in Las Vegas. This is because the club crawl host's job is to get all the groups on the tour mingling. There are also organized drinking games set up to loosen everyone up before you hit the club.
If it's your first time visiting Las Vegas I would recommend joining a club crawl as it will make your life much easier it terms of deciding where to go. You can learn more about Vegas club crawls here.
Related Questions
What is the dress code for men in Las Vegas nightclubs? In Vegas nightclubs men should wear a button down shirt with a pair a well fitted jeans, along with nice shoes. No sneakers are allowed in Vegas clubs. Some clubs allow plain designer T-shirts but that is at the discretion of the club staff. You can check out the full dress code guide for men here.
What is the dress code for men at Las Vegas pool parties? All Las Vegas pool parties require you to wear a swimsuit, there are no jeans allowed into pool parties. Hats and sunglasses are allowed into the club, along with small bags.