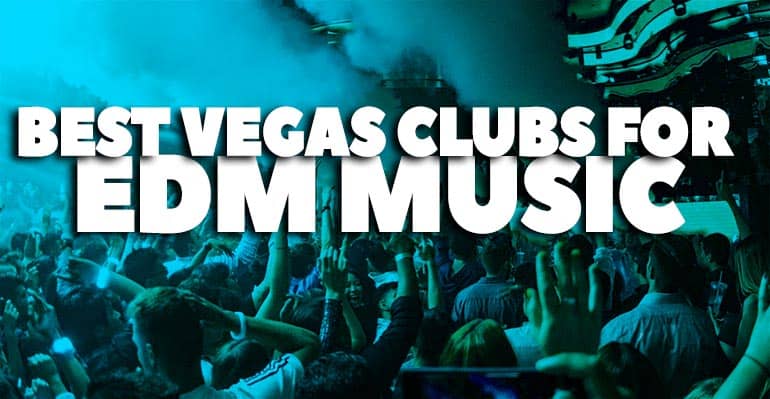 Las Vegas is the EDM capital of the world. All of the best electronic dance music DJs have residency's at Vegas nightclubs. There is a long list nightclubs in Las Vegas that play EDM music, but some of the best ones include:
XS Nightclub
Omnia Nightclub
Hakkasan Nightclub
Encore Beach Club
Wet Republic
EBC at Night
Marquee Nightclub
Light Nightclub
Each of these nightclubs are a little bit different and have unique features. Some clubs have pool parties, other don't. Some have free entry for guys and girls on the guest list while others only offer free entry to women.
Also all of these clubs have different DJs lineups, making your decision of which club to go to an important one that can make or break your vacation. I'll cover all of the best Vegas EDM clubs in detail below.
1. XS Nightclub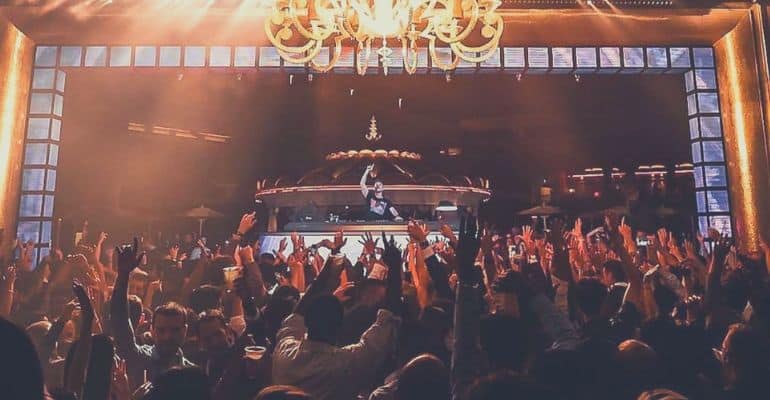 It has been well documented that XS is the number nightclub on the planet. It's luxurious, the staff is world class and the music here is top notch. All of this makes XS a prime candidate for best EDM club in Las Vegas.
It's tough to declare an absolute winner for best EDM club, because everyone has their favorite DJ and they all perform at different clubs. If I had to choose one it would be XS just because of its reputation of excellence, but its really close.
The lineup of famous EDM headliners at XS include The Chainsmokers, Diplo, Kygo, Major Lazer and RL Grime. Every year XS makes a splash and signs the top DJs, ensuring its spot as the best EDM club in Vegas.
As far as the actual nightclub goes, the layout is unmatched. The club is half indoors and half outdoors making it an extremely fun venue. Whatever your party preference is XS will cater to it. They shoot fire up into the air, drop confetti both inside and outside and launch cold air directly into the crowd. Partying here is an exhilarating experience.
Every Sunday XS hosts its Nightswim pool party where they open up the giant pool in the center of the club for swimming. This is the top party in Vegas and you do not want to miss it.
The club offers free entry on most nights to anyone on their guest list. Women get in free while men are required to have an even ratio of women in their group. You can learn more about and sign up for the XS guest list here.
2. Omnia Nightclub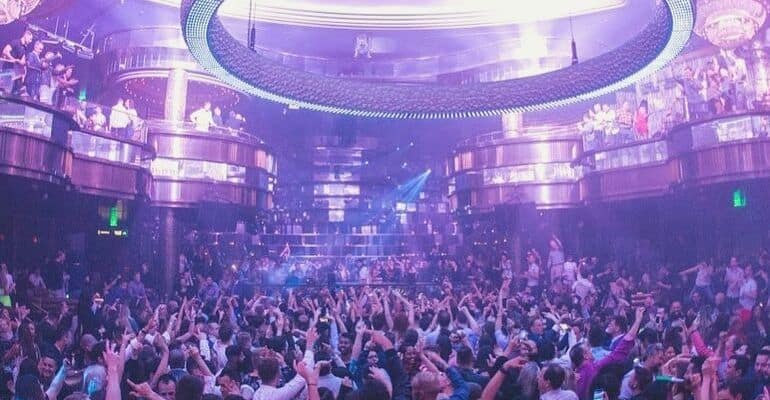 The one nightclub that I could argue plays better EDM music than XS is Omnia. Omnia has just as many big EDM DJs in its lineup as XS, maybe even a few more.
Headline DJs at Omnia include Calvin Harris, Tiesto, Zedd, Martin Garrix, Lil Jon and Steve Aoki. Anyone who follows EDM music knows that those are some of the top names in the industry.
On top of that, the actual nightclub is designed in a way that makes it the loudest club I have ever been to. The energy at Omnia is intense and palpable from the second you walk in the door. This feeling can be amplified on Omnia's massive dance floor, where the bass literally makes your chest vibrate. It's perfect if you want to get loose to some EDM.
While the club is mostly indoors, Omnia does have an outside rooftop terrace that plays house music, if you're looking for something just a little less intense. This rooftop terrace is actually pretty large, it has its own DJ booth, dance floor and bar.
The guest list rules at Omnia are more lenient than XS, in that both men and women get free entry on the guest list. Just make sure to get there early as the lines get long. You can sign up for the Omnia guest list here.
3. Encore Beach Club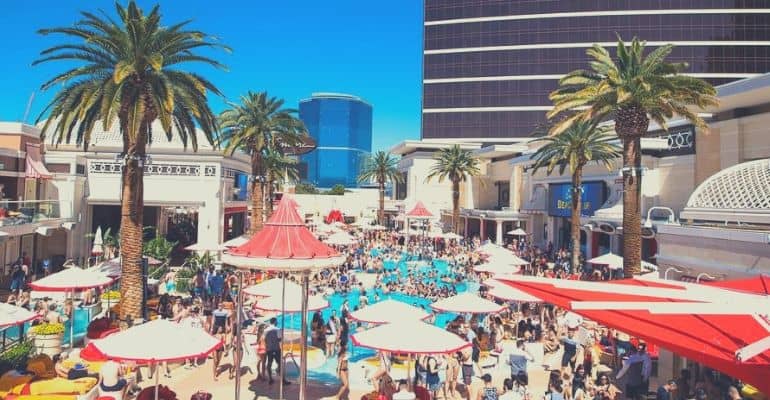 Encore Beach Club is the premier Vegas dayclub. If you think Vegas nightclubs get wild then, you need to check out the pool parties.
The Vegas pool parties (especially EBC), get even more wild than the nightclubs. Everyone at these pool parties are half naked, adding an additional layer to the madness. They have everything a nightclub has: loud music, drinks, hot girls, a dance floor with the addition of a pool.
Encore Beach Club is giant, there are typically 5 bars open within the club every weekend plus a concession stand where you can get food. There is also a casino area where you can gamble. There is no shortage of things to do in this club.
The DJs at EBC are the same DJs that play at XS, as both clubs are part of Wynn nightlife. The biggest EDM DJs even tend to play at EBC more often than they do at XS. There is always a top DJ spinning at EBC, rarely do you see a B-lister.
The guest list rules here are the same as XS. You can jump on the Encore Beach Club guest list here.
4. Wet Republic
Wet republic is to Omnia ,what Encore Beach Club is to XS. Wet Republic is the second best dayclub in Vegas and also happens be one of the best clubs for EDM music.
Wet has the exact same DJs as Omnia, since its run by the same group, so you know the music here is going to be good. All the bottle service tables and bars are centered around the stage making it extremely easy to see the show no matter where you are located.
This dayclub is huge and has a good sized dance floor for a pool party, which makes it easier to dance at than some of the other dayclubs. And like EBC, you are able to order food at Wet Republic, so you won't have to leave the club to get lunch. The only difference is that the food is ordered at the bar here and not an individual concession stand.
Wet Republic plays some wild EDM music but there are plenty of other things to do at this club in addition the music. It is easy to spend 5 or 6 hours at this club and not even realize it.
One of the big advantages that Wet Republic has over a pool party like EBC is its favorable guest list rules towards groups of guys. Not only do women get free entry here, but men also get free admission by signing up for the Wet Republic guest list. This is huge since tickets for Wet Republic typically run $30 – $60.
5. Marquee Nightclub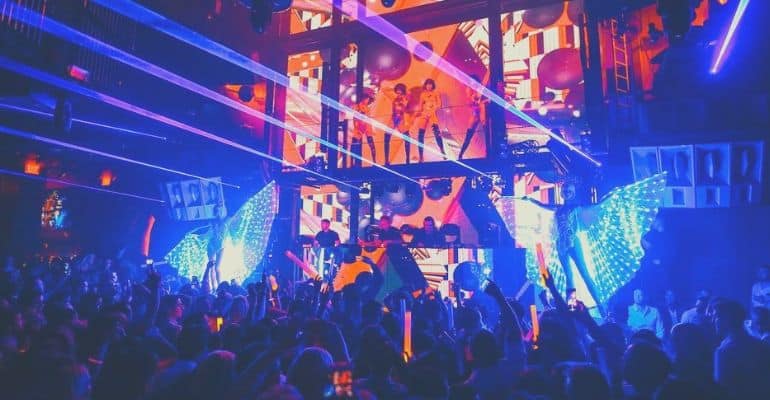 Marquee is another nightclub that has a solid mix of both EDM and Hip Hop. I would say it's split 50 – 50 down the middle. I include Marquee on this list because the energy in this nightclub on a busy night is probably the highest out of any Vegas club.
Marquee gets wild and is one of the only clubs that has professional dancers working there every night. The design of this club makes it feel like the roof is going to get blown off every time I walk through the door.
Headline DJs at Marquee include Travis Scott, DJ Mustard and Deorro. Even though these are some solid DJs, Marquee does lack the star power of some of the other mega-clubs. That lack of headliners is more than made up for in the vibes and the extreme energy put out by this venue.
I highly recommend going to Marquee, especially if you find yourself in Las Vegas on a Monday night. Marquee is one of only two nightclubs open on Monday and is the better EDM club.
Women can get get free entry into Marquee by adding their name to the guest list. Men must have an equal amount of women in their group to get free entry (or a greater number of women than men). You can sign up for the Marquee guest list here.
6. EBC At Night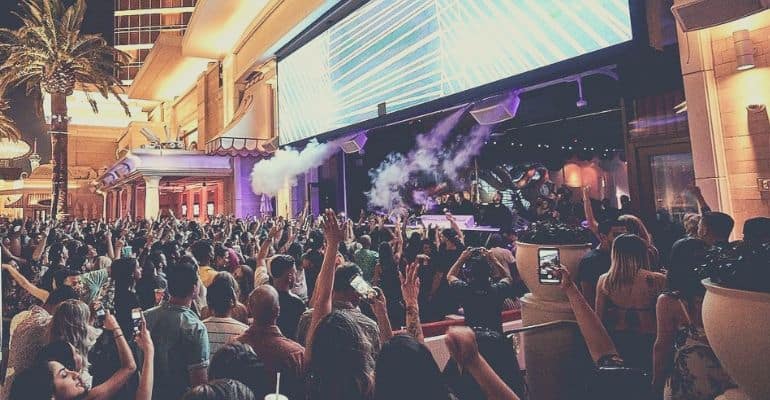 EBC at night is very similar to Encore Beach Club during the day. It's the exact same club except now it's open at night, making it one of the few nightswim pool parties available in Vegas.
EBC plays strictly EDM music, I have never really heard any Hip Hop playing here. If you are into pure EDM, EBC At Night is the place to go.
Some differences between EBC during the day and at night are the top DJs like The Chainsmokers or Diplo tend to play at the dayclub much more often than the nightclub.
The large headline DJs play here on Wednesday nights since EBC is the best nightclub club open on Wednesday. But on the weekends you will find much less known DJs, which can be a good thing if you're into niche EDM music.
On Friday and Saturday EBC at Night is the only night time pool party open. So if you don't get enough pool time during the day or are just looking to dance to EDM in your bikini, EBC is a good choice.
Just like EBC dayclub, women get free entry on the guest list while men require an even ratio of women. You can sign up for the EBC At Night guest list here.
7. Hakkasan Nightclub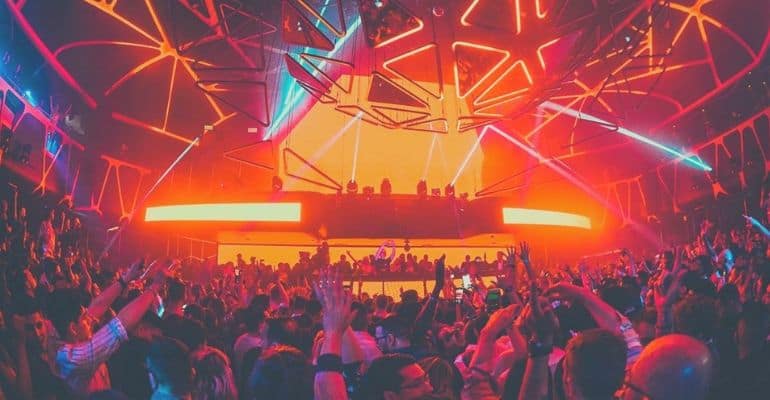 Hakkasan is another top Vegas nightclub that specializes in EDM music. Hakkasan is run by the same group as Omnia and Wet Republic so the DJs that play at those clubs also perform at Hakkasan.
Calvin Harris, Tiesto, Zedd and Steve Aoki perform regularly at Hakkasan. Because this club has the same DJs, I would put it on par with Omnia. The main difference between the two clubs is the layout.
Hakkasan is designed almost like a sprawling maze while Omnia is a bit easier to navigate, although both clubs are approximately the same size. Hakkasan also lacks the outdoor rooftop terrace that Omnia has. Both clubs do however have a Hip Hop rooms.
Where Omnia has the Heart of Omnia for Hip Hop, Hakkasan has the Ling Ling Lounge. These are both separate rooms within the nightclubs that focus on Hip Hop music.
Hakkasan is a highly regarded nightclub that shares the same guest list rules as its sister club. Both men and women get free entry on the Hakkasan guest list.
8. Light Nightclub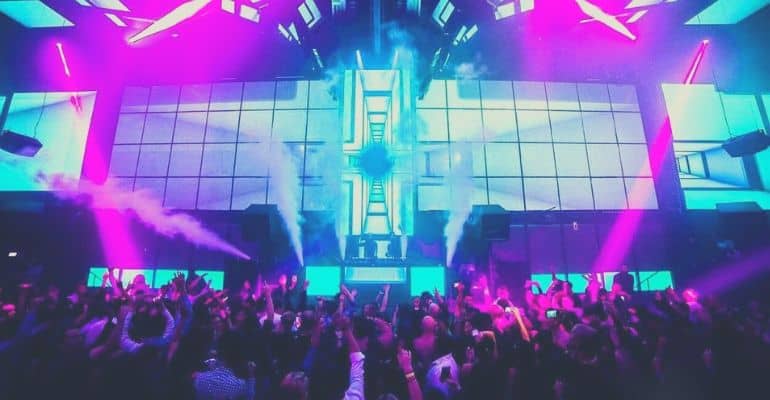 Light is primarily an EDM nightclub that does occasionally play some Hip Hop, as Rick Ross performs here regularly. And as the name suggests the draw of this club is the lighting and sound systems which help enhance the EDM experience.
Light has been known to give out multiple free drink tickets to both guys and girls on the guest list on Wednesday nights. This makes Light a solid nightclub to go to if your hotel is on the south end of the Vegas strip and you don't feel like taking the trip to the other clubs.
Although Light is one of the older nightclubs in Vegas it's still a solid option for EDM music lovers. Both men and women get free entry at Light on the guest list. The one exception is when Rick Ross is playing, since there is no guest list available on those nights. You can add your name to the Light guest list here.
Related Questions
What is the best Vegas club for Hip Hop music? The best club in Las Vegas for Hip Hop music is Drai's. Drai's nightclub plays a majority Hip Hop music and features more live performances from popular artist.
What do you wear to a Vegas nightclub? Men should wear a collared shirt and nice shoes paired with fitted jeans to Vegas nightclubs. Women have a lot of leniency when it comes to dress code but are encouraged to wear a dress that fits your body well along with high heels. You can check out the full dress code guide for both men and women here.