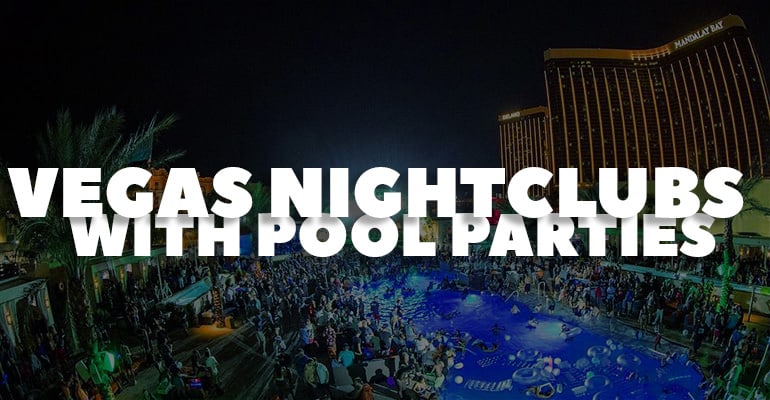 Las Vegas pool parties used to be reserved solely for dayclubs. But with pool parties becoming more popular in recent years, you can now enjoy all the benefits of pool parties at nightclubs. So, I decided to take a closer look at the Vegas nightclubs that host night time pool parties, to find the best ones.
What Las Vegas nightclubs have pools? The Vegas nightclubs that open their pools at night include: XS Nightclub, EBC at Night, Drai's and Daylight Eclipse. All of these nightclubs host a night time pool party at least once a week during the summer. You can attend night time pool parties for free by signing up for each club's guest list.
Las Vegas pool parties are only open April – October. Women always get free entry to these events on the guest list. Men on the other hand are required to have an even ratio of women in their group in order to get free entry. Each of these nightclubs have different guest list rules and are open on different days. Also, the pools aren't open for swimming every time that the club opens its doors.
Nightswim Pool Party's At XS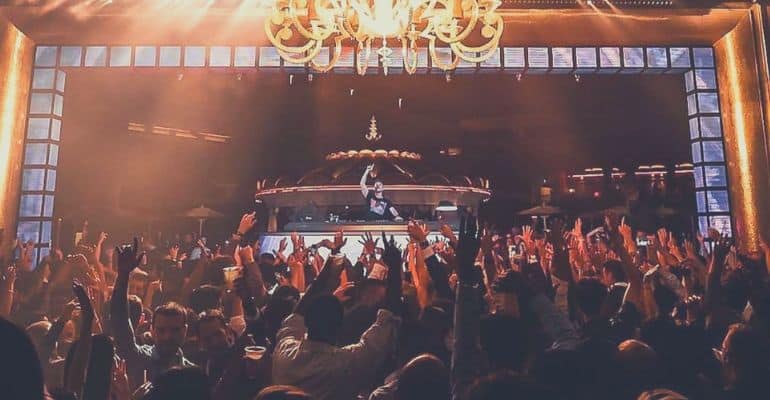 Every Sunday night XS hosts its famous Nightswim pool party. XS is one the largest Vegas nightclubs and is a half indoor, half outdoor venue. The outdoor part of the club has a massive pool in the center, directly in front of the 360 degree DJ booth.
This nightclub consistently signs some of the best EDM DJs in the industry including the Chainsmokers, Kygo, Diplo, Dillon Francis and DJ Snake. The DJ lineup is one of the many reasons why XS is considered the top nightclub in the world year after year.
The pool is massive and they often have a ton a floats to chill on. There is even a bar with a gambling area in the center of the pool. Feel free to play black jack or craps to win some additional money for drinks. There are typically 4 bars open, making it easy to snag your favorite drink. There is even a small Jacuzzi towards the back of the club.
XS seems to have everything you would want in a pool party, except for lockers to put your belongings in while you're in the water. You're either going to have to leave your stuff by the side of the pool or have one of your friends watch it for you. Also, while the nightclub is open Friday – Sunday, the pool is only open on Sundays.
XS Guest List
XS has an option for free entry when you sign up for the club's guest list. As I mentioned earlier women get free entry while men need an even ratio of women in their party (or more women than men), to take advantage of the free entry. The guest list is also free to use. To sign up you can either speak to a promoter that works for the club or sign up for the XS guest list online. If you don't use the guest list tickets are going to run you about $25 – $50 for women and $50 – $100 for men.
There is another option for men who don't have even ratio. If you sign up for the guest list without ratio, you can get a discounted ticket when you arrive at the club. Just get into the guest list line once you arrive at the venue and the cashier will typically offer a reduced ticket when you get to the front of the line. It's usually around 50% off the advertised price.
EBC At Night Pool Parties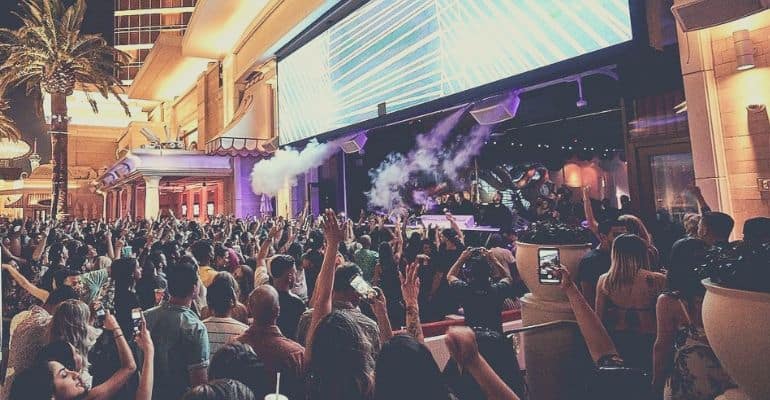 EBC at Night, which stands for "Encore Beach Club at Night," is the night time version of Encore Beach Club. Encore Beach Club during the day is widely considered the best overall pool party in Las Vegas, so EBC at Night has a lot to live up to.
EBC at Night is the only nightclub built specifically for pool parties, so the pool is always open every night (the pool closes in September but the club remains open for an additional month). You'll find more bikinis and swimsuits at this nightclub than any other. EBC features 3 large pools surrounded by a ton of VIP bottle service tables. The bungalows are the best tables and have their own private pools.
EBC has free towels so don't worry about bringing your own. The club also has lockers available for rent, but if you don't want one you are allowed to bring in a small bag for your stuff. EBC at Night is located in the same hotel as XS (Encore at the Wynn), so the two clubs share the same DJs.
EBC at Night Guest List
EBC at Night has the same guest list rules as XS. Women get free entry and men are required to have even ratio to get in for free on the EBC at Night guest list. If you're purchasing a ticket it costs between $20 – $30 for women and $40 – $75 for men.
The club is open Wednesday, Friday and Saturday but on Wednesday nights, it's common for women on the guest list to get free drink tickets. Men without ratio can also buy a reduced priced ticket by signing up for the guest list on any night.
Drai's Nightclub Pool Parties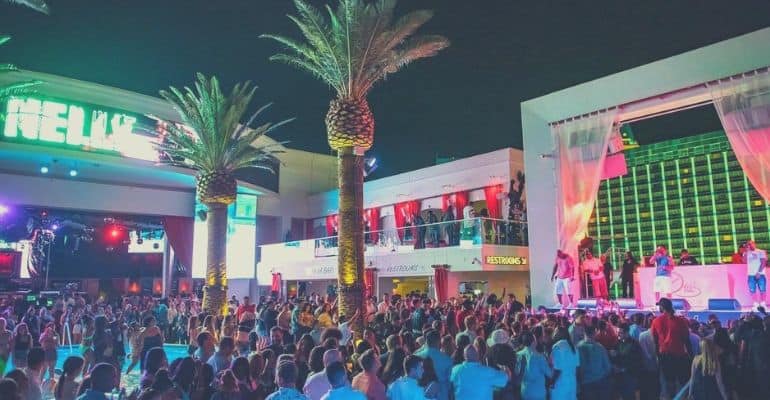 If you like Hip Hop music then you're going to want to visit Drai's Nightclub. Drai's is considered the best nightclub for Hip Hop in all of Las Vegas. The club features live performances from artist like Migos, 2 Chainz, Big Sean, Snoop Dogg, 50 Cent and many others. Drai's doesn't have a large number of resident DJs but rather brings in artists to do concert like shows.
The club itself has 2 large pools and is located on the rooftop of the Cromwell Hotel. It has a great view of the heart of the Vegas strip along with a very cool, relaxed vibe. Many of the VIP cabanas also have private bathrooms and pools, which are a ton of fun and turn the bottle service up a notch. If you don't plan on getting a bottle service table, the club has a bunch of lockers to keep your stuff safe.
Drai's is open Thursday – Sunday, but unfortunately the pool is only open on Thursday nights. On Thursdays the club is an entirely outdoor venue while on the other nights it turns into a half indoor, half outdoor nightclub.
Drai's Guest List
Drai's guest list rules vary by artist. For example there is no guest list available when Migos or 2 Chainz are performing. But on most nights, women will get free entry on the guest list. And only men with an even ratio of women can use the Drai's guest list.
If you want to see Migos or 2 Chainz perform you must get bottle service or purchase a ticket. Tickets typically cost north of $100.
Pool Parties At Daylight Eclipse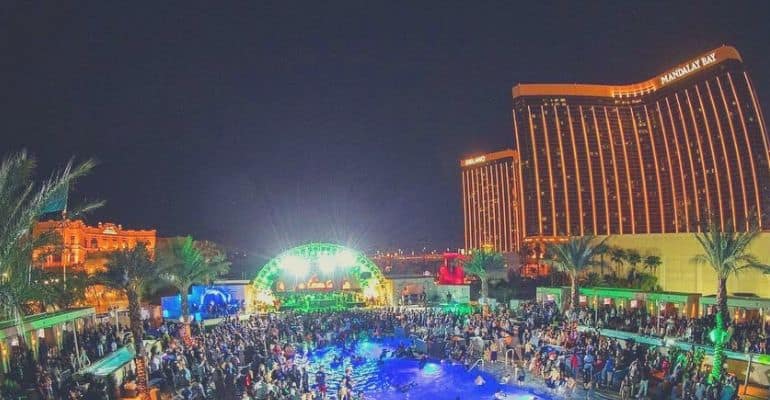 Daylight Eclipse is the night iteration of the popular dayclub, Daylight. Daylight is a huge club that features a gigantic pool directly in the center surrounded by bottle service tables. What makes this club special is that it only opens once in a blue moon, meaning it's not a weekly event. Daylight Eclipse pool parties are a ton of fun but they don't happen very often.
It is often difficult to predict when the next event is going to happen as there doesn't seem to be an exact schedule released by the club. That makes it difficult to plan and guest list for Daylight Eclipse in advance. If you're fortunate enough to be in Vegas during one of these pool parties, I definitely recommend going. These parties are usually held on Thursdays.
Related Questions
What is the dress code for Vegas nightclub pool parties? You can wear either swimwear or normal nightclub attire to night time pool parties in Las Vegas. Hats are also allowed along with smaller drawstring bags. Women must wear a cover up until they get inside the venue. You can see full dress code guides for men and women here.
How do I reserve bottle service at Vegas nightclubs? The simplest way to reserve bottle service at a Las Vegas nightclub is to talk to a VIP host. VIP hosts work for the venue and handle all table reservations. If you're looking to reserve a table you can learn more about Vegas bottle service here.