Hakkasan is a well established name among Vegas nightclubs. It remains one of the most popular nightclubs on the strip but there's a lot that the club doesn't advertise. Many guests don't know that they can get free entry on the club's guest list (both men and women), or that bottle service is actually extremely affordable. After partying countless nights away at Hakkasan, I put together a complete guide of everything you're going to want to know before coming here including; how to get on the guest list and detailed pricing for bottle service tables.
3 Main Ways To Get Into Hakkasan Nightclub
There are a ton of ways to get into nightclubs in Las Vegas, with each method of entry having its own set of perks and drawbacks. Hakkasan has 3 main avenues of entry that I'll cover in depth below:
Guest List
General Admission/ Pre-sale Tickets
Bottle Service
Hakkasan Has Free Entry On The Guest List
By far the easiest way to get into Hakkasan is to sign up for the guest list. Every Vegas nightclub has a guest list on most nights that gives everyone on the list free admission into the club. But most clubs only offer free admission to groups of women. Men must have an even ratio of women in their group to take advantage of the free entry. However, Hakkasan is one of the few Vegas nightclubs that allows both men and women to get free entry regardless of ratio.
You can sign up for the Hakkasan guest list for free in less than 2 minutes online. There is a guest list available on most nights. The only times that the guest list is closed is during major holidays like the Fourth of July, New Years, or Labor Day. There is also no guest list available when Calvin Harris is performing, it's ticket and or table only for those nights.
| | | |
| --- | --- | --- |
| Method Of Entry | Women | Men |
| Guest List | Free | Free |
| General Admission (Pre-sale) | $20 – $30 | $30 – $50 |
| General Admission (At The Door) | $30 – $50 | $40 – $75 |
| Holiday or Special Event (Pre-sale) | $75 – $150 | $100 – $200 |
There is a guest list cutoff time around 12:30 am. Hakkasan has some of the longest lines in Las Vegas so it's best to be in line by 10:15 pm to ensure you get in before the cutoff. If you're not inside by that time you will be required to pay a cover charge.
On busier nights (Friday, Saturday or when a big DJ is playing), I recommend getting in line no latter than 10:00 pm. The lines literally go out the door of the casino. If you get in line at 10:30 pm you'll be waiting in line for over on hour and may not get in at all!
General Admission & Pre-sale Tickets
The best times to buy a buy a pre-sale ticket are when there is no guest list available or when you know you won't be able to get in the guest list line on time. Other than that, it always makes more sense to use the guest list since it allows you to get in free. Pre-sale tickets are available on the club's website and normally cost $20 – $30 for women and $30 – $50 for men depending on the DJ.
General admission is when you purchase a ticket at the door of the venue. You're typically going to pay more than a pre-sale ticket since prices continually rise as the club fills up. It's not uncommon to see a ticket cost over $100 at the door. The one upside to general admission is that it normally has the shortest line. Once you get in line you'll be inside the club within 5 – 10 minutes.
The only time buying a ticket at the door makes sense is if you decide to go to the club last minute. Even then, you'll still want to use the guest list, as they typically close around 7:00 pm the day of the event. You're still able to sign up for the guest list 3 hours before the clubs opens.
Bottle Service At Hakkasan Nightclub
Bottle service is the best way to party in Las Vegas. You get your own private area with a table and a place to sit (there's no seating in general admission). You also get unlimited mixers and a cocktail waitress to pour your drinks for you. Other perks include a busser, security to keep unwanted people out, expedited entry with a waived cover charge and access to the girl guy.
The girl guy is only available for the higher priced tables (tables that start around $3,000). The girl guy is a host that goes around the club and finds girls to party with you at your table. (Groups of girls that have bottle service may be able to have the girl guy find guys, but I haven't tested it). This is the easiest way to meet women in Vegas and makes having a bottle service table more than worth it.
Prices for tables change based upon the DJ that's performing, the day of the week, the number of guests in your group and the table location. Hakkasan is open Thursday through Sunday but the weekends (Friday and Saturday) always have higher prices.
Every night prices fluctuate based on demand so you won't know exactly what you'll be paying until you get to the club. But to give you an idea of what what to expect here is a list of the average table prices at Hakkasan.
| | |
| --- | --- |
| Number of Guests | Table Prices |
| Ling Ling Lounge | |
| 6 | $1,000 – $2,000 |
| 10 | $1,500 – $2,500 |
| Pavilion | |
| 10 | $1,500 – $3,000 |
| Balcony | |
| 10 | $2,000 – $4,000 |
| 15 | $3,000 – $5,000 |
| Main Room | |
| 10 | $3,000 – $5,000 |
| 15 | $4,000 – $10,000+ |
Table location is the biggest factor that determines price. All table locations have their advantages (some are cheaper, some draw more attention, while some have a better view of the DJ). For example the upper dance floor tables are only a few feet away from the lower dance floor tables, but they cost up to $3,000 less. In the next section I'll describe the advantages of each table location. If you're interested in reserving a table you can learn more about Vegas bottle service here.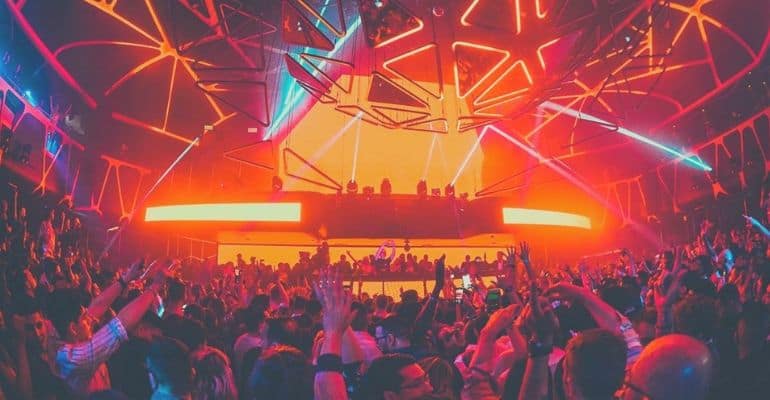 Hakkasan Is Seperated Into 4 Areas
There are 4 primary areas within Hakkasan. You get access to all of them when you enter the club but there are many reasons why you may want to hang out at one over another. Also if you're purchasing a table, picking the wrong location will completely ruin your night.
1. The Main room
The main room is where the main DJ is going to play. Hakkasan is primarily an EDM nightclub, so this room will mostly play EDM music. There's a large dance floor in the center of the room directly in front of the stage. The dance floor gets packed really quickly so be prepared to get bumped around a bit if you spend time there.
The main room also happens to be the largest area within Hakkasan. There are two bars on either side of the stage. When you enter the club, the bar on the right side tends to be less busy, so try to get drinks there first. There is also a bathroom in the left side but its best to avoid it, since it's going to have the longest lines.
Bottle Service In Main Room
Bottle service in Hakkasan's main room is going to be the most expensive but they offer the best views of the main DJ. If you're looking to stand out and draw attention this is the best place to do it.
There are 3 tiers of bottle service tables here: lower dance floor, upper dance floor, and 3rd tier. These are all great tables and I highly recommend all of them. The lower dance floor tables are closest to the action. The upper dance floor are only a few feet behind them but cost much less (they are also elevated offering a better view). The 3rd tier tables are only a few more feet back, but still have a magnificent view.
You can also get stage tables, which are located to the left and right of the DJ. These tables have plenty of real estate but since you're next to the DJ, you won't get a head-on view of the show. On the bright side, you're only a few feet from the DJ booth! Plus these tables have a their own VIP bathroom.
2. The Ling Ling Club
Hakkasan has 5 separate floors: floors 1 and 2 are dedicated to the restaurant while floors 4 and 5 are make up the main room and balcony. That leaves the entire floor 3 to the Ling Ling Club. The Ling Ling Club plays mostly Hip Hop and Top 40 music (but mostly Hip Hop). This room is big enough to be an entire club on its own. It has its own DJ booth, dance floor, bottle service tables and 2 full bars.
The Ling Ling Club is one of my favorite places to listen to Hip Hop in all of Las Vegas. The DJs here are actually really good and they play a ton of hits. On top of that, since the majority of people are in the main room it's really easy to grab drinks here. The bars are not too crowded.
There is even a 2nd room next to the Ling Ling Club called the Ling Ling Lounge that has a more relaxed vibe. It's not open every night but when it is there is sometimes seating available in front of the 3rd bar that opens up. To find this hidden room, take a right when you head up the stairs instead of walking strait into the Ling Ling Club.
Bottle Service In The Ling Ling Club
The Ling Ling Club has the most affordable bottle service in the entire club, usually starting around $1,000 – $1,500. If you have 6 people in your squad it'll cost less than $300 split 6 ways. The tables are close together making it easy to meet people. If you prefer Hip Hop over EDM I definitely recommend getting a table here.
3. The Pavilion
The Pavilion is located in the main room, but is slightly further away from the action. The music here is still from the main DJ although it's tough to see the stage. The Pavilion has it's own dance floor and bar along with a side area with standing tables. Anyone can use these standing tables to hold their drinks. There is even some limited seating on the ledges behind these tables.
The bar in this area is less crowded than the main room but the lines can still get relatively long. The bathroom lines however, are much shorter here.
Bottle Service In The Pavilion
Bottle service here is the most affordable if you're at the club to see the main DJ. You can't see the stage from most of the Pavilion tables with the exception of the ones located closest to the main room. These front Pavilion tables are basically the equivalent of the 3rd tier tables in the main room, making them a clear bargain at half the price.
There are a couple types of tables within the Pavilion but I'll break them up into two categories: middle tables and outside tables. The tables on the inside can get crowded. The divider between your table and the next one isn't clear and can make for some uncomfortable situations. The outside tables however, have more space and have booths that clearly separate them from the next table. There is also more seating at these outside tables. So when reserving your table, always ask for the ones on the outside.
4. The Balcony
The balcony officially called the "mezzanine" overlooks the main dance floor. This is typically the least crowded part of the nightclub. It has a full bar and a set of VIP tables looking down onto the stage. In addition, just like the Pavilion, there are a dozen standing tables where anyone can hang out and set their drinks down. Its also worth noting that the balcony also has the shortest bathroom lines in the entire club.
Bottle Service On The Balcony
There are two types of tables on the balcony: typical bottle service booths and VIP rooms. The normal tables are just like every other table in the club except they have a birds eye view to the DJ and dance floor. The VIP rooms on the other hand are geared toward larger groups looking for some privacy (although there is typically another group in the room next to you). There are 4 total VIP rooms overlooking the club, 2 on each side of the DJ.
Hakkasan Has A Strict Dress Code
All nightclubs in Las Vegas have dress codes that are enforced to varying degrees. Hakkasan isn't the toughest club when it comes to dress code but I would definitely put in the top 5. I have seen too many people get thrown out of line here for dress code violations to ignore it.
Dress codes aren't typically an issue for women, they can wear basically whatever they want as long as it isn't too revealing. Most girls wear a tight fitting dress with heels. Guys should wear a dress shirt and dark colored jeans. It's also best to avoid sneakers and go with a dress shoe.
At times guys can also get away with a fitted, solid color t-shirt (it's safest to go with black), but you do run the risk of being pulled out of line. Dress codes typically get stricter on busier nights when the lines get long, so keep that in mind and avoid being singled out. You can check out full dress code guides for both men and women here.
Hakkasan Drink Prices
As anyone who's been to Vegas before can tell you, buying drinks at nightclubs isn't cheap. If you plan on buying more than 5 drinks expect a bill north of $100. This chart shows the average drink price at Hakkasan:
| | |
| --- | --- |
| Type Of Drink | Price |
| Water | $10 |
| Energy Drinks | $12 |
| Beers | $12 – $15 |
| Shots | $15 |
| Mixed Drinks | $15 – $20 |
Prices vary based on the type drink and the brand of alcohol you want but, for the most part, mixed drinks are going to cost the most. And, as you can see, you're going to have to pay for water. The bartenders in Vegas nightclubs are not allowed to give you a glass of tap water, you must buy a bottled water.
These prices may seem a bit ridiculous, and the ones listed above don't even factor in tipping! For this reason I recommend grabbing a drink or two at the lobby bar directly outside the club to pre-game, before heading into the actual nightclub. Drink prices are typically a bit lower in the lobby bars and you can drink while you wait in line.
Insider Tips For Hakkasan
There is typically no re-entry, so make sure you're ready to leave before you head out out.
There are elevators where you first walk in, take them if you don't want to walk up 5 flights of stairs in high heels!
The main DJ doesn't come on until 1:15 am at the earliest.
The Uber/ Lyft pick up is in a different spot than the Uber/ Lyft drop off. The pickup location is in the parking garage. You'll see signs for it by the check-in desk for the hotel.
When leaving the club, if you walk out the exit that is directly past the bar called Level Up, there are cabs outside. There is never a line here so you will immediately get a cab. If you don't grab a cab here you'll have to walk 10 minutes through the casino to find the next cab or Uber line.
If you get called out for a dress code violation, you can check the item in question in at the bell services desk in the lobby of the hotel and come back for it later.
If you eat at the Hakkasan restaurant, sometimes you can get free entry into the nightclub and skip the line. Just ask your server while you're eating.
Related Questions
How do I reserve bottle service at Hakkasan? The best way to reserve bottle service at Hakkasan is to speak with a VIP hosts that works for the club. These hosts handle all the bottle service reservations for the club and meet you at the door when you arrive at the venue. They also walk you to your table once inside. If you want to reserve at table at Hakkasan you can contact us here and we'll connect you with a host that works at the club.
What time does Hakkasan nightclub open? Hakkasan opens its doors at 10:30 pm and closes around 4:00 am. The guest list line starts forming around 10:00 pm. Hakkasan has some of the longest lines in Las Vegas so it's best to get to the club early.
Is Hakkasan free for hotel guests? Hakkasan doesn't typically give free entry to MGM Grand hotel guests. You can however get free entry to the club on the Hakkasan guest list. You can sign up for the guest list online or through a promoter.