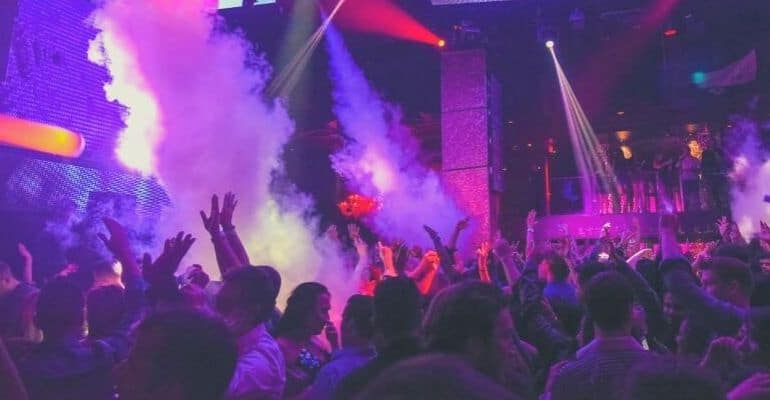 There are a lot of different ways to party in Las Vegas. For anyone visiting Vegas for the first time it can be a lot to take in. Figuring out which clubs are best, dealing with lines and knowing where to go in order to have the most fun can be difficult if you have never been to Sin City before.
That's club crawls come in. These crawls help make your life easier when it comes to navigating Vegas nightlife. These are the 8 reasons why you must do a Vegas club crawl.
What Is A Vegas Club Crawl?
A Vegas club crawl is a tour that lets you to party at multiple Las Vegas nightclubs in a single night. The crawl is lead by hosts that have been going out in Vegas for a while, so they know their way around. There are numerous additional benefits that you get by going on these crawls:
1. Club Crawls Make It Easy To Meet People
Lets face it, most people don't come to Vegas to sit alone in their hotel room. You came to Vegas to party and get wild with a bunch of people you don't know, and who you probably will never see again (what happens here stays here).
Club crawls make it really easy to meet new people. Everyone on the crawl with you has come to do the same thing, party. You don't have to be shy when talking to people when you both know why you're there.
The hosts even go out of their way to get different groups of people mingling. If there is a group of 3 girls from Canada on the crawl and the hosts noticed there is also 3 guys from the same place, he will introduce them to each other.
Part of the host's job is to make sure your inner party animal comes out so have a good time, they do a pretty solid job. Which leads me into my second point…
2. The Crawl Sets Up Drinking Game To Loosen You Up
Not only do the hosts play matchmaker, but they also actively lubricate your social wheels for you. There are plenty of drinking games set up in the beginning of the night to get you started down the right path.
You are not required to participate in the drinking games, but I strongly encourage it. All the people who surround you will have the common goal of turning up and getting a bit crazy. This will make it so much easier for you to do it yourself.
When the host is yelling at the top of his or her lungs and doing shots, it makes it a lot easier to follow suit. I have seen even the must introverted of guests relax and have fun in this environment.
You're in Vegas to have fun, why not put yourself in the best position to have the most fun. These crawls ensure that if you have it in you, it will be dragged out.
3. Club Crawls Cut The Line
All the club crawl companies in Las Vegas have contracts with the nightclubs. This allows anyone who is on the crawls to benefit from many perks including the ability to cut the line.
When you arrive at each nightclub with the crawl, you will enter the venue in a separate line designated solely for the crawl. You will bypass everyone who has already been waiting in line.
Not only do you feel pretty cool cutting the entire line, but this also allows you to keep the party going with little down time. Vegas is so much more fun when you don't have to stop and wait in line. Long lines are such a buzz kill.
And since you are on the club crawl you won't have to pay cover at the door. You cut the line and get free admission because of the crawl. The hosts will ensure you get into the club without issue.
4. Club Crawls Can Be Cheaper Than Buying Tickets
Believe it or not, a club crawl ticket can be cheaper than a ticket to the actual club. For example a ticket to see The Chainsmokers at XS Nightclub can cost upwards of $100. If you purchase a ticket for a club crawl that goes there on the same night its only going to be about $35.
This is not as cheap as going in on the guest list, which gets you free entry into the club (anyone can sign up for the guest list here). But for anyone that doesn't qualify for the guest list at a particular club, crawls can be a more affordable option.
In the example above XS Nightclub grants free entry to all women on the guest list, but men must have an even ratio of women in their group in order to get in for free. In this scenario it is a steal for guys to go on the club crawl. You can enjoy all the benefits of the crawl and then end up at the club you want for less than the advertised ticket price.
5. Club Crawl Hosts Know The Hottest Nightclubs
If you are in Vegas for the first time it can be a rather intimidating experience trying to find out where to go. There are over a dozen mega-clubs in Las Vegas, all of them a little bit different. If you're not a local, it's a tough choice.
When you join a club crawl, there is already a set schedule. The hosts already know which nightclubs are the best on a particular night. They know exactly where they are going to go.
While it is fun to just wing it and figure it out as you go along, it can be helpful to take advantage of the knowledge and expertise of a host that has been going out in Vegas for years. They already know that Omnia is the best club on a Tuesday or that XS Nightswim on Sunday is the best party in Vegas.
For anyone coming to Vegas for the first time, I highly recommend doing a club crawl. Not only will you have a blast, but you will also avoid the mistakes of a Vegas newbie.
6. Club Crawls Offer Drink Specials
Before you lose your mind, know that you will still have to pay for drinks (unless you convince some random guys at the bar to buy them for you). The drink specials offered by the club crawl are typically buy one, get one drinks or even an open bar.
Normally they have an open bar offer, set at a certain price. An example would be; all you can drink for $60. Honestly this is a fantastic offer if you plan on getting completely hammered with your friends.
Drinks in Vegas are extremely expensive, they go for about $20 a drink at most major clubs. $60 for an open bar is actually a pretty good deal.
Not all clubs have drink specials like this, but the crawl will typically have 2 or 3 stops and at least one of them will have some sort of drink special.
7. You Will Visit Multiple Clubs In One Night
As the name suggests, you will be "crawling" from one club to the next, meaning that you will visit several of them over the course of your tour. There are so many different Vegas nightclubs that you can't possibly visit all of them. Club crawls give you an opportunity to knock a couple of them off of your list each night.
Every nightclub has something different to offer. Some clubs play EDM music while others play Hip Hop. Some have famous DJs others will have famous rappers doing live performances. A few clubs will have nightswim pool parties while others are more traditional indoor nightclubs. Every single club is different and you'll want to see as many of them as you can. Club crawls can make that happen.
Not to mention that each club has a different crowd, so if you don't like the crowd or vibe at a particular club, you can always go to the next one. You are not married to one club this way and can pick the one you like best.
If you really like a nightclub you can even stay there. You are not required to finish the club crawl. When you find a club that you really vibe with (or meet someone you really like), you can jump off the crawl at any point. Once you get into a club they stamp you see you also have re-entry privileges at all of the club on the tour.
8. Pool Crawls Have A Free Party Bus
Not only are there club crawls but, in Vegas there are pool crawls too. These are dayclub crawls that visit the hottest pool parties in Vegas.
Honestly some of the dayclubs are even more lit than than the nightclubs. These pool parties are packed to capacity with people going wild, having the time of their life in Vegas. These pool parties get way more wild than the nightclubs. Seriously, if you haven't been to one yet your missing out.
When you sign up for a pool crawl, you typically are going to visit two separate pool parties. The crawl will provide transportation to the next pool party location, in a party bus.
These party buses are really fun. They blast music and a lot of them have a stripper pole in center of the bus. No ones required to go on the pole but a lot of the time someone will find their way up there. Especially when the hosts are leading the charge and encouraging everyone to get on the pole.
As far as safety is concerned, I don't know how safe it is to be on a stripper pole while driving, but I'll let the hosts worry about that.
How Do I Sign Up For A Club Crawl?
There are a ton of club crawl companies in Vegas but only a few are actually worth the price of a ticket. You will get more out of some tours than others, and some seriously are a ripoff. Also not all the the club crawl companies go to the best clubs, so you need to look out for that. I put together my best club crawl recommendations here.
Related Questions
What time do club crawls typically start? Club crawls normally start around 8:00 pm while pool crawls start around 11:00 am. Once you purchase a ticket you will be given a meet up location where you will be checked in by the hosts. At the meet up spot you will be introduced to all the hosts and and given the option to take advantage of drink specials at that venue.
How much do club crawl tickets cost? Club crawl ticket prices vary by company but typically cost between $30 – $40. Pool crawl tickets will range from $40 – $50. Some companies will price their tickets closer to $100 but the service is essentially the same. You can also get package deals that include several days worth of crawl tickets for a couple hundred dollars.
How to get into Vegas nightclubs for free? You can get into most Las Vegas nightclubs for free on the guest list. All clubs offer guest lists and anyone can sign up. Women always get free entry on the guest. Men get free entry at some clubs but require an even ratio of women in their group to get free entry at others. You see the rules for each nightclub and can sign up for the guest list here.