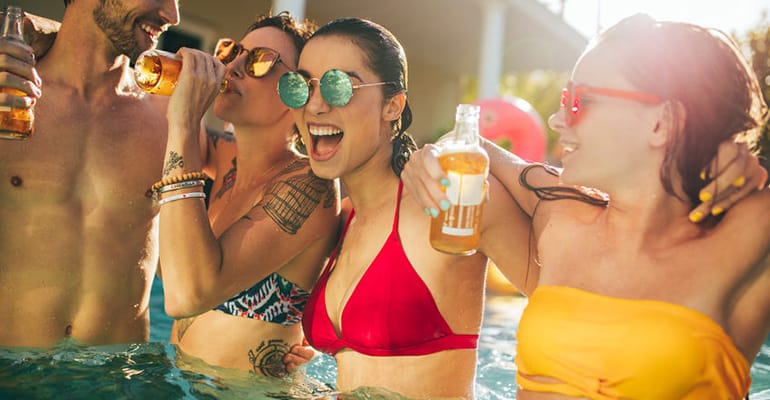 Pool parties are one of the most popular activities in Las Vegas, but they aren't open all year. So, when is the best time to plan your vacation? I did some research to find out when pool party season officially starts.
When do pool parties open in Las Vegas? Every pool party in Las Vegas has a different opening date, but most are open by early to mid March. Pool parties, however, don't start to get busy until April. This is when the popular headline DJs start to perform.
Pool party season doesn't officially start until March. If you have a Vegas trip planned before the start of the season, there are other dayclub options like Lavo Brunch. Lavo Party Brunch is the only dayclub open in the winter. Also, many hotels have pools open year round. Just because the pool parties are closed doesn't mean Vegas isn't as crazy in the winter as it is during the summer. I'll cover some of the best pool party alternatives in this post.
Vegas Hotels That Keep A Pool Open All Year
The pool parties may be closed for the winter, but many hotel pools remain open. Not every hotel in Las Vegas keeps a heated pool open year round but a good number of them do. If you want to go swimming during your Vegas trip it may be worth booking a hotel with a heated pool. Here are a few of the hotels that have a pool open all year:
Bellagio
Caesar's Palace
Excalibur
Flamingo
Mandalay Bay (includes the Four Seasons)
MGM Grand
Paris
Palazzo
Stratosphere
Tropicana
Trump International
Keep in mind that hotels can make changes to their winter pool policies. It's best to ask the concierge while you're making your reservation. If you find that your hotel doesn't keep a heated pool, you can always use the pools at other hotels. Not all hotels allow non-guests to use their facilities, but Mandalay Bay and Caesar's Palace often do. Although, you will have to pay a fee of around $10 – $20.
Lavo Brunch Is The Only Vegas Dayclub In The Winter
For those of you that were hoping for a wild dayclub and not a relaxing afternoon at the hotel pool, Lavo Party Brunch is where you want to go. As I mentioned earlier, Lavo is the only Vegas dayclub open in the winter and it doesn't disappoint.
Lavo is located at the Palazzo and is unlike any Vegas club, as they offer a full service brunch. Lavo is normally a restaurant, so the food is delicious. It is only turned into a dayclub from 11:00 am to 6:00 pm on Saturdays. When you arrive at Lavo, the party starts off relatively slow. Some guests are mingling by the bars, others order food. But around 2:00 pm the mood completely changes.
The club pulls down the curtains and turns up the music. The scene looks identical to any Vegas nightclub. You see people throwing money and dancing on tables. There are professional dancers and confetti drops. The club also hands out a lot of props like glowing necklaces, boas or sunglasses. Lavo is also known for throwing themed parties.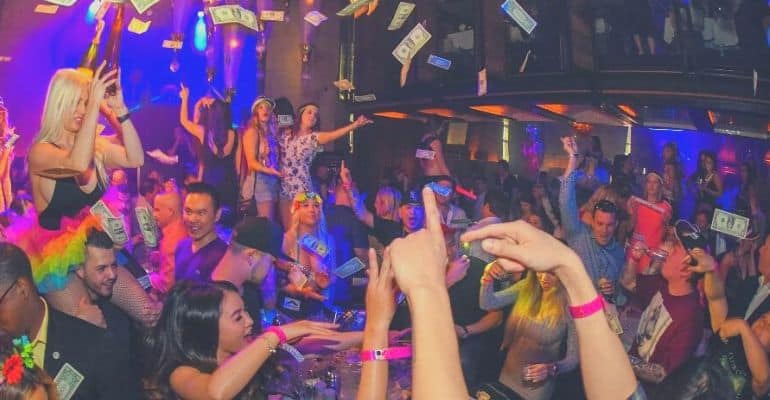 One of the best things about Lavo is that you can get free entry to the club, just like any pool party. Well, at least women can. Women can get free entry by signing up for the club's guest list. Along with the free admission women also get access to an open bar from 1:00 – 2:00 pm. Men don't get free entry but do get a reduced cover charge. The Lavo Brunch guest list is free to use and you can sign up either online or through a promoter that works at the club.
In order to be able to order brunch, you do however need to purchase bottle service. Luckily, tables at Lavo are cheaper than at most pool parties, and start around $500. The tables have a $500 minimum spend, so all the food and alcohol you order between your entire group goes toward that total. Splitting $500 for a world class meal and VIP bottle service between 5 or 6 people is a steal. The food alone is worth it, making it one of my favorite Vegas clubs. If you want to purchase bottle service and brunch at Lavo you can contact us here, and we'll put you in touch with a host that works for the club.
Pool Parties Actually Start To Get Busy In April
Vegas pool parties open in March but they don't really start to get that busy until April. By April the weather has almost fully turned around and flocks of college students visit Vegas on spring break. Also, the headline DJs start to perform around this time too. Summer in Las Vegas is in full swing by the first week in May, since Cinco de Mayo is the unofficial start of summer here.
Night time pool parties also start around this time. XS Nightswim on Sundays and Drai's weekday pool parties on Thursdays are among the best parties in Vegas. You can attend all of these events for free on the guest. Women get free entry at every club while men are required to have an even ratio of women to get free entry at most clubs. There are some clubs that allow men free entry without ratio. You can sign up for pool party and nightclub guest lists here.
Related Questions
What Vegas nightclubs and pool parties don't require ratio for the guest list? Women get free entry at every Vegas nightclub and pool party. Men can also get free entry at most clubs with an even ratio of women. Clubs where men can get free entry without ratio include: Wet Republic, Daylight, Light, Hakkasan, Omnia, Jewel and On The Record.
What is the Las Vegas pool party dress code? All guests must wear pool attire to dayclub pool parties. Women must also wear a cover up while in line. Basketball shorts, jeans and jerseys are among items not allowed. However, jeans are allowed at night time pool parties. You can check out full dress code guides for men and women here.
Do I have to bring a towel to Vegas pool parties? Towels are provided by the club at most pool parties, so you don't have to bring them. Many dayclubs also offer lockers for rent to hold your belongings. If not, you're allowed to bring small draw string bags into most pool parties.