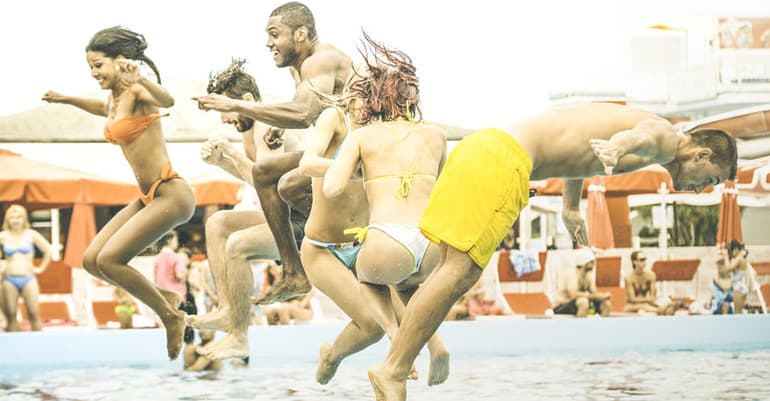 Unfortunately, Vegas pool parties aren't open year round. I found that out the hard way when I visited Las Vegas in the winter. Luckily, there are other dayclub options in the off season.
When do pool parties close in Las Vegas? The Vegas pool party season ends in late September and sometimes carries into early October, depending on the weather. There are some hotel pools that do stay open all year, however the only dayclub open in the winter is Lavo Party Brunch. During the summer, pool parties close their doors around 6:00 pm.
Even when pool party season ends, Las Vegas still manages to throw some wild parties during the day. The main dayclub open in the winter is Lavo Party Brunch. Lavo is one of the busiest Vegas clubs as they have a full service brunch menu, to go along with their themed parties and great music. You may also want to rethink what nightclubs you visit in the winter, as the Vegas nightlife scene undergoes significant change.
Also See: Best Las Vegas Pool Parties
Pool Party Alternative: Lavo Party Brunch
Even though Vegas is located in a desert, it still gets pretty cold in the winter. That's why all the pool parties end by October. There are also less tourists in Vegas as college students head back to school. But even so, the city still finds a way to throw massive parties with regularity.
Lavo Party Brunch is really the only dayclub open in Las Vegas October – March. Encore Beach Club will occasionally throw some parties in November without the pool, but not every year. So being the only dayclub open in the winter, Lavo gets pretty busy.
Lavo is transformed from a restaurant into a dayclub between the hours of 11:00 am and 6:00 pm every Saturday. That's right, when Lavo isn't a dayclub, it's a normal restaurant located at the Palazzo.
For the first 3 hours of the day, the club feels more like a typical brunch. Yes, the bars are still open and people are partying but the music is calm. This is the time when people are ordering food and getting settled in. But around 2:00 pm the entire mood shifts.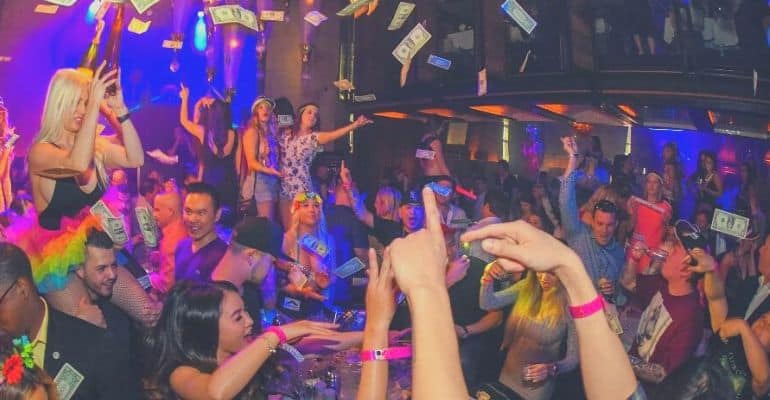 Between 2:00 and 2:30 pm the club pulls down the curtains making the room dark. At this point the music is turned up and Lavo turns into a strait up nightclub. You'll see guests along with dancers standing on tables, confetti cannons, light shows and bottles of campaign being popped.
Lavo is also big into handing out party favors like glow sticks and necklaces. Not only this, but the club is also famous for having themed parties like lingerie or superheros.
Just like any dayclub or pool party, women can get free entry by signing up for the Lavo Brunch guest list. Women who enter the club on the guest list also get an open bar from 1:00 – 2:00 pm. Men who sign up for the guest list get a reduced cover charge.
If you use the guest list, you should plan on getting to the club by 11:30 am. There is a guest list cutoff time around 1:00 pm and the club is always extremely busy. Lavo hits capacity early so if you're not in by 1:00 pm you're going to have to pay full cover.
One thing to note about Lavo is that you won't be able to order food unless you have a bottle service table. Bottle service at Lavo starts around $500, which is actually really cheap when compared to most pool parties.
If you're interested in bottle service and brunch at Lavo, you can contact us here and we'll put you in touch with a VIP host that works for the club. If you're not getting bottle service I would recommend eating before you get to the club.
After Pool Parties Close Vegas Nightclubs Also Change
Once October rolls around Vegas nightclubs also change a bit. Not only are they slightly less busy (which can honestly be a good thing), but many nightclubs have pool and outside areas that get closed down. There are a couple nightclubs that make changes in the winter including:
XS Nightclub
EBC at Night
Drai's
Omnia
Any nightclub that holds a pool party during the summer or has an outside area is effected. And as you can see 4 of the 5 most popular nightclubs make changes in the winter.
EBC at Night makes the biggest change as the entire club is shut down for a few months. Drai's and XS, which both have large outside areas with pools, close off their outdoor areas. They do however, open the outside parts of the club for big events like New Years or Halloween. And then Omnia usually closes its outside Terrace. There are other clubs that also make changes but these clubs are impacted the most.
Make no mistake about it, Vegas nightclubs are still plenty busy. Since there are no pool parties during the day, more people visiting Vegas will go out at night. But the clubs will have a much different look than they do in the summer months. If you're coming into Vegas with a large group of girls you can take advantage of the off season to score comp bottle service.
Vegas clubs won't hesitate give out free tables to fill up their venues. They know that there are less tourists around and competition is fierce. Comp tables are however, only given to groups of all girls. You can learn how to set up a comp bottle service table here.
Related Questions
What Vegas pools are open year round? Not all hotels in Las Vegas have a pool open year-round, so it's important to pick the right one. Also, most resorts only allow hotel guests to use their pools. I wrote another article here about hotels with heated pools in the winter.
What months are pool parties open in Las Vegas? Vegas pool parties are open from March – October. Pool Parties don't typically get busy until April and the season starts to wind down after Labor Day Weekend. Lavo Brunch is the only Vegas dayclub open in the winter.
Do all Vegas nightclubs and pool parties have guest lists? All Las Vegas pool parties and nightclubs offer free entry when you use their guest list. Women always get free admission on the guest list while men require an even ratio of women at most clubs (but not all). You can sign up for nightclub and dayclub guest lists online for free.