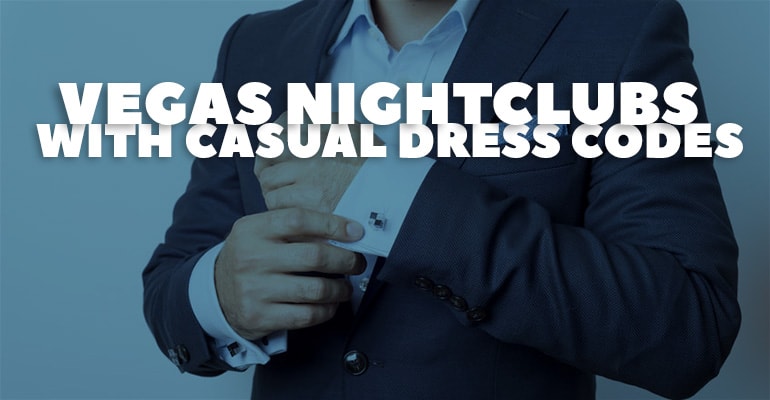 Most people dress to the nines when going out in Las Vegas, but sometimes it can be more enjoyable to go the casual route. You don't need to wear a suit or high heels at every club in Vegas. In fact, I have found it makes more sense to wear casual attire at some clubs.
What Las Vegas clubs have the most casual dress code? The Vegas nightclub with most casual dress code is EBC at Night. EBC is a nightclub centered around a pool party making shorts, sneakers and bikinis acceptable club attire. XS Nightclub is another club with a relaxed dress code. While being one of the most luxurious Vegas nightclubs, XS is known for being less strict with dress code requirements.
There are also several bars that have no official dress code. A few of them include:
Fremont Street Experience
Chandelier Bar at the Cosmopolitan
The Dorsey at the Venetian
All hotel lobby bars
There are many Vegas clubs that allow for more casual attire, but to varying degrees. Each club has its own dress code so items that are acceptable at one club may not be acceptable at another. I'll cover all the clubs with the most casual dress codes and what is allowed at each one.
EBC at Night Dress Code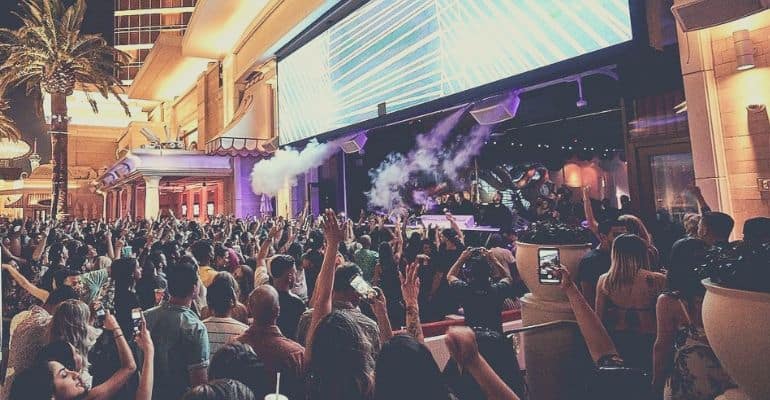 Vegas is famous for its pool parties. So much so that many venues are designed as half nightclub and half pool party. There are plenty of pool parties to attend during the day, but EBC at Night is the main nightclub for night time pool parties or for anyone who just prefers to wear shorts.
EBC at Night is an extremely upscale venue. You still see about a third of the women wearing a dress and high heels. You will also see a few men wearing dress shirts but a majority of the guests are either wearing shorts or swimwear. This doesn't mean you're required to go in the water or even anywhere near it. EBC at Night is a huge club that has 3 bars, a gaming pavilion, a dance floor and plenty of VIP bottle service tables. There is a lot to do here even if you don't plan on getting wet.
As far as dress code is concerned essentially anything goes. Men can wear jeans, shorts, t-shirts, sneakers, sunglasses and hats. The only things not allowed are boots, basketball shorts, sweat pants and sports jerseys. Women can honestly wear anything that isn't too revealing. Whatever you think looks good, you're allowed to wear. I have never seen a girl get pulled out of line for a dress code violation here. The only thing to keep in mind is that if you plan on swimming, you must wear a cover-up while waiting in line.
As an added benefit all women get free entry to EBC at Night when they sign up for the club's guest list. It takes less than 2 minutes to sign up online and is completely free to use. Men can also get free entry into the club if they have an even ratio of women in their group. If you don't plan on using the EBC at Night guest list, tickets typically cost $20 – $30 for women and $40 – $75 for men.
EBC at Night is open Wednesday, Friday and Saturday. It's not open in the winter, so you have to be in Vegas April – October to party here. Drai's and XS also throw similar pool parties on Thursday and Sunday night respectively. The dress code on those nights is identical to EBC at Night. Both of these clubs have guest lists that allow for free entry, which you can find here.
XS Nightclub Dress Code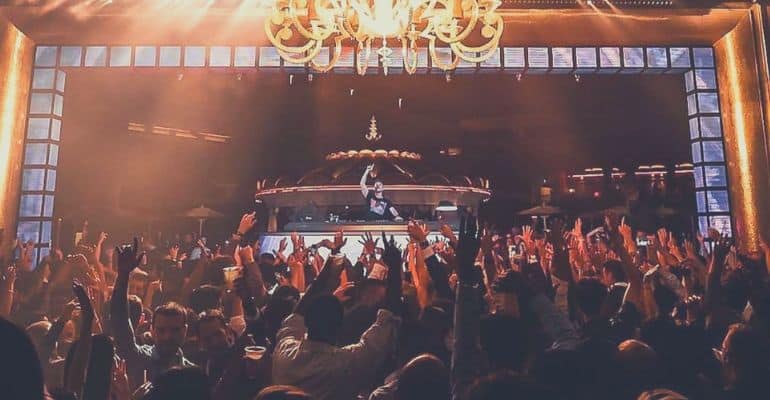 Not including the Sunday night pool party, XS is a normal nightclub with no pool. In fact, it is widely regarded as Vegas' best nightclub. You will see a ton a people dressed up here but there are some things you can get away with that aren't allowed at other clubs.
T-shirts are the main thing you can wear here without issue. Women again can pretty much wear anything they want to a Vegas nightclub, pool party or not. But men, on the other hand, get called out for dress code violations all the time. T-shirts are usually one of the things that security will tell you that you can't wear. But at XS, you can wear specific types of t-shirts.
Well fitted, solid color t-shirts (preferably black) are allowed inside XS. I wouldn't push this too far by going with an odd color but if the shirt fits well and doesn't look out of place, you're probably ok. All you have to do is pair this with some well fitted (no baggy) jeans, and you can walk right into Vegas' premier nightclub with no problem. I would however, wear dress shoes with this.
Fremont Street Dress Code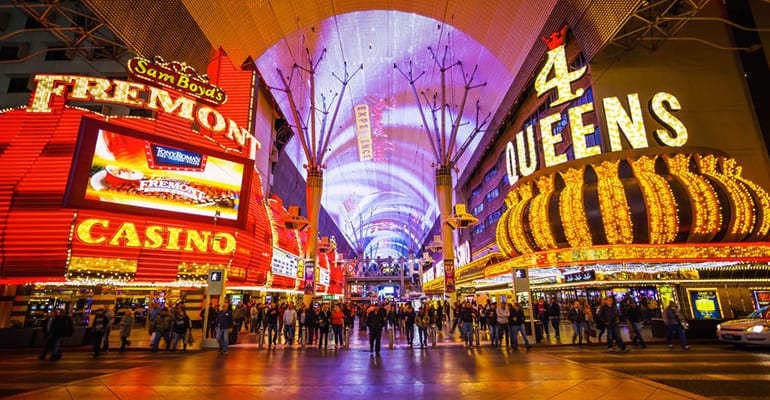 If you want to go somewhere where you don't have to worry about a dress code at all, I would recommend Fremont Street. Fremont is located downtown and is actually the old Las Vegas. It's 5 blocks of bars, souvenir shops, street performers and a bunch of other stuff. You can walk in and out of most bars with no problem and there are no dress code requirements. If you're tired of the glitz and glam of the strip and looking for something to do, Fremont is the place to go.
Other Places With Casual Dress Codes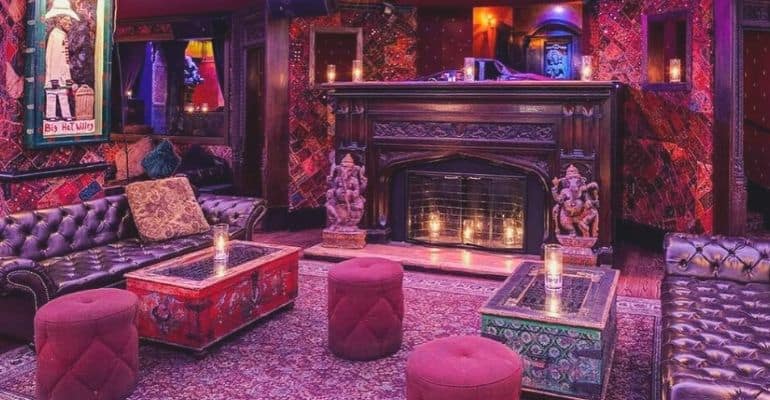 If just looking for a place to hang out and grab a quick drink lobby bars are a great spot. There are hundreds of them located throughout the hotels on the strip and many of them are of high quality. Most people don't think twice about these bars but they are bigger than you think. A few that come to mind are the Chandelier Bar at the Cosmopolitan and The Dorsey at the Venetian. There is no official dress code at any of these bars, so you can wear whatever you want. You can also find rooftop bars like Foundation Room, but there may be some dress code requirements there.
Clubs With Strict Dress Codes
If you want to wear something extremely casual there are some nightclubs that are best to avoid. Marquee, Omnia and Hakkasan have been known to be strict with their dress codes. I would say Marquee is the worst as it's the only club where I have been pulled out of line for not meeting their dress code requirements. I highly recommend guys wear at least a dress shirt if you go to any of these clubs. Women again, can wear anything they want.
Related Questions
What is the normal Vegas nightclub dress code? Men should wear dark jeans, a dress shirt and dress shoes. Women can wear anything that isn't too revealing but most wear a dress with high heels. Flats are also acceptable but not as common. You can check out full dress code guides for both men and women here.
Can I wear jeans to clubs in Las Vegas? Both men and women can wear jeans in Las Vegas nightclubs as long as they aren't baggy or have excessive rips in them. It's best to avoid odd colored jeans and stick with black, blue or white. Jeans are not allowed into Vegas dayclub pool parties as you must wear swimwear. You are however, allowed to wear jeans to night time pool parties.
How do I sign up for the Vegas nightclub guest list? You can sign up for the guest list either through a promoter that works for the club or online. Signing up online takes less than 2 minutes and is completely free. Women get free entry to all club while men are required to have an even ratio of women in their group in order to get free entry. There are a few clubs that allow men free admission without even ratio. You can sign up for nightclub and dayclub guest lists here.