Oak & Ivy Las Vegas is one of the best whiskey bars in the country. It's a small American whisky bar with amazing bartenders and a delicious menu of unique craft cocktails.
I recently got a chance to visit this hidden gem in downtown Las Vegas and was very impressed with both the drinks and the service. So I decided to write this article to give people some basic information about Oak and Ivy in Las Vegas.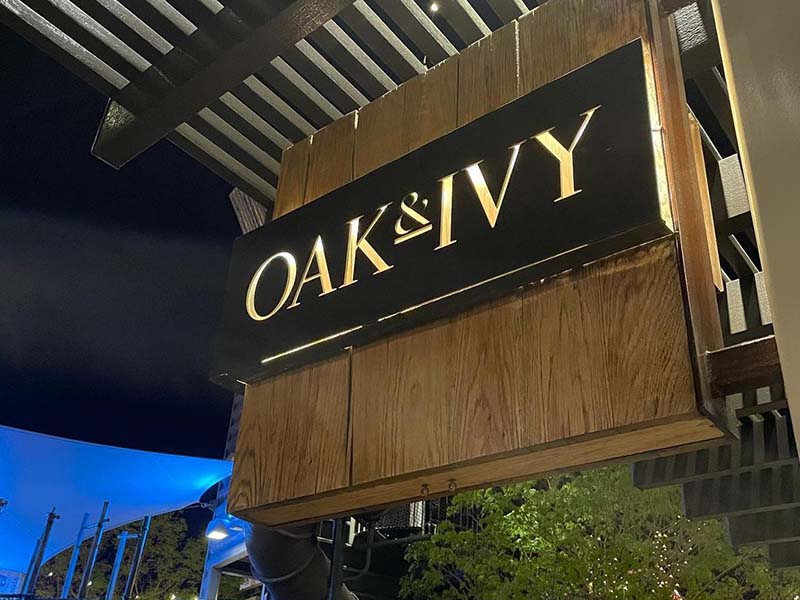 Oak and Ivy Las Vegas Menu & Prices
Oak and Ivy LV features a selection of handcrafted cocktails made with fresh, seasonal ingredients. Everything that goes into your drink is high-quality, from the garnishes to the mixers.
The menu offers a number of barrel-aged spirits including whisky, beer, and wine. Some of the most popular drinks on the menu include the Apple Pie Harvest, Smoke & Spice, Nothing Nice, and Whisky Smush.
In my experience, the best drink on the menu is the Apple Pie Harvest. It's a custom recipe made of bourbon, lemon, apple bitters, brown sugar, egg whites, apple slices, and becherovka. Before being served, the Apple Pie Harvest is ignited with a torch for presentation, which is a thrill to watch. The whisky sour and IPAs are very good as well.
If you're not sure what to get, just ask the bartenders. They are expert mixologists, and will often make something custom for you based on your individual taste. Most of the menu is in the $10-$15 range, but some of the beers are cheaper than that. For the quality of drinks you're getting, that's a terrific price, especially in Las Vegas.
Location and Hours for Oak & Ivy Las Vegas
Oak and Ivy is located on Fremont Street in downtown Las Vegas. You can find this bar in the Downtown Container Park, which is just east of the El Cortez Hotel & Casino. It's only a 5-minute walk from the Fremont Street Experience.
This Vegas bar opens at 5 pm every day and closes around 11 pm. However, on Friday and Saturday, Oak and Ivy often remains open until 1 am for late-night drinks.
Reviews of Oak and Ivy LV
I really enjoyed my drinks, but Oak and Ivy Las Vegas also gets great reviews online. In fact, Oak and Ivy was rated as the number 2 whisky bar in the United States according to Yelp a few years back.
I'm confident that you'll really enjoy your experience at Oak and Ivy. This is one of the best bars in Las Vegas, plus there's also no dress code since Fremont Street is much more casual than the Las Vegas Strip.
Other Bars near the Downtown Container Park
Oak & Ivy is a top bar in downtown Las Vegas, but there are plenty of other options as well. A few other bars near the Downtown Container Park include:
Corduroy Bar
Gold Spike
The Griffin
If you want to learn more about the nightlife in downtown Las Vegas, check out this article about the best bars on Fremont Street. While you're in the area, you may also want to check out some of the top restaurants in downtown Las Vegas.
Related Articles