Fremont Street is one of the best places to grab a drink in Las Vegas. However, there are so many bars to choose from, that it can be difficult to decide where to go.
So, I recently decided to visit every bar in downtown Las Vegas to see which ones are the best. After about a month of bar hopping, I found these to be the best Fremont Street bars. I made sure to include a nice mix of dive bars, sports bars, karaoke bars, and classy upscale bars on this list.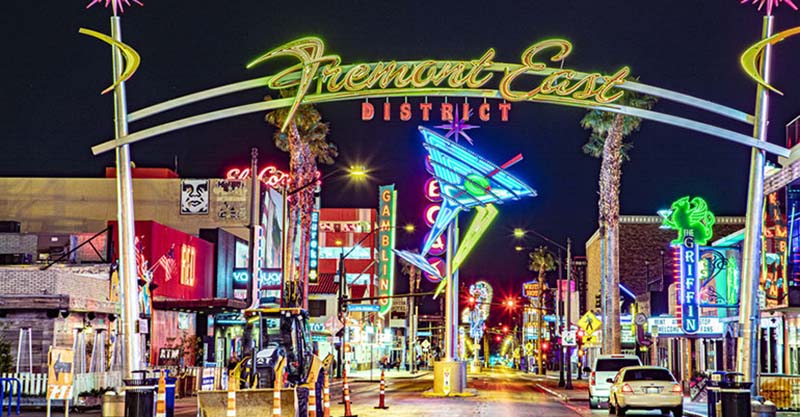 Best Bars on Fremont Street
1. Commonwealth
Commonwealth is a very popular bar on Fremont Street. The venue tends to play trendy Top 40 music, so you'll usually find a live DJ playing here. Given the choice of music, the bar attracts a younger crowd so it's an excellent place to go if you're looking to have fun and party.
This cocktail lounge also has a lively dancefloor, rooftop patio, and a secret speakeasy called the Laundry Room. Although the Laundry Room is located inside Commonwealth, it's almost like a completely different bar. It's a true speakeasy that requires a reservation and doesn't allow photography.
Location: 525 E Fremont St, Las Vegas, NV
2. Gold Spike
Gold Spike is one of the largest bars in downtown Las Vegas. It's located one block north of Fremont Street, right behind Neonoplis. The bar is open 24 hours a day and often features a DJ that plays live music.
One of the reasons why Gold Spike is so popular among locals and tourists alike is because it's an adult playground. Not only can you grab a drink here, but you can also play games like beer pong, shuffleboard, and giant Jenga. They even have pool tables set up.
Location: 217 Las Vegas Blvd N, Las Vegas, NV
3. Oddfellows
Oddfellows is a lively downtown Las Vegas bar that never disappoints. Part of the venue is a bar, while the other half is a disco club that throws themed parties. The theme changes every week, but the bar consistently hosts a karaoke night every Tuesday.
This is also one of the few bars left in Las Vegas that plays some 80s music. The DJ at this spot will often take requests as well, so if there is a song you want to hear, the chances a good that they'll play it.
Location: 150 Las Vegas Blvd N #190, Las Vegas, NV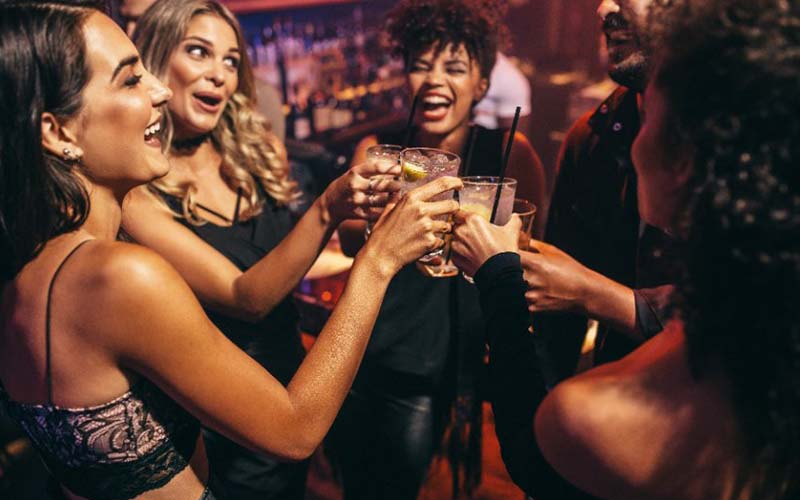 4. Cat's Meow Las Vegas
Cat's Meow is another Fremont Street bar that does karaoke. Plenty of musicians and celebrities have jumped on stage to sing at this bar over the years, including Smashing Pumpkins, N'Sync, Miley Cyrus, and even Bill Gates.
It's free to hop onto the stage and sing karaoke at Cat's Meow. They have a wide selection of songs available, ranging from Top 40 and Hip Hop to classic rock. You can find this karaoke bar inside Neonoplis, right between the Fremont Street Experience and Fremont Street East. They're open every night until 2 am.
Location: 450 E Fremont St UNIT 201, Las Vegas, NV
5. Downtown Cocktail Room
The Downtown Cocktail Room is one of the best bars in downtown Las Vegas. According to their website, it's the oldest "continually-operating" bar in downtown Las Vegas. It's a classic a speakeasy bar with excellent happy hour deals (from 5 pm to 7 pm their entire cocktail menu is 50%).
The bar is on the quiet side, so don't expect a wild party here. It's perfect for a romantic night out or catching up with friends. The Downtown Cocktail Room isn't technically on Fremont, but it's only a 30-second walk from the Fremont Street Experience. Also, note that the venue is closed Sunday and Monday.
Location: 111 S Las Vegas Blvd, Las Vegas, NV
6. Oak & Ivy
Oak & Ivy is one of the most overlooked bars on Fremont Street. The bar serves countless unique handcrafted cocktails with fresh ingredients and mixers. You can order anything from craft whisky, vodka, and tequila to gin, wine, and beer.
This is one of the few bars on Fremont that is truly dedicated to mixology. Most of their alcohol is barrel-aged, so you know you're getting the good stuff. If you want to taste some extraordinary spirits while in Vegas, you'll want to stop by Oak & Ivy.
Location: 707 E Fremont St, Las Vegas, NV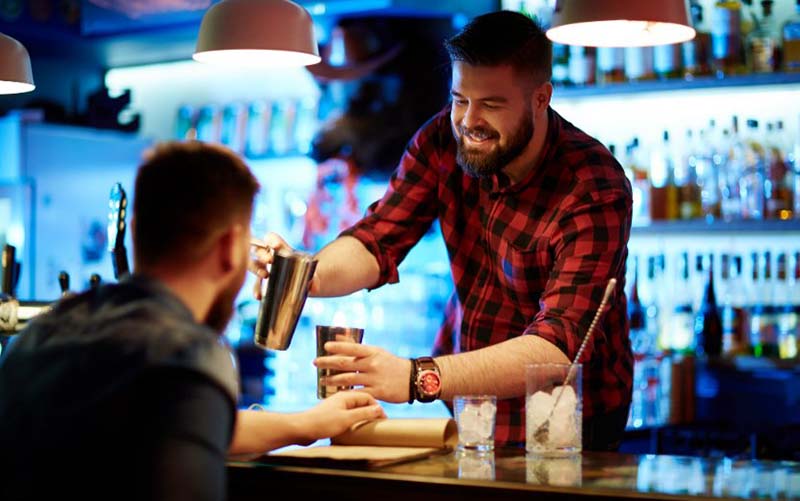 7. Atomic Liquors
Atomic Liquors originally opened in 1952, making it the first bar in Las Vegas. This dive bar has a storied history, plus they make some excellent craft beers. The bartenders here really know their stuff.
This iconic bar also doubles as a restaurant, serving delicious sandwiches, burgers, and appetizers. The food here is almost as good as the drinks. Best of all, everything is affordable. You won't have to worry about $20 shots as you do on the Strip.
Location: 917 E Fremont St, Las Vegas, NV
8. The Griffin
The Griffin is one of the best downtown Las Vegas bars on East Fremont Street. It's not a wild party-type bar, but it's a great spot to grab a drink with some friends. There's plenty of seating and they have a solid menu of affordable craft cocktails and beer.
There is occasionally live music playing in the back room, so you're able to get up and dance if that's your style. But overall, The Griffin is just a solid laid-back bar with good prices and a chill vibe.
Location: 511 E Fremont St, Las Vegas, NV
9. Hogs & Heifers
Hogs & Heifers is an old-school Vegas pub located just north of Fremont Street in downtown Las Vegas. The main features of this bar are the half-dressed dancing bartenders, cheap happy hour specials, and live country music.
This place gets pretty wild, even for a bar downtown. This is a great place to visit if you enjoy country music or want to see what Fremont Street Las Vegas is all about.
Location: 201 N 3rd St Suite 130, Las Vegas, NV
10. Corduroy Bar
Corduroy can be found on Fremont Street East, across the street from El Cortez. This bar has an upbeat atmosphere and plays mostly alternative and rock music. They even have a photo-both in the back, so you can take pictures with all of your friends.
This is a cool spot a grab a couple of drinks if you want to do some bar-hopping. The staff at this bar are extremely friendly and the drinks are good.
Location: 515 E Fremont St, Las Vegas, NV, United States
Fremont Street Sports Bars
There are plenty of sports bars on the Las Vegas Strip, but what about downtown? There are two main bars on Fremont Street that cater to the sports crowd – Stadium Swim at Circa and LONGBAR at the D.
Circa Stadium Swim
Stadium Swim is the new pool party/sportsbook at Circa Resort & Casino. The venue features 6 pools, 2 swim-up bars, and a giant 40-foot high-definition TV for watching sporting events. It's especially popular on weekends, especially during big events.
At Stadium Swim, you can order drinks at the bar or opt for bottle service. They have an extensive bottle service menu that includes all kinds of vodka, beer, tequila, rum, gin, bourbon, champagne, and frozen sangrias. You can also offer food from their kitchen.
I consider Stadium Swim to be the best sports bar in Las Vegas. Just know that it's a dayclub. If you want to visit a sports bar at night, you'll want to check out the LONGBAR at The D Hotel & Casino.
LONGBAR
LONGBAR is another one of the top sports bars in the downtown district of Las Vegas. This bar has multiple flat-screen TVs that play the biggest sporting events and highlights. Each seat at this bar also features a personalized sound system, so you won't miss a beat.
If I want to watch a game downtown, I'm usually going to LONGBAR or Stadium Swim. Both are great spots to watch the game with other people while enjoying a beverage.
Map of Downtown Las Vegas Bars
Here's a map of all the bars found in the downtown area of Las Vegas. You'll notice most of the bars downtown are clustered near Fremont Street. There aren't as many establishments near the Arts District, however, there are a fair amount of restaurants in that area.
Downtown Vegas Tips at Night
Although the downtown part of Las Vegas may seem like a free-for-all, there are actually some rules that you're going to want to follow. The most important one is the dress code. You can get away with wearing whatever you want on the Fremont Street Expereince, but not inside bars and clubs.
If you're not sure what to wear, check out this article about the Fremont Street dress code a night. It's not as strict as the nightclubs on the Strip but is something to be aware of.
Downtown Las Vegas Travel Guides
Things to do in Downtown Las Vegas
Top Fremont Street Hotels and Casinos
Best Fremont Street Restaurants in Downtown Vegas
Best 24-Hour Food on Fremont St