With the opening of new casinos in recent years, Fremont Street has exploded in popularity. There has always been plenty of fun things to do in downtown Las Vegas, but the recent surge in tourism has helped to bring awareness to the area. However, Fremont Street is very different from the Las Vegas Strip.
If you've never been to Fremont before you probably have a few questions. The one I get most often is, what is the Fremont Street dress code? The answer depends on where you plan on going out.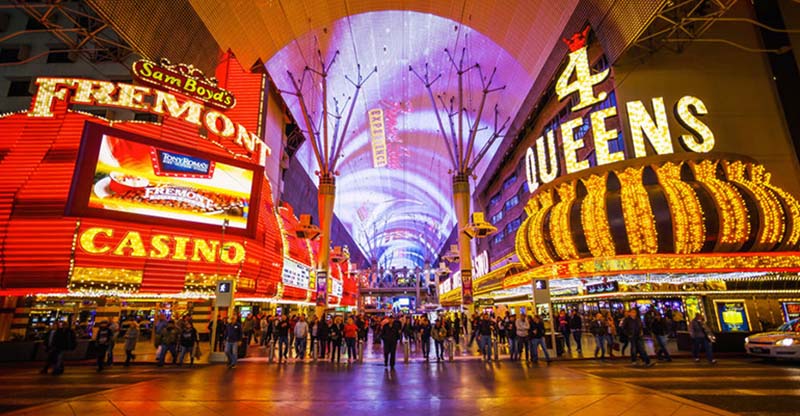 Does Fremont Street Have a Dress Code?
There is no official dress code on the Fremont Street Experience (the Fremont Street Experience is the large walkway that downtown Vegas is famous for). However, many of the establishments located on Fremont St do enforce a dress code, especially the bars.
If you just want to walk around and explore Fremont Street without going to any of the more "upscale" bars, you don't have to worry about what you wear. In fact, you see plenty of street performers and party-goers running around in ridiculous costumes left and right.
Some people are even wearing so few clothes, that you'll wish there was a dress code. Oftentimes, Fremont Street feels like a carnival. It's perfectly normal to wear shorts, sneakers, and a t-shirt, for example. But if you want to go out to the bars, you may want to put a little more thought into your outfit.
What to Wear on Fremont Street at Night – Bars & Clubs
When you look at pictures of Fremont Street, it may look like there is no dress code. But don't be fooled, you can still be denied entry to nightlife establishments if they don't like your look.
Don't get me wrong, the dress code is much more relaxed than on the Strip, but you still want to look somewhat presentable if you plan on going out in downtown Las Vegas. Casual clothes are fine, but you want to look neat. A button-down shirt is not required, but you'll definitely want to avoid the following items:
Shorts
Baggy jeans
Overly baggy shirts
Flip flops and Sandals
Work boots
Jerseys
Hats
Cut-off/sleeveless shirts
Overly revealing clothing
If you avoid this attire, you can essentially wear whatever you want. You'll have no problem getting into any of the restaurants or bars on Fremont Street. These rules apply to both men and women, but most venues are more strict with dress codes for men. If you're still not sure what to wear, check out the Vegas club dress code guide I put together here.
Some of the places where it pays to dress up a little include:
Troy Liquor Bar
Downtown Cocktail Room
The Griffin
Commonwealth
Laundry Room
If you don't know where to go out in downtown Las Vegas, I made a complete list of the best Fremont Street Bars in this article.
What to Wear on Fremont Street During the Day
Vegas can get extremely hot, especially during the summer. It's best to wear comfortable clothes during the daytime. As mentioned before, shorts are perfectly acceptable attire on Fremont Street during the day. You can wear jeans or other long pants as well, but you're likely going to be sweating quite a bit.
In the winter, it is advantageous to wear warmer clothing. Jeans and possibly a light jacket will serve you well, as winter temperatures often drop into the 40s and 50s during the day. Nighttime temperatures get even colder in the winter, so it pays to layer up.
Fremont Street Las Vegas Resources
There's a lot to take in when you're visiting Fremont Street for the first time. So, we put together a couple of guides to help you find your way around Fremont. Check out the links below to learn more about downtown Las Vegas.
Things to do in Downtown Las Vegas
Top Fremont Street Hotels and Casinos
Best Fremont Street Restaurants in Downtown Las Vegas
Cheap Breakfasts in Downtown Las Vegas – Fremont Street
Best 24-Hour Food on Fremont Street – Downtown Las Vegas