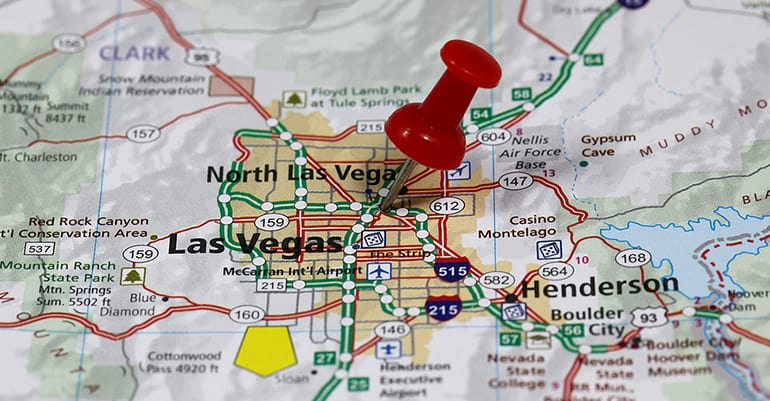 Is Las Vegas considered a city or is it a state? The answer may seem obvious to those of you who live in the United States. However, if you live outside of the US, the answer to this question may be less clear.
What state is Las Vegas in? – Las Vegas is a city, located within the state of Nevada. What most people consider to be "Las Vegas" is actually made of 3 separate cities: Las Vegas, North Las Vegas and Henderson. The most popular area in Las Vegas (the Las Vegas Strip) is located in Paradise Nevada.
The City of Las Vegas is located within the State of Nevada (SEE MAP BELOW). That's all you need to know if you plan on visiting Las Vegas. However, if you plan on moving to the city, you should know that Las Vegas is made up of 3 incorporated cities and 5 unincorporated townships. I'll help explain exactly what that means in this post. I'll also cover some general Las Vegas FAQs if you plan on visiting.
Where is Las Vegas Located?
The City of Las Vegas is located in the state of Nevada. As you can see on the map below, Nevada is situated in the southwestern part of the United States, right next to California. Las Vegas is only a few hours away from a number of other major cities, like Los Angeles and Phoenix.
If you're looking at a map of Nevada, you'll find Las Vegas near the southern tip of the state. Most of the state is made up of desert. The southern and western parts of the state are the only areas with a significant population.
There are Multiple Cities in Las Vegas
"Las Vegas" is actually made up of 3 separate cities and 5 townships. However, you would never know that these borders existed unless you looked at a geopolitical map. These separate districts were created in the mid-1900's, mostly for political reasons. These are the 9 subdivision:
Las Vegas
North Las Vegas
Henderson
Paradise (township)
Winchester (township)
Enterprise (township)
Spring Valley (township)
Sunrise Manor (township)
Whitney (township)
For the average visitor, these townships are meaningless. They really just provide residents with different zip codes and determine how the casinos are taxed. However, it's worth noting that the majority of the Las Vegas Strip is located within the Paradise Township.
Population of Las Vegas
Las Vegas is one of the fastest growing cities in the country. The entire population of the Las Vegas Valley is estimated to be between 2 and 2.5 million people. You can see the population of each township below:
| | |
| --- | --- |
| Subdivision | Population |
| Las Vegas | 644,644 |
| North Las Vegas | 245,949 |
| Henderson | 310,390 |
| Paradise | 223,167 |
| Winchester | 27,978 |
| Enterprise | 108,481 |
| Spring Valley | 178,395 |
| Sunrise Manor | 189,372 |
| Whitney | 38,585 |
It is important to note that the census data for the Las Vegas Valley is between 2-10 years old, depending on the township. So the actual population is now slightly larger than the numbers reported above.
The state is largely unpopulated aside from a few major cities like Las Vegas, Reno (population 250,998) and Carson City (population 55,439). Even though Las Vegas is the biggest city in Nevada, Carson city is actually the capital.
The rest of Nevada is covered by desert (the largest of which is the Mojave Desert), and therefore uninhabitable. The federal government also owns over 80% of the state's land.
Climate in Las Vegas
Las Vegas generally has great weather year-round. The summers do get very hot, but Fall, Winter and Spring are very mild and quite comfortable. Winters only last about 2 months, and temperatures rarely drop below 40° F (4° C). You can see the average temperatures for Las Vegas by month in the graph below: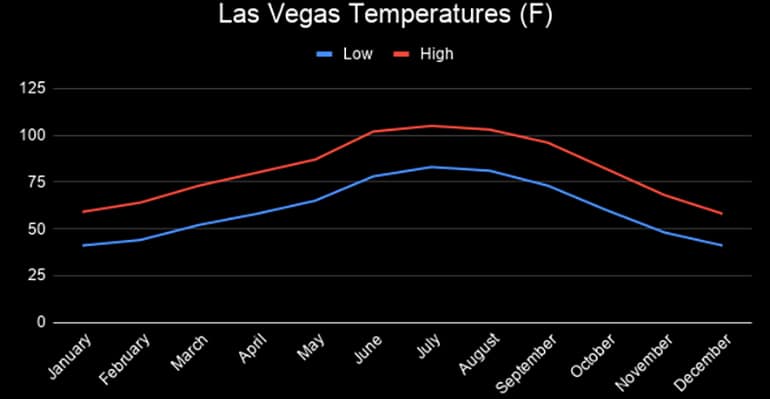 Although summer temperatures can rise as high as 110° F (43° C), it's a dry heat, making it much more manageable. In addition, Las Vegas gets over 300 days of sun a year. It rarely rains in Sin City.
If you're trying to find the best time to visit Las Vegas check out this post here. I detail the best months to visit Las Vegas based on weather, prices, crowds and scheduled events.
What is Las Vegas Known For?
Las Vegas (otherwise known as Sin City) is known for being the entertainment capital of the world. For this reason, any people consider Las Vegas an adult playground. The city has an assortment of casinos, shows, concerts, nightlife venues, shopping centers, restaurants and festivals.
Vegas is also a popular destination for business conventions. Over 6 million people a year visit the city for conventions alone. Other people visit Las Vegas because of its proximity to nearby tourist destinations like the Grand Canyon, Los Angeles, San Diego and Phoenix, to name a few.
Things to do in Las Vegas
There are hundreds of things to do in Las Vegas outside of just gambling at the casinos. If you want to see a complete list of all the fun things you can do in Las Vegas, I wrote another article here. The prices for each activity are also included in that post. Here are a few of the highlights:
Nightclubs
Pool Parties
Spas
Comedy Clubs
Live Converts
Buffets
Water Sports
Skydiving
Recreational Cannabis
Grand Canyon Tours
Hoover Dam Tour
Sightseeing
Racing Exotic Cars
Shopping
Sporting Events
Golfing
How much does a Las Vegas trip Cost?
The average trip to Las Vegas is going to cost between $200-$300 a day. That includes your hotel, food, entertainment and transportation. However, it's possible to spend less than $150 a day in Las Vegas if you're on a really tight budget.
If you want to figure out exactly how much everything is going to cost ahead of time, check out the blog post I put together here. That guide walks you through exact what everything in Las Vegas is going to cost, deepening on your budget (small, medium or large).
Cost of Living in Las Vegas
The cost of living is surprisingly low for a city the size of Las Vegas. Someone can easily live in Las Vegas on $2,500 a month. If you have roommates you can cut that number in half. Additionally, there are no state income taxes in Nevada. If you plan on moving to Las Vegas, check out the post I wrote about the cost of living in Las Vegas.
Related Posts: