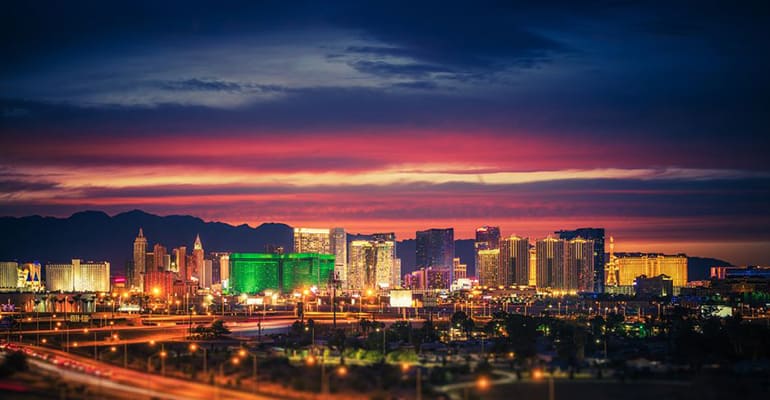 When I moved to Las Vegas a few years ago, I wondered why housing was so cheap. So, I did some research to find out why Las Vegas is such an affordable place to live.
It's cheap to live in Las Vegas because the city has overbuilt in proportion to its population. The increased supply of houses and apartments continues to push down prices throughout the city. Excessive supply, in combination with a lackluster job market, keeps demand for housing low.
There are many reasons why Las Vegas is such an inexpensive city including:
No state income taxes
Low overall tax burden
An overdeveloped housing market
Poor job market
Lack of high-paying jobs
Las Vegas is a cheap place to live compared to other similarly sized cities. However, the lack of high paying jobs may offset the benefits of cheap housing. There is a lot to consider before you decide to move out to Las Vegas.
Why Is Las Vegas A Cheap Place To Live?
Whether you own or rent, housing is going to be your biggest yearly expense. It's also the biggest determining factor in how "cheap" a city is to live in.
The average cost of an apartment in Las Vegas varies depending on what part of the city you're in, but overall rent is low. At one point, I lived in a three-bedroom apartment a block off the strip for about $900 a month. My apartment was an unusually great deal, but normal prices don't stray to far from that. Standard two-bedroom units go for under $1,300 a month on average, and one-bedrooms commonly rent for under $1,000.
If you're looking for a place to live, these are tremendous prices for a city the size of Las Vegas. The affordable housing is made possible by Las Vegas' vast oversupply of houses and apartments. There are currently a total of 255,000 housing units in Las Vegas, but only 226,000 households. This creates a buyers market.
The high unemployment rate in Las Vegas also keeps prices in check. The city is notorious for jobs that don't pay a living wage, especially in the gaming industry. According to the US Bureau of Labor Statistics, the average hourly wage in Las Vegas was 13% lower than the rest of the country.
Landlords are forced to keep monthly rent payments low, because of the lack of high-paying jobs. If rents move up too fast, there is a high probability that renters will miss payments.
But the low cost of living in Las Vegas isn't just limited to cheap housing. Nevada has some of the lowest taxes in the United States
Nevada Has No State Income Taxes
Nevada is one of only seven states that doesn't have a personal state income tax and one of five states that doesn't have a corporate state income tax. This is a big deal for people moving to Nevada from a state like California, where state income taxes can be as high as 12%.
The state also has the 4th lowest overall tax rate. This a huge benefit for both business and individuals. When you make more money, the city becomes a much more affordable place to live.
The low tax rate is made possible by the hotel-casino industry. The gaming industry pays the majority of the taxes in Las Vegas, keeping the city afloat.
Cost of living in Las Vegas vs Other Cities
The cost of living in Las Vegas is only about 6% above the nation average. And among other major cities in the United States, Vegas is actually among the least expensive.
Outside of housing, most things in Las Vegas hover right around the national average including:
Utilities

: Average cost is about $100-$200/month
The cost of utilities in Las Vegas is slightly above the national average. You'll need to run your air-conditioning 6-8 months out of the year. And although the winters are short (only about 2 months), you will need to run your heat. Temperatures in the winter approach freezing.
Food

: Average cost is about $500/month
You'll find food prices in Las Vegas to be on par with the national average. Although, you could spend more depending on where you shop (i.e Whole Foods).
Transportation

: Average cost is about $250-$350/month
Even though Las Vegas has a decent public transportation system, you'll need a car if you want to live here. A car is the most efficient way to get around, since there isn't too much traffic (besides the strip). Car insurance in Nevada is between 8-10% higher than the national average. Gas is slightly higher than the national average too (about 10-15%).
How Much Money You Need To Live In Las Vegas
It's realistic to live in Las Vegas making only $2,500 a month, or $30,000 a year. The affordable housing and lack of state income tax is what makes it possible to live off such a small income.
However, you could get by on $2,000 a month (or $24,000 a year) if you have roommates. You could easily find a two-bedroom apartment in a nice neighborhood for $1,200 or less, and split the rent 50/50. This would lower your cost of living dramatically.
Pros vs Cons Of Living In Las Vegas
Las Vegas is among the most affordable cities in the country. I've lived here for a few years and highly recommend the city as a place to live. But to give you a better idea of what it's like to live here, I'll list out some of the pros and cons of living in Las Vegas:
Pros:
Endless entertainment
Cheap housing
Proximity to other travel destinations
Great weather (300 days of sun a year)
Plenty of outdoor sports
Good mix of city and suburbs
Generally friendly people
Cons:
Lack of high-paying jobs
Low quality public schools
Hot summers (110° F days are common)
If you move to Las Vegas I recommend staying off of the strip. Most locals avoid the strip at all costs, since everything from food to parking costs a fortune on Las Vegas Boulevard. Most people will also benefit from limiting their gambling budget.
Off of the strip, Las Vegas is very much like any other city. There are over 600,000 people that call Las Vegas home, that live very normal lives. Although, if the fast paced Vegas lifestyle is enticing to you, by all means get your fill.
Related Questions
How much do Las Vegas nightclubs and bars cost? Most nightclubs in Las Vegas offer free entry on the guest list. You can sign up for the guest list for free online. Most bars are also free, or charge a small cover fee of $5-$10.
Do locals get discounts in Las Vegas? Many local businesses and hotels on the strip offer discounts to locals with valid I.D. Discounts range from free parking at casinos to reduced nightly rates at hotels.
What is there to do in Las Vegas? You can do anything in Las Vegas that you can do in other cities. In fact, there's probably more to do in Las Vegas than almost any other city on the planet. I wrote another post here detailing everything there is to do in Las Vegas.